Weekend Boxset: Say hello to the Women's Nations League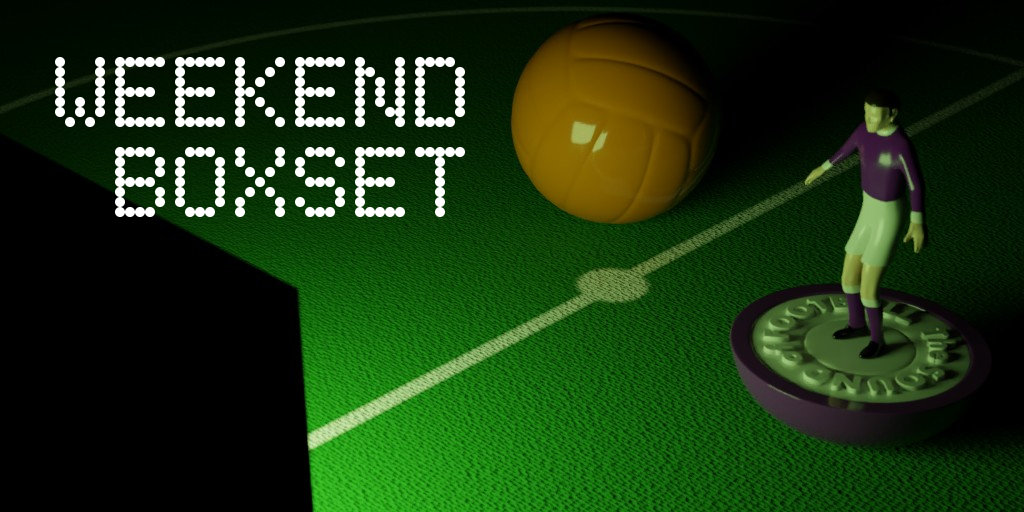 Coming soon after the men faced each other, the women of England and Scotland battle it out at a sold-out Stadium of Light. This time it's not a friendly but the start of a brand new competion: the UEFA Women's Nations League.
Seven great matches to take you from Friday to Sunday. It's the Sound of Football Weekend Boxset.
Get the Weekend Boxset in an email every week
Share this with someone on
WhatsApp
All times are UK (GMT +1)
Friday
UEFA Women's Nations League Group A1: England v Scotland
19.45 on ITV1, STV, ITVX and STVPlayer
On a recent podcast, we discussed how qualification for men's international tournaments could be improved by further utilising the opportunites presented by the Nations League. In women's football the gap between the leading nations and those still developing is even more marked and often it's expanding. England themselves registered four 10-0 victories and a 20-0 in qualification for the recent World Cup, results that did nothing to develop either side nor create a spectacle for anyone watching. The Nations League could be used to help avoid such unnecessarily unbalanced matchups, so it's good to see it added to the women's international calendar. For the sides taking part in the top league, it offers qualification to next summer's Olympics - two of the four group winners from League A will progress to join the hosts France. The deciding finals will happen in February in the international break usually assigned to non-confederation organised friendly competitions such as the Arnold Clark Cup or SheBelieves. Unlike the men's Olympic competition, the women's event is not U23 and the home nation FAs appear to be far less vocal against the formation of a combined Team GB - for now that is, as women's footbal becomes more popular that could soon change. It also presents a problem with this fixture: players like Erin Cuthbert and Caroline Weir, Scottish players who could easily be selected for Team GB, could be rewarded for England doing well in this tournament. There's no suggestion that any shenangans could take place, but given how UEFA draws usually include so many bars and get-outs, the fact that no one spotted this obvious conflict of interests is another example of how little thought goes into the women's game by those who are meant to be in charge. GS
Saturday
La Liga: Girona v Real Mallorca
13.00 on LaLigaTV and Viaplay Sports 1
Mallorca's first win came at Celta last week. Vigo had the better of the game and were denied a goal by the VAR who judged the ball to have not crossed the line (it was too close to call and La Liga still does not use goal line technology). Vedat Muriqi turned in Dani Rodriguez's cross to allow
Los Pirates
to plunder the points and set sail for the Balearics, yargh! But Javier Aguirre's team will need more than dodgy La Liga tech if they want anything from Girona. Michel's team are a terrific watch and have started their second season back in the top division superbly. They are in third place, unbeaten, having won their last four games, the most recent being a thoroughly entertaining 4-2 win at Granada. There's been some smart recruitment at the club. They boast some exciting attacking players in Viktor Tsyhankov, Yan Bueno Couto and Sávio, all of whom scored in that win. They've also done very well to recruit Daley Blind. The Dutch international was largely redundant at Bayern Munich last season but has been ever-present this season. The squad is probably not deep enough to finish the season in the top four but an improvement on last season's tenth place if not a place in Europe is a possibility. TD
Bundesliga: Werder Bremen v Köln
17.30 on Sky Sports Football
A deep-cut fixture for the Bundesliga hard-core fans. Neither team are in a good place, but if there's a winner, they should have a clearer picture of the season ahead. Köln are winless since the start of the season. Coach Stefan Baumgart described the 3-1 defeat to Hoffenheim, last week as a "shitty result but everything else was fine." In recent seasons the Billygoats have played high-tempo, in-your-face football but so far, it's not been enough. Only a 1-1 draw with Frankfurt has yielded any reward. They suffer from a lack of a consistent number 9. Davie Selke is a solid journeyman, but not prolific, and local boy Mark Uth and Florian Dietz have long-term injuries. Werder also have a striker issue. They sold last year's top scorer and German international, Niclas Füllkrug, to Borussia Dortmund on deadline day. His replacement is Rafael Borre, a 28-year-old Columbian international on loan from Eintracht. He made his debut and played for an hour, in Werder's 4-2 defeat at Heidenheim. Unlike Köln, Werder have won a match this season, albeit against a dreadful Mainz team. Their other defeats were to Bayern on opening day and Freiburg by the narrowest of margins. The Heidenheim defeat looks bad on paper but I'm wondering if the newly promoted side are better than billed. Werder have scored six in the last two, and I fancy them to get a few more from this opposition. TD
Premier League: Burnley v Manchester United
20.00 on TNT Sports 1 & Ultimate
Manchester United's midweek match in Munich ruled out this being TNT's (formally BT Sport) early kick off, so rather than lose the game, or clash with Sky's tea-time slot, they moved it to eight o'clock. Not that interesting in itself, but neither is a derby that isn't really a derby. That said, this could be an interesting one: United have beaten relegation contenders, Wolves and Forest, by a single goal this season, while Burnley finally picked up their first point at Forest on Monday night. It could have been all three but for VAR which ruled out "the winner" with a questionable handball against Sander Berge in the build-up. Burnley assistant, Craig Bellamy, didn't look happy - not that he ever does - and made his feelings abundantly clear to the officials at the final whistle. A more measured Vincent Kompany added at the presser "I have come to a decision to trust they know what they are doing", which to be fair to Bellamy, amounts to the same criticism of the officials, just in a more refined, Euro café-cultured manner. As for United, last week they were so comprehensively outplayed by de Zerbi's Brighton at the Theatre of Dreams, that the only honourable thing to do would have been to pull the place down and turn it into flats for bailed offenders. This is the perfect opportunity for Burnley against a United struggling to find its identity both on and off the pitch; for those among us who enjoy a little United schadenfreude, it could be a tasty morsel. JB
Sunday
Premier League: Arsenal v Tottenham Hotspur
14.00 on Sky Sports Premier League, Main Event & Ultra
Tottenham fans should be enjoying life right now, and no prospect of it all going "horribly wrong" at some point in the future should deter them from that. Ange Postecoglu deservedly took the Premier League Manager of the Month for August - though many Spurs will point out that Nuno Espirito Santo did the same back in 2021, and look how that turned out. But it doesn't have to be that way, look at the winner of August 2022's award, Mikel Arteta. This match promises to be one of the most engaging North London derbies in years with both sides playing with a swagger that in their not too distant past would have seemed gauche. I say engaging, but that luxury only really sits with neutrals, for anyone supporting either side it will be a gut-wrenching roller-coaster harkening back to those high-scoring thrillers from over a decade ago. Since then home advantage has dominated this fixture. Arsenal's statement win against United and hoodoo-breaking defeat of Everton will make them favourites especially as their comfortable Champions League opener against PSV shouldn't have taken much out of them. Arteta is likely to mix things up again with Martinelli still recovering from the knock he picked up at Goodison. We could even see Arteta carry out what he suggested in a recent interview and make a tactical goalkeeper substitution. What a time to be alive. GS
Serie A: Bologna v Napoli
17.00 on TNT Sports 1
Next time a Premier League manager gets the boot - and let's face it, it won't be be long - when the conversation turns to possible replacements, why not make yourself look cool by dropping Thiaggo Motta's name into the mix: he's doing intriguing things at Bologna. Motta caused a stir amongst the tactical analysis branches of social media a few years back, when he was cutting his teeth in coaching with PSG's U19s. In an interview with
Gazzetta Dello Sport
he outlined how he saw his sides moving towards a 2-7-2 formation. Yes, you read that right, you see because he included the goalkeeper in that - as a midfielder. Eyebrows were of course raised but as some pointed out, if you look at that formation vertically it makes perfect sense. He's since gone on to pass his UEFA Pro and is being watched by those in the know as "the next big thing" in coaching. Having kept Spezia up in 21/22, he took over from the gravely ill Sinisa Mihaljlovic in September and helped Bologna to their best top flight points tally since Serie A went to three for a win. Rudi Garcia, Napoli's choice of replacement for their
Scudetto
winning head coach Luciano Spalletti, is still finding his feet. It's a while since he won the French title with Lille but it's probably his more recent experience in taking Marseille to a Europa League final and Lyon to the Champions League semis in 2021 which marked him out for the job. His side are five points shy of the leaders having dropped points in their games either side of the international break, but a late win away to Braga in their Champions League opener should hopefully have settled a few nerves. GS
Ligue 1: Paris Saint-Germain v Marseille
19.45 on TNT Sports 1
Hostilities resume between these two clubs in a city rivalry that goes way beyond football. As is rapidly become the norm, Marseille fans will not be present inside the Parc de Princes for this match due to security concerns. It's possible that the OM players may be grateful for the respite from sections of the fanbase that has plunged the club into chaos. On Wednesday the coach Marcelino quit. The Spaniard has only been in charge for three months and while the team are third in the Ligue 1 table, the fans have been on his back after failing to qualify for the Champions League, and according to L'Equipe he claims to have suffered "serious threats and slander" from fans. There are also problems at the board level when President Pablo Longoria almost resigned after receiving death threats against him and his family at a recent fan forum. Jacques Abardonado took charge for the Europa League game against Ajax last night: a crazy match that ended 3-3 with summer signing Pierre-Emerick Aubameyang scoring twice. PSG meanwhile have not the best start to the season. Currently fifth, they suffered a 3-2 defeat at home to Nice last Friday. But they did manage a morale-boosting Champions League win over a thoroughly compliant Borussia Dortmund. Kylian Mbappe scored both goals which complemented his brace at the weekend. That's seven league goals in five games for the striker. If OM defend like they did against Ajax, young Kylian is going to turn them into pâté. TD
Whatever you watch, have a great weekend.