Weekend Boxset: We're not in crisis - you are!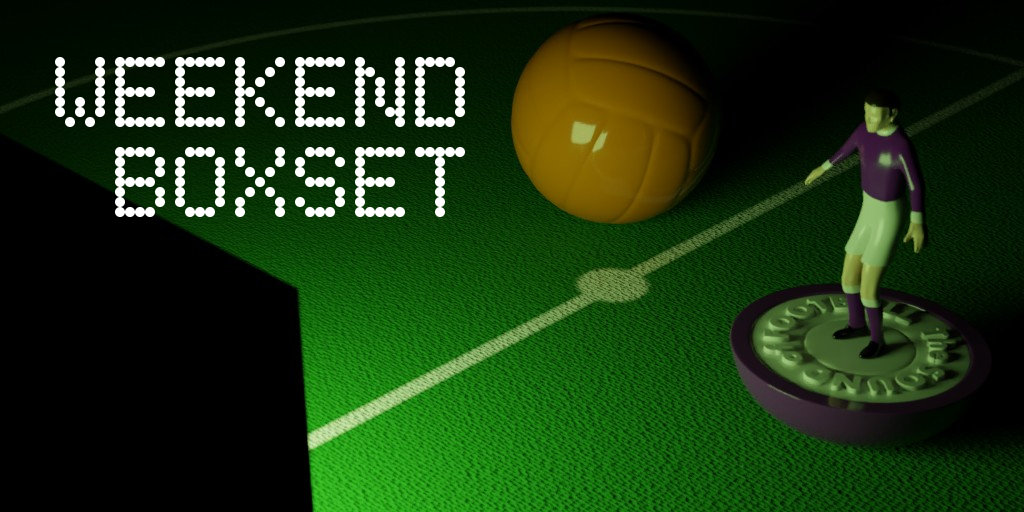 After the transfer window closes, the first international break comes all too quickly. If you have a couple of poor results going into it, suddenly you're a club in crisis. So who'll be the ones to spend the next couple of weeks as the media's Aunt Sally?
Seven great matches to take you from Friday to Sunday. It's the Sound of Football Weekend Boxset.
Get the Weekend Boxset in an email every week
Share this with someone on
WhatsApp
All times are UK (GMT +1)
Friday
Bundesliga: Borussia Dortmund v Heideneheim
19.30 on Sky Sports Football
FC Heidenheim's injury-time winner over Jahn Regensburg in the last seconds of the 2. Bundesliga season sealed their automatic promotion to the German top flight for the first time in their short history. Formed in 2007 as a splinter from the larger sports club, Heidenheim have worked their way up from the amateur divisions to the Bundesliga under the stewardship of the same coach, Frank Schmidt. But this is not a story of a club that was acquired by a software billionaire or an energy drink company such as Hoffenheim and Leipzig. Heidenheim's success has been down to sound management and canny recruitment. They are, however, a tiny club with a budget to match so staying in this league will be a mighty challenge. After two games, they are yet to pick up a point but they did score their first two goals in their last game, at home to Hoffenheim. Sadly, they were undone by a late Andrej Krameric penalty and lost 3-2. On paper, their next fixture should be an uphill battle. Perennial title challengers and Champions League staple, Borussia Dortmund, are easily the better team but have had a nervous start to the season: an unconvincing 1-0 win at home to Koln followed by a disappointing 1-1 draw with relegation candidates and local rivals Bochum. Dortmund are skittish and feel sufficiently under pressure to make a late signing of last season's Bundesliga joint top scorer, Niclas Fullkrug from Werder Bremen. Should the visitors grab an early goal then it could be a difficult night for BVB and a glorious one for Heidenheim. TD
Saturday
Championship: Sunderland v Southampton
12.30 on Sky Sports Football, Main Event & Ultra
As I write this the press are reporting that today's hosts have accepted an offer from their visitors of around £10 million for their perennially injured striker, Ross Stewart. On a personal note and, one widely shared by a number of my compatriots, good luck to him. I've even heard the predictable, but nevertheless humorous, "I'll drive him there myself". This was almost unthinkable at the start of the year when Stewart suffered a nasty achilles injury in an FA Cup game against Fulham. To his credit, his twenty-four goals propelled the Lads out of the depths of League One the season before last. Indeed, his ten last term were useful, but for me, that's where it ends. Sunderland can't afford to carry, quite literally, a lame duck, so it's a "so long and thanks for all the fish" from me. I'm far more concerned about the brilliant Patrick Roberts who is simultaneously in the last year of his contract and a doubt for today. However, Jobe (Bellingham), part man, part superhuman, is fit and also very, very good. His (significant) contribution is now coming more from the front given the continued lack of a number nine. Not that it's an issue, he's bloody brilliant no matter where he plays. A win, coming from behind against Rotherham, followed by an impressive draw away to an excellent Coventry City side, should fill the hosts with confidence, which they will need in spades against an unbeaten Southampton side. JB
Premier League: Brighton & Hove Albion v Newcastle United
17.30 on Sky Sports Premier League, Main Event & Ultra
Every Monday morning I sit down and choose the seven games we're going to cover in the Boxset. There's no magic formula for selection, it's usually based on the profile of the match, recent results, and in the case of the less busy slots, timing. So for a third week in a row, we're covering a Newcastle game, but you have to admit this does look like a game that could fizz. Fans of the Mags could be forgiven for having a sense of déjà vu about their start to the campaign. Last season, after winning their first game, they went six without a win. This season they've lost both games after their opening win. No team lost fewer games than Newcastle last season but then no team drew more than them either. Converting some of those Ds to Ws is what stands between Eddie Howe's side becoming genuine title challengers. Last week's home defeat to Liverpool, as comical as it was for any neutral watching, showed just how difficult that job can be. And that job won't be any easier for Howe once the Champions League starts, having been put in an all-star group with PSG, Dortmund and AC Milan. Brighton themselves had their pants pulled down at home last weekend against an ebullient West Ham, so will feel they have to go into the break with a win. For once, Pascal Gross won't be hanging around at the training ground for the following week or so as he's been called up to the German senior squad for the first time at the age of 32. His last international call up was for the under 20s in 2011. GS
Serie A: Napoli v Lazio
19.45 on TNT Sports 1
As we go to press, the transfer window has yet to shut in Europe and there is still another week before it closes in Saudi. However, it looks like Napoli have got through the summer with almost all of their squad in place. South Korean international centre-back Min-jae Kim was a lynchpin in the Scuddetto-winning defense last season and will no doubt be missed, having moved to Bayern Munich for €50 million. But new coach Rudi Garcia looks to have a full deck to play with and with top goal scorer, Victor Osimhen, signing a new contract have an almost cast-iron guarantee of goals this season as the Neapolitan club seeks to retain its title and improve on its Champions League showing. So far, the season is going well with a 3-1 win at Frosinone and 2-0 at home to Sassuolo. This weekend, the champions welcome their former coach, Mauricio Sarri, and his Lazio team. Many of us have fond memories of Sarriball. The veteran Italian coach made Napoli relevant again albeit without bringing any much sought-after silverware. Sadly, for him, Lazio have made an underwhelming start to the campaign with defeats to Lecce and Genoa. The last time these two met at the Diego Armando Maradona Stadium, was in March and Lazio upset the Champions Elect with a 1-0 reverse. On current form, it would be unwise to bet on a repeat. TD
Sunday
Scottish Premiership: Rangers v Celtic
12.00 on Sky Sports Football, Main Event & Ultra
Though he only took charge in December, this is already Michael Beale's sixth Old Firm derby as Rangers head coach. All of those previous matches were against Ange Postecoglu, now he faces Brendan Rodgers back in his second spell at Celtic having left in 2019 where he won back-to-back trebles. There won't be another double-treble for the Bhoys this season after they were knocked out of the League Cup by Kilmarnock. Having followed that with a goalless draw at home against a St Johnstone side, who were still looking for their first point of the season, there is a growing feeling that this could be a season where they will not dominate. Rangers of course should be the most likely to challenge but lost their opener to Kilmarnock. Two wins since then have put their season back on the sort track you would expect, but preparations for this game won't have been helped by a 5-1 drubbing this week at the hands of PSV in their Champions League play-off. Rangers drop into the Europa League to face Real Betis, Sparta Prague and Aris Limassol and will hope to fare better than they did in the group stage of Champions League last season, where they lost all six games. Celtic are in the senior competition and have drawn Feyenoord, Atleti and Lazio in their group. GS
Premier League: Arsenal v Manchester United
16.30 on Sky Sports Premier League, Main Event & Ultra
Time was that the ground would shake when these two giants of English football played but today there is more of an analogue in the digital age vibe about this fixture. If Arsenal v Man United were a person, it would collect vinyl and buy breakfast at the local caff. Following a solid win at Forest, Arsenal faced a couple of tricky derbies against mid-table but awkward teams. They beat Crystal Palace despite going down to ten men. However, they could only draw with ten-man Fulham, thanks to an 87-minute strike from João Palhinha. The Gunners are tipped to be strong again this season and much of their success rests with summer signing Kai Havertz. A player with abundant talent but who fell short of expectations at Chelsea. If the German can put his mark on this game, then he will go some way in easing the fears of his doubters. Manchester United have two wins from three but failed to impress. They should be congratulated for their resilience in the 3-2 win against Forest, but I think we were all expecting a stronger start with a full pre-season under Erik ten Haag. New striker Rasmus Højlund has yet to play due to injury. There are concerns about the midfield, specifically whether Casemiro and Mount can work in harmony. At the time of writing United are among a number of clubs trying to sign Pierre-Emile Højbjerg in an attempt to bring balance. TD
Ligue 1: Lyon v Paris Saint-Germain
19.45 on TNT Sports 2
You have to go back to a time before PSG even existed before you find as poor a start to a season that Lyon are currently having. Laurent Blanc's side has just one point from their first three games and if they are to turn things around here it will be without their top scorer from last season Alexandre Lacazette. The former Arsenal striker picked up a red card for a petulant challenge on Téji Savanier in the 4-1 defeat at Montpelier on match day 2 and completes his two match suspension here. PSG got their first win of the season against an underwelming Lens last weekend with a fully welcomed-back-into-the-fold Kylian Mbappe scoring twice. Of course there will be plenty of click-bait around today saying he's definitely going to be a last minute signing for Real/United or whoever generates enough clicks. Yesterday evening the two sides completed a deal that sees 20 year old winger Bradley Barcola leave Lyon to join PSG for a fee of €45 million. He could turn out here against his old club wearing Mbappe's original PSG squad number 29. With that move and Castello Lukeba going to Leipzig, Lyon have made a tidy profit of €85 million over the transfer window so they may be in the mood to make a late move in the market today. Their most expensive signing of the summer was €6 million for 6'8" midfielder Skelly Alvero who, at 21, has been a doing great things in Ligue 2 for Sochaux but has yet to make an appearance for
Les Gones
. Guinea-Bissua international Mama Baldé has joined on loan with option to buy from relegated Troyes, who he scored 12 goals for last season. GS
Whatever you watch, have a great weekend.