Weekend Boxset: All bets are off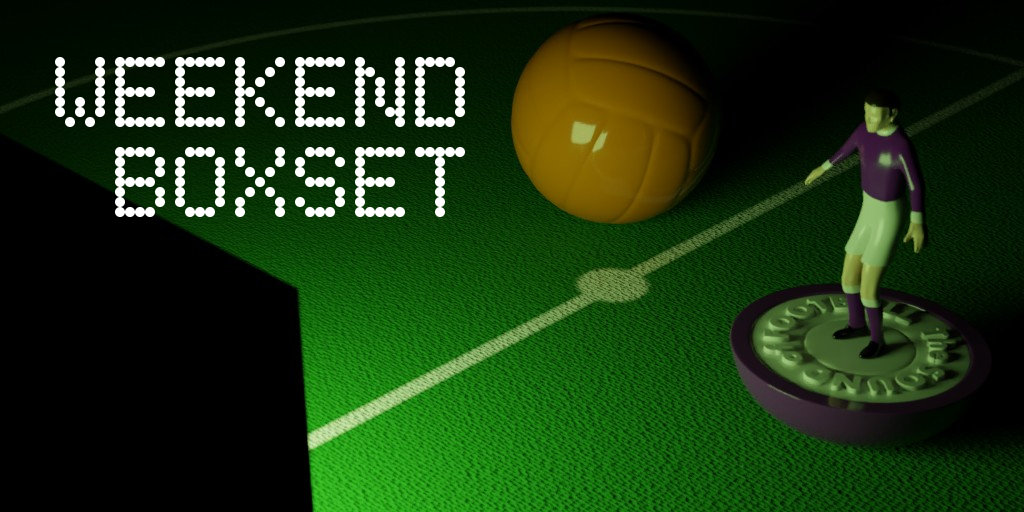 Club football returns with a Merseyside derby, a new head coach at Sevilla, a new scandal in Serie A and the climax to the MLS regular season.
Seven great matches to take you from Friday to Sunday. It's the Sound of Football Weekend Boxset.
Get the Weekend Boxset in an email every week
Share this with someone on
WhatsApp
All times are UK (GMT +1)
Friday
Bundesliga: Borussia Dortmund v Werder Bremen
19.30 on Sky Sports Mix
When it comes to Borussia Dortmund, there is a difference between what the stats say and the eyes see. A relatively thorough examination of the numbers put Dortmund between fourth and fifth in the Bundesliga table. They could be better but given that they are fourth in the actual table, and unbeaten, you can't say they are under-performing. But many of their fans are saying just that. Why? Well, Edin Terzić likes them to play direct and get the ball forward very quickly. No other team has played more long balls than BVB in the league. This is fine but can cause turnover anxiety. They also give up a lot of shots. Only Stuttgart have made more saves than Dortmund out of the league's top teams. Moreover, coach Edin Terzic has been publicly critical of his team's mentality. The last time Borussia entertained Werder they went 2-0 up but lost 3-2 in injury time. In that Werder team was German international striker Niclas Füllkrug who is now a Dortmund player. The last time we reviewed Bremen we talked about Füllkrug's replacement, Raphael Borre who had yet to make a full debut. The Columbian has returned one goal since. Werder's problem is a lack of balance. So far Ole Werner's team has shipped seventeen goals. This is partly due to his ambitious attacking football which is leaving holes at the back. So, there's potential for hi-jinks from both sides and a few goals. TD
Saturday
Premier League: Liverpool v Everton
12.30 on TNT Sports 1 & Ultimate
This week brought the news that Everton's new stadium at Bradley-Moore Dock now has a roof and is progressing as expected towards its completion. It's anyone's guess though what state the club will be in when (if) they get to move in to the new ground at the end of next year. The proposed sale of the club to 777 Partners looks as if it could collapse with the Miami-based investment company unable to provide acceptable financial statements for the government regulators to allow the sale to proceed. The same thing happened when the group took over Standard Liege. That time the Belgian FA approved the sale to avoid of the risk of one of the country's leading clubs failing. This time there's the added concern that the group may have no money of its own and deals purely in passing loans from one organisation to another. On the pitch things are improving from the Toffees. Wins against Brentford and Bournmouth have pulled them out of the bottom three but defeat at home to Luton showed how unlikely it will be for them to reach a position of comfort this season. Sean Dyche does have an Anfield win in his managerial statsitics: ending Liverpool's 68 match unbeaten run of home games in a behind closed doors match against the then champions in Janury 2021. Ashley Barnes' late penalty the only goal of the game. Liverpool are waiting on a late fitness test for Darwin Nunez. The Uruguayan shone in his national side's defeat of Brazil in this week's World Cup qualifier. He scored and registered an assist, adding to the goal he scored in the 2-2 draw in Colombia a few days earlier. GS
La Liga: Sevilla v Real Madrid
17.30 on LaLigaTV & Viaplay Sports 2
Talking of 777 Partners, another club they hold a minority stake in is Sevilla. During the international break the club sacked Jose Luis Mendilibar, the man who not only saved them from relegation last season, he also won them the Europa League. Diego Alonso is the new man in charge, the club's third full-time head coach since Julen Lopetegui left 12 months ago. The majority of Alonso's coaching experience has been in Liga MX. He left Mexico to become Inter Miami's first ever head coach, a position he held for just over a year before being replaced by Phil Neville. He then led his native Uruguay to the Qatar World Cup where they went out at the group stage (Wolves' Hwang Hee-chan's injury time winner against Portugal sealing their fate). For someone who has no experience managing in Europe, his first three home games are a baptism of fire: this match against the table leaders is followed by a Champions League tie against Arsenal, and then next month there's the derby against Real Betis. That is, of course, if he makes it that far. Sevilla had an awful start to the season but since those opening three defeats the only loss they've suffered was away to Barcelona. Jude Bellingham's Real Madrid are in blistering form though and are unlikely to go easy on their former captain Sergio Ramos, should the 37 year old start. GS
MLS: Chicago Fire v New York City
23.00 on Apple TV
This is our pick of the final day of the MLS regular season but if you have an Apple TV subscription you will want to have the remote handy to change games. In a nutshell, there are just two wildcard slots (positions 8 and 9) in the Eastern Conference, and they represent the last chance for a team to enter the playoffs. Five teams can finish the season in those slots with one game left. Montreal have 41 points and have won 12 games. Behind them are New York Red Bulls (40/10), Chicago Fire (40/10), Charlotte, (40/9), and New York City FC (38/10). Games won is the primary tiebreaker in MLS, not goal difference. Ninth-placed DC United have played all their fixtures and are out. NYCFC have got the most work to do and can only make it on points. If they beat the Fire, they still need Red Bull to lose to Nashville and Inter Miami to get at least a draw against Charlotte. Much of New York's fortunes hinge on whether Miami's hitherto absent Leo Messi plays at Charlotte. City can take some solace from a moderately decent run of form until their most recent loss, 2-0 to DC. Nick Cushing's team are unbeaten in New York for the last five games. Chicago's last away win was on the last matchday at Red Bull, but they needed a man advantage to make that happen. Prior to that Fire have not won away from Soldier Field since their trip to Kansas in June. They are also waiting on the fitness of veteran forward Kei Kamara who has been out since late September. TD
Sunday
Ligue 1: Lille v Brest
14.00 on TNT Sports 3
Stade Brestois 29 (Brest to you and me) are the Ligue 1 early-season surprise team. The coach is Eric Roy who joined in January. His previous coaching role was in 2011. After that, he worked as a sporting director, most recently at Watford. But he fled the Hornets' nest after their relegation and following a period of reflection, returned to coaching. Last season, he guided Brest to fourteenth and away from the relegation zone and the squad has kicked on this season.
Les Pirates
are fourth in Ligue 1. So far only Marseille has bested Brest and they have seen off Lyon, Le Havre, Lens, and Will Still's Reims. Roy likes to play his team deep, hitting the big man up front, Steve Mounié, for highly rated Inter loanee Martín Satriano and top scorer Romain Del Castillo to swoop in and score. That low block will be a problem for LOSC who as the home side will be expected to be more expansive against a team that is happy without the ball. Before the international break, Lille earned a hard-fought 1-1 draw against Lens in the Derby du Nord and sit seventh in the table, just three points behind their opponents. History favours them as they are yet to lose at home to Brest. Their last encounter at the Stade Pierre-Mauroy was a 2-1 win for
Les Dogues
, last February. TD
Premier League: Aston Villa v West Ham United
16.30 on Sky Sports Premier League, Main Event & Ultra
Unai Emery, serial European silverware hoarder and Jesus to the Lazarus that is Aston Villa takes on David Moyes, slayer of Mackem hope, in the penultimate game in your weekend boxset. I realise that of those West Ham fans who are capable of reading this, will be politely pointing out that Moyes is a European winner himself, having masterminded victory in Europe's shittiest club competition last year. Fair point, lads, but Unai's three Europa Leagues and everything you can win in France tells you everything you need to know about the gulf in class between a top class European coach and Moyes. Of course, Villa are capable of shooting themselves in the foot: one of only two sides Everton have beaten this season, they can be as brilliant as a six-one win over Brighton, and as poor as a five-one reverse at the (dirty) Mags. Add to this, Moyes's insistence at succeeding when I least want him to, and you've got the recipe for an upset for the home side, here. Both side's have put together a mini-run which included wins in Europe, and while the early season table has them just a few points apart, I think, with my not partisan head on, they'll play out a score draw. JB
Serie A: Milan v Juventus
19.45 on TNT Sports 1
Another week, another scandal for Juventus. While everything else, from mounting legal cases to Paul Pogba's failed dope test, continues to rumble on in the background, this week saw another Juve player banned for the remainder of the season. Nicolo Fagioli was sent home from the Italian national squad when it emerged that he was being investigated for illegal gambling. The 22 year old's ban leaves an already stretched midfield with little cover. Juve can go past Milan with a win here but will need to halt the
Rossoneri's
run of four straight wins that has taken them to the top of the table. That run could have ended against Genoa in their last fixture before the break, were it not for some unlikely heroics. The goalkeepers of both teams received red cards in second half injury time, and with Milan having made all their substituions it was up to Olivier Giroud to protect their one goal lead for the final six minutes of play. The French striker's display between the sticks has led to the Milan clubshop selling their keeper's kit with "Giroud 9" printed on the back. The subsequent suspension of regular keeper Maignan, and injury to his back-up Marco Sportiello means that Antonio Mirante will be wearing the gloves for this one. The 40 year old has seen just two minutes of competitive football in the near two and half years since his last start in Roma's Europa League semi-final against United. You'd imagine the Milan kit man will have one of those newly printed shirts at the bottom of his bag just in case. GS
Whatever you watch, have a great weekend.