Weekend Boxset: When is a derby not a derby?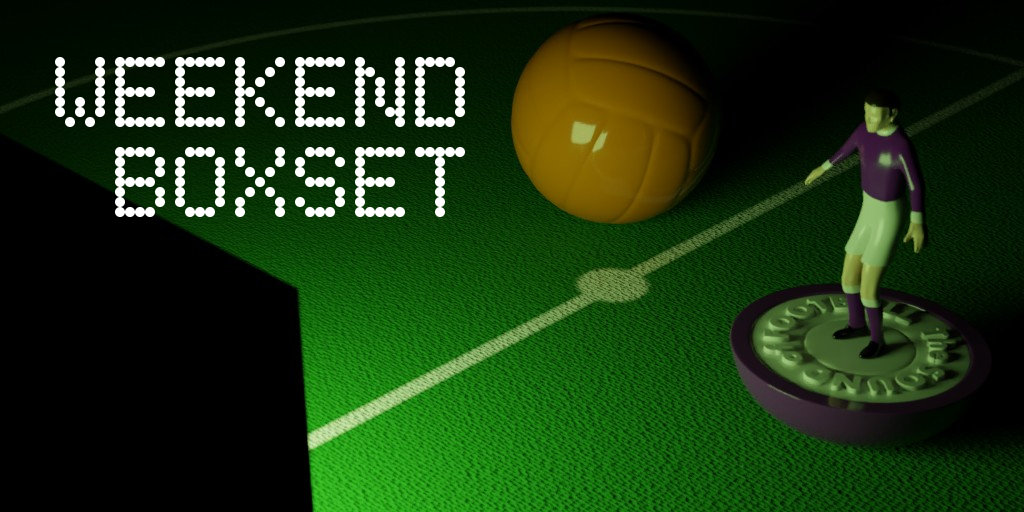 We love a local derby in the Boxset. This week we have three but only one of them - the
Derby della Mole
- has a name. There's also Arsenal v Manchester twice.
Seven great matches to take you from Friday to Sunday. It's the Sound of Football Weekend Boxset.
Get the Weekend Boxset in an email every week
Share this with someone on
WhatsApp
All times are UK (GMT +1)
Friday
Women's Super League: Manchester United v Arsenal
19.30 on Sky Sports Premier League, Main Event & Ultra
Arsenal's injury crisis last season saw them fall short in both the WSL title race and their bid to win the Champions League. A busy summer in the transfer market has provided more than adequate cover, and with returning players they should match Chelsea for squad strength this season. Not that you would have known it from their opening weekend defeat to Liverpool. I was among the 54,000 league record crowd at the Emirates, sat in front of the goal that Arsenal failed to get a shot at on target for the whole of the second half. Despite using his very talented bench Jonas Eidevall couldn't break down a very organised Liverpool side, and it could take a while for this much altered squad to gel. Alessia Russo swapped clubs in the summer and will be a big miss for United, especially in this fixture where she scored the winning goal in both games last season. Her place leading United's attack has been filled by Brazilian Geyse arriving from Barcelona, but it was veteran Rachel Williams who got the injury time winner in their side's win over a 10 woman Aston Villa. Perhaps a bigger loss for United is Ona Battle who returned to her home city Barcelona in the summer on completion of her three year contract. With only 22 games in a WSL season, any loss is harder to recover from, making the matches between rivals for the top places even more important. The good news is that with Chelsea facing Man City on Sunday (12.30 on BBC Two), at least one of these sides' main rivals will also be dropping points this weekend. GS
Saturday
Championship: Sunderland v Middlesbrough
12.30 on Sky Sports Football, Main Event & Ultra
Quite a tidy fixture to kick off your Saturday, this one. Sensibly moved to a midday slot to keep alcohol related shenanigans to a minimum, the hosts welcome Middlesbrough to the clean and breathable air of the North-East of England. I have to admit, in my younger, more colourful days, moving to an early kick-off made absolutely no difference to the availability of alcohol in Sunderland's licensed premises - but those were different times. The lads come into this normal everyday fixture on the back of a decent run which was punctuated by a disappointing loss to Cardiff City. Frustratingly, Tony Mobray's young side dominated in every conceivable statistic apart from the only one that actually matters. One of the many reasons for this uptick in form is the performances of lively winger, Jack Clarke. His performances have been first-class and the seven goals that came along with them have certainly brought home the bacon. Sunderland have been without a proper striker for some time now, so Clarke's efforts are doubly important. I say "proper", new faces were brought in at the last possible moment on deadline day in the form of Chelsea loanee Mason Burstow, and Nazariy Rusyn from the Ukrainian Premier League - both should be in the squad for today. The Smoggies are on a little run of their own, with three wins out of four and unbeaten. This is quite the turnaround given the previous six games yielded just one point. Boro should be better than sixteenth at this stage, but they face a tough challenge against fourth placed Sunderland today. I think it'll be close with the home side sneaking it by the odd goal. JB
Serie A: Juventus v Torino
17.00 on TNT Sports 2
With all the problems Juventus are facing off the field, things aren't looking so bad on it. There's strong talk of the club being up for sale, and they still have an upcoming trial into the accounting scandal that saw them docked points last season and expelled from European competitions for this season. The news that Paul Pogba failed a drug test last month (the results of which are due to be published today) has capped off a pretty miserable 12 months for the Old Lady. Adrien Raboit could have walked away from this mess in the summer but signed a 12 month extension to his contract and has been in excellent form in midfield alongside Manuel Locatelli. Up front Federico Chiesa looks to be back to his best, as does Dusan Vlahovic. Both have four goals each so far though the Serbian is likely to be out for this one, as he was in their toothless 0-0 draw with Atalanta last weekend. Vlahovic's international teammate Nemanja Radonjic has also been showing what he's capable of for Torino, and if selected, will have much to prove in this fixture. When the sides last met, Radonjic, on loan from Marseille, came on as a second half substitute with the score at 2-2. He lasted just 15 minutes before he was hooked by his manager, Croatian Ivan Juric, who proceeded to have a blazing row with him on the touchline, blaming Radonjic for a lack of concentration at a short corner which Bremer converted for Juve to win the match. Despite the very public falling-out, Torino went on to exercise their option to sign Radonjic from Marseille. The form of both sides suggest that this Turin derby won't have as many goals but it should still provide the drama. GS
La Liga: Sevilla v Rayo Vallecano
20.00 on LaLigaTV and Viaplay Sports 1
Sevilla's indifferent start to the season (four defeats, two wins and a draw) is unsurprising. Last season the club escaped relegation and won the Europa League after coach José Luis Mendilibar took over in March. This remarkable feat gave them a much-needed cash boost from Champions League qualification but there is a cost to fielding two teams a week. However, it's a decent squad that can finish in the top six. Central to that goal is Sergio Ramos. The highly decorated centre-half left Sevilla for Real Madrid as a callow youth in 2006 and returns as a 37-year-old free agent. Having spent the pre-season without a club, he is not quite up to speed and has made some costly mistakes, including an own goal in the 1-0 defeat to Barcelona last week. Despite that, he is improving and will be a key man in the Sevilla defence. When former Rayo coach Andoni Iraola left at the end of last season people wondered how the club would fair without him. Turns out they're doing OK. There was the not-so-small matter of the 7-0 home defeat to Atleti but seriously that was an outlier. The Vallecas club sit eighth in the table and are unbeaten in four. New coach Francisco did not have too many squad changes to manage when he took over and still benefits from the services of Izzy Palazón. The 27-year-old forward is a fun player to watch. It will be interesting to see how he squares up against Ramos. TD
Sunday
Ligue 1: Marseille v Le Havre
12.00 on TNT Sports 3
When your fourth manager in three years walks out after just seven games - citing his reason for leaving as intimidation and threats against the board from the home ultras - who are you going to call? Marseille are a mess and Marcelino was perfectly justified in choosing not to put up with it. In his brief time he oversaw a demotion to the Europa League at the hands of Panathinaikos and an uninspiring start to their Ligue 1 campaign. Departures of fans favourites like Alexis Sanchez (now at Inter) and Dimitri Payet (now at Vasco da Gama, in Brazil) in the summer haven't helped. Finding someone with the profile for the club but also with skin thick enough to take the job hasn't been easy. Step up Gennaro Gattuso. No stranger to coming into big clubs in disarray, the Milan legend returns to management after leaving Valencia in January. Results haven't changed but at least it looks like they're making an effort: they led twice in the 3-2 defeat to table leaders Monaco and it took a late Brighton penalty for them to draw their midweek Europa League tie. Le Havre are back in the top flight for the first time since 2008. They went straight back down that season but look more resilient this time around coming up as champions of Ligue 2 - a title they've won a record six times. Despite their lack of recent time in the top division they've still had a number of stars going through their youth ranks, including Paul Pogba, Riyad Mahrez and the aforementioned Dimitri Payet. Hopefully the pitch holds up as Stade Vélodrome has already hosted four Rubgy World Cup matches including Sunday's game between South Africa and Tonga, and will go on to host two quarter finals next weekend (including the one England are in). GS
Bundesliga: Bayer Leverkusen v Köln
14.30 on Sky Sports Arena
As is Boxset tradition when previewing this game, I must point out that even though Leverkusen is the next town over from Cologne, the latter do not regard this fixture as a derby. To FC Köln fans, Leverkusen is a small, plastic club funded by Big Pharma. Their actual rivals are Mönchengladbach and Dortmund. This eye rolling contempt acts as consolation for the fact that, for many years, their neighbours always finish above them in the league. Right now, the gap couldn't be much larger. Leverkusen are top of the table while Köln are second from bottom with a solitary point to their name. Only the utterly wretched Mainz are worse. As feared in the last preview for this club, coach Steffen Baumgart has been unable to evolve his team largely through lack of squad development. So, while newly promoted Heidenheim and Darmstadt are defying expectations they would be
keller
dwellers, it is Köln who flounder. Leverkusen on the other hand are living up to the hype and in Xabi Alonso have a coach who may be able to take advantage in Bayern Munich's shortcomings and claim an unlikely Bundesliga title. In fact, only Bayern have taken points off them this season. New striker Victor Boniface is up to six goals and other new signings Jonas Hofmann and Granit Xhaka continue to add value. If only Baumgart had a budget to match their subsidised neighbours. So, Köln are in for a tough afternoon. Maybe it would be better to try and foster the derby spirit after all, to galvanise the players to some much-needed heroics. TD
Premier League: Arsenal v Manchester City
16.30 on Sky Sports Premier League, Football, Main Event & Ultra
A welcome clash between last season's principal title challengers. Extra spice is added from the close relationship between coaches Mikel Arteta and Pep Guardiola. After the 2-1 defeat at Lens, Arteta felt that his players had done enough to win but were undone by an individual mistake by keeper David Raya, Lens' high press and two beautifully finished goals from the home side. Based on their performance, Arsenal should not be discouraged by the defeat. Of greater concern is the injury to Bukayo Saka. The England international has four goals and two assists in seven league games this season. That will be quite a deficit to make up against a very difficult opponent, albeit one experiencing something of a domestic micro-slump. City's 3-1 win at Leipzig on Wednesday broke a two-game run of defeats but they had to work for it with late goals from Julián Álvarez and Jérémy Doku. The result must have come as something of a relief after the EFL Cup exit to Newcastle and more importantly Premier League defeat to Wolves a few days later. As always, the man to watch the closest is Erling Haaland who is going through a moderate dry spell having failed to score in the last three games. Perhaps, as speculated by TNT's Owen Hargreaves and Jolian Lescott after the Leipzig game, the Norwegian is still adjusting to the absence of Kevin De Bruyne who has a long-term injury and Riyad Mahrez who left in the summer. Still, there is no question that young Erling needs handling by the Arsenal defence irrespective of whether he scores. TD
Whatever you watch, have a great weekend.