The Fergie dialogues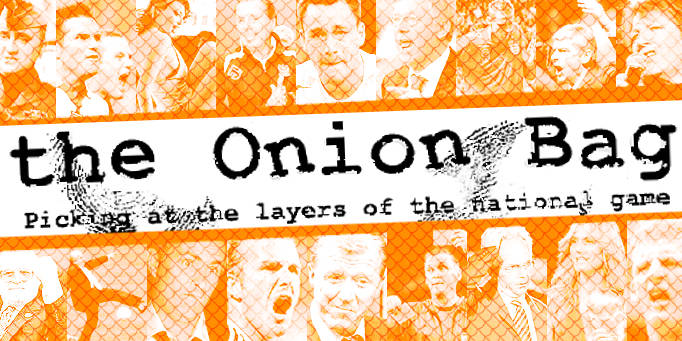 Fed up of trying to guess which expletives were shooting out of Sir Alex's mouth at St James' Park last saturday at a rate that would boggle the mind of the late, great Donald Campbell? Well ponder no more as The Onion Bag can exclusively reveal exactly what was said between the United boss, fourth official Jeff Winter and referee Uriah Rennie.
Ryan Giggs is quite clearly brought down by Newcastles Aaron Hughes when he is the last man on goal. Giggs gets up and looks in astonishment as he sees Uriah Rennie staring vacantly into space at a fixed point on the horizon that no doubt only he can see.Giggs scream for justice snaps Referee Rennie out of his reverie in time for him to dismiss the welsh wizards claims out of hand.Appalled by this apparent injustice the Manchester United manager and knight of the realm leaps from his pitch side lair and heads for the touch line.
Fergie:
Hey you there! Referree! I say. What gives! Surely thats a foul.
Rennie:
Play on.
Fergie:
I said you there! Chap in the green. [
Rennie points to himself in a "who me?" fashion]
Yes you. What d'you call that eh? Clearly a foul what what??
Rennie:
I said play on.
Fergie:
By gad there's rum thing. I ought to report you to referee's whatsit.
Winter:
Referees association.
Fergie:
What?
Winter:
It's the referees association.
Fergie:
Who the F**k asked you yer f**kin' goatie wearing jumped up piece of S**te?
At this point Jeff Winter calls over Uriah Rennie and explains what has transpired. Rennie then calls Fergie over:
Rennie:
I'm sorry but you'll have to leave. I won't have my officials abused.
Fergie:
But my dear chap I was merely expressing an honest opinion as is my god given right as a man free born of these isle. However, if that's the way the wind blows then so be it. If anyone needs me I'll be at the races. Cheerio.
Fergie heads off towards the tunnel, stops, turns around and walks back to towards Jeff Winter.
Fergie:
And as fer ye yeh c**t. I see you here agin and me and mah boys'll beat the living S**t out of ye. And ye ken write that doon on yer f**kin' notepad yer f**kin' jesse!!