The Onion Bag season preview 2003/04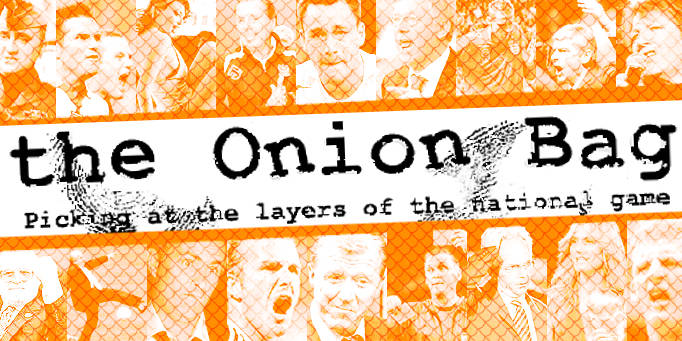 Are you ready?
That's what some old gay guy asked
The Onion Bag
only the other day to which our response was: "If, by that you mean are we ready for the start of the premiership season then the answer is an emphatic... not quite. However, once this special preview of the 2003/04 Premiership season has been written, then yes, we are most definitely ready."
So without further ado, let us proceed with the carnage as we give you our, distinctly hit and miss, club by club season preview.
Arsenal

As soon as our North London Corespondent had finally swallowed his mouthful of falafel, he was rather gloomy about the Gunners chances. "I've definitely been earmarked by the board" he said cryptically.
Aston Villa

David O'Leary's signing of Jody Craddock plus the apparent rehabilitation of Alpay has got Villa supporters wetting their knickers with anticipation according to our sarcasm correspondent.
Birmingham
Steve Bruce is almost as excited about the second city's first XI's prospects this season than he was about the reversible jacket he picked up for a bargain at TK Maxx last week.
Blackburn Rovers

Boss Graeme Souness' promise to the Blackburn supporters that he will twat any player who requests a transfer (except Andy Todd) has had a calming influence on the squad. Especially since the effigy of Damien Duff impaled on a Club flag pole was erected out side the training ground.
Bolton Wanderers

That Sam Allerdyce. He's a wheeler-dealer and no mistake. Rumour has it that Big Sam, while holidaying in Constantinople, managed to convince a local trader to part with one of his finest carpets for one of Ivan Campo's mighty locks.
Charlton Athletic

The late addition of Paulo di Canio to the Addicks squad might be just about the only interesting thing to say about them. Then again...
Chelsea

Chelsea Cash strapped Chelsea owner Roman Abramovitch has told beleaguered boss Mike Newell to "trim the squad and get promoted". The Russian former billionaire went on to say... oh hang on that's next years preview.
Everton

Yes, well... Rooney's pretty useful I suppose.
Fulham

ACTON BABY!! Coleman's cottagers, (
now apparently being run by Chechen Rebels
) are hearing the call of the west. Its saying "cheerio". And so is everyone else.
Leeds United
"Don't fear the Reidie" as the Blue Oyster Cult never said. "Don't worry, we won't" say the rest of the league.
Leicester City

Leicester will dramatically escape the drop. But they must pay a terrible price. On the last day of the season, the Foxes will fly from danger using an old Dakota aircraft given to them by an Irish missionary. Forced between shooting a hamstrung Brian Deane, unable to catch up with the plane or watching him get chopped to pieces by pursuing Simba warriors, Micky Adams has no choice but to gun down his old comrade as Deane desperately calls out the name Emile!! EMILE!!
Liverpool

The Onion Bag
is currently running a book on which tabloid will get the headline "Kewell And The Gang!!" in first. We reckon that whatever rag the guy who came up with "Super Cally go ballistic Celtic are atrocious." works for now will take the honours.
Manchester City

Kevin Keegan acted swiftly to replace the retiring Peter Schmeical with another goalkeeping legend. None other than the Soviet Union's Lev Yashin.
Manchester United
Simon Le Bon's assertion that Rio dances on the sand is even more ludicrous than his claim's on the giant one's gender. Face facts Simon and move on.
Middlesbrough

Ah Middlesbrough. Like the grout between your bathroom tiles. What more need be said.
Newcastle United

While Sir Bobby attempts to justify the presence of Lee Bowyer in his proud squad,
The Onion Bag
is left wondering just how pronounced Alan Shearer's ravens wings are going to get before he retires. Why is no one talking about this?
Portsmouth

Now we must be very careful what we say about Portsmouth in case it's citizenry mistake us for pediatricians or something. In fact, it's probably best not to say anything at all.
Southampton
Pompey fans like to call people from Southampton "Scummers" after dockworkers from that city were recruited to scab a strike in Portsmouth back in the day. That isn't very funny but there it is. It's not a very funny football club.
Tottenham Hotspur
Folks in Hoddle County have been lookin' forward to some good ol' fashioned home winnin' 'n' then some. So Pappy Glenn's gawn out and rounded up a posse of sharp shooters. "I'm fixin' to buy me a whole new hospital wing to boot", he said.
Wolverhampton Wanderers

Once again, Simon Le Bon raises his head above the parapet to declare Wolves hunger for Premiership survival. Good on yer, Si.