Revenge: Euro 1980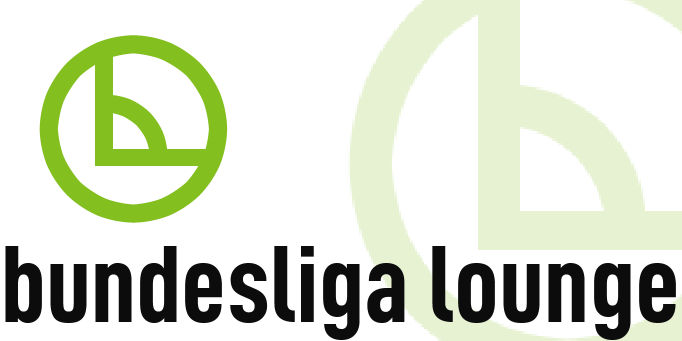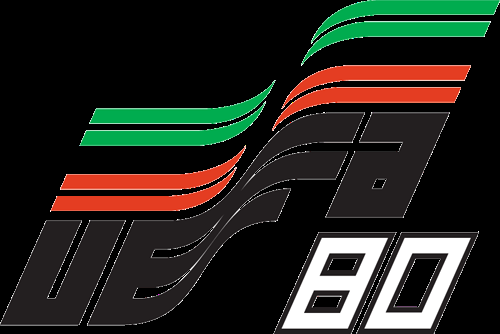 In the second of his three-part series,  
Kyle Barber
moves on to 1980, and retribution for a German side dethroned four years earlier………..
In 1976, reigning World and European Champions West Germany suffered a shock defeat in the final of Euro 1976; losing out 5-3 on penalties to a committed Czechoslovakia side, in a match famed for the audacious way in which Antonin Panenka chose to chip the winning penalty straight down the centre of Sepp Maier's goal. Cast forward four years, and an enlarged eight-team tournament witnessed a definitive return to prominence for a National team that would go on to dominate the next decade of World football.
Scarcely recognisable from the side that sought to defend their 1972 crown (with just Captain Bernard Dietz and Rainer Bonhof keeping their places from the 1976 group), the 1980 West German squad was shorn of the likes of Beckenbauer – then plying his trade with the New York Cosmos – and Uli Hoene? – forced into retirement aged just 27 due to a knee injury sustained two years previous. In their stead stepped future stars such as Lothar Matthäus and Eike Immel. Yet this would prove to be a tournament belonging to two other lights: Karl-Heinze Rummenigge and Horst Hrubesch.
As briefly touched-upon, the Italy-based extravaganza became the first to accommodate more than just four teams, and the first to exhibit a structure more reminiscent of that of the modern era; with two groups of four. The Germans found themselves thrust against the aging (but still competent) Dutch, Greece, and their conquerors from four years hence, the Czechs. Indeed, while the format may have changed, the competition opened with a marked air of familiarity, as the
DFB-Elf
had the opportunity for revenge, taking on Czechoslovakia.
Perhaps with the weight of expectation exerting too much on them, the pre-tournament favourites struggled to press their superiority into effect amid the imposing arena of the Stadio Olimpico. However, Rummenigge's far-post headed effort on 57' finally broke the deadlock, the Czechs managed only one real counter attempt – Zdenek Nehoda wasting a good chance from the edge of the 18-yard box – and Germany were off and running. After that match, Rummenigge was quick to try and alleviate any further pressure from the collective youthful shoulders of his teammates, noting
"it was an important match and a very good start to the tournament for us. We had a new, young team [who] weren't favourites to win at all"
.
It would take just a further 65 minutes for the Germans to truly mark their arrival at the tournament; with a whirlwind first half display that would leave not even Rummenigge able to argue to the contrary. Noting the laborious manner of the opening game, Coach Jupp Derwall opted to remove Bernd Förster, replacing him with 20-year-old Bernd Schuster. Schuster would go on to garner a place in the team of the tournament. But for this encounter, he was tormenter-in-chief, with a hand in each of his side's three goals as the Dutch were swept aside. With a breath-taking level of exuberance, Schuster dominated the midfield, and it was his 20' effort that cannoned off the from fully 25 yards, straight to Klaus Allofss to tuck in the rebound. While Germany somehow failed to extend their lead before the break, it took them just 15 minutes after it to double the advantage – Schuster playing Hansi Müller in along the right hand flank to tee-up Allofs for his second. Five minutes later, the hat-trick was complete; as a weaving run from Schuster bewitched the
Oranje
rearguard, allowing him time to pull the ball back to Allofs to net from all of five yards out.
[caption id="attachment_797" align="aligncenter" width="465" caption="Berndt Schuster:a revelation at the tournament"]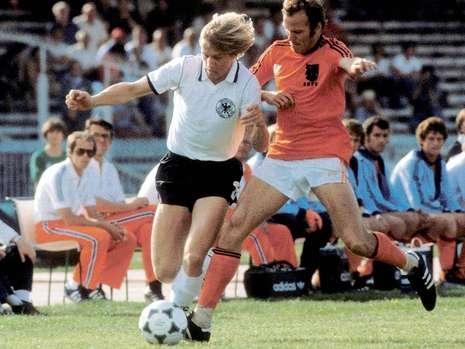 [/caption]
That game – against one of the DFB's most fearsome rivals – was also notable for affording Lothar Matthäus the first of his 150 international caps. But it was a debut to forget for the then-19-year-old, who tripped Wijnstekers in the 79', to give the Netherlands a lifeline duly converted by Johnny Rep. The final scoreline became even tighter with five minutes remaining – a 30-yard screamer from van der Kerkhof making the last few moments uncomfortable for Derwall's men – but Germany held on. After the game, Schuster was thrust further into the limelight, as he was designed to attend the post-match press conference. Showing a maturity that matched his on-field play yet belied his youth, Schuster was quick to spread the praise that came his way:
"we had a good mix of experience and youth [in the team today]. We had an excellent nucleus to the [side] and played really well together"
.
Group game number three offered a small reality-check for the Germans, as a stuttering display that yielded a scoreless draw with Greece was heralded as the direct result of playing without Schuster. That such a young man should already be carrying such a weight of expectation and mantle in his homeland was of concern to Derwall as he prepared for the final.
Group A
- Final Standings
| | | | | | | | |
| --- | --- | --- | --- | --- | --- | --- | --- |
| Team | P | W | D | L | GF | GA | Pts |
| West Germany | 3 | 2 | 1 | 0 | 4 | 2 | 5 |
| Czechoslovakia | 3 | 1 | 1 | 1 | 4 | 3 | 3 |
| Netherlands | 3 | 1 | 1 | 1 | 4 | 4 | 3 |
| Greece | 3 | 0 | 1 | 2 | 1 | 4 | 1 |
Final
In a move that surprised literally nobody, Schuster was restored to Derwall's starting eleven. In one that did surprise a few, Horst Hrubesch retained his starting berth, despite not scoring thus far in the competition. Confidence back home was high, as the West German press began printing mock-up pictures of the team hoisting the trophy aloft even before the game had started, such was the restored level of belief held in the side to elevate themselves to the top of the European stage once more.
Yet no team had won the Henri Delaunay trophy on more than one occasion and – as with the opening game – the apparent inevitability of the German ascension an attack on the edge of his own area, before racing through seemed to be bearing down, as international commentators were quick to note an apparent nervousness amongst the players as they lined up for the pre-match ceremonials.
Cue Herr Schuster once more.
Just ten minutes of the game had passed, when the so-monikered
'firebrand'
broke up a Belgian attack on the edge of his own area, before playing a quick one-two with Rummenigge, then arcing a wonderful chipped through-ball to Hrubesch. Known as the
'heading monster'
(or, Kopfball-Ungeheuer) courtesy of a coach at Rot-Weiss Essen for his dominance in the air (with 81 of his 136 Bundesliga goals coming with his head), Hrubesch evoked the adage of
"good feet for a big man"
as he took the pass on, and comfortably opened the scoring.
[caption id="attachment_798" align="aligncenter" width="259" caption="Finding the Strength - Hrubesch Points the Way"]
[/caption]
Hrubesch himself had only found himself in the squad a matter of days before the start of the tournament and, at the age of 29, it seemed as though the opportunity of adding to his handful of international caps had passed him by. But, with the final preparations well-advanced, an untimely broken leg for Klaus Fischer saw Derwall turn to the 6'2" centre forward Hrubesch has since been more than willing to note the limits of his abilities, attributing his call-up to
"the system at the time – it was a strong team…and we played some beautiful football. It was quite simple for me [to fit into the play]"
.
As if to underline Hrubesch's point, the Germans then created – and spurned – a number of other good first-half chances; Müller blazing over from inside the 18-yard box, and Jean-Marie Pfaff doing well to keep out efforts from Allofs and Schuster. But as the whistle went for half-time, they looked to be in complete control. Hrubesch picks up the tale:
in the second half we saw Belgium's class, and they deserved to equalise
[through Vandereycken's 75' spot-kick, after Uli Stielike had felled Van der Elst].
Extra time would've been too much [for us]. So when we got a corner on the left, we were prepared. Rummenigge signalled…Pfaff stayed on his line…[and] I was able to [muster enough energy] to jump high…"
Hrubesch's 88' header sparked wild celebrations in the crowd, yet there was little evidence of the pre-tournament hooliganism that was so greatly feared, and Germany held on, the unlikely hero going on to admit that he
"found it hard to lift the trophy – I was so tired after the game!"
22/06/1980, Stadio Olimpico, Att: 47,864
West Germany          2-1          Belgium
Hrubesch 10', 88'      (1-0)         Vandereycken 75'(p)
Once again, West Germany took six places in the overall
Team of the Tournament
, with Karlheinze Förster, Hans-Peter Briegel, the irrepressible Schsuter, Müller, Rummenigge and Hrubesch being elected alongside four Italians (Zoff, Gentile, Scirea and Tardelli), and one Belgian (Ceulemans). Allof's hat-trick against the Dutch saw him take the Golden Boot, while Rummenigge found himself crowned with the
Ballon d'Or
(with Schuster as runner-up).
And so, in a year that saw the Eurovision Song Contest won by Irishman Johnny Logan with
'What's Another Year?
', European football witnessed another European revision of sorts, as West Germany took to the helm. And, just as with eight years previous, this side would usher in a decade of dominance. Yet it would be another 16 years before they would get their hands on the European title again.
[caption id="attachment_799" align="aligncenter" width="396" caption="The Victorious Team"]
[/caption]