United: Euro 1996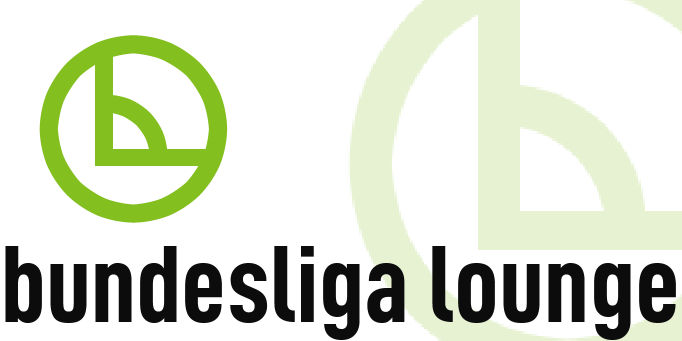 [caption id="attachment_829" align="aligncenter" width="180" caption="Football Coming Home?"]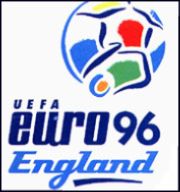 [/caption]
Ahead of their impending battle with Italy, and in the final instalment of his three-part series,  Kyle Barber turns attention towards Euro 1996, and yet more firsts for a now unified German side that had waited 16 years to once again be considered the best in Europe………..
Throughout the annuls of the European Championships, victories for German nations have been intertwined with 'firsts'; both for the country, and the tournament itself (both negative and positive). 1996 was to prove no different.
Four years earlier, the 1992 edition of the Championships witnessed Germany competing as a unified nation for the first time in a major tournament, and doing so as one of just eight teams. This time around, that number was doubled, with teams split across four groups. Seeded for the draw as a result of their historic success and global ranking, the Germans had also topped their qualification group, and thus saw themselves paired with the Czech Republic, Italy, and Russia in Group C.
The squad as a whole adhered more to the perceived quintessential German stereotype of efficiency and pragmatism than their predecessors merited, with the flair and creativity of wingers Thomas Hä?ler and Mehmet Scholl being overshadowed by the dogmatic displays of Steffen Freund and Andreas Möller. Yet Coach, Berti Vogts, engineered a blend of both the prosaic and more exuberant to good effect. With five goals scored, and none conceded during the Group phase (courtesy of an ill-tempered 2-0 win over the Czechs – Christian Ziege, 26' and Möller, 32'; a 3-0 defeat of the Russians – Matthias Sammer, 56', and Jürgen Klinsmann, 77', 90'; and a dour 0-0 encounter with the Italians), there was certainly a somewhat miserly air to the side led by the indefatigable Klinsmann. And while the on-field action of the second game had Germany again going about their business in a methodical, calm manner it was off the field that global attention was unfortunately focused; as an IRA bomb rocked the centre of Manchester less than 24 hours before the match between Russia and Germany – causing some £700m worth of damage, and injuring over 200 people. It is, to date, the only terrorist incident at a European Championships.
Group C
| | | | | | | | |
| --- | --- | --- | --- | --- | --- | --- | --- |
| Team | P | W | D | L | GF | GA | Pts |
| Germany | 3 | 2 | 1 | 0 | 5 | 0 | 7 |
| Czech Republic | 3 | 1 | 1 | 1 | 5 | 6 | 4 |
| Italy | 3 | 1 | 1 | 1 | 3 | 3 | 4 |
| Russia | 3 | 0 | 1 | 2 | 4 | 8 | 1 |
With passage to the knockout phase secured, Germany were next to face the surprise package of the tournament, in Croatia. Having brought the early stages to life with their effusive, fast-paced defeat of defending Champions Denmark – recall that goal by Davor Suker that helped send the Danes home – it would prove a stern trial for the Nationalmannschäft.
Playing for the fourth consecutive time in front of a capacity Old Trafford crowd, it would be the Quarter-Final stage that a new German hero would take his strides towards securing his place in the DFB record books. Any player asked to fill the position of Centre-Back-cum-Defensive Midfielder 'libero' within the German eleven has the unenviable comparison with the legendary Franz Beckenbauer invariably thrust upon them. Such a daunting moniker was thus bestowed on the square shoulders of Matthias Sammer when he was asked to do just that.
Having seen their early advantage (a 20' penalty, converted by Klinsmann) levelled out by the imposing Suker a matter of minutes after the break. Ultimately, the difference would prove to be evoked by two incidents, separated by a few seconds. In the 54' minute, Igor Stimac saw red – figuratively and literally – and just five minutes later a cool, placed finish from Sammer turned their numerical advantage into one reflected on the scoresheet. Sammer himself echoed the collected, matter-of-fact nature embodied by the German machine: "there was a pass from [Markus] Babbel, then a header, and I just put it inside the far post. Overall we had calmness [and] knew we were physically strong". Having previously made 23 appearances for East Germany, Sammer became the first real integration from the East into the unified team. Robbed of greater participation four years earlier by a plethora of injuries, his was certainly a testing road to travel. Yet, four years later he would be the veritable linchpin for both club and country – coming off the bench to save an injury-ravaged team, with his coronation being cemented when he was awarded the Ballon d'Or.
With the likes of Sammer, Klinsmann and Andreas Köpke leading on the pitch, and Berti Vogts at the helm off it, the side found themselves orchestrated by a quartet who had recent experience of pulling on the national shirt, and who understood what unification meant for the country – echoed through the eleven who now did the same – Vogts himself enthused: "we can dominate World football [with unity, and] owe it to our children to do all we can to reach that aim".
And so to the infamous semi-final match-up with England. So much has been written and spoken about the game, and to reprise too much would seem trivial. An Alan Shearer header with barely 3' on the watch sent the vast majority of the 76,000-strong Wembley crowd into raptures, but Stefan Kuntz equalised 15' later with a well-taken effort. Chances came and went – with Darren Anderton hitting the woodwork, and Kuntz having a second chalked off as a result of a push. Penalties loomed.
Ten players successfully converted before Gareth Southgate would ensure a lucrative contract with Pizza Hut, leaving (as is often forgotten) Möller with the chance to convert the winning spotkick; a task to which he duly obliged.
[caption id="attachment_830" align="aligncenter" width="500" caption="Moller, suspended for the Final, drags his team through"]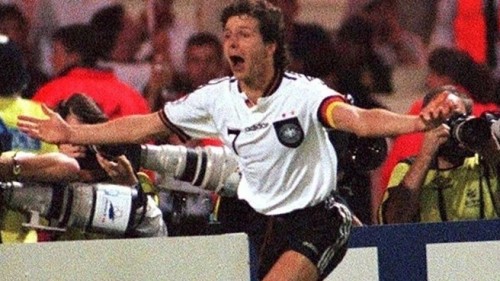 [/caption]
Final
And on to the climax where, once again, the Germans would reprise their opening encounter and, once again, it would be the Czechs standing between them and history.
73,611 supporters packed Wembley's hallowed stands, as Vogts opted to make four changes to the starting eleven that had begun the tournament; in came Babbel, Thomas Strunz, Scholl and Klinsmann, for Stefan Reuter, Jürgen Kohler, Möller and Fredi Bobic. For the Czechs, coach Dusan Uhrin made just two alterations from that first match. Sadly, the final failed to really capture the imagination, as a largely attritional attitude overtook both sides. Patrik Berger finally opened the scoring after 59' from a penalty conceded by Sammer ("I never touched him!" Sammer maintains to this day), before Oliver Bierhoff – replacing Scholl on 69' – scored to level.
It came as no surprise to anyone watching that the match progressed to extra-time. Yet that very turn of events would yield presence to a history itself. With just five minutes of the first period gone, Oliver Bierhoff's tame effort somehow found its way through the grasp of Petr Kouba in the Czech goal, and the only 'golden goal' in tournament history was secure the trophy for the Germans.
Sammer once more remained the very definition of calm, both at the time, and on reflection: "it was great for Oliver…he was a typical [English] centre-forward: not the best technically…but he deserved it so much. We all gained from it, but he deserved it".
As Jürgen Klinsmann drew his side up the famed steps, prising the Henri Delaunay trophy from the Queen, before holding it towards the heavens, it seemed to most that Vogts' wish would be fulfilled, and another period of dominance loomed large. Few, at that time, would have believed that (at least) 16 years would go by without 'Deutschland' being once more etched onto continental silverware. But in an age where the national side now boasts players born since unification, the prescience and homage to that mantra could, finally, be served.
[caption id="attachment_831" align="aligncenter" width="500" caption="The Last German Hands to Lift National Silverware"]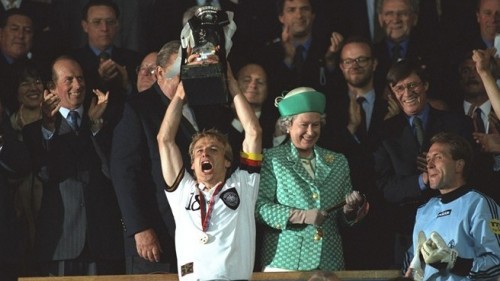 [/caption]