Weekend Boxset: 2017 AFCON Final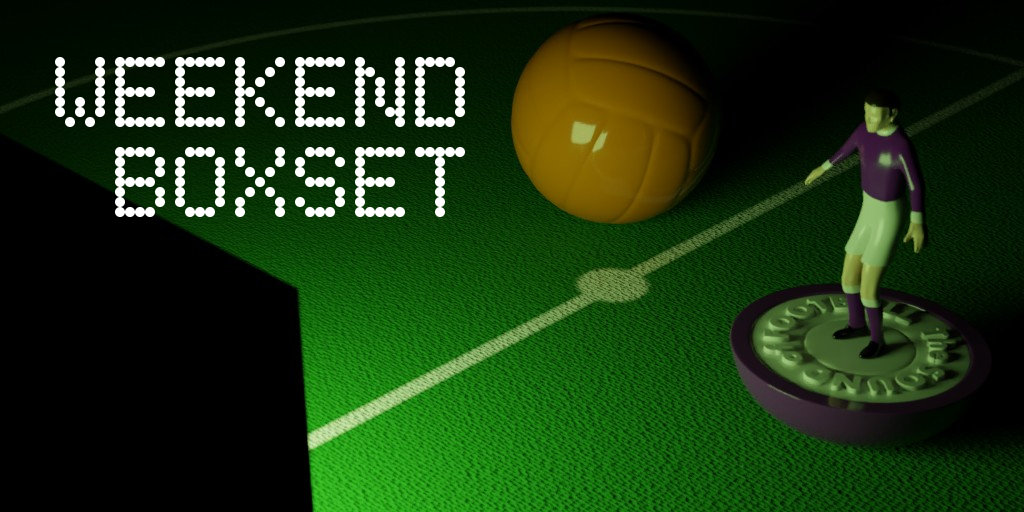 Seven great matches to take you from Friday to Sunday. It's the Sound of Football Weekend Boxset.
All times are GMT
Friday
Bundesliga: Hamburg v Bayer Leverkusen
19.30 on BT Sport 2
The Bundesliga weekend kicks off with a game between one club that's something of a mess and another that are a complete shambles. HSV have plenty of money but the more they spend the worse they seem to get. The new Sporting Director Dietmar Beiersdorfer is highly regarded and given time should apply some discipline to the club's haphazard transfer policy. Whether this will be sufficient to keep the club, currently second from bottom of the table, in the first division is a matter of some doubt. Leverkusen were awesome in the first half of their game at home to Borussia Monchengladbach last week and took a deserving 2-0 lead. However they were anything but in the second half and lost the match 3-2 against a team with one of the worst away records in the Bundesliga. To compound coach Roger Schmidt's problems, one of his best players Hakan Çalhanoglu has been hit with a FIFA ban for 4 (VIER) months for a breach of contract when he was at Karlsruhe. Oof!
Saturday
Premier League: Chelsea v Arsenal
12.30 on Sky Sports 1
Any neutrals who don't enjoy watching entitled Arsenal fans go into meltdown on social media are simply not human. The
latest outburst from this blogger during Arsenal's 2-1 defeat to "F**king Watford"
is the finest we've seen so far. Whether that particular gem can be bettered depends on how willing this Gunners team are to create more celebrities with their performances. But Chelsea haven't dropped a point at home since that defeat to Liverpool in September and Arsene's team have not won at the Bridge since 2011. That being said they did beat the Blues at the Emirates in September and the league leaders were caught somewhat unawares at Anfield on Tuesday. Both teams need a response to their last games and it's a derby so it's certainly a compelling fixture.
Bundesliga: Borussia Dortmund v RB Leipzig
17.30 on BT Sport 2
It was the reverse fixture on Matchday 2 of the season when we all started to wake up to how good this Leipzig team is. They sensationally beat a Dortmund team tipped to challenge Bayern for the title. Spool forward and Leipzig are showing no signs of slowing down while Dortmund seem crippled by their inability to make their, at times, clear superiority stick.The 1-1 draw against Mainz last week being a perfect example. As a spectacle, both teams' commitment to beautiful football makes this a must-watch and you can look forward to seeing such talents as Reus, Forsberg, Aubameyang and Keita. If you're seeking extra narrative then look out for a protest from the Dortmund Südtribüne who are opposed to the existence of the Leipzig club and their ownership.
Primeira Liga: Porto v Sporting CP
20.30 on BT Sport Extra 1
A six point gap exists between Sporting in 3rd and their hosts in 2nd. Indeed the visitors 4-2 win against Pacos was their first in three matches. Rather than maintaining the points distance between themselves and their guests, Porto will be looking above them and hoping to maintain that one point gap between them and the leaders Benfica who have lost their last two games. If you're thinking of placing a wager on this match then consider the form of Dutch striker Bas Dost of Sporting. The former Wolfsburg player has scored in every one of his 16 appearances for his club this season.
Sunday
Championship: Huddersfield Town v Leeds United
12.00 on Sky Sports 2
It's always a pleasure to watch a local derby when so much is at stake. Both clubs golden era is behind them and took place at different times. However, on Sunday they meet as 3rd and 4th placed teams in the Championship at the time of writing. Leeds may still have the air of madcap about them but Garry Monk exudes calm and dignity which is reflected in his team. Huddersfield's success can be attributed to the recruitment of Borussia Dortmund's U23 coach, David Wagner, who has raided the Bundesliga's second division with spectacular results. The latest being a 3-1 win over Brighton on Thursday. Is there a lesson to be learned from this approach? Maybe. Will another club try the same thing and fail miserably? You'd better believe it. Jens Keller to Nottingham Forest. You heard it here first.
Premier League: Leicester City v Manchester United
16.00 on Sky Sports 1
The Champions have problems. Leicester have lost their last three matches and find themselves mixed up in a relegation struggle in which their rivals have, all of a sudden, got their act together. All four teams below the Foxes managed positive mid-week results while Ranieri's men were losing 1-0 to Burnley. One of those teams is Hull City who managed a more than creditable 0-0 draw at Old Trafford. Manchester United boss Jose Mourinho's continued belligerence during his post match interviews articulates the tremendous pressure that he's under to deliver. But the Reds are pretty handy away from home and should feel good about their chances against a Leicester team that has lost momentum.
African Cup of Nations Gabon 2017 Final: Egypt v Cameroon
19.00 British Eurosport 2
Egypt's 44 year old 'keeper, Essam El Hadary saved Bertrand Traore's spot kick in the semi-final penalty shoot-out against Burkina Faso to send the Pharaohs to the final. Their appearance in this tournament, let alone the final, is considered to be an achievement in of itself given the many social and political problems besetting Egypt and as a consequence Egyptian football. Similarly, Cameroon's young side were unfancied. A number of players, considered to be first choice stayed away, including Liverpool's Joel Matip. However, with the new generation meeting the challenge some of those absentees may have problems getting back in the squad should they decide to unretire.
Alternative viewing: Inter v Juventus is on on BT Sport 2 at 19.45. The Derbi D'Italia rarely disappoints.
Whatever you watch, have a great weekend