Weekend Boxset: A Big Blue Grand Final and the Championship relegation dogfight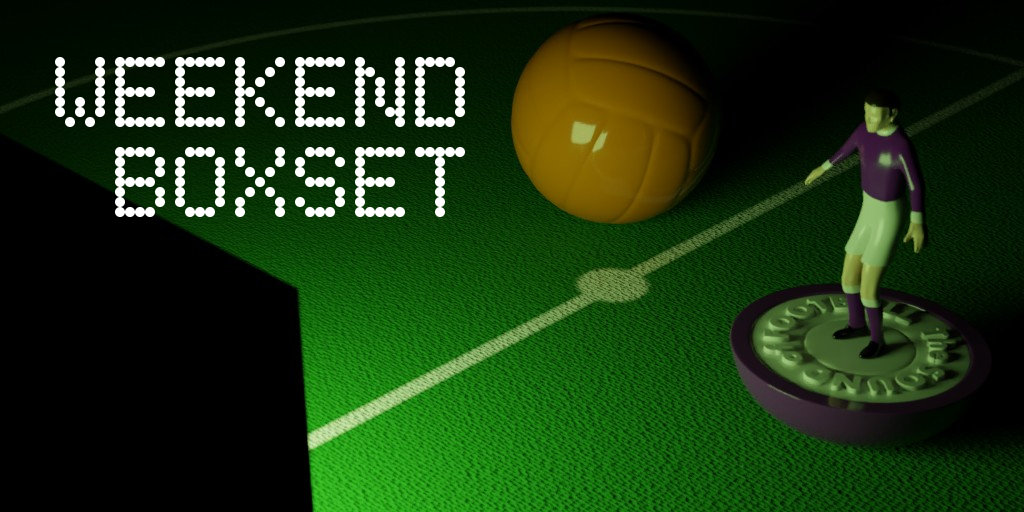 Seven great matches to take you from Friday to Sunday. It's the Sound of Football Weekend Boxset.
All times are BST (GMT +1)
Friday
Premier League: West Ham United v Tottenham Hotspur
20.00 on Sky Sports 1
2017 has proved to be a St Totteringham's Day leap year following Spurs convincing 2-0 win in the final North London Derby at White Hart Lane last Sunday. Now comes that slightly trickier task of overhauling Chelsea's lead at the top of the table and winning the Premier League. The Blues are still on course but Tottenham have won nine straight league matches and look well capable of winning the rest. The next opponents are West Ham, their third London based club in succession. The Spurs v West Ham derby can be nasty but with Upton Park now a building site it is not clear if the atmosphere of this fixture will be retained. Some might argue that it would be for the best if it is not. West Ham are pretty much safe from relegation, so only pride to play for and the prospect of scuppering a local rival's season.
Saturday
Premier League: Manchester City v Crystal Palace
12.30 on Sky Sports 1
The three/four-way battle for the final two Champions League spots continues at the Etihad. Paper tells you to back City, especially against a Palace team that has lost its last two matches. But Pep's team have gone three games without a win and couldn't even beat Middlesbrough, who by common consent are deserving of their position in the league. Palace are tantalisingly close to safety but that Burnley defeat would have shaken their resolve. Expect Big Sam to go for the 0-0 before anything else.
La Liga: Barcelona v Villarreal
17.30 on Sky Sports 5
Despite being officially on the slide, Barca may yet win another La Liga title and give their outgoing coach, Luis Enrique, a proper send off. The Catalans are level on points with Real Madrid and top on head-to-head results (the method preferred to goal difference for separating sides in La Liga). They just need to keep winning and hope Real lose their game in hand. Simple, right? Well it's not, because Villarreal are fifth and on something of a tear. Just one defeat in their last six for the
Yellow Submarine
and they are five points off fourth with three games left. It's not an easy target but is more than enough incentive to give Barca a game.
La Liga: Granada v Real Madrid
19.45 on Sky Sports 5
Meanwhile, if Real blow their shot at a first domestic title since 2012, having been in such a good position a few weeks ago, it is entirely possible that no amount of Champions League glory will save Zinedine Zidane. It's been a while since the Madrid club have gone so long without a title and the coach is under significant pressure to deliver. Today's opponents are Granada who, if anything, have got worse under new coach Tony Adams.
Sunday
A-League Grand Final: Sydney v Melbourne Victory
08.00 on BT Sport 3
The climax of the A-League takes place between arguably the two biggest rivals in the Australian game. This derby (known as
The Big Blue
) has a history of producing barnstorming matches, often in front of big crowds, particularly at Melbourne. This time home advantage goes to Sydney who won the league by a mammoth 17 points and are regarded by many as the best A-League team ever. This will be the third Grand Final between the two clubs but the first at Sydney. They last met at this stage two years ago when Mark Milligan and Besart Berisha led the Victory to a handsome 3-0 win. That experience is likely to be fresh in the mind of coach Graham Arnold and his Sydney players. It would be astonishing if the team that won the league by such a margin were to be upset by their old nemesis thereby denying them the ultimate prize. It would also be hilarious and just about the best thing ever. Pre-match controversy surrounds the state of the ploughed field that is the pitch at the Sydney Football Stadium which hosted a NRL game prior to the semi-final last weekend and will have a bunch of egg chasers running around on it before the final. As the FFA ponders the rights and wrongs of league expansion, perhaps they should turn their minds towards to the provision of more soccer specific stadiums.
Championship: Brentford v Blackburn Rovers & Nottingham Forest v Ipswich Town
12.00 on Sky Sports Mix and Sky Sports 3
With promotion and the playoffs all but settled, Sky's cameras turn their gaze upon the relegation battle on this the last day of the Championship season. Rovers and Forest are tied on 48 points with the latter one place above the drop zone by virtue of a single goal difference. So Blackburn have to match Forest's result and find another goal to escape the drop. Neither Brentford or Ipswich have a dog in this race so it's very much all to play for. If both teams win they will be elevated at the expense of Birmingham if Harry Redknapp's team lose to Bristol City. To what extent City, who themselves will be exhausted after a difficult season, are willing to get involved in other people's problems is not clear. However, were I a betting man I would put a responsible sum on a draw at Ashton Gate.
Bundesliga: Hamburg v Mainz
14.30 on BT Sport 3
This is the final weekend of televised Bundesliga here in the UK as the remaining two rounds of fixtures that follow are moved to Saturday 15.30, right smack-bang in the middle of the TV blackout. So if you want to watch the climax of the Fussball you'll need to use the Internet. HSV are characteristically in relegation trouble despite some promising signs earlier in the season under their latest coach Markus Gisdol. The only club to have never been relegated from the Bundesliga continue to test the patience of the football gods and you have to wonder whether this will finally be their year. In preparation for the climax of the season the coach has closed ranks to the extent that he has kicked three first team players out of training, including former club captain Johan Djourou. Mainz are level on points with HSV but two places above them on goal difference. Martin Schmidt's team have only won one game in their last ten and this season has been a horrific comedown after having qualified for the Europa League last season.
Seven great matches there... but if you want more, then at the end of this game you can quickly turn over having only missed the first quarter of...
Premier League: Arsenal v Manchester United
16.00 on Sky Sports 1
TWO TITANS FACE OFF FOR THE RIGHT TO FINISH FOURTH (ASSUMING ANOTHER TEAM DOESN'T BEAT THEM TO IT). WATCH THE FOOTBALL!
Whatever you watch, have great weekend