Weekend Boxset: Cup Finals and Play-offs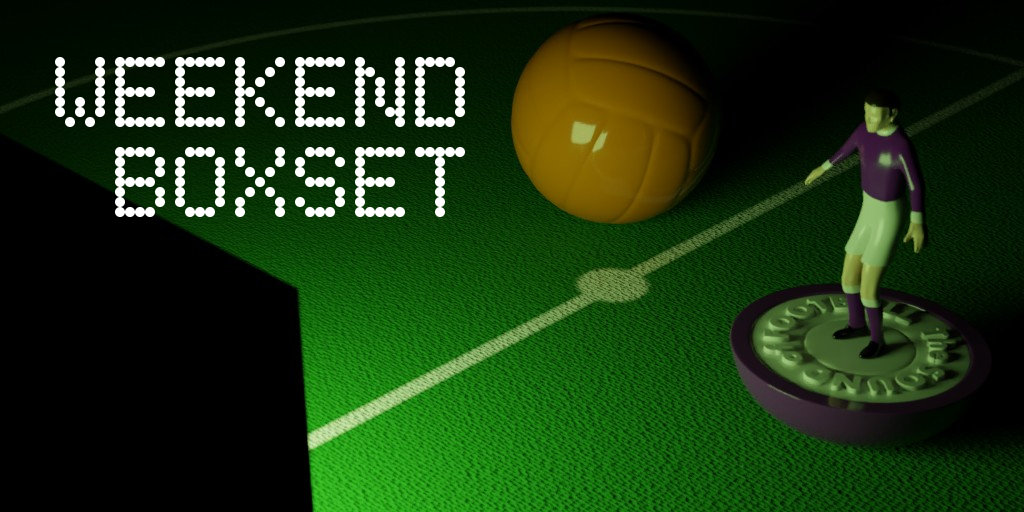 Seven great matches (and bits of others) to take you from Saturday to Monday. It's the Sound of Football Weekend Boxset.
All times are BST (GMT +1)
Saturday
Scottish FA Cup Final: Celtic v Aberdeen
15.00 on BBC One Scotland and Sky Sports 1 & 5
Settle yourself in for over 7 hours of cup final football from across Europe, starting at Hampden Park. The Premiership's top two face off for the sixth time this season - all five meetings so far have gone the way of Brendan Rodger's Celtic side, including their 3-0 win in the final of League Cup back in November. All signs, you would have to say, that point towards a 13th League and Cup Double and a 4th domestic treble for the Bhoys. The last time these two met in the Cup Final was in 1990, where Aberdeen secured victory, after a goalless 120 minutes, in the first final to be decided by penalties. Celtic's passage to this year's final has been fairly straightforward, conceding just one goal in their four games so far. Aberdeen's first goals against came in their thrilling semi-final against the holders Hibs, which finished 3-2.
FA Cup Final: Arsenal v Chelsea
17.30 on BBC One and BT Sport 2
According to the bookmakers, of the five major Cup Finals in Europe on offer today, this is the closest one to call. While Arsenal are by no means underdogs, Chelsea are clear favourites to clinch their second League and FA Cup Double. For both sides it will be their ninth FA Cup Final since the start of the Premier League - between them they have secured the Cup 13 times in the 24 finals in that period. An injury crisis and the suspension of Laurent Koscielny, leaves a question mark over Wenger's starting line-up and formation. Using a back three has brought an upturn in performances for the Gunners but lack of cover at centre back could force a return to a back four - there's even talk of Per Mertesacker making his first start in over a year. Double delight for the Champions.
If you watch the Cup Final to full time, you'll only miss the opening 25 minutes of the DFB Pokal Final between Eintracht Frankfurt and Borussia Dortmund, which kicks off at 19.00 on BT Sport ESPN (extra time and penalties notwithstanding, of course). Dortmund are in the unenviable position of trying to avoid a fourth successive Pokal Final defeat (yeah, ouch) but they should easily have the better of Frankfurt.
Copa del Rey Final: Barcelona v Alavés
20.30 on Sky Sports 2
The last competitive match at the Vicente Calderón Stadium is a real David and Goliath cup tie. Barcelona are on the hunt for their 29th Copa del Rey in what will be Luis Enrique's last game in charge; in comparison, this is Alavés' first domestic cup final. The Basque side's only other final was their unforgettable 5-4 defeat to Liverpool in the 2001 UEFA Cup. This final could also see nine goals, they just might not be shared as evenly. That said, Alavés did get the better of Barcelona back in September with a 2-1 win at the Camp Nou, so miracles do happen -
magia de la copa
, and all that.
Alternative viewing may be just as one-sided; the French Cup final is on TV5 Monde (UK viewers: Sky 796 or Virgin 825) and kicks off at 20.00. Having missed out on the Ligue 1 title for the first time in five years, PSG are looking for a third consecutive Coupe de France. For Angers, this is only their second final - their only other appearance at this stage was in a 6-3 defeat to Toulouse in 1957.
Sunday
League Two Play-Off Final: Blackpool v Exeter City
15.00 on Sky Sports 1
If this play-off final is anything like the semi-finals that brought these two sides to Wembley, we're in for a real treat. Both semi-finals finished 6-5 on aggregate and both were won deep into injury time. Blackpool have a rich history of play-off finals, this being a record seventh for them. They share the record of most wins (4) with Crystal Palace and are the only side to win the play-off in every division. Their rise from the bottom tier to the Premier League between 2001 and 2010 was achieved entirely through play-off victories. This will be Paul Tisdale's third play-off final in charge of Exeter. His first two were when the Grecians were a Conference side, the second gaining them a League return in 2008.
Ligue 1 Play-Off 2nd Leg: Lorient v Troyes (1st leg: 1-2)
20.00 on BT Sport 1
On the final day of Ligue 1, Lorient dropped down into the relegation play-off spot when Caen snatched an injury time equaliser in Paris. Troyes were one of six teams that could have taken automatic promotion on the last day of Ligue 2, but as it was they missed out on promotion by two goals difference to Amiens. Barely a season passes without Troyes being relegated or promoted; the Ligue 2 Champions of 2014/15 were relegated the following season with just 18 points. The promotion/relegation play-off in France is making a return this season for the first time since 1993.
Monday
Championship Play-Off Final: Reading v Huddersfield Town
15.00 on Sky Sports 1
Depending on which news source you use, the Championship play-off is worth anywhere from an eye-watering £170 million up to an also eye-watering £290 million for the winning side. Either way, it's a ridiculously huge amount for the winner of one game that could easily come down to penalties. Spot kicks helped both sides progress to the final: the only goal in Reading's 2nd leg against Fulham came from the spot; while Huddersfield fulfilled many stereotypes about their German-born manager with a shootout win over Sheffield Wednesday. David Wagner was criticised for taking his foot off the gas in the run in; while his side may be more rested than their opponents, one win in their last seven games may not be the best form to take to a Wembley final.
Bundesliga Play-Off 2nd Leg: Eintracht Braunschweig v Wolfsburg (1st leg: 0-1)
19.30 on BT Sport 2
Since the re-introduction of the promotion/relegation play-off in Germany for the 2007/08 season, results have mostly gone the way of the top tier side. Only Fortuna Dusseldorf (2012) and Nurnburg (2009) have been successful as second tier sides. Wolfsburg were just two minutes from safety at Hamburg, when late substitute Gian-Luca Waldschmidt scored for the home team to win the game, allowing his side to leapfrog Wolfsburg and maintain their record of never being relegated. Braunschweig's hopes of an automatic promotion ended with an eyebrow raising 6-0 defeat to relegation threatened Bielefeld. While Wolfsburg's narrow win in the first leg leaves the tie nicely balanced, Braunschweig may be made to rue their lack of an away goal.
Whatever you watch, have a great weekend