Weekend Boxset: League Final Days and Non League Finals Day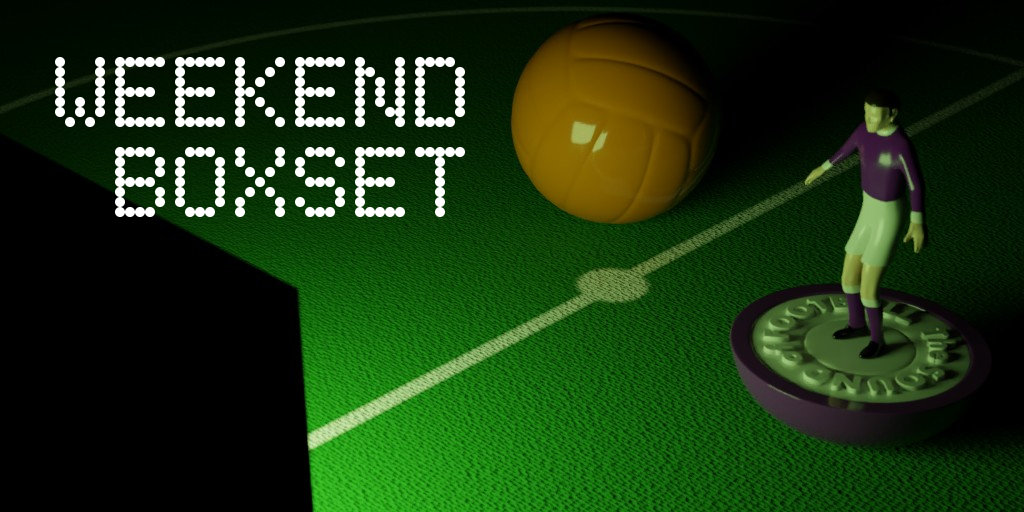 Seven great matches to take you from Friday to Sunday. It's the Sound of Football Weekend Boxset.
All times are BST (GMT +1)
Friday
UEFA Under-17 Championship Final: England v Spain
19.00 on British Eurosport 2
Wait.. what? England are in an international final? Sure enough, the English babbies will try to be the first team to win this tournament for the third time, as indeed will their opponents. England have won all their games in Croatia. In the groups stage they finished top against Netherlands, Ukraine and Norway. They then saw off Ireland and Turkey, all with an unchanged first IX. Top man for the English is Man City's Jadon Sancho who has five goals and four assists. The 17 year old left winger has been linked with a move to RB Leipzig. But England coach Steve Cooper is forced to break up a winning team. Tottenham Hotspur's Tashan Oakley-Boothe was knocked unconscious during the Turkey game and the match was halted for 15 minutes. Sancho's clubmate Joel Latibeaudiere will deputise. Spain's journey was arguably trickier. They had to overcome the hosts, Italy, France and beat Germany on penalties (yes Germany) to reach the finals. "This England team demands perfection from us." said their coach Santi Denia which is not something you hear about an England team from an opposition coach too often.
Saturday
Bundesliga Final Day: Bayern Munich v SC Freiburg, Hamburg v Wolfsburg, Borussia Dortmund v Werder Bremen, Hoffenheim v Augsburg
14.30 on BT Sport 3 and Extra 1,2 and 3
With the final matchday of Premier League getting bumped to Saturday, and with the rest of the English leagues finished bar the play-offs we can enjoy some live football on a Saturday afternoon. This is the final round of the Bundesliga season and BT are showing the four games that matter. If Freiburg manage to beat the Champions Bayern they will qualify for the Europa League. So that would be both clubs promoted from Bundesliga 2, playing in Europe next season. Given that SCF's wage bill is probably the lowest in the Bundesliga, theirs is the more impressive achievement than RB Leipzig's, to my mind. Dortmund and Hoffenheim are fighting over who finishes third and qualifies automatically for the Champions League. Essentially Borussia need to better TSG's result to avoid the play-off. But the really big one is HSV v Wolfsburg. Hamburg are third bottom on 35 points and need to beat their opponents in order to avoid a relegation play-off place. But also in the mix for that relegation play-off are Augsburg and Mainz who are on 37 points with Wolfsburg.
If you don't fancy the Bundesliga then the EFL League 1 play-off final between Bradford City and Millwall is on Sky Sports 1 at 15:00.
Serie A: Chievo v Roma
17.00 on BT Sport 3
Juventus couldn't clinch the title last week because they lost 3-1 in that top two clash with Roma, which Graham wisely pointed you in the direction of, in last week's newsletter. They bounced back with a 2-0 win to claim the Coppa Italia on Wednesday. The first in what they hope will be a treble. Now that domestic cup matters are behind them, Juve will play Crotone on Sunday (14.00, BT Sport ESPN) and try to can get over the line so they can shift their emphasis away from Serie A and on to the Champions League Final. Roma can consolidate second and keep Juve honest with a win at comfortably mid-table Chievo.
Serie A: Napoli v Fiorentina
19.45 on BT Sport 2
Meanwhile, third placed Napoli can score a maximum of 86 points and as unlikely as it may seem can still put the pressure on the Old Lady and win the title themselves. Perhaps more realistically, the Naples club are able to overhaul Roma in second spot and nab that automatic Champions League spot for next season. Fiorentina also has something to play for: They are one point behind Milan in sixth which is a Europa League qualifier spot. All to play for in Italia.
Sunday
FA Vase Final: Cleethorpes Town v South Shields
12.15 on BT Sport 1
This being the first half of Non League Final Day in which the final of the FA Vase and FA Trophy are contested at Wembley Stadium. The event is sort of promoted as a celebration of non league football rather than necessarily being restricted to fans of the four teams that participate. The FA Vase is open to all non-league clubs from Steps 5 to 7 of the English Football Pyramid though both sides have recently won their respective Leagues and will be playing in Step 4 next season. Cleethorpes won the Northern Counties East and are a relatively young club, formed in 1998. South Shields won the Northern Football League helped in no small part by former Sunderland and Middlesbrough player Julio Arca. The presence of these two clubs underlines the depth of quality in that part of the country. It has been said that geography and expense restrict clubs from this area from playing at a higher level and over a larger region. The FA Trophy Final is at 16.15 also on BT Sport between Macclesfield Town and York City but you won't be watching that. Instead you'll be watching...
Premier League Final Day: Liverpool v Middlesbrough, Watford v Man City
15.00 on Sky Sports 1
The final weekend leaves only a few minor issues to resolve. Specifically, the Champions and Europa League spots between the traditional heavy-weight clubs in the league. No fairy tales this time, I'm afraid. If City and Liverpool win then those two remaining available Champs League slots are sewn up and Arsenal will be playing on Sundays and Thursdays next season. In truth, this is weak sauce and is missing the do or die drama of a relegation battle on final days which are so much more fun for many neutrals. You could be forgiven for turning over to BT and watching the final day of the Bundesliga 2 season (at 14.30) or indeed the aforementioned FA Trophy Final (16.15).
La Liga Final Day: Malaga v Real Madrid, Barcelona v Eibar
19.00 on Sky Sports 3 and Sky Sports Mix
Real Madrid's madcap 4-1 win at Celta puts them three points clear at the top of the table and one point away from their first league title since 2012. Barca can make up the deficit and win on the head-to-head but only if they beat Eibar and Real lose against Malaga. On paper this should be straightforward for Madrid but their opponents come into this game off the back of four straight wins. However, some additional colour has been added to the build-up to this matchday in the form of words from Malaga's president, Abdullah al-Thani, who referred to Barcelona on Twitter as "Catalan scum" and hopes to see Real win the title. Moreover, Malaga's head coach is Michel. That would be the same Michel who played 404 games for Real Madrid as a player. He recently stated in an interview that he also wanted Madrid to prevail. The implication is that Malaga will throw the match and clear a path Los Blancos. This sort of talk is good for business and grist to the mill for those who think La Liga is a bit suspect. But there's more. It is being reported that Malaga are due a further 1 million euro if Real win the title, as part of the transfer deal for Isco in 2013. Real have not won the league since his move so that particular part of the clause would be triggered. That being said there are plenty of sporting reasons for predicting a win and a first title for Zinedine Zidane as coach of Real Madrid. Also, as Sky Sport La Liga summariser Terry Gibson pointed out, it is very unlikely that Malaga's group of talented young players would deliberately under-perform in what is, for them, a prestige fixture. Not when a number of them are linked with moves away to bigger clubs. Nevertheless, there are plenty of reasons to get involved in these games and I've scarcely mentioned Barcelona's match against a more than useful Eibar team.
Whatever you watch, have a great weekend