Weekend Boxset: FA Cup 3rd Round and the derby of Seville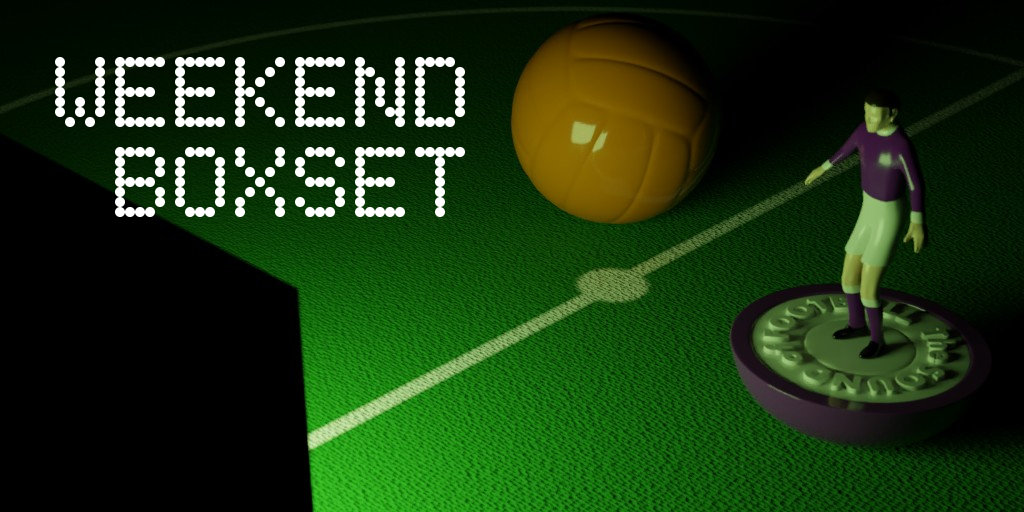 Seven great matches to take you from Friday to Sunday. It's the Sound of Football Weekend Boxset.
All times are GMT
Friday
FA Cup 3rd Round: Liverpool v Everton
19.55 on BBC1
What a way to kick of 3rd Round weekend! Liverpool boss, Jürgen Klopp took some stick for fielding what was, in the eyes of the pundits at least, a weakened team in the last Merseyside derby in December. The German coach's supporters argued that it's a squad game, a long season and that sometimes it's necessary to make changes. So if Herr Klopp feels the need to rotate again will he do so in this massive winner stays on tie? Big Sam does not have any such luxury. His team have lost their last two games and he's been accused of not playing with the attacking flair of which Everton fans feel that they are accustomed. Still, if he can muster an unlikely win at Anfield, we can expect to see that characteristic shit-eating grin as he walks of the touch line. Personally I doubt the Evertonians will ever embrace Allardyce but a derby cup win will certainly give him some slack.
Saturday
FA Cup 3rd Round: Fleetwood Town v Leicester City
12.45 on BBC1
Fleetwood needed a replay at Hereford United to get through to the third round. This was something of a buzzkill for Cup romantics given Hereford's history in this great competition. The Cod Army have watched their team swim up the leagues since they were taken over by the energy magnet, Andy Tilley. Now in League 1, Fleetwood seem to have plateaued, sitting as they do in 12th place. That said, Uwe Rosler has a new player to boost the ranks in the shape of 27 year old striker Paddy Madden who arrives from Scunthorpe for an undisclosed six figure sum. The Irishman won't be playing because he's cup tied. This is a shame because he'd have fancied having a go at a Leicester side that have lost three of their last five games and a bit of momentum since that initial bounce after the arrival of whispering Claude Puel. The Premier League side are still the clear favourites but this was a smart pick for the TV. Fleetwood are ambitious and will be boosted by the crowd. If they can ride their luck... who knows?
FA Cup 3rd Round: Norwich City v Chelsea
17:30 on BT Sport 2
As I write this preview, Chelsea are on the telly. They're playing Arsenal on a Wednesday night so they'll have two full days rest before they travel to Carrow Road for a potential banana skin wrapped around a canary. Something needs to be done about the scheduling of these festive games. Don't get me wrong, I enjoy sitting on my arse watching football on the telly as much as the next man but someone should tell the TV schedulers that these are athletes not reality stars. Anyway, Norwich were tipped for promotion in pre-season based on the confidence of their incoming coach, Daniel Farke. In his favour were 1/ he's German and 2/ he came from Borussia Dortmund's second team. How can he fail? Well we're half way through the season and Norwich are 11th. Moreover there are reports of a dressing room revolt over Farke's training methods which are said to be excessive. Not all German coaches are created equal and for every David Wagner there are half dozen Felix Magaths. Away win for me, Clive.
La Liga: Sevilla v Real Betis
19.45 on Sky Sports Football
We interrupt this FA Cup preview for a Seville derby. A packed and bouncing house at the Ramón Sánchez Pizjuán stadium is guaranteed. Had this game happened a little earlier in the season we might have been in for an even tighter contest. Betis are trying something new under their coach Quique Setién who arrived in the summer. Initially it worked and the Green & Whites got off to a flyer. The high point being a 1-0 win at Real Madrid. It's all gone south in recent weeks though. Betis' only win in their last eight was against 10 men Malaga and then they lost at home to a 10 man Athletic Bilbao side. But while they are not a good side Betis are a fun side to watch and hopefully will provide an excellent foil for their more illustrious neighbours. Particularly in view of the fact that Sevilla haven't won since early December.
Sunday
FA Cup 3rd Round: Newport County v Leeds United
12.00 on BBC1 Wales
Appalling bias by BBC Wales in showing a Welsh club on Welsh TV. Joking aside, this may be worth pointing your coat-hanger at the Wenvoe transmitter if you're not in the principality (or you could just go online). Newport are a mid table club in name only. In League Two there are just five points between Coventry in third and The Exiles in 11th. That said, Mike Flynn's team are having trouble turning one point into three at home. They've only lost twice in the league at Rodney Parade but their New Years Day 2-1 win against Exeter was their first after six attempts. County earned their place after beating Walsall and Cambridge at home so they should feel bullish ahead of this game. Leeds are a decent Championship side but their priority must be to stay in the play-offs and coach Thomas Christiansen night be tempted to rotate his squad. The problem with that is Leeds fans will remember their ignominious exit to Sutton in the 4th Round, last season and would not take kindly to a repeat. Decisions, decisions.
FA Cup 3rd Round: Shrewsbury Town v West Ham United
14.00 on BBC1
Hat's off to the BBC for picking this one. The Shrews are second in League 2 under the very highly regarded Paul Hurst. The 43 year old was a stalwart for Rotherham and has worked his way up the hard way into senior coaching with Ilkeston, Boston and grimsby before steering his current team away from the relegation zone to the automatic promotion spots within a year. Hurst has a UEFA A licence which gives you an idea of his ambitions and now he has a chance to pit his wits against a Premier League side. The Hammers are good now that David Moyes is their manager so you'd have to say that a full strength West Ham team would be heavy favourites. However, the Irons are not out of the relegation fire yet and so winning the FA Cup is going to be pretty low on the to-do list. So Moyes faces a similar dilemma to Thomas Christiansen at Leeds. Does he travel to the New Meadow tooled up or does he leave Andy Carrol in the shed. Either way there could be drama.
FA Cup 3rd Round: Nottingham Forest v Arsenal
16.00 on BT Sport 2
Forest have prepared themselves for this glamorous encounter by sacking their coach. Why? Mark Warburton's record was hardly stellar but he had at least led the team to the relative safe waters of the Championship mid table. Given their recent turmoil you'd think that would be enough but apparently not. Gary Brazil is the interim coach and inevitably there is talk if Nigel Clough fulfilling his destiny and walking in his dad's mighty shoes, the poor sod. Who knows, perhaps he'll have been announced by the time this game happens. Presumably an upset would be "peak Arsenal". It would certainly be guffawsome. As my earlier remarks eluded to it's been a while since the Forest faithful have seen proper success and one can only imagine the scenes should they get a result.
Whatever you watch, have a great weekend