Weekend Boxset: FA Cup 4th round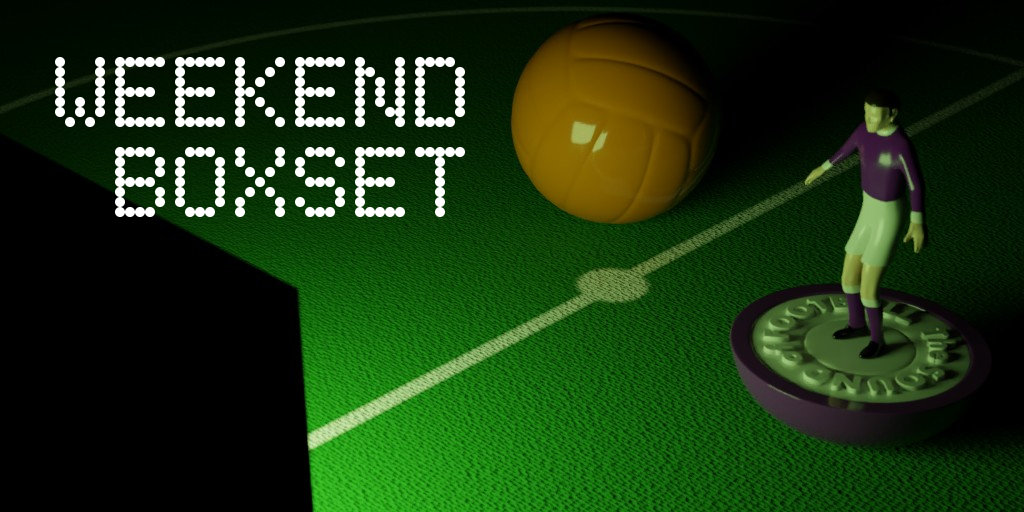 Seven great matches to take you from Friday to Sunday. It's the Sound of Football Weekend Boxset.
All times are GMT
Friday
FA Cup 4th round: Yeovil Town v Manchester United
19.45 on BBC One
Yeovil's 4th round victory against Sunderland in 1948/49 FA Cup is one of the touchstones of giant-killing lore. Their reward for that victory was a trip to Old Trafford to face the cup holders. They lost 8-0; even then the magic of the FA Cup only went so far. This will be the fourth time the two sides have met in the cup, with Yeovil still waiting for their first goal. The most recent meeting being just three seasons ago when second half goals from Ander Herrera and Angel Di Maria (his last goal for the club) saw United through. New signing Alexei Sanchez, can leave his piano behind for the afternoon, being clear to start for United having carefully avoided Arsenal's defeat to Forest and thus not becoming cup-tied. Yeovil, themselves not shy of musical numbers, releasing songs for their cup runs in the mid-2000s, will be without former United trainee Otis Khan who after trying to appeal his red against Chesterfield had his three match ban extended to five by those romantics at the FA.
Saturday
FA Cup 4th round: Peterborough United v Leicester City
12.30 on BT Sport 2
Another team with a tradition of giant-killing is The Posh, who beat Billy Wright's Arsenal on their way to the quarter finals in 1965, having only been elected to the Football League just five years earlier. The competition was to prove their undoing the following season, when the authorities caught wind they had been giving win bonuses to their players - which were illegal at the time - and they were relegated as a result. Beating an under-strength Aston Villa away from London Road probably doesn't really count as a giant killing these days but given this is their 41st game of the season they probably won't be too eager for another replay in this competition having required them to get through the first two rounds. Claude Puel's honeymoon period at Leicester came to an abrupt end with a series of ordinary results at the end of 2017, since the start of this year however they've yet to concede a goal. It took a replay for them to get past Fleetwood having not registered a single shot on target at the first attempt. Having gone out to League One opposition last year, the Foxes won't be complacent about this relatively short trip along the A47.
FA Cup 4th round: Newport County v Tottenham Hotspur
17.30 on BT Sport 2
Dare to dream: Newport County are just one game away from Wembley. Yes, I am going to use that gag every time Spurs are drawn away in the Cup this season. Getting a replay against Pochetino's Spurs would be a victory in itself, providing County with a money-spinning trip to Spurs' temporary home. Their last trip there was their victory over Wrexham in the Conference play-off final, which saw the side from South Wales return to the Football League after 25 years absence and going bust. Their time in League 2 since then hasn't been easy; they've finished one place above relegation for the last two seasons but at present they sit just outside the play-off spots in a cluster of teams with not unrealistic ambitions of getting automatic promotion. It's the first time Newport have made it this far in the Cup since 1979 and in the unlikely event they can repeat what they did against Leeds in the 3rd round, it will be only the second time in their long history that they've reached the last sixteen.
FA Cup 4th round: Liverpool v West Bromwich Albion
19.45 on BT Sport 2
Probably the least exciting TV offering from the 4th round, for the neutral at least, with Alan Pardew likely to rest key players to concentrate on getting his side out of the relegation zone. That said, Jurgen Klopp's side are always an entertaining watch, even in their defeat at Swansea on Monday. This Saturday evening slot in the Boxset is usually an offering from La Liga or at a pinch Ligue 1, but is considered an unpopular time for games in England. Unpopular that is for those actually attending, whether it is unpopular for those sitting at home is something the scheduling execs at BT Sport and their rivals will be keeping a close eye on in eagerness to exploit this perceived "dead-spot". To add another twist to proceedings, this is the only tie of the round to have VAR.
Sunday
FA Cup 4th round: Chelsea v Newcastle United
15.00 on BT Sport 2
Having lost their Caraboa Cup semi-final to Arsenal and with a tough Champions League tie against Barcelona coming up next month, the FA Cup already looks like Chelsea's best opportunity for silverware this season. The last time Newcastle made it past the fourth round was 2006, when they got as far as the quarter final where they were knocked out by today's opponents at Stamford Bridge - John Terry with the only goal of the game scored in the third minute. That season Rafa Benitez led Liverpool to their most recent FA Cup with a spot-kick win at the Millennium Stadium against West Ham. Newcastle went out at this stage last season to Oxford United 3-0, fielding a weakened side to concentrate on their successful promotion campaign. This season's excuse for making wholesale changes will be to concentrate on avoiding the drop (a concern for more than half of the teams in the Premier League) - all of which should make it pretty much plain sailing for the London side to be in the velvet bag for Monday's draw.
FA Cup 4th round: Cardiff City v Manchester City
16.00 on BBC One
It's hard to say whether or not a glamour cup tie for Cardiff would be a welcome relief from the pressures of gaining promotion to the Premier League. Four straight League defeats on the spin in the Christmas and New year period appeared to signal a downward turn for Neil Warnock's side. Having gone on about his lengthy injury list it's hard to see how he'll be able to able to make many changes to his current side for this fixture even if he wanted to. Pep hasn't seemed to be in the mood for rotating his star players in any competition this season which could start to tell once we start to reach the closing stages. City seem to have a knack for drawing promotion chasing Championship sides - last season Huddersfield took them to a replay. With Bristol City having scored three times against them over two legs in the Caraboa Cup semi-final, other teams in the Premier League and beyond will be looking on in interest as to whether or not Cardiff's direct style will cause any problems for the CIty defence.
Ligue 1: Marseille v Monaco
20.00 on BT Sport 1
A second away defeat of the season for PSG has offered the slightest of hopes that things may not be all over in Ligue 1. Their lead over Lyon has now been cut to eight points with these two sides coming up close behind. Both sides will be relieved to see the end of the month, with many of their key players the subject of transfer speculation. Marseille's Florian Thauvin has been a person of interest for both Atletico and Bayern but the former Newcastle man has made it clear he's not going anyway - just yet, anyway. Thomas Lemar missed Monaco's midweek defeat to Lyon in the Coupe De France with reports of Liverpool moving closer to the £90 million asking price placed on him. Lemar's continued absence for this match should be enough to tip the tie in favour of the home side - if there's any justice in the world (chortle).
Whatever you watch, have a great weekend