Weekend Boxset: Crunch time in Serie A and the Championship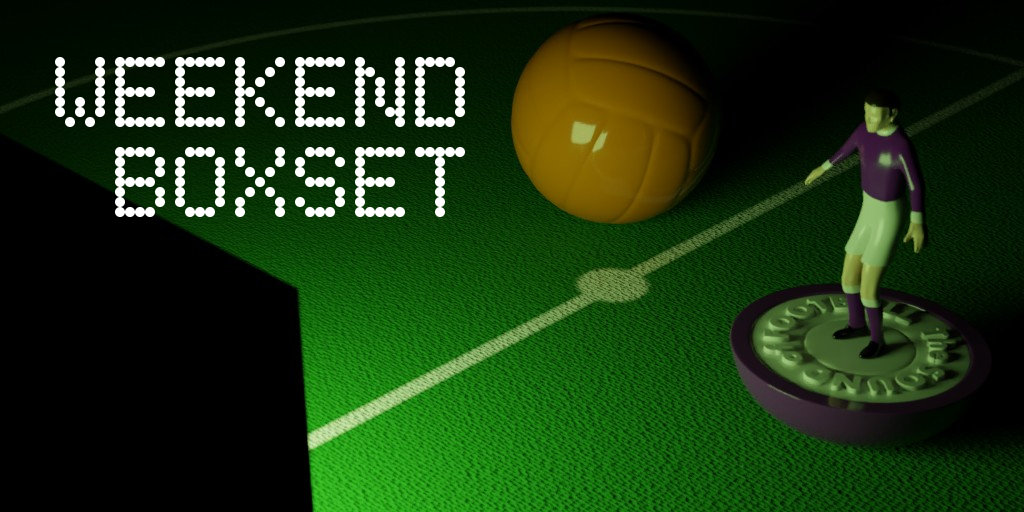 Seven great matches to take you from Friday to Sunday. It's the Sound of Football Weekend Boxset.
All times are BST
Friday
Championship: Fulham v Sunderland
19.45 on Sky Sports Football and Main Event
Three goals in the last 20 minutes of the match on Tuesday saw Derby come from a goal down to beat second placed Cardiff. Defeat for Neil Warnock's side means the race for the last automatic promotion spot is still very much alive, with Fulham just one point behind going into the last two games. Sunderland's fate was finally sealed last weekend with defeat to fellow strugglers Burton. While they are up to their eyes in debt, they still have two seasons of Premier League parachute payments to come, and a summer ahead that can allow Chris Coleman his first opportunity to shape the team into something that can fight to get out of League 1 next season. With all the pressure now on the home side, maybe Sunderland can play this with a freedom that has been missing all season.
Saturday
A-League Semi Final: Sydney v Melbourne Victory
10.50 on BT Sport 1
This Big Blue is a repeat of last year's Grand Final and if it's anything like that game you're in for a treat. While their meetings in the league over the last two season have been close affairs, Sydney have won all six matches. So form at least would say a win for Sydney but history might say otherwise: in six previous meetings in the finals series Sydney's only wins have come from penalty shoot-outs - in the Grand Finals of 2010 and 2017.
The winners will already know who they will face in the Grand Final, the other semi-final is Newcastle Jets v Melbourne City on Friday 10.50 on BT Sport 2.
Championship: Middlesbrough v Millwall
17.30 on Sky Sports Football & Main Event
Millwall were dislodged from the play-off places in midweek thanks to Derby's aforementioned win over Cardiff. Their defeat to Fulham last time out (
ending a 17 match unbeaten run for Neil Harris's side
) was understandable but losing by three goals to none may take a little more to bounce back from. The race for the last two play-off spots is so wide, this is the fourth game in a row Boro have played against rivals for those positions. Tony Pulis looks to be able to recall in-form striker Patrick Bamford after being stretchered off in a neck brace and on oxygen in their match against Bristol City earlier in the month. While the play-off situation will be a bit clearer by the time this match kicks off, if results earlier in the day favour their rivals, a draw could yet see both sides miss out on the play-offs in next week's final round of fixtures.
Serie A: Inter v Juventus
19.45 on BT Sport 2
Just when you thought Serie A was going to go the way all the other major leagues in Europe have gone this season, Napoli's Kalidou Koulibaly leapt like a salmon to power a 90th minute match-winning header past Juve skipper Gigi Buffon, to add yet another twist to an enthralling title race. Max Allegri's Juve still hold top position but by a single point over Napoli, and both have reasonably straightforward run-ins. Straightforward that is, apart from this one - the
Derby d'Italia
. This could be even more heart-stopping than last week's match for fans of the Old Lady: it's not just national pride at stake, Spalletti's Inter are in their own dogfight with Roma and Lazio for the other two Champions League spots.
Sunday
Scottish Premiership: Celtic v Rangers
12.00 on Sky Sports Football & Main Event
Only the most obsessive football conspiracy nuts would suggest that Celtic deliberately lost their match last week against Hibs, just so they could win the title in a home Old Firm derby, but it's not as if those type of people don't exist. Victory would seal a seventh consecutive Scottish title for Celtic but this has been far more competitive than recent ones; Brendan Rogers' side won't be winning by a 30 point margin, as they did last season. A draw would keep Celtic's celebrations on hold, at least until Aberdeen take on Hibs later in the afternoon.
Serie A: Fiorentina v Napoli
17.00 on BT Sport 1
Whatever the result from the day before's
Derby d'Italia
this is a must win for Napoli. For
i Violi,
the season looks to be trailing off in much the same way as it did last season: last month's win at Roma has been followed by a goalless home draw against SPAL and defeats to Sassuolo and Lazio. The pressure is on Napoli but the momentum is theirs
La Liga: Deportivo La Coruña v Barcelona
19.45 on Sky Sports Football & Main Event
Barcelona should confirm themselves as Champions with a win here to go along with the Copa del Rey they won so convincingly last weekend. With the title almost in the bag the next challenge for Valverde's side is to see out the season unbeaten; their run of 40 games since their last defeat is a new La Liga record and if they can stretch that for another four games they will become the first Spanish side to go the whole season undefeated. The true test for Barca's unbeaten season will be next weekend's
El Clasico
. 20 years ago Deportivo, under Javier Irureta, were up competing for titles but now they face a third relegation from the top flight in eight seasons. Nine points adrift of safety with four games to go, Deportivo are already as good as down but defeat will only make it official if Levante take at least a point at home to Sevilla in the Friday night game. One ray of light for the Galicians is that both times they have been relegated in recent seasons, they have come straight back up next season.
Whatever you watch, have a great weekend