Not a Weekend Boxset: End of the season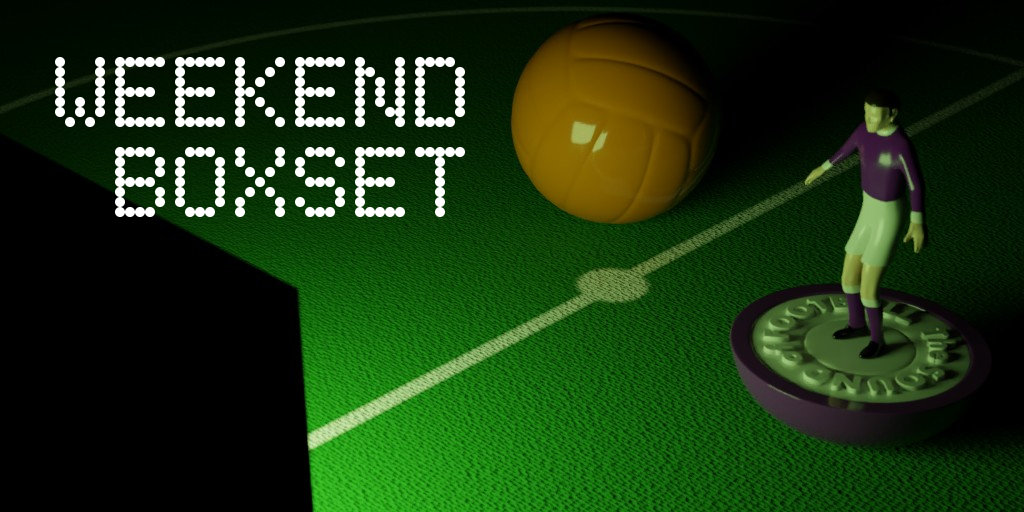 Hello, Terry here.
There aren't that many games coming up this weekend as most of the winter seasons are wrapping up. So instead of a preview I thought I'd impart a few paragraphs of opinion on the league seasons that have just passed that I've been following. Unless Graham intends to do one more this is probably the last box set until the new season. However, we reserve the right to burden your inboxes with our thinkings during the World Cup.
Barcelona were brilliant except....
Last summer things looked bleak for Ernest Valverde's prospects as he took over the reins as Barcelona coach. Neymar had been very publically and almost violently wrested from their bosom into the clutches of PSG, Real Madrid had won the league and European Cup double and were the acknowledged masters. There were even some doubts as to whether or not Lio Messi would sign his new contract. That is to say there was some reluctance on the Argentine demigod's part to physically put pen to paper.
However, a combination of a blistering start for the Catalans and an underwhelming opening from both Madrid clubs, saw Valverde's player take an unassailable lead in the league. If not for that extraordinary 5-4 defeat to Levante on the penultimate round, then Barca may have completed an invincible season. Add a Copa del Rey win to the cabinet and it's objectively been a great campaign for the Catalans. Yet there has been dissention among the fans who feel that the title was handed to them by underperforming rivals and of course there is to huge disappointment of losing, in the fashion they did, to Roma.
The disappointment is intensified with a narrative that portrayed Roma as underdogs rather than an extremely talented, experienced and able Serie A team and losing to them over two legs is no disgrace. Still, to get knocked out despite being in such a strong position is tough to take, especially if you're used to winning stuff all the time. Next season Barca will face a resurgent Real Madrid in La Liga. The Champions League finalists are likely to make a big splash in the transfer market with talk of Neymar leaving PSG and signing on as a Galactico. That should make for a tasty Clasico if the Brazilian returns to the Camp Nou, this time in the Royal white.
Bayern are there for the taking but who is up for the challenge?
After the first seven weeks, it looked as though there would be a different named carved on the Bundesliga trophy. Borussia Dortmund had only dropped points against Freiburg under new coach Peter Bosz while Bayern were floundering with Carlos Ancelotti at the helm.
However, the Black & Yellow's blistering start to the season concealed the structural problem in the squad and the, at times, suicidal tactics of the former Ajax coach. Dortmund lost four of their next eight, sacked their coach and replaced him with the defensive minded, former Cologne boss, Peter Stoeger, and just about managed to qualify for the Champions League next season. Lucien Favre is likely to take charge in the summer with some changes of player personnel on the horizon. Once bright point from my point of view is the emergence of the Englishman, Jadon Sancho. A supremely talented, if a tad lightweight attacking midfielder who will surely play a key role in BVB's forward line next season.
As for Bayern, well the same squad that romped off with the league title, a clear 21 points ahead of second placed Schalke, was beaten by Hoffenheim and Stuttgart. There is a feeling that the club still relies too heavily on their aging wingers, Arjen Robben and Franck Ribery and concerns that goal-scorer extraordinaire, Robert Lewandowski, is unhappy and is looking to move on. Veteran coach Jupp Heynkes did a fantastic job papering over the cracks. However, should another club can put together a tidy team for next season then it is possible that the Bavarians will be there for the taking, especially under the inexperienced coach, Niko Kovac. The vexed question however is which team?
Obvious candidates will be the aforementioned Dortmund assuming they can make the right recruitment decisions in the summer. Under rookie coach Domenico Todesco, Schalke have become a solid defensive team that fully deserve their second placed finish and return to the Champions League. RB Leipzig disappointed this season but perhaps they are regressing to the mean after an astonishing debut season in the Bundesliga. Moreover, they are set to lost Naby Keita to Liverpool and perhaps Emil Forsberg. These are big shapes to fill and would require the kind of money that the Red Bull group almost certainly have but have not, heretofore been willing to spend.
Can City do a United?
The state funded Manchester City has, probably, the biggest transfer budget in the English Premier League. With the exception of Lio Messi or Cristiano Ronaldo there is probably no player beyond their reach if they're determined enough to sign them. Of course, establishing the right blend is the key to true success and Pep Guardiola in his second season at the club has done just that. Despite a disappointing turn in the Champions League there can be no arguing with City's record 100 point haul in the Premier League. Fans have been treated to some sublime talents in the shape of Leroy Sane, Gabriel Jesus and the unstoppable Kevin de Bruyne. Moreover, England fans may have cause to thank Guardiola who has measurably improved Raheem Sterling, Kyle Walker and Fabian Delph. The big question is can they do what no other team has done since their cross-city rivals in 2009 and win back to back Championships? Who can stop them?
Despite finishing second, there seems to be a lack of energy or momentum in Mourinho's Manchester United. However, with a right signings and a decent start it would be foolish to overlook them. Klopp's Liverpool have thrilled us with their 24 minutes bursts of attacking greatness and their defence has improved in recent games. Have the Redmen finally found that balance? I suspect there will be money placed on Liverpool to claim their first title since Thatcherism and not all of it will be from optimistic fans. Chelsea? Yes of course, always. However, if you're after a dark horse then look to Spurs. If the club meet the challenge met by their manager and spend big in the summer then perhaps the north Londoners can break their trophy aversion with the biggest of them all, domestically speaking of course.
That's your lot. Many thanks for subscribing and for listening to the podcast. If it weren't for you we would be reduced to the status of pub bores. Thanks you for giving us a voice.
Whatever you watch, have a great summer.