Weekend Boxset: Can you hear, can you hear the thunder?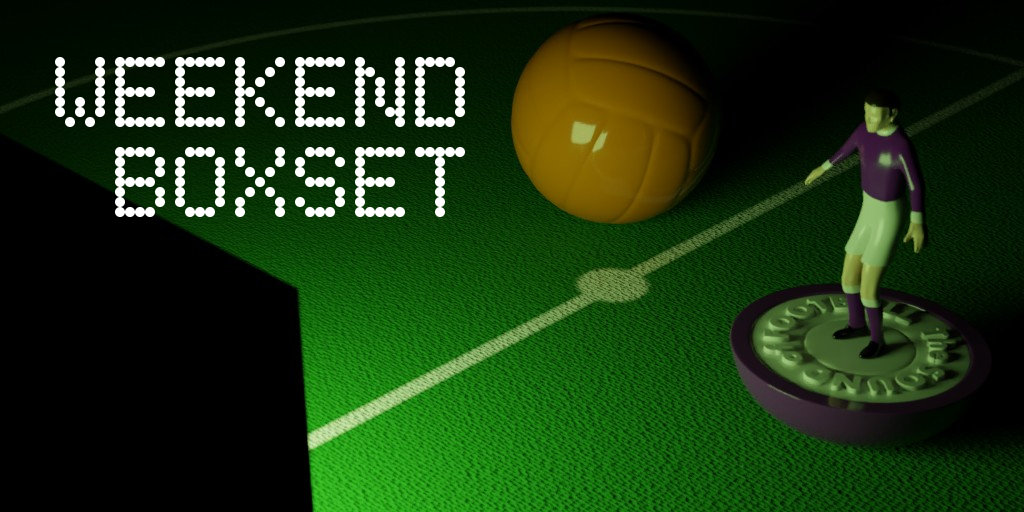 Seven great matches to take you from Friday to Sunday. It's the Sound of Football Weekend Boxset.
All times are BST
Friday
Premier League: Brighton & Hove Albion v Manchester United
20.00 on Sky Sports Premier League and Sky Sports Main Event
Brighton kick off a trio of matches against three giants of the north west that will determine their season. After this they travel to Manchester City before the last day showdown at Anfield. It is possible that Brighton will not score another point for the rest of the season. Of course they could still stay up but the Seagulls will not want chance it. In their favour, all their opponent's Premier League seasons are sorted with Liverpool having the Champions League final on their mind. In any event Albion need to take every chance they can get, starting at the Amex against the FA Cup finalists. United's dramatic victory against the Arsene Wenger Farewell Tour demonstrates that they have little appetite to contribute to other club's fairy tales so don't expect any favours. That said there are few things more dangerous than a desperate opponent. This will not be entertaining to watch but it will be dramatic.
Saturday
A-League Final: Newcastle Jets v Melbourne Victory
10.50 on BT Sport ESPN
Despite not watching a full A-League game this season I'm not about to overlook this showpiece event. Happily A-League expert Gary Andrews was kind enough to prepare the dispatch below. Thanks Gary.
This is probably the most unexpected pairing from the final four, but the competition is all the better for it. Newcastle have been the most entertaining team in the entire competition and if they lift the giant toilet seat on Saturday, it'll be a real fairy tale story. This is the first finals the Jets have made in eight years, and last season they finished with the wooden spoon. Coach Ernie Merrick can take much of the credit, and has had to contend with the loss of star striker Andrew Nabbout to Japan mid-season. The Jets had stuttered in recent weeks and weren't fancied against an efficient if unexciting Melbourne City side, but Riley McGree's scorpion kick inspired them to victory. Melbourne Victory saved one of their best performances of the season against the all-conquering Sydney FC side, who were assumed to be a formality for the grand final. Victory were twice pegged back by own goals in a pulsating semi-final, before former Sydney midfielder Terry Antonis broke free and netted the winner in extra time. The final should be one hell of an event. It's the first final of any code to be held in Newcastle and the 33,000 capacity McDonald Jones stadium will be a sell out. Expect a cracking atmosphere and a lot of neutral goodwill towards the Jets. Seems almost inevitable that Kevin Muscat and Besart Berisha could play the role of villains, but it should be an even, open game and if it's half as good as the semis, we should be in for a real treat. GA
Premier League: Stoke City v Crystal Palace
12.30 on Sky Sports Premier League and Sky Sports Main Event
When Sky booked this game they may have imagined that Palace would still be hovering above, if not in, the relegation zone rather than sat in 11th with six teams between them and the bottom three. After their 5-0 win against Leicester, Palace are ready to stick a fork in what has been a difficult season, relieved to survive with their skins intact. Only Southampton can catch the Selhurst club but they probably need to win all three of their remaining games to do so. However, the
Eagles
have snatched defeat from the jaws of victory in the past and losing to Stoke and West Brom is a very Crystal Palace thing to do. So there is plenty of motivation for Wilf Zaha and the gang to go for only their fourth away win of the season and make the Saints' task all the harder. Stoke will probably wish Palace were safe and uninterested because they're need is far greater. Paul Lambert's team can still overtake Huddersfield, West Ham and Swansea, who they play on the last day of the season. However, a defeat or even a draw could relegate them this weekend if results go badly for them. This is going to be emotional.
Serie A: Juventus v Bologna
19.45 on BT Sport 2
As the final minutes of the
Derbi D'Italia
ticked down Juventus were on the verge of handing the advantage in the title race to Napoli. Then up pops Gonzalo Higuain in the 89th minute to win a pulsating 3-2 game against an Inter side who thought they'd put a wrecking ball through their hated rivals title hopes only for it to swing back in their faces. The following day Napoli, after having worked so hard to beat Juve in the previous round, messed it all up with a 3-0 loss at Fiorentina. Napoli's gonna Napoli, amirite? The gap between the Juve and Napoli is now four points and there are three games left. This has been a hard fought title race that has thrown up a few surprise results but with no distractions and this close to the finish line it's hard to imagine the
Bianconeri
ballsing it up. Bologna are not safe from relegation but are close enough to not feel they have a dog in this race. Napoli play Torino the following day. If Juve win and Napoli implode then it's time to hit the beach.
Sunday
Championship: Cardiff City v Reading
12.30 on Sky Sports Football
So hands up who thought that Colin would be leading a team back into the Premier League... OK that's slightly more than I expected. How many thought it would be with Cardiff City? Just Steve then. Well here we are: the Bluebirds go into the final game of the season with their fate in their hands. Beat Reading and not even an army of Ryan Sessegnons will be able to stop Warnock from telling Premier League managers to eff off next season. Joking aside, Cardiff have been magnificent this season, holding off better fancied opposition and in an age of the high press and modern training techniques it is refreshing to see an old school coach getting results. Their opponents were play-off finalists last season and now find themselves within striking distance of the drop zone. In fairness they are one of five other teams that could occupy the two remaining relegation spots but they seriously do not what to lose this game. No doubt the Sky coverage will be dropping in on Preston v Burton, Birmingham v Fulham and Derby v Barnsley. All these fixtures could prove decisive at either end of the table.
Premier League: Chelsea v Liverpool
16.30 on Sky Sports Premier League and Sky Sports Main Event
In terms of end of season stakes there is not much happening here. Chelsea can't qualify for the Champs League. Liverpool have already qualified, possibly on two counts if they actually with the thing. You would think that Kloppo, mindful of the big game in Kiev, will start thinking about giving some of his squad players a chance in order to rest his potential match winners. Chelsea have more pride at stake than honours but to what extent they will go for the car is uncertain. The World Cup is nearly upon us and who wants to risk an injury? All the same this is a prestige fixture with lots of cracking players will still make for a pleasing alternative to all the high drama going on elsewhere this weekend.
La Liga: Barcelona v Real Madrid
19.45 on Sky Sports Football and Sky Sports Main Event
So Barcelona are three games away from an unbeaten league season. They're already champions and have completed a domestic double. Yet many Barca fans are not happy with the performance of their team. Go figure. Obviously we all know about the Roma defeat but apparently some fans do not consider the playing style of coach Valverde to be entertaining enough. There are also concerns that not enough youngsters are coming through. If ever there was a ever time to add legitimacy to their achievements it's now with the final Clasico of the season. Real, of course, would be delighted to scupper the Catalans invincible aspirations, not to mention ruin Iniesta's last ever Clasico. The Madrid team were very lucky to give up 10 (ten) shots on target and 4 big chances and still prevail in their Champions League semi-final against Bayern Munich. They were luckier still to be gifted a chance by the hopeless Corentin Tolisso and the hapless Sven Ulreich in the Bayern goal. They'll need more than luck if they want to prevail at the Camp Nou.
Whatever you watch, have a great weekend