Weekend Boxset: Stop all the clocks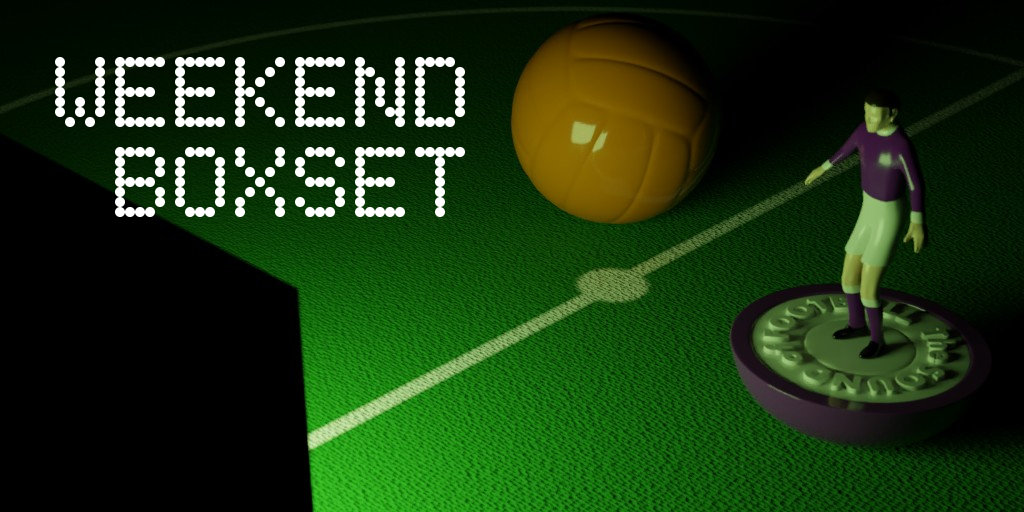 Seven great matches to take you from Friday to Sunday. It's the Sound of Football Weekend Boxset.

All times are BST
Friday

Championship Play-off Semi-final 1st leg: Derby County v Fulham

19.45 on Sky Sports Football & Main Event


For a while in the closing stages of the season, it looked like neither of these sides would be involved in the play-offs. Derby's early season form that saw them start the year in second place had seemingly deserted them and they were being chased down by half a dozen teams. At the same time, Fulham were on such a hot streak it looked inevitable they would leapfrog Cardiff into the automatic places. Fulham missed out on promotion after a shock 3-1 defeat to relegation threatening Birmingham despite having over 70% of the possession. That last game of the season aside, with the attacking options they have it's hard to look beyond Fulham to take this one over two legs but Derby are capable of producing a shock as they did a couple of weeks ago to beat Cardiff to hold on to 6th place. The second leg is on Monday evening

Saturday

Bundesliga: Hamburg v Borussia Mochengladbach

14.30 on BT Sport 3


Hamburg are the only founding members of the Bundesliga never to have been relegated. It's a fact they are so proud of they installed a giant digital clock within view of the pitch that counts every year, day, hour and second they have been in the top flight. For those interested, the German word for "hubris" is hybris. Expect to see a lot of that clock during this game because come the final whistle there's a very good chance it will be stopped. Hamburg have come close to the drop in recent seasons, surviving relegation play-offs after avoiding automatic relegation by just one point for two seasons in a row in 2014 and 2015. For them to escape on this final day of the Bundesliga season they'll need to win here and hope that Wolfsburg lose at home to already relegated Koln (that match is on BT Sport Extra 3 at the same time as this). Wolfsburg themselves will be hoping that a win will be enough to see them avoid a two-legged relegation play-off against Kiel, but that will only happen if Freiburg lose to Augsberg (you can flick over to BT Sport ESPN to see how that one is going). Plenty on offer here for lovers of schadenfreude.

Alternative viewing. If you prefer, there's a choice of play-offs from 15.00: Tranmere take on Boreham Wood at Wembley in the National League Play-off Final on BT Sport 1 and Lincoln City face Exeter City in the first leg of their League Two Play-off Semi-final

Championship Play-off Semi-final 1st leg: Middlesbrough v Aston Villa

17.15 on Sky Sports Football & Main Event


Middlesbrough's move to replace Garry Monk with Tony Pulis just before the winter transfer window opened turned an indifferent season around. While Boro's season turnaround has been reasonably tame if you compare it to Fulham's, history shows that sides with momentum behind them do well in the play-offs. In his time as West Brom manager, Pulis seemed to know exactly how to get under the skin of Villa fans often using the troubles that Villa were having to smokescreen the Baggies' uninspiring performances - so he can expect a warm reception at Villa Park in the return leg. Pointing to his pragmatic reputation as a manager might be doing Pulis a disservice, as much of his success with Boro has been down to getting the most out of players like Patrick Bamford and former Aston Villa misfit Adama Traore. The second leg is on Tuesday.

League Two Play-off Semi-final 1st leg: Coventry City v Notts County

19.30 on Sky Sports Football


It's rare these days to find a team in the EFL that has never been involved in a play-off but in the 17 seasons since they were relegated from the Premier League, Coventry have never played in the knockout stage - in fact their 6th place finish this season was the highest they've finished in any division since 1970. Given the financial problems both sides have had in recent years, just being in the play-offs can be seen as achievement enough. Notts County, now owned by Alan Hardy, look in better shape now than they have in years; manager Kevin Nolan, having only taken charge of the side in January last year, already has more wins than any of the 22 managers and caretakers that have occupied the role since Sam Allardyce left in 1999. A win here will stir the memories of Notts County fans back to the start of the 1990s and Neil Warnock taking them up in consecutive seasons through the play-offs. The second leg is next Friday.
Sunday

Premier League: Liverpool v Brighton & Hove Albion

15.00 on Sky Sports Main Event


A somewhat anti-climactic end to the Premier League with pretty much everything sorted, freakish results notwithstanding. Thanks to their vastly superior goal difference, Liverpool need just a point to secure Champions League football next season. Even if Chelsea do manage to snatch fourth, the Reds will have a second chance to steal that last Champions League spot from them by winning this season's final in two weeks' time. There's no reason for Brighton to go for it here, though it's possible that Chris Hughton might decide that finishing above his former club Newcastle is something he might like to do.

League One Play-off Semi-final 2nd leg (1-0): Shrewsbury Town v Charlton Athletic

17.15 on Sky Sports Football


Jon Nolan's stunning late strike at The Valley in Thursday night's first leg gives Shrewsbury the advantage of the only goal in the tie so far. Despite finishing lower in the table, Charlton's form coming into this game, since caretaker manager Lee Bowyer took over in March, would suggest that they are more than capable of turning the tie around to make the final on 27 May. It's 20 years since their last play-off final win, the famous 4-4 with Sunderland, Clive Mendonca and all that. Whether or not The Shrews, make it through the play-offs or not their manager, Paul Hurst, has built a solid reputation that has already seen him linked with the vacant position at Ipswich. Having taken his side from the bottom of League One when he took over in October 2016 to having one foot in the play-off final, there are a quite a few Championship clubs that could use a manager willing to bring forward talent from lower leagues and who has a degree in sports journalism to go with his UEFA 'A' Licence.

La Liga: Levante v Barcelona

19.45 on Sky Sports Football


This is the penultimate obstacle between Barcelona and an unbeaten season. After the knockabout fun of last week's El Clasico it's easy to imagine it will be plain sailing from here to the end of the season. Believe it or not though, these two are the top form sides in La Liga at the moment with Levante chalking up 23 points in their last ten games, more than doubling their points tally for the season and easily escaping relegation. Can the side from Valencia make it five home wins in a row and cause the biggest upset of a season of surprising results? Given the way Barcelona demolished Villareal in midweek, it's unlikely. UK-based fans of La Liga should enjoy Sky's coverage while they can. As we discussed in this week's podcast, with Sky having let go of the UK TV rights to Eleven Sports, it's currently unclear how fans will get access to the games from the start of next season.

Whatever you watch, have a great weekend
Graham (@grahamsibley)