Weekend Boxset: Off to Doha!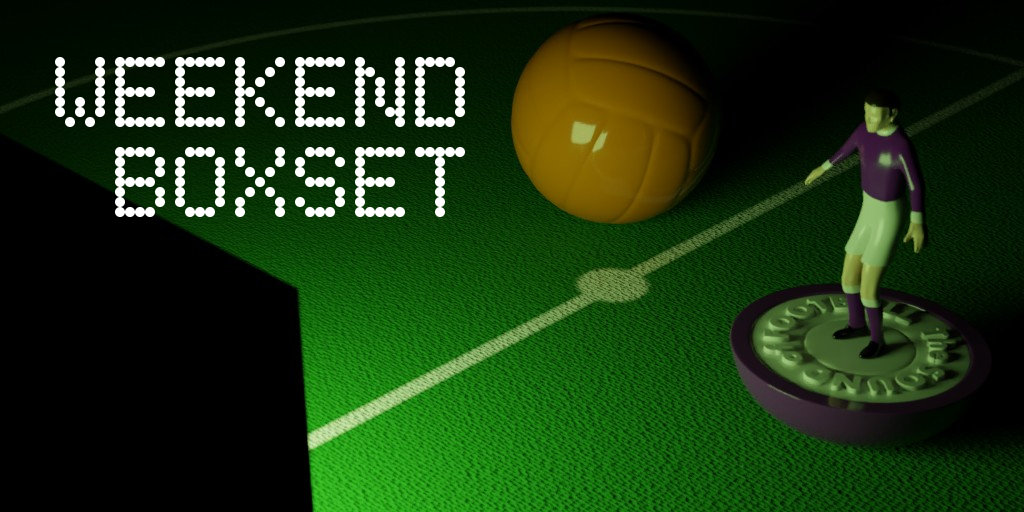 Can Liverpool be stopped? Maybe an insanely busy festive calendar can trip them up. Or Nigel Pearson.
Seven great matches to take you from Friday to Sunday. It's the Sound of Football Weekend Boxset.
Get the Weekend Boxset in an email every week
All times are GMT
Friday
Ligue 1: Lille v Montpellier
19.45 on BT Sport Extra 2
Ten sides are within four points of the third Champions League spot in Ligue 1 but given Lille's disastrous campaign this season, who'd want it. Lille were already destined to finish bottom of their group before losing to Chelsea in midweek, so now no longer even have the distraction of the Europa League. Lille's recent form has improved, Victor Osimhen rediscovering his scoring touch from the start of the season to help them to three straight 1-0 wins taking them top of the large pack of clubs slipping away from PSG and Marseille. Montpellier are in that group but like Lille their home form is significantly better than their performances on the road. They've not won away since beating St Etienne in May but they have at least avoided defeat in their last three away games. GS
Saturday
Premier League: Liverpool v Watford
12.30 on BT Sport 1
Last weekend, Watford's incoming manager, Nigel Pearson, spoke to the players before they took on Crystal Palace. We can only guess what was actually said, but it certainly made a difference, as Watford were unlucky not to take three points in a game that ultimately ended nil-nil. While Pearson's appointment may have raised a few eyebrows, it seems a rather sensible move to me. Watford have given him a contract until the end of the season, which works for both parties: Watford want to avoid relegation and Pearson wants to prove he can do it at the highest level. In addition, Pearson has something of a reputation of being difficult to work with, so a short term contract allows Watford to suss him out before making the arrangement permanent. For me, Pearson is just what the doctor ordered for Watford. He will bring discipline, organisation and, more importantly, fight. Sadly, Watford's rejuvenation is going to have to wait a week as they haven't a chance in hell of beating this Liverpool side. That said, Klopp's selection for this one will be interesting given it's their final game before the squad splits in half to play two games in as many days. Quite what their involvement in the Club World Cup will do to Liverpool's season remains to be seen, but it's an inconvenience they could do without given their laser-like focus on bringing the title back to Anfield. JB
FIFA Club World Cup 2019 2nd Round: Monterrey v Al-Sadd
17.30 on BBC iPlayer
Liverpool fly out to Doha for Wednesday's semi-final of FIFA's flagship club competition where they will face the winners of this tie. Monterrey are the holders of the CONCACAF Champions League, a competition only ever won by sides from Mexico in its 11 year history. Al-Sadd qualified by being the current champions of the Qatar Stars League - which it has won a record 14 times. It took extra time, in Wednesday's 1st round match, for the host nation side to overcome the Oceania Champions League winners, New Caledonia's Hienghene Sport. If you fancy catching even more Club World Cup action the BBC are due to show the earlier 2nd round match between Asian champions Al Hilal against the African champions Esperance de Tunis. The game kicks off at 14.00 so unless they pull the plug at 45 minutes in, the Beeb will be busting the sacred Saturday 3 embargo. Let's all hope they do. GS
Serie A: Genoa v Sampdoria
19.45 on Premier 1
Neither side have done much to shout about in recent years but this
Derby della Lanterna
could be about a lot more than just the usual bragging rights. The two sides from the capital of the Ligurian region in Italy straddle the dotted line at the foot of the table. Sampdoria had a terrible start to the season, winning just one of their first ten games though results have improved since then allowing them to nudge ahead of their city rivals. Genoa's season started with promise - a cracking 3-3 draw in Roma followed by a win against Fiorentina. Since then there's been just one win, against fellow strugglers Brescia. Expect an even more febrile atmosphere than usual in the shared Stade Luigi Ferraris. Since Sampdoria's one season absence from the top flight in 2011/12, Genoa have failed to win any of their home derby games. GS
Sunday
Premier League: Manchester United v Everton
14.00 on Sky Sports Premier League & Main Event
Another side with a new manager is today's visitors, Everton, who have club legend Duncan Ferguson in charge. Like Pearson, Ferguson can get into players heads and, based on last week's performance against Chelsea, get them to raise their game significantly. Indeed, Richarlison's opening goal was vintage Ferguson, as was the work rate of his comrades who worked tirelessly and deserved their win, albeit against a Chelsea side who completely failed to put up any kind of defence. Hard work can only get you so far and, once rumbled, it can make a side look pretty one-dimensional, which brings me nicely onto Manchester United. I can't take anything away from United for their impressive back-to-back wins against Spurs and City, but sitting deep against high-pressing sides and hitting them on the break isn't going to work forever. Everton will know they don't have the ability to press high anyway, so it will be interesting to see how OGS will break down the visitors who will sit much deeper than his last couple of opponents. However, Rashford is in fine form, and there is a confidence about United of late. It wouldn't surprise me if this one ended in a draw, but I do think there'll be goals in what looks like a fascinating match. JB
Premier League: Arsenal v Manchester City
16.30 on Sky Sports Premier League & Main Event
Arsenal's search for a new head coach goes on, with more names joining the list than being ruled out. The search received an added complication when it came out just yesterday that the contract extension Guardiola signed to take him up to the end of 2020/21 included a "break clause" that would allow him to leave at the end of this season, if he wishes. While Pep to Arsenal doesn't really make any sense, many of Arsenal's more realistic targets might be more interested in holding out to see if the City job soon becomes available instead. For now, Freddie is still in charge. His first win, coming against City's previous manager, an under pressure Manuel Pellegrini at West Ham has done little to convince fans that Arsenal are enjoying a post-Emery bounce. Arsenal still can't defend, City always score. It could be a very long afternoon for the Gunners but as they showed in a devastating ten minutes at the London Stadium, there is a good football team hidden somewhere in there. Doing it for more than ten minutes is the challenge for the new manager. GS
La Liga: Valencia v Real Madrid
20.00 on Premier 1
Valencia coach, Albert Celades must be reflecting on an emotional four months. The former Real Madrid assistant coach replaced Marcelino who had won the Copa Del Rey but was sacked in September. The players were furious and boycotted the club's pre-match press conference against Chelsea in the Champions League leaving Celades to face the media alone. Fast forward to this week and his players were on the pitch celebration with their fans at the Amsterdam Arena following a 1-0 win which took them into the knock-out stages of the Champions League at the expense of their opponents. Domestic matters are also looking rosier with the team having won four of their last five. A win at home to Madrid could put Los Ches into the top four, depending on results elsewhere. That's going to be tricky though because Real have not lost in any competition since October. TD
Whatever you watch, have a great weekend.