Weekend Boxset: Who's next?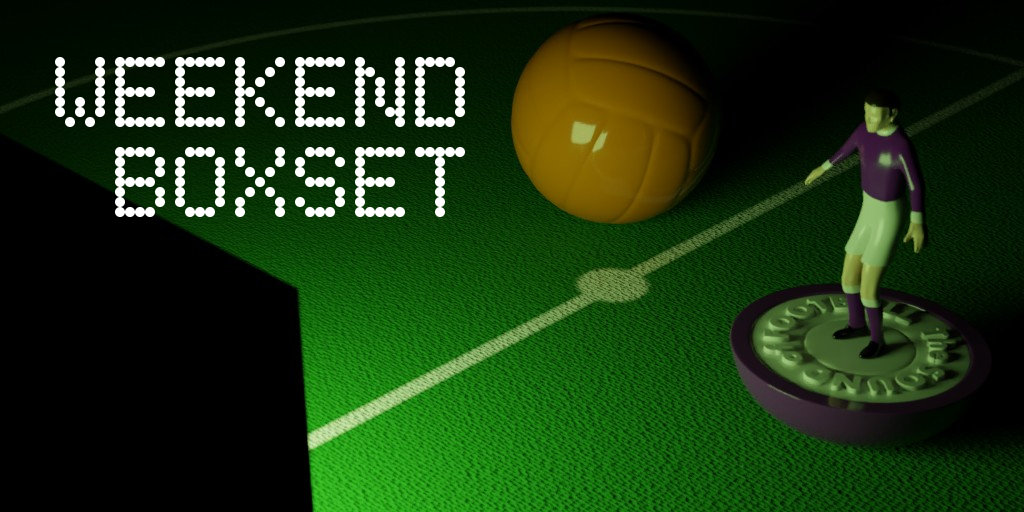 It seems like every week a club gets rid of its manager. This week, Everton have said goodbye to Marco Silva but Hertha Berlin are saying hello to a very familar face.
Seven great matches to take you from Friday to Sunday. It's the Sound of Football Weekend Boxset.
Get the Weekend Boxset in an email every week
All times are GMT
Friday
Bundesliga: Eintracht Frankfurt v Hertha Berlin
19.30 on BT Sport 1
Eintracht were made to look good by Arsenal in the Europa League, two Thursday ebenings ago. They've been pretty average in the league (a 5-1 win against a late Kovac Bayern team, notwithstanding) which is not surprising since they lost Rebic, Jovic and Haller in the summer. In fact coach Adi Hutter is under a spot of pressure following their defeat in the big derby game last Monday at Mainz. Their opponents have sacked their coach Ante Kovic which is very sad because he's Hertha through and through. His replacement is Jürgen Klinsmann until the end of the season. Never one for the tactics, Klinnsy has brought in former Werder coach Alexander Nouri and former centre back Arne Friedrich to help him out. What happens next could give Hertha the platform they need to meet the ambitions of their new investors or it could be a shitshow. Either way, it's not likely to be dull. TD
Saturday
Premier League: Everton v Chelsea
12.30 on BT Sport 1
Quite why it took the Everton hierarchy so long to get around to finally dismissing Marco Silva is anyone's guess. Quite why they waited until just a few hours before the deadline for THIS PREVIEW is the subject of much frustration on my part. This was either designed to give the team sufficient time to prepare for the visit of Chelsea or to completely ruin my Thursday evening - I'm going with the latter. Wednesday's thrashing at the hands of Liverpool's second team was the latest in a succession of poor results which was clearly something Everton owner, Farhad Moshiri, couldn't see changing. David Moyes is, inevitably, linked with the role, which is something, as a both a Sunderland supporter and disgruntled writer, I hope they run with. It's Chelsea for me all the way in this one. Silva came across as a nice chap and is well respected throughout football, but in the end it's the results that matter. JB
Premier League: Manchester City v Manchester United
17.30 on Sky Sport Premier League & Main Event
This game could also have been about the managers, had United not pulled off an impressive win against Spurs midweek, in another game all about managers. Instead, this one should be about the strikers. Both Marcus Rashford and Gabriel Jesus scored a brace as their sides ran out winners earlier in the week. For Rashford, this made it twelve goals in thirteen games for club and country. Equally impressive was the performance from Jesus, who, forever in the shadow of the majestic Sergio Aguero, demonstrated just how deadly he is in front of goal. City will, of course, be favourites to take the three points, but it's worth noting that they haven't been themselves of late, and with the visitors seeing themselves as underdogs in this one, there is the potential for a bit of an upset. Pogba and Martial could make returns, which could further spice things up. JB
Serie A: Lazio v Juventus
19.45 on Premier 1
Juventus lost their lead in the table last weekend, dropping points at home in a 2-2 draw with lowly Sassuolo. The story of the match was the goalkeeping performance of Sassuolo's 18 year old debutant Stefano Turati The pictures of him being congratulated by his counterpart at the other end of the pitch, Gianluigi Buffon, could prove iconic in years ahead but then also, we may never hear from him again. Inter are now top by a point but Lazio are in rampant form and ready to join the title chase. Ciro Immobile simply can't seem to stop scoring right now, 17 goals and five assists so far making him the most lethal striker in all of Europe's major leagues. Lazio close the gap on the Old Lady with a win here. There could be a genuine three way title race in Italy this season. GS
Sunday
Women's Super League: Chelsea v Manchester City
12.00 on BT Sport 1
When your season is only 22 games long, the importance of fixtures against your title rivals becomes even greater. Last season both fixtures between these sides ended in a draw - four points dropped for both sides helped Arsenal break their three season long hold on the two Champions League spots and win the title. Arsenal certainly made a statement last week that goal difference might be all important at the end of the season, by beating Bristol City 11-1. Both sides will be on the hunt for big scorelines looking ahead but for today it will be just be about three points. This is Chelsea's last home game before Christmas, so it should an early festive cracker for the sell-out crowd at Kingsmeadow. GS
Scottish League Cup Final: Rangers v Celtic
15.00 on BT Sport 1
The midweek draw at third-placed Aberdeen, saw Rangers slip two points behind Celtic, who made heavy work of the seemingly more straightforward propostion of Hamilton at home. Rangers are real challengers to Celtic this year and while this final could be seen as a distraction it might also be first blood in a pivotal season for Scottish football. What are decade retrospectives going to say about Scottish football in the 2010s? Rangers weren't there - no one really filled the gap. This is Rangers first final since returning to the top flight and Steven Gerrard's first chance at winning something as a manager. Last time they met in a final was in this competition in 2011, Neil Lennon losing his first final in his first stint as Celtic manager. For those counting, the history books show that Rangers lead 9-5 in Old Firm League Cup Finals. A win this time would perhaps have more significance than any of the others. GS
La Liga: Osasuna v Sevilla
20.00 on Premier 2
Promoted after a two-season absence, Osasuna are back with a bang. So far Jagoba Arrasate's side are ninth but only four points off a Champions League spot. The swashbuckling football on show in their 4-2 win at Espanyol with only 10 men is an example of the courageous approach that the coach has taken to this campaign. Not for them the conservative counterattacking style, characteristic of newly promoted teams. Sevilla meanwhile are emerging as the disruptor in the title race, lying third behind Barca and Real Madrid. Julen Lopetegui is now rehabilitated after the massive error in judgement when he took the Real Madrid job on the eve of leading Spain into the World Cup in 2018. However, they struggled to beat the unfancied Leganes at home last week and will be to be a lot sharper at the El Sadar Stadium, which by the way, is a fantastic name for a football ground. TD
Whatever you watch, have a great weekend.