Weekend Boxset: FA Cup Quarter-finals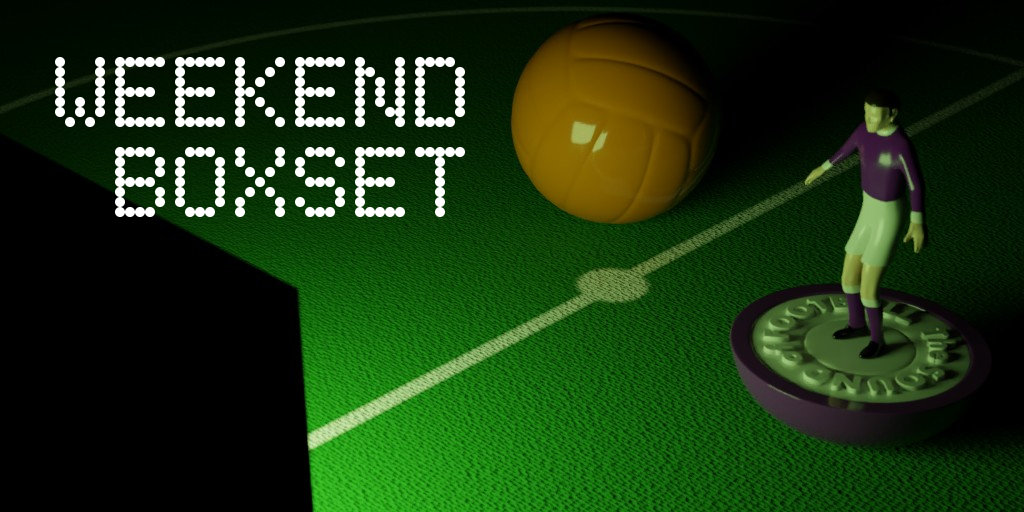 The FA Cup has returned, with a final set for 1st August. The last four winners of the trophy face four other Premier League sides in an intriguing set of quarter finals. It'll be somewhat less intriguing if they all get through to the semis.
Seven great matches to take you from Friday to Sunday. It's the Sound of Football Weekend Boxset.
Get the Weekend Boxset in an email every week
All times are UK (BST)
Friday
Championship: Brentford v West Bromwich Albion
19.45 on Sky Sports Football & Main Event
West Brom were a Baggie of nerves last week in their goalless draw against Birmingham City. Despite mustering 21 attempts on goal, Slave Bilic's team could only manage one on target. But the point was sufficient to lift them to the top of the Championship table thanks to Leeds defeat at Cardiff. Brentford vanquished the west London rivals, Fulham last week thanks to two late goals from Said Benrahma and Emiliano Marcondes. Sadly they're still without Bryan Mbeumo who was diagnosed with COVID-19 just before the Fulham game. This means their 'BMW' trio of Benrahma, Mbeumo and Ollie Watkins won't be in play for what could be the Bees best shot at automatic promotion. TD
Saturday
Premier League: Aston Villa v Wolverhampton Wanderers
12.30 on BT Sport 1 & Extra 1
This certainly is a tale of two cities: Wolves stand on the verge of European qualification while their West-Midland neighbours face an immediate return to the Championship. There really are no easy games left for Villa and defeat today could well trigger a capitulation and subsequent bidding war for Jack Grealish who has only netted seven times, and in truth, deserves a better platform for his considerable talent. Pluck and luck will only get you so far, and I fear Sheffield United and the (dirty) Mags may prove to be momentary highs compared to what is to follow for Villa. While I'm here lamenting their inevitable downfall, I suspect Wolves will show little mercy. In their last eight league games they have lost once (Liverpool), taking points off Manchester United, Leicester and Spurs along the way. They have a deadly, in-form, striker in Raúl Jiménez, and the imposing Traoré provides plenty of opportunities going forward. Sorry, Villa fans, but the Wolves really are at the door. JB
Championship: Leeds United v Fulham
15.00 on Sky Sports Football & Premier League
Both sides lost their first games after lockdown 2-0 to sides also chasing promotion, but both can feel hard done by with the scoreline. On most other days Leeds would have run out winners against Cardiff but a fine display by Alex Smithies in the Bluebirds goal and an amazing goalline clearance from Will Vaulks kept Marcelo Bielsa's side out. Fulham probably thought they had done enough for a point against Brentford in a game that remained goalless up to the 88th minute. It's unwise to draw conclusions about form and the effects of lockdown on sides on the basis of one game, so I won't. What I will say though is that with the other sides in the top four also playing each other (see above) by the end of this game there could easily be a ten point gap between the top two and rest of the Championship. GS
FA Cup Quarter-Final: Norwich City v Manchester United
17.30 on BBC One
Despite being rooted to the bottom of the Premier League table Norwich have had put in some stand-out performances this season - some in this competition. The removal of replays from the competition saw their fifth round tie at Spurs go to penalties. That was the third time the two sides had faced each other since Christmas and each game had been a tight affair. Sadly the Canaries can't look at recent games against United for inspiration, having been well-beaten in both Premier League matches. United's pre-lockdown good form continues and they should get past a Norwich side that looks at its most vulnerable right now. On current form this is a competition they can win but as Louis van Gaal will testify, winning the Cup for United won't necessarily save your job. GS
Sunday
FA Cup Quarter-Final: Sheffield United v Arsenal
13.00 on BT Sport 1 & Extra 1
The last time Sheffield United won the FA Cup, Arsenal hadn't even appeared in a final. The sides have had a number of noteworthy meetings in the Cup including a final in 1936, a hard-fought semi final in 2003 and the notorious voided game in the fifth round in 1999. Their most recent meeting was 2005 where it took a replay and penalties for the invincible champions and eventual winners of the competition to beat the Blades. This year sees two sides struggling to get back into stride after lockdown. A win on Thursday for Arsenal will have calmed some nerves in N5 but a growing list of injuries means the Gunners are far from turning a corner. For Chris Wilder's side things are even less rosey. Denied a win by a failure of technology against Villa, United haven't scored a goal on their return (not any that have been awarded anyway). What is more alarming is the number they are condeding. If they can't score against this threadbare Arsenal defence not only will their cup run come to an end but you can't see them holding on to their European spot. GS
FA Cup Quarter-Final: Leicester City v Chelsea
16.00 on BT Sport 1 & Extra 1
Two top four Premier League teams face off in the Cup. Presumably Champions League lucré is more important than an open top bus parade before thousands of local COVIDIOTS. However, that shouldn't stop either set of players from having a go. Arguably Leicester's need is slightly greater. Winning the cup would not only legitimise coach Brendan Rodger's great work since moving from Celtic last year but also present the club with a trophy they've never won. Chelsea presented Liverpool with a much missed trophy on Thursday by beating Manchester City. Leicester have more recovery time, having played on the Tuesday but were somewhat underwhelming in their 0-0 draw with Brighton. TD
FA Cup Quarter-Final: Newcastle United v Manchester CIty
18.30 on BBC One
Had the proposed takeover of the barcodes by the murderous, bloodthirsty pirates of the Saudi Arabian government gone ahead, this match would have been such a concentration of evil, that I'm sure it would have opened some kind of portal to Hades or suchlike. As it stands, the on/off deal doesn't seem to be fazing Steve Bruces's side who have taken an impressive four points since the season's restart. City, no doubt frustrated at their inability to overturn Chelsea and thus surrendering the league title, will be in no mood to lose out on another piece of silverware, but the famous old trophy can be a great leveler. Indeed both sides arrive at this fixture having not faced a top level side in any of the preceding rounds. The (dirty) Mags struggled to overcome impressive, third-tier, opposition in the form of Oxford United, and City made hard work of Sheffield Wednesday in the last round. That suggests that this could be anyone's game - but it isn't. We all know what's going to happen here. JB
Whatever you watch, have a great weekend.