Weekend Boxset: The Premier League and Championship return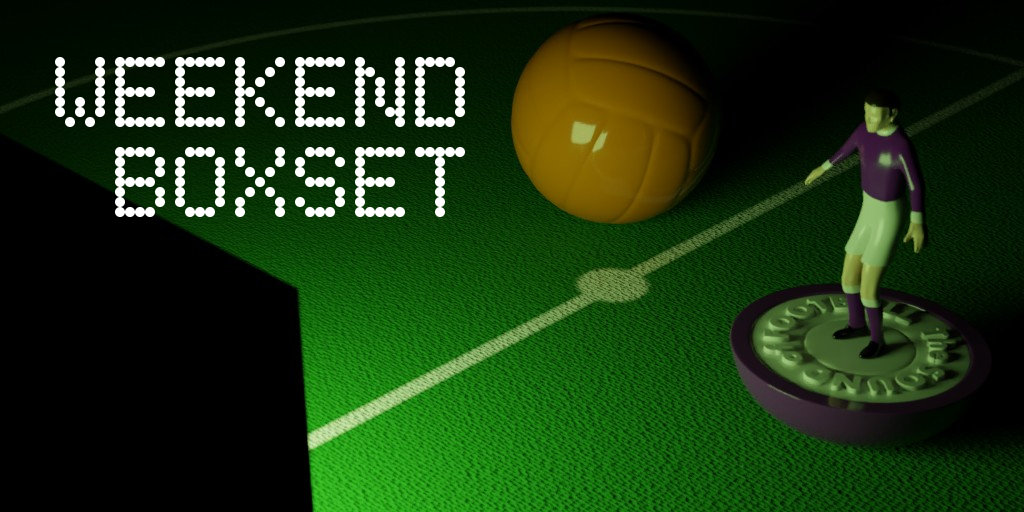 English football is back - in the top two tiers at least. All the remaining Premier League games are being televised, many free to view. All you have to choose is whether you want piped crowd noise or not.
Seven great matches to take you from Friday to Sunday. It's the Sound of Football Weekend Boxset.
Get the Weekend Boxset in an email every week
All times are UK (BST)
Friday
Premier League: Tottenham Hotspur v Manchester United
20.15 on Sky Sports Premier League & Main Event
Six matches without a win meant that the enforced suspension of football was something of a relief for Spurs; whether they'll welcome the return remains to be seen. There's the added (but tired) narrative of Jose facing his old side, and Pogba may even turn out, but the highlight for me is the return of Harry Kane, who has been out injured since the start of the year. Remember when our biggest concern was whether Kane would be back and fit for the Euros? How times change. Can his presence up-front be enough to arrest Tottenham's dismal form? You'd expect so, but, and I do find it quite odd saying this, United are on fire at the moment. Of course, there's been quite a break, but before the world went mad, their goal tally in Europe comfortably hit double figures and both Chelsea and City were put to the sword - City twice! I was at their game against Chelsea; they bullied their hosts that night. If they bring the same swagger on Friday, Spurs will be in for a long evening. JB
Saturday
Championship: Fulham v Brentford
12.30 on Sky Sports Football & Main Event
Given how they've royally ballsed up their last two Premier League campaigns, I'm of a mind that Fulham probably deserve to at least sit another season in the Championship to think about what they've done. For fourth-placed Brentford, the pain of fans missing out on a last game at Griffin Park would surely to tempered by a return to top flight football for the first time in 73 years, but their record in play-offs is awful. In the seven times they've qualified, they've made three finals and lost them all. Recent guest on the podcast, Richard Foster - author of The Agony & The Ecstasy: A Comprehensive History of the Football League Play-Offs , blames a curse on teams who traditionally play in red and stripes with black shorts. Adding Brentford's record to that of Sunderland, Lincoln City, Sheffield United and Exeter City you get 29 appearances, 14 finals, 0 wins. GS

Championship: West Bromwich Albion v Birmingham City
15.00 on Sky Sports Football & Main Event
Live English football on TV at 3pm on a Saturday - welcome to the new normal. As if the uncertainty brought to football by COVID-19 wasn't enough cause for concern, Birmingham have gone through lockdown with the threat of another points deduction still hanging over them as the EFL sought to appeal an independent panel's decision, clearing the club of breaching the business plan they agreed to last year. For the Blues the matter is now closed and they can concentrate on remaining in their position of relative comfort midway between the play-offs and relegation, and finding a new head coach to replace Pep Clotet who leaves them once the season is completed. For the Baggies it's all about getting over the line. Slaven Bilic's currently enjoy a six point buffer over Fulham but know they will face them and other promotion rivals Brentford in the remaining eight games after this one. Sky's crowd soundtrack might not create an authentic West Midlands derby atmosphere but figures from the games they've shown so far reveal that it's the more popular option with viewers. GS

Premier League: Bournemouth v Crystal Palace
19.45 on BBC One
One can only imagine the size of the writs coming out from Dean Court if the Premier league had called the league and Bournemouth got relegated with 11 games left. At least their indignation would have been on sporting grounds, as opposed to commercial reasons that domestic football returns while fans mourn their dead. Anyhoo, Eddie Howe is a decent sort and while there is something truly odd about an historically lower division club playing in the top flight, it would be a shame to see them go down especially when there are more fitting candidates for the drop. Palace's relegation concerns can be filed under "lingering" but three points may foster ambitions of Europa League football next season, assuming that competition ever comes back. TD

Sunday
2 Bundesliga: Heidenheim 1846 v Hamburg and Nürnberg v Stuttgart
14.30 on BT Sport 1 & 2
With only two rounds left, Armenia Bielefeld claimed the first promotion spot earlier this week. That leaves Stuttgart, Hamburg and Heidenheim to compete for the second. Given their squad sizes, it is astonishing that VfB and HSV have not stormed this division. In fairness, they are trying to address structural issues while keeping their supporters on side and trying to win football matches. Nürnburg, another historic club with a large fanbase have fared even worse and are reconciled to their fate. But the longer these former giants stay out of the top flight the greater possibility that they could end up like former title winners, Kaiserslautern, now in the third division and who filed for bankruptcy last week. Fourth placed Heidenheim are a tiny club, by comparison and never been in the 1.Bundesliga before. Don't be confused by the "1846" in their title. The club was effectively formed in 2007 and have been on an upward trajectory ever since. Best of luck to them.. TD

Premier League: Aston Villa v Chelsea
16.15 on Sky Sports Premier League & Main Event
When you're just one point from safety, you need a little luck. On Wednesday evening, in another triumph for technology in football, Hawk-Eye failed to alert referee Michael Oliver when Villa's Orjan Nyland carried the ball over the line. Quite why the decision was taken no to utilise the back-up system of Oliver's own eyes, or even those of his assistants', is anyone's guess. Regardless, it may prove to be something of a pivotal moment for today's hosts in a relegation race where that single point could make all of the difference. Indeed, after Chelsea, their run-in includes fixtures against Liverpool, United and Arsenal, where they'll need all the luck they can get. Facing them today are a Chelsea side that went into Lockdown off the back of two big wins against both teams in Merseyside. They will also be at near full strength with Kante, Pulisic and Tammy Abraham all set to return. Certainly, Chelsea's forward line will have something to prove given the recent signing of German goal-machine, Timo Werner. It'll be quite a rollercoaster run in for Villa, but I doubt their recovery will start here. JB

Premier League: Everton v Liverpool
19.00 on Sky Sports Premier League & Main Event, Pick (Freeview: 11)
The timing and intensity of this compressed fixture calendar makes it easy to look at these remaining games in the same way as you would a summer tournament - after all, Euro 2020 would be in full swing right now. The major difference of course is that we already know who is going to win it. Liverpool will probably be crowned after they beat Crystal Palace next week leaving the remaining seven round of fixtures to sort out who will be going down. Not that's anything Everton have to worry about, they're only here to fulfill their obligation to broadcasters, but that doesn't mean they won't be worth watching. One of the joys of writing these previews is it has introduced me to teams that over the last few of seasons have, for a while, become the entertainers of their division: Real Betis, Atalanta, Eintracht Frankfurt. Under Carlo Ancelotti, Everton could join that list. Before lockdown they were involved in some great matches; remember the 3-2 defeat to Arsenal? The 3-2 win over Watford? That insane 2-2 draw with Newcastle where Toon scored both their goals in the 93rd and 94th minutes. Heart-stopping if you're a Toffees fan but great value for the rest of us. GS

Whatever you watch, have a great weekend.