Weekend Boxset: Previously, on football...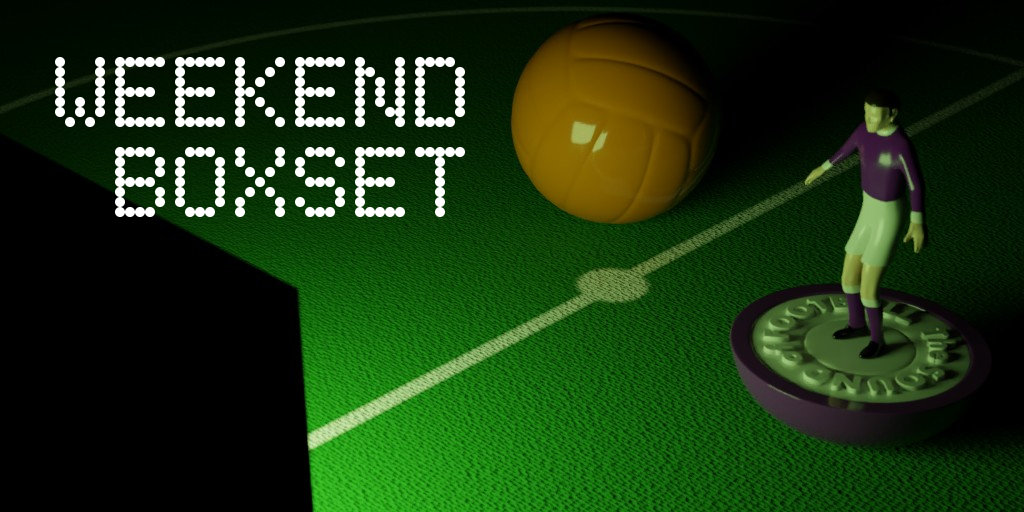 The return of football in Spain and Italy has given football fans a choice of viewing for the first time in months. Yes, the stadiums are empty. Yes, there's weird virtual crowd nonsense going on. Yes, everything else in the world is still rubbish, but let's face it, no one wants to watch the news right now and you've rinsed through Netflix. Let's restart those sport subscriptions and binge on football.
Seven great matches to take you from Friday to Sunday. It's the triumphant return of the Sound of Football Weekend Boxset.
Get the Weekend Boxset in an email every week
All times are UK (BST)
Friday
Coppa Italia Semi-Final 2nd Leg: Juventus v Milan (1-1)
20.00 on BT Sport 1
In the first leg, played just before Valentine's Day, a last minute VAR awarded penalty, converted by Cristiano Ronaldo (of course) sees this game begin all-square. With another ten days before their title defence restarts, Maurizio Sarri's Juventus side are more than capable of treating this game as a warm-up for the compressed completion of the season, and still get through to the final next Wednesday. This competition is Milan's best chance of securing a Europa League place, having been excluded from the competition this season for breaching UEFA's Financial Fair Play rules.
Saturday
Bundesliga: Koln v Union Berlin
14.30 on BT Sport Extra 1
Even though the Premier League and Championship are returning this week, this probably won't be the last chance you get to watch Saturday afternoon Bundesliga action. The Saturday 3 embargo - an important lifeline for grassroots football for some, an out-moded artifact of the past for others - is not going to be in operation for the remainder of the campaign. Will it ever return? Regular listeners of the podcast will know that we are very much in the latter group. Of the 2.30 offerings, I'd say this one just pips the relegation dogfight of Paderborn v Bremen. Both sides came up from the second tier last season, though with much different expectations. Koln have done enough to stay up but defeat for Union could see their season end in a scrap to avoid falling into the play-off place.
Bundesliga: Bayern v Borussia Monchengladbach
17.30 on BT Sport 1
If Dortmund lose their game against Dusseldorf (unlikely but you never can rule these things out with Dortmund), Bayern will have the chance to secure their eighth consecutive title with three games to spare. Victory over Gladbach is by no means assured, the Bavarian giants lost to them in December in a game which ended in a flurry of cards, a sending off and a match-turning penalty. Having been in the chase for the title, Gladbach haven't returned with the form they showed before lockdown and defeat against Leverkusen has seen their grip on a Champions League place slip. If they fall from the top four this weekend, they may not make it back in.
Coppa Italia Semi-Final 2nd Leg: Napoli v Inter (1-0)
20.00 on BT Sport 1
Having taken over from Carlo Ancelotti in December Gennaro Gatusso hit the ground stumbling at Napoli, losing four of his first five Serie A games. Results had turned around just before the shutdown, helped by success in this competition. A comfortable win against Perugia was followed by a fractious quarter final with title-challengers Lazio - a game that saw both sides reduced to 10 men in the first half. Inter's title challenge was pretty much halted in their last two games - back to back defeats to rivals Lazio and Juve. With a Champions League place almost certain, Antonio Conte could well be looking to this competition to salvage something. As a player he was part of the Old Lady side that won the competition in 1995. Well, he came on for the last 20 minutes in the second leg when his side were already three goals up against Parma. As a coach, his only Coppa Italia final was in 2012, which saw his Juve side lose 2-0 to... Napoli.
Sunday
La Liga: Athletic Bilbao v Atletico Madrid
12.00 on LaLigaTV
While some leagues might be wrestling with the presentation of crowdless football, La Liga are obviously seeing it as an opportunity. Their existing AR providers, Norwegian company Vizrt, who supply all the nifty screen overlays that the pundits use, have created a virtual crowd that replaces the empty stands. This virtual crowd has the added "advantage" that it can quickly be replaced with "institutional messages and other offerings". To go with the sight of the crowd, EA are providing the soundtrack of the fans from their successful FIFA video game franchise. No crowds also mean the broadcasters can offer new cameras angles from positions that would have just been annoying for paying spectators. Luckily, all these technological wonders have a decent match to drape themselves around. Simone's expensively rebuilt side find themselves in an unseemly tussle for the fourth Champions League spot, while Athletic sit in mid-table having promised more than they've delivered for most of the season. Expect a great atmosphere at the San Mames, which you can probably download from somewhere.
Bundesliga: Schalke v Bayer Leverkusen
17.00 on BT Sport 1
While the 2019/20 season is one Schalke would rather forget, its completion was financially vital for their survival as a club. Such money worries are probably something you don't have if you're owned by one of the world's largest pharmaceutical companies in a time of global pandemic.
La Liga: Real Sociedad v Osasuna
15.00 on LaLigaTV
While the big Basque derby is Sociedad v Athletic, the proximity of Pamplona and San Sebastian (and the lack of any football at all) gives this game a bit of extra spice and no doubt the virtual crowd algorithms will reflect that. Osasuna are very much the third team of the region but sit just one place behind Athletic in mid-table having coming up from the Segunda as champions last summer. Sociedad will hope the break has not blunted the fine form they've shown this season and they can hold on to their place in the top four. If they can see it out, it will be just their second Champions League qualification since 2002. They will certainly hope for a better campaign than their last one in 2014, which saw them take just one point from the their six group games.
Whatever you watch, have a great weekend. It's good to be back.