Weekend Boxset: Dog-fights and trapdoors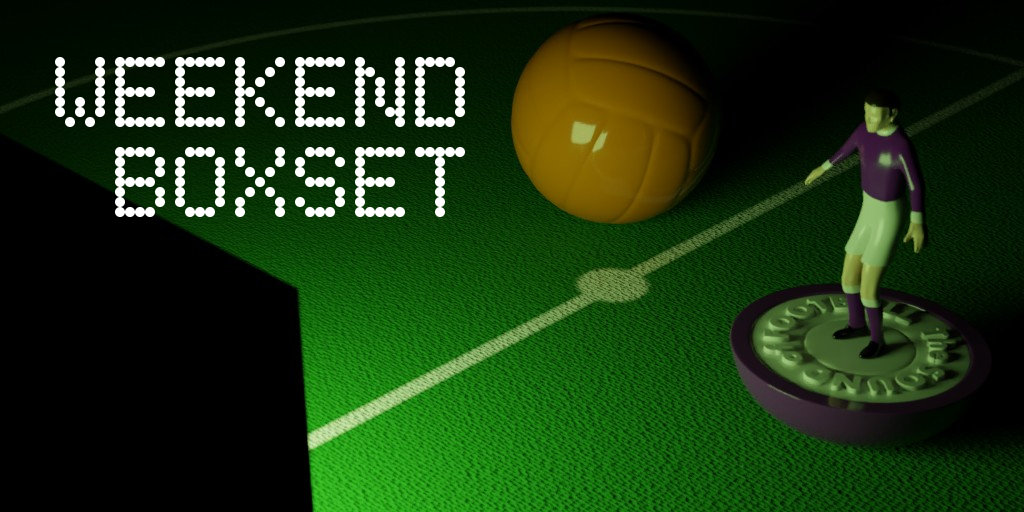 As pressure eases on sides at the top of tables, focus shifts to the bottom and the creaking relegation trapdoor. Tense scraps from the Championship and the Premier League are on offer. There's also a North London derby for the fake crowd to get completely wrong.
Seven great matches to take you from Friday to Sunday. It's the Sound of Football Weekend Boxset.
Get the Weekend Boxset in an email every week
All times are UK (BST)
Friday
Championship: Huddersfield Town v Luton Town
18.00 on Sky Sports Football
With all of the excitement at the top of the Championship, it's easy to forget that teams in the bottom third are locked in a battle to avoid a drop into the void that is League One. This isn't the only interesting fixture amongst those teams, with Stoke also locking horns with Brum. Tonight's hosts have enjoyed something of a turnaround of late having endured three straight defeats, they promptly delivered five points in a three match unbeaten run without conceding a single goal. That's the kind of form you need at this stage of the season and, even though two of their three remaining opponents will likely be in their flip-flops, West Brom will provide quite the test for Danny Cowley's men. By contrast, Luton's run in is less taxing, but they are rooted to the bottom of the table five points adrift from safety. An impressive point away to Leeds United and another at home to fellow strugglers, Barnsley, may have given some hope, but shipping five goals to mid-table Reading means the writing really is on the wall for Luton. Some of the betting sharks might give you short odds on a draw, but I think Huddersfield are playing Luton just at the right time and that the home side will walk away with the points. JB
Saturday
Premier League: Norwich City v West Ham United
12.30 on BT Sport 1 & Extra 1
If David Moyes stays on as Hammers manager, he has a plan to ape the recruitment style of RB Leipzig, a club that he spent some time with during his latest sabbatical from coaching. Leipzig's impressive recruitment and scouting network took years to build with lots of money spent by some very smart people. Kudos to Moyes for having the ambition and faith in his ability to embark upon such a project. He's got to keep his job first though and while there are quite a few clubs lining up for the drop zone, the Hammers are struggling. Were it not for that impressive result against Chelsea ten days ago, things would be pretty bleak. Up next is Norwich, a team that everybody beats. Daniel Farke's men haven't mustered a single point since the restart. The Canaries are already downgrading their Sky package and watering down the lager in preparation for second division football next season. Even West Ham can beat this lot... can't they? TD
Premier League: Sheffield United v Chelsea
17.30 on Sky Sports Premier League & Main Event
Following last week's pod, friend of the show and Fulham fan, Archie Rhind-Tut, sent me a good humoured message asking that I "please desist" from being so nice about Chelsea. Well, my friend, you should stop reading now - Chelsea are going to do very well tonight. Don't get me wrong, I've nothing against Sheffield United, apart from the fact that they're from Yorkshire - but that's just good old fashioned northern in-fighting. Putting aside their unfortunate reverse against the terminally useless David Moyes and his West Ham side, Chelsea have had things their own way since the restart, including that win against City. The Blades came back from lock-down recording three straight losses, but have grabbed hard fought wins against Spurs and European spot rivals, Wolves. The fact that we're even talking about Chris Wilder's side being in contention for European qualification is quite possibly one of the best parts of this season. Annoyingly, Arsenal's form may put pay to that, as will Chelsea tonight - too strong, too good. JB
Serie A: Juventus v Atalanta
20.45 on Premier Sports 1
On August 23rd this fixture could be replayed as the Champions League Final in Lisbon. Juve will need to come back from a goal down against Lyon to then face the unenviable task of taking on the winner of the Real/Man City tie. On the easier side of the draw, Atalanta are already through to the quarter finals and face PSG. Given the form they are in right now and the fact that PSG won't have played a competitive game in almost five months, don't be surprised if this swashbuckling Atalanta side win. In Serie A, Lazio's title challenge has finally foundered on successive defeats, leaving Juve with a clear path to yet another Scudetto. Atalanta are on club record of nine consecutive wins in the league (11 in all competitions). A win here would bring them to just six points behind the Old Lady but surely with just six games to play after this that is too big a gap to close. Isn't it? GS
Sunday
Championship: Swansea City v Leeds United
13.30 on Sky Sports Football
Leeds last played in the Premier League in the 2003/04 season, the year of the Arsenal Invincibles. Following their hammering of Stoke in midweek they are just seven points from a return to the top flight - if other results go their way, they could secure promotion with two games to spare next Wednesday against relegation placed Barnsley. Swansea went into lockdown in 11th place, and while they haven't been spectacular since the return the teams above them - Preston, Bristol City, Blackburn, Millwall - have imploded seeing them rise by displacement to seventh, a point short of the play-offs. Should they snatch sixth from their bitter rivals Cardiff, they will almost certainly face the seemingly unstoppable Brentford. Leeds will go all out for the win, Swansea since still have something to play for. Should be a cracker. GS
Premier League: Tottenham Hotspur v Arsenal
16.30 on Sky Sports Premier League & Main Event
Two warriors locked in single combat. The sun glints off their shiny, sweat-coated pates as they grind against one another. Their fists grasping about the comb they wrestle for - its teeth digging into their palms. And it's live! Yes, eighth plays ninth, and whoever holds on to the higher position might have done enough to get a qualifying spot for the Europa League - as long as City aren't reprieved on Monday. Arsenal fans may feel hard done by with the refereeing decisions in their draw against Leicester in midweek but in reality their side payed the price for not capitalising on the many chances they created in the first half. With Dani Ceballos sitting deeper in midfield, Arsenal look transformed - confident pushing forward, without their centre-backs looking like sacrificial lambs. Spurs couldn't manage a single shot on target against Bournemouth on Thursday night in their worst performance since returning from lockdown but a North London derby should provide motivation enough for their stars to rediscover their mojo. There may be little to play for here but that shouldn't stop this being one of the more watchable games this weekend. GS
Serie A: Napoli v Milan
20.45 on Premier Sports 1
It's all change at the San Siro. Milan, weary of their reduced status are ready for the next great Rossoneri dynasty. And the man they've selected to bring it about is one of the founders of modern German coaching, Ralf Rangnick who joins the club at the end of the season as both coach and technical director. Rangnick, known as the football professor in Germany has worked at Stuttgart and Schalke but is best known for harnessing all of Dietmar Hopp's millions and taking Hoffenheim from the lower leagues to the Bundesliga. He later became sporting director and then coach at Leipzig and is one of the architects of the Red Bull football projects in Germany and Austria. Rangnick is an empire builder and now he's been given the keys to a proper football club. I for one cannot wait to see what happens. To be fair the team are currently doing OK under Stefano Pioli, winning four of their last five. If they beat Napoli they could replace them in sixth. TD
Whatever you watch, have a great weekend.