Weekend Boxset: League One play-off semis and the German Cup Final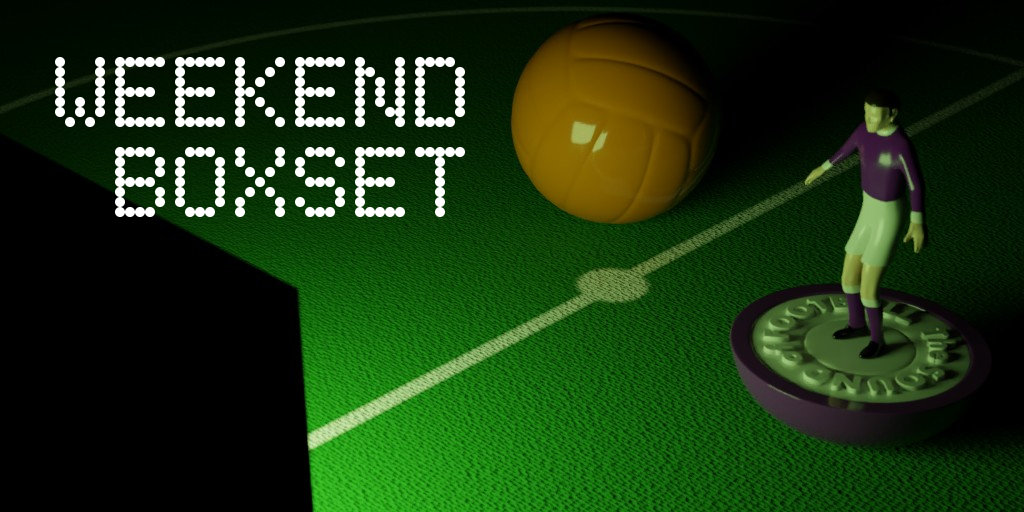 With League Two play-offs sorted, it's the turn of League One on Friday night. While the title race in England is over, in Spain and Italy things are just hotting up. Also this weekend, we'll discover just how badly Leverkusen will lose the DFB Pokal Final.
Seven great matches to take you from Friday to Sunday. It's the Sound of Football Weekend Boxset.
Get the Weekend Boxset in an email every week
All times are UK (BST)
Friday
League One Play-Off Semi-Final: Portsmouth v Oxford United
17.30 on Sky Sports Football & Main Event
Despite the disappointing end to League One's season, it's encouraging that the team that will join Coventry and Rotherham in the Championship will be decided on the football field and not on a calculator. Nearly four months without so much as a ball being kicked in the third tier and now we have a frenzy of games for all four teams both tonight and Monday with the final at an empty Wembley the following week. I really can't stand Pompey; I got sick of the sight of them last season, but they have been consistent this term and deserve their shot at promotion. Indeed, their home form is the best in the division making this a considerable challenge for a decent Oxford side. I saw the Us play the Lads in the League Cup back in October, and they were impressive, taking the game to penalties and sending us all home thoroughly miserable. It also took the (dirty) Mags two attempts to get past them in the FA Cup, which shows that this could be a side that will give Pompey a game tonight. They stormed back into the top six off the back of five straight wins, and they could easily have gone up automatically had it not been for the pesky virus. Should be quite a game. JB
Stay on Sky Sports Football for the other play-off semi, Fleetwood v Wycombe Wanderers, which kicks off at 19.30.
Saturday
Championship: Nottingham Forest v Derby County
12.30 on Sky Sports Football & Main Event
Without a doubt the game of the day in the Championship, featuring two sides who have done well following the return of football. In fact, Derby have just carried on from where they left off, now at five straight wins. While overturning the seven points that separate these two sides may appear to be a tall order for Derby, a win today could shake things up a little. Forest went into lockdown in indifferent form and, while they've collected seven points since the restart, two of those wins came against out-of-form Huddersfield and Bristol City. Still, they all count and with nineteen goal veteran Lewis Grabban in the side, Forest can afford a little confidence. Derby have goals in them in the form of Waghorn, Lawrence and Rooney, so don't expect to sit through a nil-niller today. This will be the third time the sides have faced each other this term, with Forest running out winners in the previous two. Can Derby claw one back? Well, quite simply, they have to. They sit a point behind sixth place Cardiff who have an easy game at the aforementioned Bristol City. A loss today is all Derby need. JB
DFB Pokal Final: Bayer Leverkusen v Bayern Munich
19.00 on BT Sport 1
Bayer Leverkusen's nickname
Neverkusen
is well earned. The club finished as Bundesliga// runners up four times in six seasons around the turn of the century, culminating in 2002 when within a few weeks, they blew the title to Dortmund, lost the DFB Pokal final to Schalke and also the European Cup final to Real Madrid. They've not lifted a trophy since. Their current coach is a good match. Peter Bosz has won so many admirers for his vibrant attacking football at Ajax and for a short time, Dortmund but with no silverware to show for it. It is appropriate then that in order for both coach and club to claim some silverware, they must defeat the ultimate end of level boss, Bayern Munich, who are heavy favourites to retain the Cup. Who knows, if Kai Havartz can lift himself in what might be his last appearance for Bayer, there might be a surprise winner. You could say it's now or Neverkusen. TD
Serie A: Lazio v Milan
20.45 on Premier Sports 1
After Lazio's defeat to Atalanta last week, it would be easy to declare the title race in Italy over. Yes, Juventus do have a four point lead and, yes this is the stage of the season they always pull away, but for me there's still a feeling that Juve still have to go to the Italian equivalent of 1996 Middlesbrough to get something. The two sides face each other in two week's time in Turin but before that they both get to play Milan. How much of a race there is at that point could largely depend on which Milan side turns up to either game. Will it be the side that comfortably took three points off Roma, or will it be the side that needed an injury own goal equaliser against a nine-man, relegation-bound SPAL side?
Serie A fans in the UK who don't have a Premier Sports subscription can watch all the remaining league matches legally on their mobile devices using the LiveScore app, after a deal was struck a couple of weeks ago. There isn't a casting option but free football on your phone can't be sniffed at
. GS
Sunday
Premier League: Burnley v Sheffield United
12.00 on Sky Sports Premier League & Main Event
There's a chance that Europa League football could be acheivable for the team that finishes 8th in the Premier league this season. So rather than a mid-table clash between two teams that are happy to be here, there's a chance that either club could bask in the glory of European football before remembering what a massive pain in the arse it is. Burnley may lose their coach by then. They've always kept the purse strings tight at Turf Moor. Sean Dyche may be wondering if he can realistically regenerate his squad while maintaining their Premier League status and his reputation. Sheffield United had an overdue stroke of luck with the VAR in the first half of their 3-1 win against Tottenham but took full advantage. That was the Blades first win since the restart which puts them back in the fray. TD
Serie A: Cagliari v Atalanta
18.30 on Premier Sports 1
Some people like to watch games that are tense, tactical affairs. They like to watch sides with skill and guile unlocking the most watertight defences. Other people just like to a load of goals. If you're in the latter group, you really should be tuning in to watch Atalanta play at any opportunity.
Le Dea
are well on course to score 100 goals in a Serie A season - something any of the big three haven't done since 1951. They've scored seven goals in a game three times this season and they currently boast a per game Xg average hovering around 2.5 (that's a lot). And they need those goals because they are positively seive-like at the back. Next Friday we'll find out who they get in the Champions League quarter finals, and with a nine point buffer protecting their fourth position, they've almost guaranteed a place in next season's competition. An excellent mix of youth and experience, enjoy this side before it gets torn apart into pieces that are less than the whole. GS
La Liga: Villarreal v Barcelona
21.00 on LaLigaTV
Yet another post-lockdown draw for Barcelona in midweek has allowed Real to stretch their lead to four points. While there's no great shame in dropping points to Atleti or Sevilla, losing a lead twice to Celta Vigo suggests Quique Setien's side are far from their best - and the pressure is beginning to mount on the head coach, with rumours growing that he has "lost the dressing room". Villarreal have been in excellent form since returning from lockdown, winning five from six, and sit just three points behind fourth place Sevilla. With just five games to go, they can still harbour realistic Champions League ambitions, though with a trip to Real still to come they will need every point they can get. They could well take all three here. GS
Whatever you watch, have a great weekend.