Weekend Boxset: FA Cup Semi-finals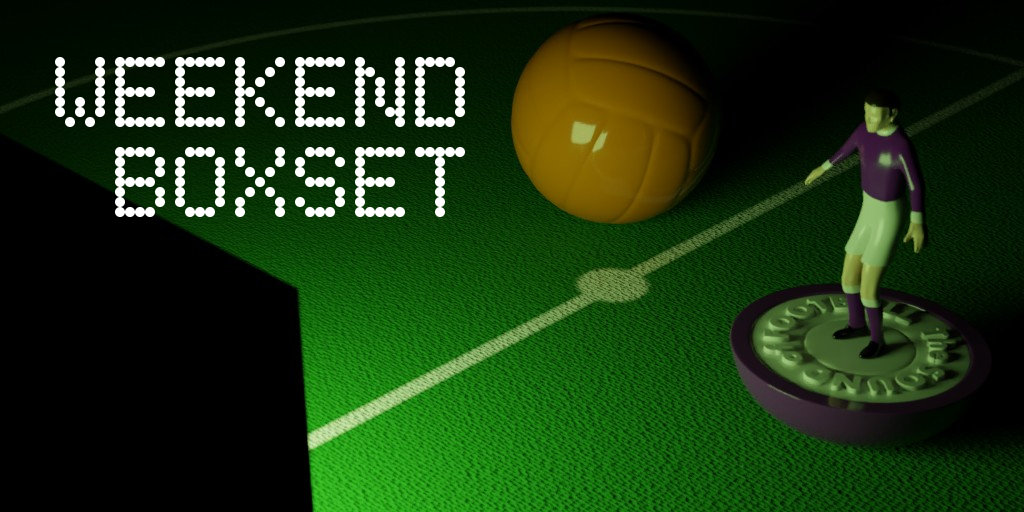 We concentrate on domestic issues this week. Both FA Cup semis, key promotion and relegation battles, and the return of non-league football.
Seven great matches to take you from Friday to Sunday. It's the Sound of Football Weekend Boxset.
Get the Weekend Boxset in an email every week
All times are UK (BST)
Friday
Premier League: West Ham United v Watford
20.00 on Sky Sports Premier League & Main Event
Strong wins last weekend have bolstered survival hopes for these two sides, sat just above the relegation zone. Brighton's draw against Southampton put them on to 37 points, a position where only wild swings in goal difference can relegate them. Both sides will join them in that position of relative safety with a win here and leave the loser looking over their shoulder at Bournemouth and Villa just three points behind. With that said, this game could be a lot cagier than the situation might suggest - while a draw suits neither side, with every point vital at this stage, it suits the sides chasing them even less. GS
Saturday
Championship: Stoke City v Brentford
12.30 on Sky Sports Football
The 50 points Stoke have right now
should
be enough to keep them up in the Championship but if they lose here, and they probably will, there's a good chance they could go into the final round of games within three points of the drop. That's not a situation anyone wants to find themselves in. Brentford's march goes on: eight straight wins closing the gap between themselves and second placed West Brom to just one point. If the Baggies slip up against relegation-threatened Huddersfield on Friday evening (
17.30 Sky Sports Football
) the Bees will replace them in the automatic promotion places with a better result here. Having gained nine points on West Brom during lockdown it looks nailed on that Brentford will overhaul them. But the Championship always seems to have a surprise up its sleeve. GS
National League Play-off Eliminator: Yeovil Town v Barnet
15.00 on BT Sport 1
With the abolition of the distinction between amateur and professional football in 1974, the process began of creating a pyramid from the many disparate competitions that sat outside the league. That process was only due to be completed this coming season as finally the steps of non-league went from one division at step one, to two at step two, four at step three, eight and step four and sixteen at step five. Then of course came Covid-19. All of non-league was suspended, the season cancelled for clubs at step three and below and the FA's plan to complete the pyramid put on hold for a season. Only the play-offs for the top two tiers remain. The next 12 months will be make or break for many clubs at all levels. Whether or not there will even be a season 2020/21 in non-league is anyone's guess. All of which puts even more pressure on sides to get promoted, though League Two may not be that much better than where they are now. It's as recently as 2013 that Yeovil were beating Sheffield United and Brentford in the play-offs to gain promotion to the Championship. If this match proves to be the start of a successful run for Barnet, it will be their fourth promotion to the Football League and their first promotion by play-off. GS
FA Cup Semi-final: Arsenal v Manchester City
19.45 on BT Sport 1
I was at Wembley when these sides met in 2017, a game that saw Nacho Monreal snatch an equaliser as the Gunners progressed to face Chelsea in the final. It's nice for an Arsenal fan to imagine that lightning might strike twice and another unlikely hero will emerge. The facts are that when these sides met at this stage three years ago Arsenal were just four points behind City in the Premier League and had scored more goals. This season sees them 22 points adrift having scored 40 fewer goals. It's safe to say there's a yawning chasm between these sides. The match between them at the beginning of Project Restart was a typically one-sided affair, although Arsenal can count themselves unfortunate to lose two defensive players to injury in the first half, a tactical minefield that can catch out seasoned coaches let alone one in his rookie year. The second half display from David Luiz of course is what everyone remembers of that day. City are in blistering form but are not immune from slip-ups themselves as recent defeats to Chelsea and Southampton have shown. Arsenal can draw confidence from their midweek win over the new champions but they will even more luck than they had against Liverpool if they are to get the better of the Cup holders. GS
Sunday
Championship: Derby County v Leeds United
14.00 on Sky Sports Football
As I write, I'm watching the second half of Leeds versus Barnsley, and it's a painful watch: the home side are busy making hard-work of despatching a team at the exact opposite end of the table. Derby, who will have had an extra forty-eight hours to prepare for this fixture, should take something from this. To be honest, it's the only positive they can take in this, a game which they will surely lose. Despite a good start following lockdown, Derby took just one point from their next four fixtures, all against top six sides - they now have Leeds. While it would have been deeply hilarious, Leeds have refused to collapse, but fair play to them. Despite all the huffing and puffing that's going on in tonight's game, they're still going to win it; they'll win ugly. With only Charlton left to play, Leeds only need a point to go up. I think they'll take all three today. JB
Premier League: Tottenham Hotspur v Leicester City
16.00 on Sky Sports Premier League & Main Event
It was in the Europa League's forerunner the UEFA Cup where Jose Mourinho first made his mark. In 2003, his Porto side beat Celtic in the final 3-2 in Seville. He went on to win the Champions League with them the following season and the rest is history. Europa League football is what both these sides could be looking at, which would be a disappointment for Leicester when they've been in the Champions League spots for most of the season but of the three sides fighting over the two remaining places, they look the most vulnerable. With their rivals facing off in the Cup semi-final that follows this game, the Foxes have a chance to retake third for a few days at least. Spurs' European hopes seemed to have disappeared after defeat to Sheffield United but they've since gone full Mourinho and are getting the kind of unspectacularly positive results that brings. GS
FA Cup Semi-final: Manchester United v Chelsea
18.00 on BBC One
By the time these two teams meet, they will already know who awaits them in the final: Arsenal or City. Only London stands in the way of an all-Manchester final. In this half of the semi-finals, it's an inconsistent Chelsea that aim to be the villains. A couple of eyebrow raising defeats to the Uniteds of West Ham and Sheffield shows a level of fragility in Frank's men of late. By contrast, Ole couldn't be more confident. With the exception of a last minute hiccup against Southampton in midweek, they've had things more or less their own way since January. This is, of course, the same Ole Gunnar Solskjær who every man and his dog predicted would be unemployed by October last year - yours truly included. He now stands on the verge of Champions League qualification and is still in the Europa League as well as this competition. In my view, greatness awaits both of these young managers, who have the opportunity to create a legacy at their respective clubs. Form suggests this will be United's day, but we all know how things can go in the Cup. Should be a cracker, though. JB
Whatever you watch, have a great weekend.