Weekend Boxset: Return of the Nations League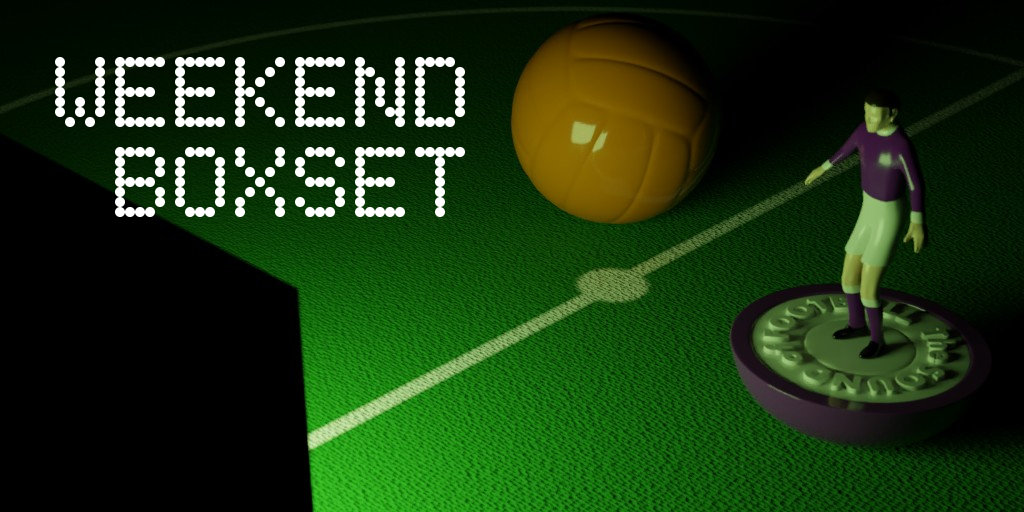 Our podcast this week concentrated on the wisdom or otherwise of trying to pack a lot of seemingly less important competitions into the fixture calendar. In that spirit, here's a load of Nations League and Carabao Cup games to watch.
Seven great matches to take you from Friday to Sunday. It's the Sound of Football Weekend Boxset.
Get the Weekend Boxset in an email every week
All times are UK (BST)
Friday
UEFA Nations League B Group 1: Romania v Northern Ireland
19.45 on Sky Sports Football
New Northern Ireland coach Ian Barraclough has made it abundantly clear that he will be taking the Nations League seriously. That is to say, he won't be tempted to field any younger players. The former Under 21 coach was chosen to succeed Michael O'Neill party as a continuity appointment and will be expected to bring the young players through. However, with a crucial Euro Play-Off against Bosnia next month and a potential World Cup qualifying playoff spot available for the group winners, Barraclough wants his senior players getting as many minutes as possible. One of the young players Barraclough might have utilised was Oxford United's, Mark Sykes. However, the 23-year-old midfielder played 11 caps for the U-21s but has decided to switch nations to the Republic of Ireland. But Barraclough's not the only debutant coach. Mirel Rădoi has also been promoted from the Under 21s and is a popular choice. In truth, this Romanian side is nor great. However, there is a Hagi in the side: 21-year-old Ianis, son of Gheorgie, is a Rangers player and pretty decent, albeit not as decent as his da. TD
Saturday
Caraboa Cup 1st Round: Derby County v Barrow
12.00 on Sky Sports Football & Main Event
48 years ago Barrow, who had been founder members of Division 3 North, failed their re-election to the football league and were replaced by Hereford United. At the same time Derby County, under Brian Clough, were being crowned League Champions. Barrow are back in the Football League having been promoted by points per game in the curtailed National League - a division they only survived relegation from by a point in 2018. Their turnaround was largely due to new ownership and a new manager, Ian Evatt. Following their promotion Evatt has joined Bolton, with David Dunn (yes, him) taking over with the task of keeping them in League Two. Wayne Rooney's Derby must be strong contenders for promotion to the Premier League and should be too much for the team from Cumbria, but that shouldn't stop it being a decent watch. Barrow's badge has a lot going on. What looks like a bee impaled on an arrow, a tudor rose with a football, topped off by the silhouette of submarine. Your guess is as good as mine. GS
Caraboa Cup 1st Round: Walsall v Sheffield Wednesday
14.15 on Sky Sports Football & Main Event
On last week's pod, we questioned the value of holding this season's EFL Cup given the public health crisis and chances of infection of COVID-19. However, for better or worse England's third competition is underway and thanks to the delay in the start of the new domestic season has been scheduled during the international break so we get to watch some of the first round over the weekend instead of the weekday. And this is a decent pick. Walsall were neither here nor there last season in League Two and are expected to be much the same this season so they may see the League Cup as a rare chance for some attention and excitement. In Sheffield Wednesday there is a potential upset. Garry Monk's side will start their league season with a 12 point deduction for breaching League financial rules and we don't know how this penalty has affected the squads pre-season. Could be a close one. TD
UEFA Nations League A Group 2: Iceland v England
17.00 on Sky Sports Football & Main Event
Where were you on the evening of 27 June 2016? I know where I was, I was in a bar in Paris having just watched Antonio Conte's Italy knock out the holders Spain in the Stade de France. That England defeat to Iceland, coming so closely to the Brexit referendum result, seemed to capture the zeitgeist superbly. Iceland's run in that competition was fuelled by seemingly unbreakable unity riding a wave of completely baseless optimism. There's was a party where everyone could join in. England were over-hyped, fractured and nervous, and had genial Roy, always looking like he was filling in. Looking back, the defeat to Iceland did more to help England's success in 2018; if they had won they'd have only been pasted by France in the next round - a result that would have been soon forgotten. This game should be a lot more fun. GS
Sunday
Caraboa Cup 1st Round: Brentford v Wycombe Wanderers
12.00 on Sky Sports Football & Main Event
Welcome to the Brentford Community Stadium - a new 17,250 seater which is (not) opening its doors for the first time. These two Championship sides meet having both been in recent play-offs finals: Brentford missing out on promotion to the Premier League, while Wycombe escaped League One by beating Oxford. The Bees will have to field an unfamiliar side with players like Pontus Jannson, Henrik Dalsgaard and Christian Norsgaard on Nations League duty. Impossible to call this one but what I will predict is that if you go on to football twitter during the game someone will post that screengrab of the two spider-men pointing at each other. You know the one. Yes, it does look like Thomas Frank and Gareth Ainsworth share the same barber. GS
FA Women's Super League: Manchester United v Chelsea
14.30 on BT Sport 1
A new WSL season kicks off with the champions taking on the side most likely to break into the top three. Some fine international talent has joined the league over the summer, which is great news for women's football in England - the only downside is that all that talent is going to just three clubs: Arsenal, Manchester City and Chelsea. This week, Chelsea added Pernile Harder to an already strong list of forwards that includes Sam Kerr, Bethany England, Fran Kirby and Erin Cuthbert. With only a 22 game season in the WSL and the Women's Champions League not actually having a league section - the stockpiling of talent seems to make even less sense than it does in the men's game, but the best players will go to well-funded clubs and there aren't many of those across the globe. This match should be a good indicator of where the league will go this season: an easy win for Chelsea and we can expect the same names to quickly pull away at the top but if Casey Stoney's United can ask a few questions then maybe it won't be plain sailing for the big three. GS
UEFA Nations League B Group 4: Republic of Ireland v Finland
17.00 on Sky Sports Football & Main Event
The expansion of the Euros is justifiable when you see Finland finally qualifying for the first time. The chances of success have incentivised traditionally smaller football nations to push harder and Suomi have put together a tidy bunch of useful professionals such as Lukáš Hrádecký, Tim Sparv, Niklas Moisander and of course Teemu Pukki to do just that. Coach Markku Kanerva, like so many of his contemporaries including his opposite number in this match, graduated to the senior squad from the under 21s and the move paid off. The FAI will be hoping that new coach Stephen Kenny has a similar effect. The former Dundalk coach has spoken well about embracing the traditional Irish virtues of commitment, and hard work but he also wants to add some creativity and "stand for something" as he put it. It took an injury-time equaliser to rescue a point on Thursday against Bulgaria which suggests that there is work to be done. Finland meanwhile lost 1-0 at home to Wales on the same night. TD
Whatever you watch, have a great weekend.