Weekend Boxset: Start the season!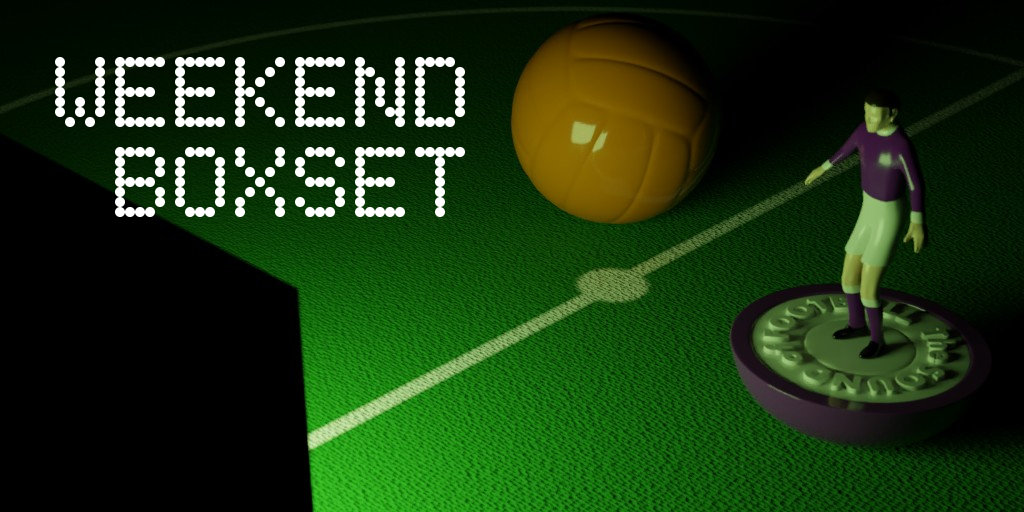 After the terrible show given by the Nations League and the Carabao Cup last weekend, thank goodness we have proper league football back.
Seven great matches to take you from Friday to Sunday. It's the Sound of Football Weekend Boxset.
Get the Weekend Boxset in an email every week
All times are UK (BST)
Friday
Championship: Watford v Middlesbrough
19.45 on Sky Sports Football & Main Event
No one can say that the Pozzo family are losing their enthusiasm for the Watford project. Vowing a swift return to the Premier League they have rung the changes at the top. Vladimir Ivic is the new coach and Cristiano Giaretta installed as Sporting Director. While they've said goodbye to Abdoulaye Doucour, the Hornets have recruited Francisco Sierralta, a Chilean defender, and Stipe Perica, a Croatian striker, both from sister club, Udinese. The question is can Ivic, who has no experience coaching an English team, whip his squad into shape. It's worth remembering that the reason why Nigel Pearson was hired last season was that the players wanted an English coach. I doubt the Pozzos canvassed their opinion this time. No such coaching concerns in Middlesbrough. Truly Neil Warnock is the man they can't retire. The pound shop Jupp Heynkes returned to management in June to rescue Boro from the drop and has now been persuaded to lead the club to certain promotion via the playoffs. Oh yes, we now make predictions on the Sound Of Football. TD
Saturday
Premier League: Fulham v Arsenal
12.30 on BT Sport 1 & Extra 1
There's an unfamiliar air of optimism around Arsenal at the moment. A good restart and Wembley success in the FA Cup and Community Shield have given fans the chance to look forward to the season ahead - despite the fact that Arsene Wenger managed to win both those trophies in three of his last five seasons at the club. The optimism this time seems to come from the fact that Arsenal now look like they can compete with their rivals in the so-called Big Six. That feeling might soon disappear if they go a goal down here. It's fair to say that Fulham's last two seasons in the top flight have been terrible. Both campaigns saw the club go through three managers - Martin Jol, Rene Meulensteen and Felix Magath in 2013/14 and Slavisa Jokanovic, Claudio Ranieri and Scott Parker in 2018/19. To his credit, Parker is still in post and has guided the club to a swift return, albeit via the play-offs. Unlike the last time they were promoted, they haven't gone wild in the transfer market so maybe we'll see a more stable Fulham this time around. That said, don't be surprised to see Mikel Arteta take over from Guus Hiddink at Craven Cottage come the end of March. GS
Premier League: Crystal Palace v Southampton
15.00 on BT Sport 1 & Extra 1
The Saturday 3 embargo is deferred until fans can return to football stadiums. Given the latest announcements from Westminster that maybe a while. There are plenty of us who believe the Saturday afternoon blackout to be anachronistic and should be scrapped. Maybe we'll get our way. As for the game, Palace's squad, while thin is pretty tasty. Eberechi Eze is an impressive signing given his reputation. Mishy Batshuiyi's season-long loan should, in theory, provide the Eagles with enough goals to keep them in the League, at the very least. The prospect of a front three of Eze, Batshuiyi, and Zaha is worth the price of non-admission alone. The question is can Roy Hodgson get the best out of them. Southampton's transfer priorities have focussed on their defence. Kyle Walker-Peters from Spurs and Mohammed Salisu from Valladolid will be expected to shore up a back four that shipped 60 goals last season. Losing Pierre-Emile Höjbjerg is a blow but this is still a tough side under Ralf Hasenhüttl. TD
Premier League: Liverpool v Leeds United
17.30 on Sky Sports Premier League & Main Event
The ad-sales boys at Sky must have had a pretty easy time filling the breaks for this one. 'First title in thirty years' Liverpool, play 'back in the top-flight after sixteen years' Leeds United - the narratives surrounding this one are so numerous, I may struggle to fit them all in. Putting my sensible hat on, this should be a walk-over for the Reds. On the opening day last season they put four past newly promoted Norwich, with the game all but over before the bottom of the hour. However, there is something about this fixture that just won't allow logic to prevail. It could be the fact that, despite their achievements last season, Liverpool faded towards the end, while Leeds surged. True, it's a big step up for Marcelo Bielsa's men, but something tells me that he, at least, won't worry one bit. Having heard some of the game's greatest coaches cite him as their greatest influence, could it actually be Klopp who feels the pressure in this one. Certainly, they are expected to win, which may well play into the hands of this strengthened and resurgent Leeds side. JB
Sunday
League One: Ipswich Town v Wigan Athletic
12.00 on Sky Sports Football & Main Event
Relegated from the Championship with a 12 point deduction after falling into administration under bizarre circumstances, Wigan start the season subject to the approval of the EFL. The administrator's hard deadline of 31st August to sell the club turned into a soft deadline and then no deadline at all. I assume this means that a buyer is in the offing and they are allowing more time to get their ducks in a row. Meanwhile, the Latics supporters raised £650,000 to help keep the club going during the process. There was a time, when Wigan were in the Premier League, that the club's fanbase was mock for being too small. Well in this instance size matters not. Needless to say, there has been a procession of players leaving the squad as well as coach, Paul Cook. His former assistant Leam Richardson steps in as caretaker. Their opponents find themselves in almost permanent reduced circumstances. This once famous and successful club is the perfect metaphor for the decline of the English town. Now under the stewardship of former Norwich boss Paul Lambert, their indignity is complete. That said the bookies have them roughly fifth favourites to get promoted back into the Championship. TD
Premier League: Tottenham Hotspur v Everton
16.30 on Sky Sports Premier League & Main Event
I think this may end up being something of an interesting season for Everton. It feels like the planets are aligning for this sleeping giant with their billionaire shareholder helping to bring in one of the world's finest coaches late last year. Add to this the summer arrivals of Allan from Napoli, Doucouré from Watford and James Rodríguez (yes, him!) from Real Madrid and you definitely have something to work with. Everton got themselves a backbone after Ancelotti arrived and it's good to see he's been backed in the transfer market. Spurs aren't looking too shabby either, having finished sixth last season, they'll be looking to better themselves with a Champions League place and maybe even a cup. A side with both Harry Kane and Son Heung-Min in it surely won't struggle to get goals, so while the bookies might have this one down as a draw, you should expect some excitement. JB
Ligue 1: PSG v Marseille
20.00 on BT Sport 1
While the start of any season should be filled with optimism, already in France we're seeing the problems that lie ahead. At the time of writing, this
Classique
is still going ahead despite PSG having seven players removed from their squad having tested positive for Covid-19, including Neymar and Angel Di Maria, who are thought to have contracted the illness with a number of other players on holiday in Ibiza, and Killian Mbappe who tested positive while on international duty with France. Marseille have similar problems having had their opener against St Etienne postponed after a cluster of positive tests. PSG started their season on Thursday, losing 1-0 at newly promoted Lens. A lack of superstars may not make this as much of a spectacle as it should be but the show seemingly must go on. There's always the Valencia derby to watch instead on LaLigaTV. GS Whatever you watch, have a great weekend.