Weekend Boxset: Your cup of tea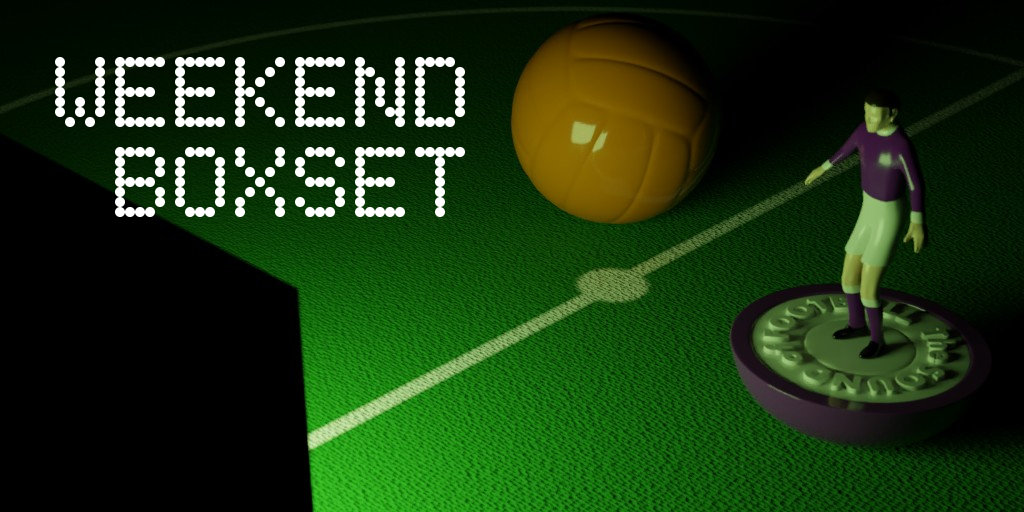 Tottenham set to pick the signing of the summer, City are reduced to playing kids, and there's a cracking a Yorkshire derby. Get the kettle on.
Seven great matches to take you from Friday to Sunday. It's the Sound of Football Weekend Boxset.
Get the Weekend Boxset in an email every week
All times are UK (BST)
Friday
Bundesliga: Hertha Berlin v Eintracht Frankfurt
19.30 on BT Sport 1
After the fiasco of last season which saw them descend into a Klinsmann related psychodrama, Hertha have swallowed the right pills and made some sensible recruitment choices. Bruno Labbadia, while not a rock star coach, has proven experience of getting the best out of mid-table sides. The Berliners are recently monied and ambitious for European football. While not breaking any transfer records they've spent wisely on new striker Jhon Cordoba and 'Keeper Alexander Schwolow from Cologne and Freiburg respectively. They got off to the perfect start with a 4-1 hammering of Werder and now face a Frankfurt side who are in transition. Since the Bundesliga came out of lockdown, only Robert Lewandowski has scored more goals than Eintracht's André Silva. The Portuguese striker had to work for his team's equaliser against a resilient Arminia Bielefeld on the opening matchday. It's early days but if Adi Hutter's team can't overcome a newly promoted side who have made virtually no summer signings then they are likely to struggle against a newly empurposed Hertha team. TD
Saturday
Premier League: Brighton & Hove Albion v Manchester United
12.30 on BT Sport 1 & Extra 1
With a tremendous win against Newcastle last weekend and United's feeble home defeat to Palace, Brighton should fancy their chances here, though with just one home win all year, Graham Potter knows there is still plenty of work to do. Brighton's movements in the transfer market have been shrewd and measured, the signing of Adam Lallana being the stand out. United's transfer business has been faltering, dominated by an unconvincing chase for Jadon Sancho. This week they will make a final £90 million take it or leave offer to Borussia Dortmund. Given that Dortmund aren't desperate for cash, the answer will probably be "leave it". Even they if could manage to convince Dortmund, buying Sancho isn't going to stop this United side conceding three goals at home to clubs like Crystal Palace. With three weeks left of the transfer window and all that Sancho burning a hole in their huge pockets, United are shaping up to make a clumsy panic move in the market This is the first of a double header between these sides who meet again here next Tuesday in the Carabao Cup. GS
Women's FA Cup Quarter Final: Arsenal v Tottenham Hotspur
17.15 on BBC Two
There's been some headline grabbing transfer news coming out of Tottenham this month. Not only do they announce they are getting a 31 year old world class forward on a season loan, they also announce that the men's team will be getting part-timer golfer Gareth Bale. Alex Morgan is one of the biggest names in women's football and is a stellar signing not only for Spurs but for the WSL. A two times World Cup winner and London 2012 gold medalist, her performances on the pitch together with her easily marketable appearance has made her the poster girl for women's football globally for the best part of a decade. Morgan is one of a number of US national team players taking advantage of the suspension of the NWSL to play abroad without losing the $100,000 a year stipend they recieve for playing in North America. Any rivalry in this fixture is merely borrowed from the men's game: Spurs are new to the top flight of women's football where Arsenal have been a dominate force for the last 20 years. Morgan has yet to play any football this year, having given birth to her daughter Charlie in May, but if Morgan plays some part at least in this fixture I fully expect to see her infamous tea drinking celebration - from when she scored against England in the last World Cup - from whoever scores for Spurs. GS
Serie A: Inter v Fiorentina
19.45 on Premier Sports 1
Inter kick off their season a week later in order for them to lick their wounds after their memorable Europa League Final defeat last month. Coach Antonio Conte will be anxious to move on and focus on unseating Juventus from the Serie A throne. Joining the squad is the experienced former Bayern and Juve midfielder Arturo Vidal and most excitingly, Real Madrid's Achraf Hakimi who spent a productive two-year loan spell at Dortmund. The right-sided wingback was overshadowed somewhat by more celebrated players in that BVB side but his pace is electric and can be lethal in front of goal. Fiorentina don't have the same ambitions as Inter but the talk is that
La Viola
have a watchable side under Giuseppe Iachini. Right-winger Federico Chiesa (who scored the only goal in their win over Torino last week) and defender Nikola Milenkovic are two young players being watched by hungry eyes elsewhere in Europe. Midfielders Castrovilli and Bonaventura are said to be a good fit and of course, Florence is the place where Franck Ribery currently hangs his hat. Apparently, Iachini plays the former French international upfront but it will be fascinating to see how that actually works out on the pitch. TD
Sunday
Premier League: Sheffield United v Leeds United
12.00 on BT Sport 1 & Extra 1
With seven goals in two Premier League games, it's clear that Leeds are going to have none of the goalscoring problems often faced by newly promoted clubs. However, with as many goals conceded it's equally clear that a defensive upgrade it required. Enter Diego Llorente, a 27-year-old centre-back from Real Sociedad. Bielsa's task is to knit the Spaniard and summer acquisition, Robert Koch from Freiburg into a solid defensive partnership. However, The Argentine coach is not the defensive sort and any Leeds backline will have to get used to only minimal support from their midfield. Their local rivals and opponents have had an unlucky start to the season I think. Chris Wilder's team had few answers to what is a very good Wolves side and they enjoyed poor fortune against Villa, finding themselves on the wrong end of some marginal refereeing decisions. However, the Blades have not done much to strengthen their squad in the summer and I think they are in for a difficult second season. We'll know more after what should be a cracking Yorkshire derby. TD
Premier League: Tottenham Hotspur v Newcastle United
14.00 on Sky Sports Premier League & Main Event
Fans will have to wait to see the other star signing of the summer, Gareth Bale, back in a Spurs shirt as he is recovering from a knee niggle (probably indicative of pelvic push in his drive off the tee). The Welsh international is unlikely to make his first appearance for Spurs since 2013 until the end of next month. Not that there's any great rush for him to join the squad given their second half performance against Southampton which saw Son Heung-min score four goals all assisted by Harry Kane who also grabbed a goal himself. It's hard to guage what Newcastle fans can expect this season from their games so far: a strong opening win against West Ham, followed by a toothless home defeat to Brighton, which was followed by a record away win in the Carabao Cup against Morecambe. It definitely looks like it's going to be a rollercoaster of emotions on the pitch as well as off it this season. As this is at White Hart Lane, we probably won't see Jose measuring the goals. Before his side's midweek Europa League match in Macedonia he asked UEFA delegates to check the size of the KF Shkendija goals and found they were 5cm too low - about half the width of goalpost. Jose's tape measure may well become the new Alex Ferguson's stopwatch. GS
Premier League: Manchester City v Leicester City
16.30 on Sky Sports Premier League & Main Event
Leicester top the early league table with two good wins from two against Burnley and West Brom. While neither win could be considered a shock result, the relative comfort of them will be a relief to Foxes fans who watched their side win just two of their nine restart games to complete 2019/20. It would be a mistake though to imagine that Leicester's dip was due to the lockdown as the nine games they had before the season break also only yielded two wins. According to Pep, Man City only have 13 fit players for this game so will need to fill out the squad with academy players as he did for their midweek Carabao Cup win over Bournemouth. One of the many youngsters they brought in for that game is Liam Delap, the son of former king of the long throw-ins, Rory Delap. The 17 year old debutant (though he has played in the EFL Trophy, does that count?) scored the opener and is thought to have shown enough to get on the bench for this game. GS
Whatever you watch, have a great weekend.