Weekend Boxset: Double EFL Trophy finals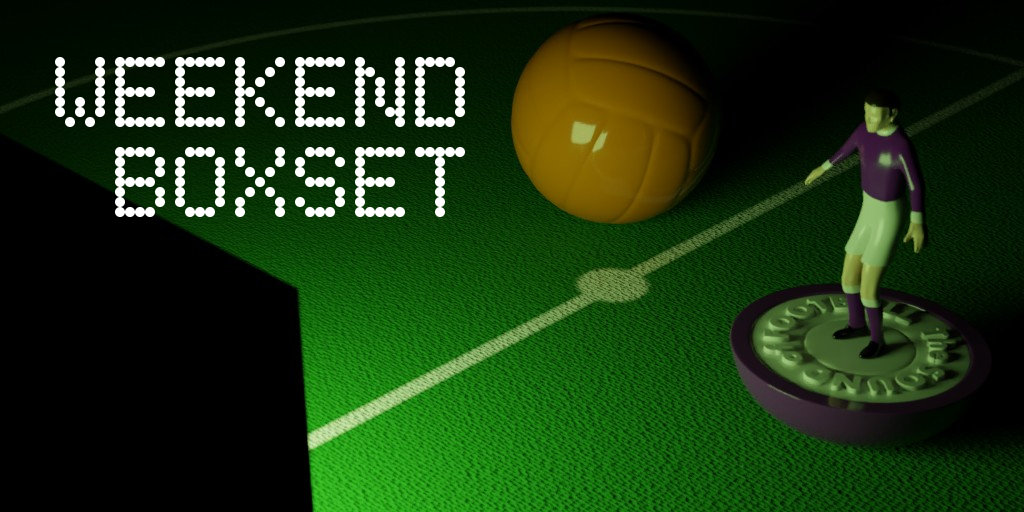 Promotion action from Germany second tier, derbies in London and Seville, Bielsa v Tuchel and two, yes two, EFL Trophy finals.
Seven great matches to take you from Friday to Sunday. It's the Sound of Football Weekend Boxset.
Get the Weekend Boxset in an email every week
All times are UK (GMT)
Friday
Bundesliga 2: Bochum v Hamburg
17.30 on BT Sport ESPN
When I first started taking an interest in the Bundesliga, back in the mid-noughties, Bochum was a well-established Bundesliga club, albeit a relatively small one nestled in between the two giants of the Ruhrgebiet, Schalke and Dortmund. However, since 2010,
Die Unabsteigbaren
has been a resolutely second-tier outfit with little sign of returning. That is until this season because VfL are currently top of the table. The club has made steady and unfussy progress under Thomas Reis since he joined in September 2019. The coach won't be able to pick second top scorer Simon Zoller for this match. The journeyman striker has a muscle injury. Fortunately, top scorer Robert Zulj (12 goals and 10 assists) is good to go. HSV dropped off the summit a few weeks ago after losses to Wurzbürger Kickers and city rivals St Pauli. Their last encounter was against second-placed Holstein Kiel and they managed a 1-1 draw. Three points will sneak them above Kiel and keep them in the hunt for that prized automatic spot that they will almost certainly, lose on the final day. TD
Saturday
Premier League: Leeds United v Chelsea
12.30 on BT Sport 1
A fixture that, in the past, was synonymous with the uglier side of football could this weekend produce one of the most tactically intriguing match-ups of the season. Marcelo Bielsa this week passed 1,000 days in charge of Leeds; a period of time that saw four different managers before he arrived at the club. His influence on Leeds has been transformative, and the way his team have approached their return season in the Premier League has made them one of the most watchable sides in the top flight. In the blue corner is Thomas Tuchel. His influence on a Chelsea side bursting with raw talent has been more than just a new manager bounce. Having successfully nullified Diego Simeone's Atletico Madrid side in the first leg of the Champions League tie (one of nine clean sheets in his unbeaten eleven games in charge) Tuchel takes a one goal lead into next week's second leg - a game he will have one eye on going into this one. Leeds have lost four of their last five but hold resolutely on to the midtable position they've occupied for most of the season; which makes you think Bielsa is unlikely to approach this game any differently. Many column inches will be devoted to the differences in tactics, but even if you're not a tactics nerd this will be well-worth your time. GS
EFL Trophy 2020 Final: Portsmouth v Salford City
15.00 on Sky Sports Football & Main Event
Pompey and the Ammies go head-to-head to see who can hold the EFL Trophy for 24 hours. Originally scheduled for April 5 2020 the final was one of the first Wembley matches to be cancelled in the full lockdown of last year. Unlike the the FA Cup it wasn't played to an empty house in the summer, in the hopes that we might get to a point where it could be played in front of fans. As it is, here we are, with the final being played to an empty Wembley, with this season's final being played the following day. Given that open top bus parades would break any number of Covid restrictions and Portsmouth have held the trophy since winning it in 2019, it won't make much difference to the south coast side. For Salford however, a first Wembley final should have been something a bit more special. Their rise from orange shirt-wearing North West Counties League side to a red-shirted football celebrity-owned League Two side chasing promotion has been well-documented and maybe it would be fitting for their name to be added to a trophy that has its own perplexing identity, thanks to its changes in format, make-up and name. In the space of one weekend, Portsmouth will go from holding the Checkatrade, to potenially winning the Leasing.com before handing it on as the Papa John's. GS
Premier League: Fulham v Manchester City
20.00 on BT Sport 1
Getting a win at Anfield may not have the same prestige as it had a few months ago but for Scott Parker it must have felt like his Fulham side is capable of doing anything to stay up, after they held on to an early Mario Lemina goal to beat the champions last weekend. City of course should provide a far sterner test than Klopp's damaged side but with the likes of Ademole Lookman, Rubens Loftus Cheek and Josh Maja, Fulham have a wealth of young exciting attacking options - certainly enough to keep the City defence on their toes.Yes, this is probably a comfortable City win but a few months ago this could have been a stroll for them and may well have sealed Fulham's fate. As it is even if they're beaten here, you can see this Fulham side quickly bouncing back. They may have to spend a week or so more in the relegation zone but it's only a matter of time before they are replaced by Brighton or Newcastle. GS
Sunday
EFL Trophy 2021 Final: Sunderland v Tranmere Rovers
15.00 on Sky Sports Football
For a second rate final the EFL Trophy (currently the Papa John's Pizza Trophy) is certainly popular among supporters. Two years ago, as the Checkatrade Trophy, Portsmouth and Sunderland played out a classic final in front of 85,021 spectators. With the exception of Barça's tie against Espanyol, the final set the highest attendance across Europe that weekend. Indeed, the previous evening saw Sunderland fans swarm on London's Trafalgar Square in their thousands in what was an incredible party atmosphere, on the back of a wave of positivity brought about by a new ownership and a talented young manager. Sadly, that day wasn't ours, and despite a Sunderland performance to match the occasion, Pompey walked away with the trophy. For me, today's tie represents Sunderland's best chance of winning a Wembley final in a generation; despite having been around the Sun forty-five times, I've not seen Sunderland win at the national stadium. Not that I think Tranmere will be a pushover for the Lads. They are in fine form, and currently sit fourth, just a point off an automatic promotion place in League two. In the end, and in the absence of a prediction which I can't make for my own club when they're at Wembley, I hope quality will win out. This is the best Sunderland team I've seen since the Allardyce era, and could be the one to kick start a renaissance. Ha'way the Lads. JB
Premier League: Arsenal v Tottenham Hotspur
16.30 on Sky Sports Premier League & Main Event
Both side enjoyed wins in their Thursday night games in the Europa League and look well set to progress to the quarter finals in the second legs next week. While both sides enjoy a two goal advantage, Arsenal was far less comfortably attained. Whether there's a fundamental flaw in Arteta's tactics or the way he prepares his players, but cheap, comical errors have cost his otherwise defensively strong side in three of his last four games. Last weekend against Burnley, Granit Xhaka passed the across his penalty area only for it to bounce off a loitering Chris Wood into the Arsenal goal. Dani Ceballos - who was at fault for both goals in the recent game against Benfica - gifted Olympiakos' equaliser, after David Luiz and Martin Odergaard had done their best to do likewise. Heuristics being what they are, Arsenal are now a calamatous self-destruct club, and that's going to need a lot to shift, as much as anything because it encourages opponents to press hard in anticipation of an inevitable error. With Spurs back on track with five straight wins and a reborn Gareth Bale this should be a very entertaining North London derby, if only for the anticipation of when we'll see Harry Kane softly tapping in from an assist by an Arsenal player. GS
La Liga: Sevilla v Real Betis
20.00 on LaLigaTV
"We were the better team in 3 out of 4 halves, but we were punished by a player that will dominate an era," said Sevilla coach Julen Lopetegui after his team's narrow defeat to Borussia Dortmund. You get one guess as to which player he was talking about. Lopetegui felt pretty hard done by in the second leg. It's difficult to feel sorry for him given the horrific shithousing that went on from Diego Carlos, Jordan and Acuna and while I have no issue with shithousing you have to take it on the chin when it backfires and your opponent does it better. They'll have a chance to redeem themselves on Sunday with the big derby against Betis. Manuel Pellegrini's team staged a dramatic comeback against Alaves on Monday: storming back from 2-0 down to win 3-2 thanks to a brace from Borja Iglesias. The win was their fourth on the bounce and lifted Los Verdiblancos into sixth in La Liga, just two spots behind their opponents. Of course like all great derbies in the time of the 'rona the fixture will be diminished by empty stands and fake crowd noise. However, there should be sufficient beef to make this a tasty encounter and the perfect end to your football weekend. TD
Whatever you watch, have a great weekend.