Weekend Boxset: A title-chasing Madrid derby and Der Klassiker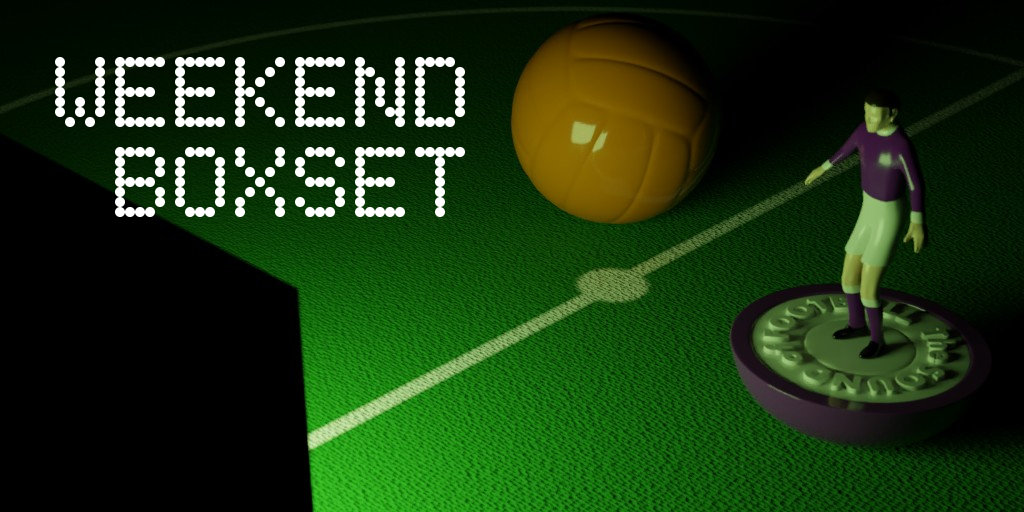 With the title race all but over in England, we've made the bold step of dropping the Manchester derby from the Boxset. And there are plenty of cracking games to watch instead.
Seven great matches to take you from Friday to Sunday. It's the Sound of Football Weekend Boxset.
Get the Weekend Boxset in an email every week
All times are UK (GMT)
Friday
Championship: Huddersfield Town v Cardiff City
19.45 on Sky Sports Football & Main Event
If you include the four Anglo-Italian Cup matches when in charge of MIllwall (and why the hell wouldn't you), this fixture marks Mick McCarthy's 1000th in management - and given how things have started for him at Cardiff, it doesn't look like he's getting bored of it. When he took over the Bluebirds in January they were two points behind Huddersfield in the bottom half of the table. Ten games on they are now 16 points ahead of the Terriers, just two points shy of the play-offs, while their hosts today are just five points from the drop zone. Big Mick has galvanised a side that lost its last six games under Neil Harris, to now look like a side that is still enjoying parachute payments. Of course, having been relegated with Cardiff in 2019, Huddersfield too should have the advantage of Premier League cash over the other teams fighting relegation but their only win this year has been an increasingly surprising 4-1 victory against promotion chasing Swansea, two weeks back. In one last desperate bid to turn things around, Carlos Corberan has signed free agent Yaya Sanogo. At 28 the former Arsenal striker is looking to rebuild a career hampered by injury and poor choices. If you were to sum up his career you could say he had a habit of joining the right club at the wrong time. His time with the Terriers could easily end up confirming that. GS
Saturday
Premier League: Burnley v Arsenal
12.30 on BT Sport 1
It's a tricky stage of the season for Burnley: in a run of difficult fixtures made more difficult by their inability to beat other teams in the battle against relegation. While struggling against sides with their back against the wall, they've registered the majority of their wins against sides occupying the mid-table: Wolves, Palace, Villa and Arsenal. They managed just one shot on goal against a West Brom side reduced to 10 men for an hour, last month, but they didn't need to find the target when these sides met earlier on in the season. In a game that Arsenal controlled, although crucially not dominated, for almost an hour, Pierre-Emerick Aubameyang deflected the ball into his own net after Granit Xhaka had been sent off for the sort of handbags that would probably have been ignored if not for the audit trail that VAR creates. Expect Sean Dyche 's side to again try to "get under the skin" of an Arsenal side that should be well-rested having had a rare midweek without any games. GS
Bundesliga: Bayern Munich v Borussia Dortmund
17.30 on BT Sport 2
In spite of Borussia being some way back in the titles race, this is still widely regarded as the biggest fixture of the season. The match has garnered so much interest that it will be shown live on ABC in the US. The first time a Bundesliga game has been shown on that network. And we can expect some thrills and spill between two teams bursting with goals at either end. In the Bundesliga, Bayern are struggling to keep the balls out of Manuel Neuer's net. The champions dropped points against newly-promoted Arminia Bielefeld and lost to Eintracht Frankfurt. Their recent indifferent league form is mitigated by their World Club Cup and Champions League exploits which has caused them to travel to Qatar and Rome. Dortmund's form has improved after their superb win at Sevilla. This is thanks in large part to the eternally awesome Erling Braut Haaland and the resurgent Jadon Sancho who has eight goals and 7 assists in 2021. As impressive as Dortmund's offense is, it is easily matched by Bayern and Robert Lewandowski. However, in spite of the impressive attackers, on both sides, the game will probably be won in the midfield by Leon Goretzka and the peerless Josuha Kimmich. TD
Serie A: Juventus v Lazio
19.45 on Premier Sports 2
Napoli getting knocked out the Europa League has put a dent into Juve's defence of the title they've held for nine straight seasons. With spaces now open in their fixture calendar, the game between the two sides had been awarded to Juve after Napoli failed to fulfil the fixture but can now go ahead this month. Having had a 3-0 win on the records for most of the season, the
Old Lady
now finds herself ten points short of leaders Inter. While Lazio are another six points below, they have made a habit this season of taking points off sides in the Champions League places. Both sides are still involved in this seasons's Champions League but Lazio have another week before their next fixture, and being 4-1 behind Bayern have little hope of progressing. Juve meanwhile face Porto on Tuesday looking to overcome a 2-1 defeat in the away first leg. With the title looking increasingly hard to reach, Pirlo could shift his priorities to getting Ronaldo a record breaking seventh Champions League final GS
Sunday
Premier League: West Bromwich Albion v Newcastle United
12.00 on Amazon Prime Video
Newcastle have a rare opportunity to register a double win over an opponent this season. The dirty mags knocked over Slaven Bilic's West Brom with a late goal from Dwight Gayle last December. Since then, United have managed only two league wins. As they prepare for their face-off with Big Sam's West Brom they must do without the other goal scorer, Miguel Almiron who is out injured until April. Also on the treatment table is Allan Saint-Maximin and Callum Wilson. They're gonna need a bigger table. Up until their 1-0 defeat on Thursday, the Baggies were three straight games unbeaten which was the longest they'd gone without an 'L' in their column all season. However, that win against Brighton, last weekend, should have been classed as an honourary defeat, in view of how many chances the other Albion spurned. Allardyce allowed himself a chuckle at his good luck during the post-match interview. However, he'll know deep down that his team have the lowest xG in the league and can't rely on dumb luck to beat the drop. TD
La Liga: Atlético Madrid v Real Madrid
15.15 on LaLigaTV
After suffering a slight setback against Levante, Atleti got back on the horse and beat a tough Villarreal side last weekend to keep that reassuring gap of five points at the top of the table. Diego Simeone's team have gone 16 games at the top of La Liga but have been unable to pull away from Barcelona and Real Madrid who trail in their wake. Joao Felix put in a terrific shift last week. The 21-year old took a season to get going at his new club and is now an essential component in Atleti's title challenge. I think the last time I covered Real on the boxset, Zinedine Zidane's replacement was being openly discussed. But he's still there and Real are third in the table. A win secures more than just bragging rights. It puts them within striking distance of the top spot. That said the champions needed a last-minute equaliser from Lucas Vasquez to rescue a point against Sociedad last week. There's certainly plenty of uncertainty in this game. TD
Alternative viewing: The scheduling of the Madird derby means that it will overlap almost the entire first half of Manchester CIty v Manchester United, which even if United somehow manage to win will only reduce City's lead to 11 points with ten games to go. You can enjoy the second half on Sky Sports Premier League & Main Event.
Premier League: Tottenham Hotspur v Crystal Palace
19.15 on Sky Sports Premier League & Main Event
Ok, stick with me on this one. Yes I know, Palace go into this on the back of two of the most boring 0-0 draws you're likely to see in any season of the Premier League but it's unlikely they can keep that run going as they haven't kept three clean sheets in a row since the first lockdown. Spurs are improving; good wins in the Europa League have been followed by back to back wins in the Premier League for the first time since November. Part of the that improvement is down to Gareth Bale showing how good he really is with four goals and three assists in his last five, but their narrow, VAR-assisted, win over Fulham in midweek shows there is still a way to go. Still well-positioned to end the season in the European places, defeat for Mourinho's side means they could find themselves in the position that Arsenal could leapfrog them in the table after the next weekend's North London derby. GS
Whatever you watch, have a great weekend.