Weekend Boxset: Subject to last minute changes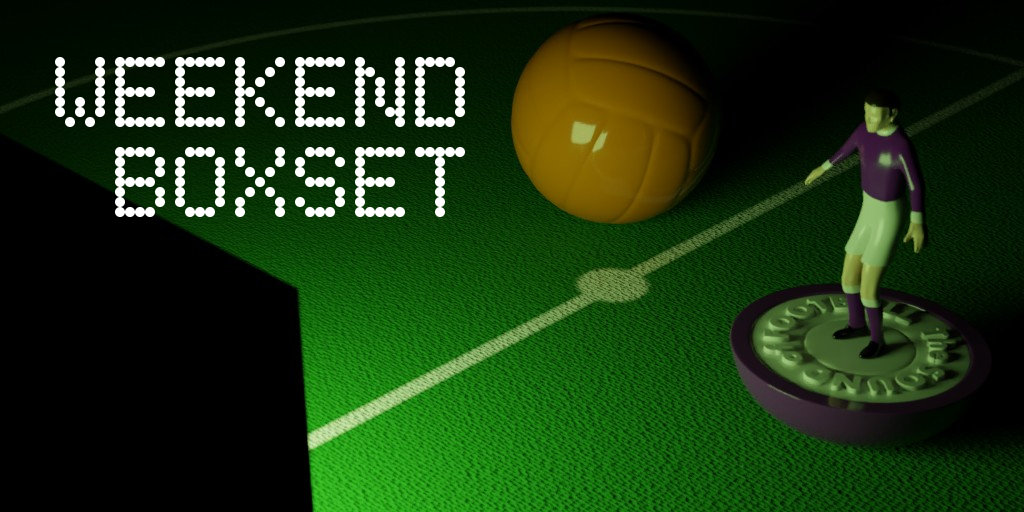 It's our last Boxset of 2021, but with so many matches being called off at the last minute, who can say how many will be played?.
Seven great matches to hopefully take you from Friday to Sunday. It's the Sound of Football Weekend Boxset.
Get the Weekend Boxset in an email every week
All times are GMT
Friday
Championship: Barnsley v West Bromwich Albion
19.45 on Sky Sports Football & Main Event
Last season these sides were two divisions apart, and they could easily return to that position next season. Barnsley's miraculous promotion from League One in the play-offs, appeared to confirm that the lessons of co-owner Billy Beane's
Moneyball
could equally be applied to football as they were to baseball. The Championship has said otherwise, with Barnsley, coming into the half-way point of the season, eight points adrift and only saved from being bottom by Derby's huge point deduction. Valerian Ismael was Barnsley's head coach for that play-off success, and was shrewdly snapped up by West Brom following their relegation from the Premier League. Staying true to their Moneyball principles, Barnsley replaced him with Markus Schopp, who had been taking TSV Hartburg on their own miracle up the Austrian divisions. This time the experiment didn't work and at the start of November, after a run of seven straight defeats, he was sacked. In fairness, the club could have gone back to the old ways and hired an old head to try to salvage the season but instead they've gone for 36-year-old Poya Asbaghi, who was the head coach of Sweden's U21 and before that IFK Gotenborg. With the Baggies closing down the top two sides, there's no place for any sentimentality from Ismael on his first return to Oakwell. It might be a while before he's back. GS
Saturday
Championship: Middlesbrough v Bournemouth
12.30 on Sky Sports Football & Main Event
Demonstrating just how far Chris Wilder's stock has fallen, today marks game six as manager of North Yorkshire's own Middlesbrough, taking over from the turgid xenophobe, Neil Warnock. Even I think this is a disproportionate punishment for failing to follow up on an impressive first season in the top flight with Sheffield United. A couple of wins and a draw isn't a bad return for less than a month's work, and he's also got former Sunderland favourites Duncan Watmore and Paddy McNair firing. Facing him in the opposite technical area is Bournemouth's beautifully attired Scott Parker, who, until recently, had a record with the Cherries as impressive as one of his suits. Around the same time Wilder was signing his 'Boro contract, Parker was watching his side lose their first game of the season - they've won one since. Bournemouth have an embarrassment of riches in this side: Dominic Solanke, despite the team's dip, has remained in consistent form in front of goal, with most of the team chipping in with assists, but it's the form that counts. If I'm honest, I think Wilder's boys will probably grind out a one-nil, but if Bournemouth can regain their mojo, 'Boro are in for a right hammering. JB
Premier League: Leeds United v Arsenal
17.30 on Sky Sports Premier League & Main Event
At the time of writing, half of the this weekend's Premier League fixtures have been postponed due to the latest spike in Covid cases. It's to Leeds' credit that they haven't tried to get this called off. They have a growing list of players out injured and after being on the end of a hammering at the Etihad in the week, no one would have blamed them for getting their hands on a few positive lateral flow tests to get this match put off until the new year. This round of match cancellations has brought a simmering disquiet among some Arsenal fans. When the disease went through Arsenal's squad at the start of the season, the club were given short shrift in their request not to play. After a cancelled pre-season, their first three matches were big TV games, including the season opener against Brentford, and all ended in comfortable defeats. After that, Mikel Arteta brought in a number measures to limit involvement of Arsenal players who still refused to get vaccinated in a bid to make sure a similar situation didn't happen again. The Gunners have since slowly risen to fourth in the table, though local rivals Tottenham now have three games in hand in which to overhaul that. Should they actually play a match any time soon. GS
La Liga: Sevilla v Atlético Madrid
20.00 on LaLigaTV
We previewed, Atleti's city derby against Real Madrid, last week and it proved to be a severe disappointment to them, losing 2-0. Bragging rights surrendered and even if they were to experience a dramatic turnaround in form, a successful defense of their La Liga title seems unlikely. After failing to meet the mark against the leaders, the champions now face the second-placed side, hopefully at least, with Luis Suarez back from injury. Their opponents are not in the greatest of shape. Defeat to Salzburg in the Champions League means they must console themselves with winning the Europa League for the 25th time. They nearly got knocked out of the Cop Del Rey to CE Andratx who play in the
[checks notes]
fourth division. Julen Lopetegui's blushes were spared thanks to a penalty shoot-out. That said
Los Nervionenses
squeaked a 1-0 win at Athletic club last week to stay in the hunt. However, if they falter here then it's all about next season's Champions League spots rather than the title. TD
Sunday
Bundesliga: Freiburg v Bayer Leverkusen
14.30 on Sky Sports Football
I said on a recent episode of Talking Fussball that Freiburg should drink it in this season because when the summer comes that squad is going to be picked clean.
Die Breisgauer
are one of the best teams in the Bundesliga this season and were it not for a three-game slump earlier in November would still be a top-four side. Their 6-0 dismantling of Borussia Mönchengladbach earlier this month was an earth-tilting moment in the history of both clubs. Leverkusen's run of good league form was interrupted by a 5-2 defeat to Eintracht two weeks ago and a 2-2 draw with a massively improved Hoffenheim. But on form,
Die Werkself
are a glorious watch with Florian Wirtz, Mousa Diaby and the man of the moment Patrik Schick unstoppable. The latter is on fire this season having scored 16 (sixteen) goals in 13 (thirteen) matches. Not as good as Lewandowski but who is? TD
Premier League: Tottenham Hotspur v Liverpool
16.30 on Sky Sports Premier League & Main Event
As sickies go, Spurs probably thought they could stretch it out until Christmas, but here we are two weeks after their last game with this match going ahead. Well, at the moment it is, at least. Jurgen Klopp has been most the vocal manager in the Premier League on the subject of players getting vaccinated and has gone on record to say that all of his squad are at least double-jabbed. Of course, having the vaccine doesn't stop you from getting Covid but it does reduce the risk of infection and its effects. Three of his players, Virgil Van Dijk, Curtis Jones and Fabinho are isolating after testing positive before the midweek win against Newcastle, but none of them are at present showing any symptoms. Along with almost all other clubs, Tottenham refuse to say how many of their players have been jabbed or indeed who has been infected, all of which does nothing for those looking for answers as to how clubs can combat the spread of the virus and continue playing matches. While Antonio Conte's side might be well rested, having had their training ground closed and half their players in isolation they may not be in the best condition for this game. A situation even a depleted Liverpool side should take full advantage of. GS
Serie A: Milan v Napoli
19.45 on BT Sport 1
About a month ago, I was confidently declaring this season's Serie A as a two horse race between these two sides. Now it's starting to look more like a two horse race between Inter and Atalanta. So what's gone so very wrong in the meantime? Well, basically a pile-up of injuries to their key players. Napoli lost Victor Osimhen for three months in their defeat to Inter - their first loss of the season - and since then he's been joined on the sidelines by Fabian Ruiz and Kalidou Koulibaly. All three were missing for the defeats against Atalanta and Empoli, though Ruiz looks set to return for this one. Milan's problems are all up front. For the game against Udinese, a side that had just one win in their last 13 games, they were missing Rafael Leao, Olivier Giroud and Ante Rebic through injury. Again it was left to 40-year-old Zlatan Ibrahimovic to save the
Rossoneri's
blushes with an injury time equaliser - their only shot on target of the game. GS
Whatever you watch, have a great weekend, a wonderful Christmas and see you again in 2022.