Weekend Boxset: Women's FA Cup Final, Der Klassiker and the Lisbon derby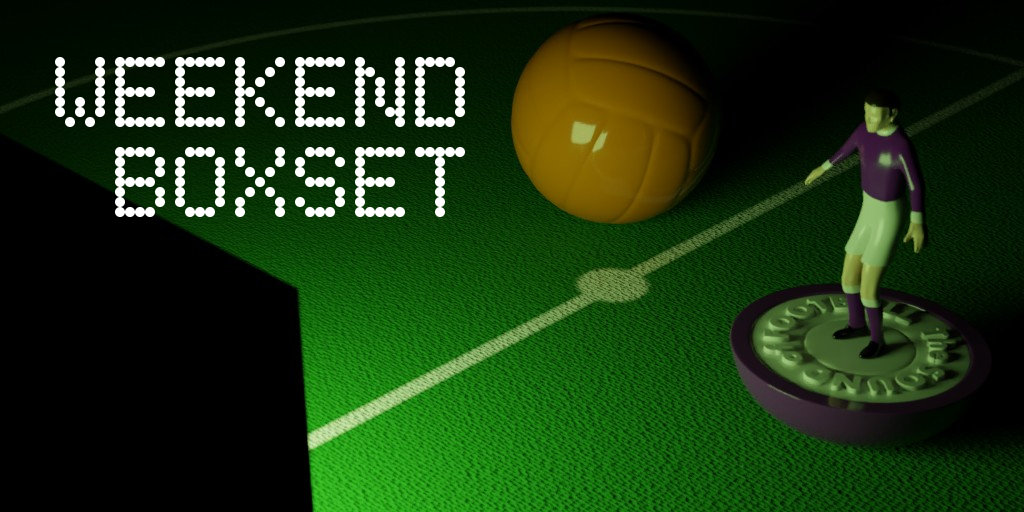 Sunday's Women's FA Cup Final marks a couple of important milestones, Der Klassiker might be a Geisterspeil, and Steven Gerrard will be hoping things don't slip against his old boss.
Seven great matches to take you from Friday to Sunday. It's the Sound of Football Weekend Boxset.
Get the Weekend Boxset in an email every week
All times are GMT
Friday
Primeira Liga: Benfica v Sporting
21.15 on BT Sport 2
Benfica's 7-0 drubbing of Belenenses was described by club's president Rui Costa as "a dark chapter for Portugese football and the country itself". Neither side wanted the game to go ahead after a Belenenses player, returning from South Africa, tested positive for Covid - followed by 15 of his teammates. Portugese league rules say that if you can field at least seven fit players then you have to take to the pitch or suffer the consequences. Belenenses fielded nine and conceded seven goals before the break. Only seven players went out for the second half and when goalkeeper Jaoa Monteiro - who has having to play outfield - went down unable to continue, the game had to be finished early. Hopefully this match will be grabbing the headlines for all the right reasons. And it should because Portugese football is in a good place right now with Sporting already in the next round of the Champions League and Benfica looking to join them this week. Sporting's success in the competition has been helped by the stand-out performances of Pedro Goncalves. Known as Pote, the 23 year old played just one League Cup game for Wolves before heading back to Portugal. Last season's top scorer in the league, he's already scored nine goals from midfield this season, including two in the win against Dortmund. Sporting may be reigning Portugese champions but they have struggled in the Lisbon derby. Their home victory last season was one of only three wins in the 20 encounters between the two sides in the last ten seasons. GS
Saturday
Premier League: West Ham United v Chelsea
12.30 on BT Sport 1
That both sides appear a little off kilter right now, adds a layer of unpredictability to this London derby. Since losing Ben Chilwell to a knee injury in the Champions League win over Juventus, Chelsea have looked a shadow of themselves: a lacklustre win against Watford following a home draw against an unconvincing United side. With Chilwell's wingback partner Reece James a doubt for this game, Chelsea's attacking threat is further weakened: their combination has yielded six goals and eight assists so far this season. Chelsea are still getting results, which is something that West ham have suddenly found difficult with just one point from their last three since their excellent win against Liverpool. While they took the points against Klopp's side they also lost defender Angelo Ogbonna to what looks like a season ending ACL injury. While not being a contributor to this West Ham side in the way that Chilwell and James have for Chelsea, his absense has left a hole in the side that Moyes appears to be struggling to fill. GS
Bundesliga: Borussia Dortmund v Bayern
17.30 on Sky Sports Football
Dortmund had sold 67,000 tickets ahead of this top of the table clash and, headline Bundesliga fixture. Sadly they had to refund everyone's money. In all likelihood, the match will be played behind closed doors or with significantly reduced capacity due to the sharp rise in COVID cases in the region. This is a blow to the club's finances, the fans who were looking forward to the game and to the overall spectacle. But public health concerns will out, as they should. On the pitch this could be tight. As reported last week, table toppers Bayern lost to Augsburg two games ago and only managed a 1-0 with against Bielefeld last week. Injury-hit Borussia have been riding their luck but are only one point behind league leaders. Moreover, Erling Haaland is back from injury and warmed up for this game with a goal in BVB's 3-1 win at Wolfsburg. But before you rush down the bookies and put the house on the Black & Yellows, consider that Bayern usually find extra gears for Dortmund and there is rarely a
Klassiker
where Robert Lewandowski does not score. The Pole will be extra motivated after having been jilted for the Balon D'Or in the week. TD
If you enjoy Terry's insights into the Bundesliga then you'll absolutely love his new book: Borussia Dortmund: A history in black and yellow, available now from Ockley Books, Amazon and other good booksellers.
Serie A: Napoli v Atalanta
19.45 on BT Sport 2
Right now Serie A is not a thing you simply turn your back on and assume that everything will go according to plan. In the last month, Atalanta have gone from being 12 points behind the leading pair to a position where they can, in this game, cut the gap between themselves and Napoli to just two points. While Napoli have wobbled in recent weeks their home form is still unrivalled in the league - undefeated, with six wins from seven - the only problem, going into this one, is that Atalanta's away form this season is exactly the same. With another strong start to a Serie A campaign on top of a quarter final place in last season's Champions League and reaching the Coppa Italia final, there was little surprise this week to the announcement that Atalanta head coach Gian Piero Gasperini, now in his sixth season in charge, has signed an extension to his contract until 2025. While his side has yet to win an honour, such longevity is an acheivement in itself in a league where only four of his peers have been in post for more than 12 months. On top of this huge fixture in an enthralling title race, both teams also have deciders in Europe coming up in the week, with Atalanta needing a win against Villareal to progress in the Champions League, and Napoli needing to beat Leicester to stay in the Europa League. GS
Sunday
FA Cup 2nd Round: Rochdale v Plymouth Argyle
12.15 on ITV
Jake Beesley's 90th-minute header at Meadow Lane finally put paid to a stubborn Notts County side in the first round replay and set Rochdale up with a tricky but winnable tie against Plymouth. Dale are one of two of the smaller Manchester clubs getting TV coverage over the cup weekend. The other, unsurprisingly, is Salford. But this unassuming outpost of northwest football deserves a bit of limelight and extra TV money. The mostly fan-owned club has recently been the subject of two hostile takeover attempts from individuals or businesses with no apparent interest or connection with the club. Happily, they've been repelled and the club remains in the hands of the supporters who were not impressed by the baubles and trinkets waved under their noses. Now the fans can look forward to some excitement in what is a pretty mediocre League 2 season. At the time of the last round, Argyle were top of League One but a three-game losing streak has diminished them somewhat. This is what I mean when I say that Dale have a chance in front of a full house at Spotland. TD
Women's FA Cup Final: Arsenal v Chelsea
14.00 on BBC One and BT Sport 1
While the men's calendar has pretty much recovered from the breaks imposed by the lockdowns of 2020, women's football is still catching up. This means the celebrations of the 50th anniversary of the Women's FA Cup are a little later than they would have been. However in one of those unfortunate coincidences, the date of this final is itself an important date as it exactly marks the 100th anniversary of a meeting held by the FA on 5 December 1921 that banned women from using its facilities and pitches. A ban that held for 50 years. Both anniversaries are important and worth marking, though the former is something you can celebrate. 20 of the 28 winning captains will be in attendance at Wembley with the two captains from the first final bringing out the trophy. While both Arsenal's Kim Little and Chelsea's Magda Erikkson have won the Cup previously, neither have won it as captain, so another name will be added to that list today. Both sides are in great form coming into this with Arsenal just edging Chelsea at the top of WSL table solely on the strength of their hard-fought (and a little fortuitous) 3-2 win against them at The Emirates in September. As a side note, it's interesting to see that Sky aren't going up against this with one of the three 2pm Premier League games, in their regular early Sunday afternoon slot. Whether that's a rare example of the FA imposing its authority or Sky not wanting to go up against a live women's game on the BBC, only they could tell you. GS
Premier League: Aston Villa v Leicester City
16.30 on Sky Sports Premier League & Main Event
Football is full of sliding door moments, points in which life could have turned out very differently, had just one little thing gone a different way. Steven Gerrard's slip in Liverpool's game against Chelsea late in the 2013/14 season is seen as the key turning point of their failure to hold on to their lead in the table and miss out on winning a first title in 24 years (but that might be more about the irony of his pre-match motivational speech). Winning that title may not have changed the course of Gerrard's future - he would probably still have left for LA Galaxy at the end of his contract the following season, though he might have been in a better frame of mind leading England in their disastrous 2014 World Cup campaign - but how different would things have been for his boss of that season, Brendan Rodgers? The two go head to head on the touchline for the third time, having contested two Old Firm derbies in late 2018. Gerrard has got a bounce out of his Villa side, with consecutive wins in his first two games, and a decent enough performance in their home defeat to City in midweek. Leicester themselves have only once been able to string two wins together this season, which pretty much tells you all you need to know about how things are going for a side that only just missed out on a Champions League place in 2020/21. GS
Whatever you watch, have a great weekend.