Weekend Boxset: EFL Cup final 2021/22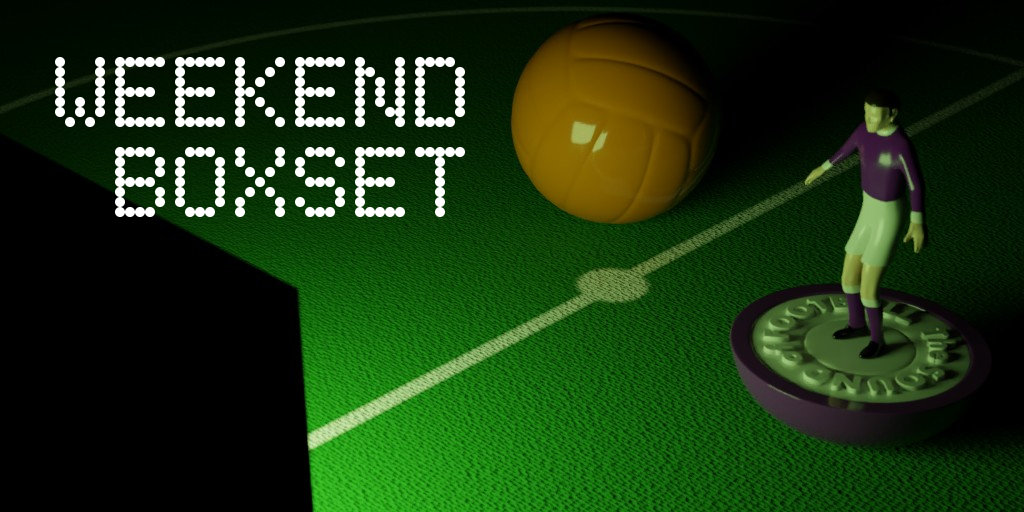 With the Premier League title race officially back on, City travel to Goodison looking to get over last weekend's defeat to Spurs, and reopen the gap between themselves and Liverpool, who are otherwise occupied at Wembley.
Seven great matches to take you from Friday to Sunday. It's the Sound of Football Weekend Boxset.
Get the Weekend Boxset in an email every week
All times are GMT
Friday
Bundesliga: Hoffenheim v Stuttgart
19.30 on Sky Sports Football
A Baden-Württemberg derby of sorts. Lockdowns have cooled the anti-Hoffenheim sentiment somewhat but they are still very much a pariah club, due to their controversial ownership and funding structure. Geographically, Stuttgart are local rivals but there is no history or appetite on VfB's side to legitimise their Sinsheim-based neighbours with a credible rivalry. That said, the way they are playing, these two won't be playing next season, sitting as they do in second bottom of the table. Stuttgart have accrued just 2 points from the last eight league games. They've suffered from the long-term absence of Sasa Kalajdzic whose only made five appearances so far this season. The Austrian striker may be on the bench for this match. After three straight defeats, Hoffenheim have bounced back with two wins over Bielefeld and Wolfsburg in the last two weeks. They are still in the Champions League hunt and the man to watch for them in this game is young french attacking midfielder Georgino Rutter. Initially an impact sub but increasingly finding himself in the starting XI. The 19-year-old signing from Rennes has 6 goals and four assists. TD
Saturday
Premier League: Leeds United v Tottenham Hotspur
12.30 on BT Sport 1
It's a crisis club special! If only Tottenham could play Manchester City every week. You didn't need a translater for the manager, Antonio Conte's joyous reaction after their dramatic win over the Champion's elect last Saturday, which spectacularly broke a three-game losing streak. But the Gods of football have an odd relationship with Spurs, as we saw a few days later when the North Londoners failed to do it on a wet Wednesday at Turf Moor. In the immediate aftermath of the 1-0 loss to Burnley, Conte implied he might be considering his position. Who knows, by the time the game starts, Ryan Mason could be traipsing out at Elland Road, wondering if he's being paid enough for this shit. Of course, Spurs being Spurs, they'll beat Leeds 4-0 and it'll be DVDs and Conference League dreams all over again. Given the shocking state of the Leeds defence, that's a distinct possibility. Boss Marcelo Bielsa bemoaned his team's lack of defensive coordination against Manchester United last week, a game in which his players showed ample spirit but could not handle Sancho and co. Then they fell to pieces at Anfield on Wednesday, shipping six goals with no reply. The next few games will test Bielsa's reputation and with Norwich, Burnley and the Dirty Mags finding form, the Yorkshire club could find themselves out of the Premier League just as we were all getting used to them being back. TD
Premier League: Everton v Manchester City
17.30 on Sky Sports Premier League & Main Event
How do you go into this game as an Everton fan? Having lost your last nine against City, it's certainly not a game you'd expect to get anything out of but with lower-placed teams rallying, Everton need points. But then, if they get anything here they know they'll have done their biggest rivals a massive favour in the restarted title race. And then there are the memories of a 4-0 win at Goodison in 2017 - still Pep's biggest margin of defeat in management. Thankfully, most of us aren't Everton fans so we can happily enjoy this match for the spectacle it should be. Having been sucker-punched by Spurs last weekend, City need to get back to winning ways but if Frank Lampard has done anything in his first month back in management, he's restored some belief at Goodison. It's true that neither Leeds or Brentford are in the best place right now but the performances have allowed fans some optimism that better times are ahead. Of course they have lost both of their away games but let's just stick with the home form narrative for now. Lampard's one win in his three meetings against Guardiola as a manager officially handed the 2019/20 title to Liverpool - could he yet play a key role in where the title goes this season too? GS
Ligue 1: Paris Saint Germain v St Etienne
20.00 on BT Sport 1
Last season, the biggest factor that led to PSG giving up their title to Lille was their woeful performances immediately after playing in the Champions League. This season they seemed to have put that behind them but having beaten Real Madrid in their first game of the knock-out stage, old habits returned when they went down 3-1 last weekend to Nantes. Not that it made much of a difference to the title race, Marseille failed to take advantage of PSG's slip and remain 13 points adrift, having lost to Clermont Foot (who have developed a habit of beating top teams). At the Parc de Prince though, PSG are pretty much unstoppable. Only Nice have come away with anything in the games played there in all competitions (they drew in the league and got a win on penalties in the Coupe de France). You wouldn't hold out much hope for St Etienne to get anything here but
Les Verts
are on their great escape. Last week's draw against an impressive Strasbourg side brought an end to a run of three straight wins but was enough to lift them out of the relegation zone, which they'd been in since match day 5. Having given Claude Puel the push in December, and with an expected takeover not materialising, the club appointed Pascal Duprez. In his coaching career, Duprez has made a habit of helping poor teams stay in the top flight of French football, having helped both Toulouse and Evian avoid the drop. They are far from out of the woods yet though - all four of the teams below them in the table are just a single point behind. GS
Sunday
Women's FA Cup fifth round: Manchester United v Manchester City
12.30 on BBC Two
Women's club football returns after the international break. Those who were teammates last week are set to become local rivals this week, with this game potentially seeing as many as a dozen of the players from England's victorious Arnold Clark Cup squad taking to the field. United's history may be short but they have developed fast and are the side most likely to break stranglehold of the big three. There was little between the sides when they met in the WSL earlier this month, Caz Weir winning it for City with a goal in the last ten minutes. With almost all of their England stars now fit again, Gareth Taylor's side look a far better side than they did at the start of the season, and as it's very unlikely they can make up their lost ground in the league, the cups offers City their only realistic chance of silverware. Already in next week's League Cup final against Chelsea, a win here will take them a step closer to a fourth FA Cup in six seasons. In other ties this round, holders Chelsea face an improving Leicester, while there's a potential banana skin for 14 times winners Arsenal as they go to Prenton Park to face Liverpool, the runaway leaders of the Championship (which kicks off at 12 and is available to watch on the FA Player app). There's also the guarantee of a third tier side reaching the quarter finals for the first time in four years, with Ipswich and Southampton of the National League South being drawn together. GS
EFL Cup final: Chelsea v Liverpool
16.30 on Sky Sports Football & Main Event
Over 80,000 people will descend on Wembley this Sunday for the first major final of the season, which is quite a contrast to last year where barely 8,000 were allowed in. World champions (yes, that is a thing - apparently) Chelsea will join Liverpool in the first final not to feature a Manchester club since 2015. There's also the tiresome narrative relating to the nationality of the respective coaches, which wasn't an issue when Kenny Dalglish and Malky Mackay faced off in 2012. On the field, both clubs have laboured to get this far with three penalty shoot-outs between them in previous rounds. Indeed, there's barely room for a cigarette paper between these two, who have failed to overcome each other in meetings this term. Any concerns that Liverpool will struggle with the absence of Diogo Jota and Roberto Firmino were vanquished midweek with the 6-0 destruction of Leeds United. For their part, Chelsea overcame somewhat tougher opponents in Lille, 2-0. Two powerful in-form sides in a Wembley final; it'll be close, but it'll be a cracker. JB
Serie A: Lazio v Napoli
19.45 on BT Sport 1
"One regular week of TIM. That's all I ask for. Will never happen", to paraphrase something a famous Italian coach never said. Last weekend's action saw just one team in the top half of the table take three points. The fun started on Friday night with Juve dropping points in the local derby against Torino. On the Saturday, new leaders Milan drew 2-2 away to bottom side Salernitana, but on the Sunday neither of the sides chasing them for top spot could take advantage. Inter lost at home to perrenial disruptors Sassuolo, while Napoli needed an 87th minute equaliser from Victor Osimhen to salvage a point away to relegation placed Cagliari. While all this has been going on around them Lazio have put a string of results together and have pulled themselves back not only into European contention but can also dare to consider Champions League football next season. Though what Sarri's side would do there is anyone's guess. This season's Europa League adventure for them came to an end on Thursday when they failed to beat Porto in the Stadio Olimpico. Napoli also the exited the competition, although in a more spectacular fashion, going down 4-2 to an obviously rejuvenated Barcelona. Having both been knocked out of the Coppa Italia in recent weeks the league is the only thing these sides have to think about from now on. GS
Whatever you watch, have a great weekend.