Weekend Boxset: The end of the Club World Cup as we know it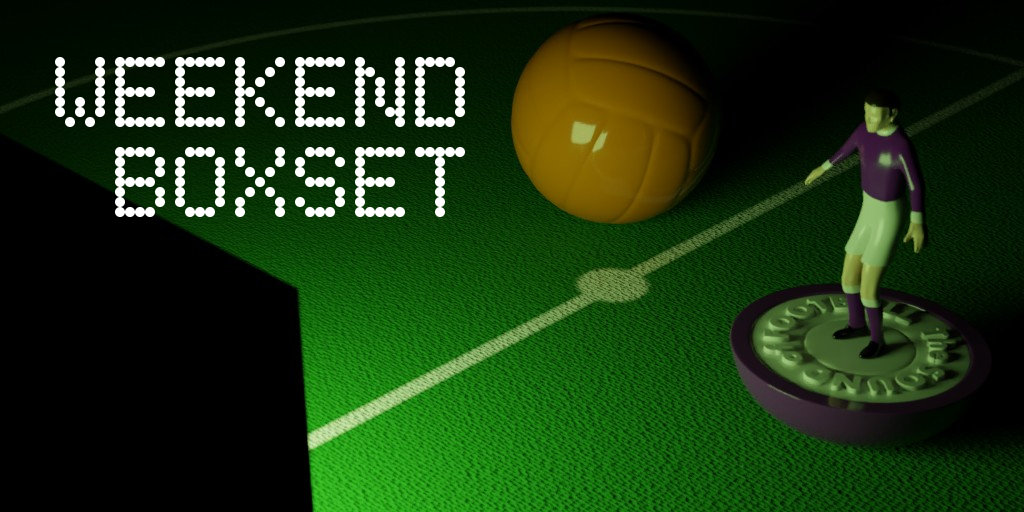 Chelsea are in Abu Dhabi trying to win what is due to be the last running of FIFA's Club World Cup, in its current incarnation. Though what will replace it is still up for much heated debate.
Seven great matches to take you from Friday to Sunday. It's the Sound of Football Weekend Boxset.
Get the Weekend Boxset in an email every week
All times are GMT
Friday
Primeira Liga: Porto v Sporting
20.15 on BT Sport 3
We head to Portugal to kick off your weekend, where the top two sides meet in a fixture which will, no doubt, have a bearing on where the title goes. Sporting go into the match as current Primeira Liga champions, but six points behind leaders Porto. If you're the kind of chap who enjoys a flutter, then the smart money is on Porto, who haven't lost points in any competition since early December when they fell at home to Atletico Madrid in the Champions League. This included two victories in a week over the other Lisbon club, scoring six. Now that highly rated Luis Díaz has left for Liverpool, Taremi and Evanilson are left to carry the can up top. For their part, Sporting are showing signs of losing their grip on the title. Despite being 2-1 up against midtable Santa Clara they lost 3-2 and a more recent 2-1 home reverse against perennially underrated Braga - again from a winning position - has certainly handed the advantage, if not the title, to today's hosts. These fellas are both tough to break down, boasting the best defences in the league, but something has to give tonight. 2-0 Porto. JB
Saturday
Premier League: Manchester United v Southampton
12.30 on BT Sport 1
Ralf Hasenhuttl has tried to distance himself from talk of his plan to retire from coaching at the end of his current contract with the Saints at the end of the 23/24 season, a plan that was revealed in an interview with German football magazine
Kicker
, published on Monday. Maybe it also had an influence on their performance in midweek at Tottenham - one of the Saints' finest displays all season. Having gone behind twice, they scored two goals in the space of two and half minutes to turn the match around, for them to run out 3-2 winners. It says something about the resilience of Southampton's head coach that the 9-0 defeat in this fixture at the start of February last year, wasn't the first thing to spring to mind when I approached writing this preview, but given what has happened to United over the past 12 months - and for that matter, over the past 12 days - it's unlikely they will draw much inspiration from that result either. Since the Mason Greenwood scandal broke, United have been knocked out of the FA Cup by Middlesbrough and drawn with Burnley, having led in both games. It has also emerged that some players are unhappy with Ralf Rangnick's hands-off training methods, leading some to compare him to the satirical character Ted Lasso. Having worked alongside Rangnick at RB Leipzig, Hasenhuttl will have a great deal more respect for the United interim head coach. GS
FIFA Club World Cup 2021 final: Chelsea v Palmeiras
16.30 on Channel 4
If you have any memories of the 2012 final (the last time Chelsea appeared) then you may recall seeing a distraught Oscar and David Luiz after having lost the final to Corinthians. For the South American contingent of the Blues' squad, the Club World Cup was a massive deal. It is a sadness that most Europeans and in particular the English, can't get on board with this competition, especially since more often than not, they win it. While I'm sure Chelsea fans will enjoy the moment if they win, and the players and coach will take the match seriously, it can never mean as much as it does for South America. The Brazilian side won the Copa Libertadores for the second season in a row and are anxious to make up for a disastrous tournament last year in which they were knocked out in the semi-final. Like Chelsea, Palmeiras have never won this cup but unlike Chelsea, that fact affects their standing among their domestic rivals. This is the last Club World Cup in this format before it expands to 24 teams and is held in the summer. You could say that this is the last opportunity for a South American team to win this prestigious trophy before the final remnants of its predecessor, the Intercontinental Cup, are cast aside and this competition becomes something else. TD
Ligue 1: Lyon v Nice
20.00 on BT Sport 2
If your only experience of Lyon this season has been their performances in the Europa League, you might be surprised to find them languishing in mid-table in Ligue 1. They cruised through their group, with Rangers, dropping just two points, allowing them to finish top and happily avoid the play-off round which starts next week. Domestically though their form has been what you could kindly describe as patchy. It was certainly hoped they could improve on their fourth place finish from last season but head coach Peter Bosz has struggled to get the best out of his decent looking squad, which was strengthened in January with the return of Tanguy Nbomele from Spurs. He will fill a gap in midfield created by the exit of Xherdan Shaqiri who, on Wednesday, secured a two year deal with MLS side Chicago Fire, a deal that sees Lyon make a slight profit on what they paid Liverpool. Aside a surprise recent defeat to Clermont Foot, Nice are in excellent form right now and look likely to hold on to their top three position and secure just their second ever Champions League qualification. Their star performer is the exciting France U21 winger Amine Gouiri, who they picked up for a snip at €7 million from Lyon in the summer of 2020. He's already had 18 goal contributions this season, including most recently the equaliser in Nice's 4-1 demolition of Marseille in the Coupe de France. GS
Sunday
League One: Sheffield Wednesday v Rotherham United
12.00 on Sky Sports Football
This promises to be a cracker of a local derby with both teams in the best form of their season. Rotherham have won their last five league games and have opened up a gap of nine points at the top of the League One table. If the Millers do win promotion to the Championship it will be the fourth time they've achieved that since 2014 and the third time they'll have done it under manager Paul Warne. Wednesday helped Rotherham extend their lead in the table with a 1-0 win against second-placed Wigan, their fourth league win on the bounce and their best run of results since 2017. Darren Moore's side are now just a point from the play-off places as they too look for an immediate return to the second tier. The Owls' recent performances have been helped by the return of their Australian international midfielder Massimo Luongo, who has missed much of the season through injury. His only game in the first three months of the season was the 2-0 win against Rotherham at the New York Stadium. GS
Premier League: Newcastle United v Aston Villa
14.00 on Sky Sports Premier League & Main Event
Newcastle are now out of the relegation zone and everything looks decidely more rosey on Tyneside. Has it really been only a month since they were being dumped out of the FA Cup at home to Cambridge? Both sides are in a better place than they were when they appointed their new managers at the start of November. For both Eddie Howe and Steven Gerrard this is their thirteenth game in charge of their new clubs and in that time both have experienced five defeats (though in fairness, aside from the defeat to Brentford all of Gerrard's losses came at the hands of Big Six opposition). Eddie Howe's January business was relatively unspectacular (given the resources that are supposedly available) but seems exactly what was needed, with new signing Keiran Trippier grabbing a goal in their most recent win against Everton in midweek. Coming immediately after a win against another team struggling in the bottom half, Leeds, the table has taken on a much different complexion for the Mags, even though they're only a point ahead of 18th placed Norwich - who themselves are getting their act together under Dean Smith. The addition of Phillippe Coutinho to Villa's line up has already had an impact with two goals and two assists in his two and bit games since joining from Barcelona on loan. GS
La Liga: Espanyol v Barcelona
15.00 on LaLigaTV and Premier Sports 1
The one aspect of Spanish club football that stands out is how many teams play with extra width. By comparison, Bundesliga teams play narrow like trying to thread a needle. For example, on Xavi's first game in charge of Barcelona, he posted his wide fielders so far out on the wings, they nearly got cancelled by Twitter. This doesn't mean that Spain is choc-full of wingers, chucking in floaters. La Liga coaches encourage their players to cut inside. That was until Adama Traore turned up last week on his outstanding debut for Barca in their 4-2 win against Atletico Madrid. The former Wolves-man played like an old-school winger. Xavi's pragmatism paying dividends. The win nudged the Catalans into the top four. But, as an unwise man almost said, they now have to go to Espanyol and get something. A task that is usually achievable if hard work against their city rivals. In our recent boxset preview of Espanyol's game against Betis, we rightly highlighted their striker Raúl de Tomás. He scored but was sent off in a 4-1 defeat. RCD missed him in the 2-1 loss to Athletic but should welcome him back for this match. They will need him. TD
Whatever you watch, have a great weekend.