Weekend Boxset: Packing their bags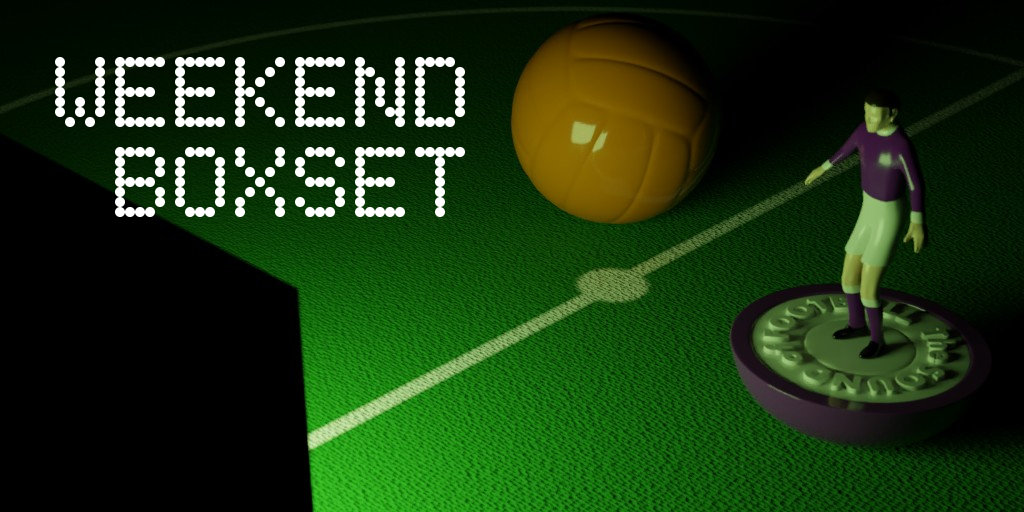 It's the last round of fixtures before the World Cup, which makes this our last regular round up of previews for 2022.
Seven great matches to take you from Friday to Sunday. It's the Sound of Football Weekend Boxset.
Get the Weekend Boxset in an email every week
All times are UK (GMT)
Friday
Championship: Birmingham City v Sunderland
15.00 on Sky Sports Football
Your weekend boxset kicks off on Friday night at St. Andrew's in the final round of fixtures before we all put our morals to one side and watch the World Cup. Birmingham City go into this game in tenth place, just four points, but seven places above the visitors. Such is the craziness of the Championship, either side could end this contest on the edge of either the play-offs or relegation. Brum go into this one enjoying some good form. It could be better, but they were being talked about as relegation contenders at the season's start. Last time we had them in the Boxset, they were up against QPR in a game I thought, privately, they'd lose - they didn't. In fact, they've picked up eight points in the four games since I covered them, which is not bad at all. A well earned point against a decent Swansea side in midweek saw both Hogan and Deeney on the score-sheet, and set them up well for out-of-sorts Sunderland. The honeymoon is most certainly over for Tony Mobray with a small but growing section of the support calling for his head after last week's 1-0 home reverse against Cardiff. It's the lack of any consistency that's hurting and, now thirteen games into his tenure, it's fair to expect more. That said, Ellis Simms has only recently returned to the side following injury, with Ross Stewart (the only other striker) still out. The fact that the Loch Ness Drogba remains the Black Cats' top scorer, despite having not played in almost two months, tells you all you need to know about Sunderland's current predicament. Making the task harder is the absence of Luke O'Nien who is suspended following a clutch of stupid yellow cards. 'This is an industry town' said Mobray shortly after joining. 'People have dirt under their fingernails. These players need to work hard'. Yes, Tony - they certainly do. JB
Saturday
Scottish Premership: St Mirren v Rangers
12.30 on Sky Sports Football
With the pressure on squads not as great as in other European leagues, the Scottish top flight will return in mid-December, after the World Cup semi-finals. Though in honesty they could start again once Australia get eliminated. Twelve Premiership players are heading off to Qatar, more than half of which are in Graham Arnold's Australia squad. One of those Socceroos is South African born defensive midfielder Keanu Baccus, who joined St Mirren from Western Sydney Wanderers in the summer. Rangers sole representative at the tournament is Croatia's regular left back Borna Barisic. Both sides seem eager for the season break having struggled in recent weeks. St Mirren were third at the start of last month but have since slipped into the bottom half with just one win from their last six. That run began with 4-0 defeat at Rangers but despite that comfortable win, the Gers haven't had it so great either. Big defeats in the Champions League and a now seven point gap at the top after dropping points against Livingston and St Johnstone has heaped the pressure on Giovanni van Bronckhorst. There's already talk of the opportunity for a quick return to football for Steven Gerrard. GS
Premier League: Newcastle United v Chelsea
17.30 on Sky Sports Premier League, Main Event & Ultra
We should not read too much into Chelsea's defeat to Manchester City in the League Cup on Wednesday. Partly because of the number of changes Graham Potter made to the starting line-up and partly because, well it's the League Cup. However, the defeat is the latest imprint on a pattern of disappointing performances. The Blues offered little against an admittedly strong Arsenal side, got caught with their pants down against Potter's old team, Brighton, and there are the dropped points against Brentford and Man United. It's possible that the coach is prioritising the Champions League and just muddling through domestically until the World Cup. Given the club's recent traumas, it's perhaps not surprising they are struggling to meet their usual high standards. But Chelsea fans would be right to ask if their new owner and coach are able to maintain its position as a top four club in England, especially when there is a club waiting to effectively replace them. Newcastle's progress is inevitable but is happening sooner than expected. Eddie Howe's decision to avoid statement signings and go for players who can genuinely improve the team has paid off and there is a look of permanency in their current league position. Having booked passage to the next round of the League Cup on Wednesday they can make a huge statement with a win before all eyes turn to Qatar. TD
Primeira Liga: Boavista v Porto
20.30 on BT Sport 3
Your Saturday football feast reaches its climax in Portugal for the Porto derby, or
O Derby da Invicta
, as it's known down our way. For fact fans, tonight's hosts are the most successful club in Portugal outside of
Os Três Grandes
and are one of the oldest in the country. Sadly, these days, they are perennially mid-table with the 'fourth club' tag now firmly with Braga. I'll be honest from the outset, here: this fixture is about as one-sided as it gets - Porto have dominated this one for some time. Boavista currently sit in ninth and boast one of the worst defensive records in the league. This goes some way to explain their dreadful recent form which has seen them pick up just one win in their last six outings - although, credit where it's due, it was against Sporting. Tonight they face a Porto side whose front two have scored almost as many as their entire team: Evanilson and Mehdi Taremi have six each and the latter has scored a further five in the Champions league where Porto won their group. A real David and Goliath, this one, but the outcome won't be the plucky under-dog bringing down the giant - in this scenario, Goliath rips David's arms and legs off and plays football with his head. Still, should be a good view. JB
Sunday
Serie A: Atalanta v Inter
11.30 on BT Sport 2
Inter bounced backed from defeat in the
Derby D'Italia
with a 6-1 thumping of an in-form Bologna side on Wednesday night, and leapfrogged Atalanta into the top four (until Juve beat Verona on Thursday). Having set the pace in the first couple of months of the season,
La Dea
have hit a rocky patch losing three of their last four games, the latest giving Lecce just their second win of the season. Gasperini did get some good news this week: Jose Luis Palomino is now available for selection having been cleared of a doping charge against him. The Argentine defender has been suspended since failing a random test in July, so is unlikely to be match ready for this one but he should feature in the friendlies his side have arranged for the winter break against Frankfurt and Betis. While Italy will not being at the World Cup, Serie A will of course be strongly represented: 42 players in the 17 squads that have confirmed at the time of writing. These sides could put a decent World Cup 11 together themselves with four players from Atalanta and seven from Inter currently in line to join squads in Qatar. GS
Premier League: Brighton & Hove Albion v Aston Villa
14.00 on Sky Sports Premier League, Main Event & Ultra
Brighton made it three wins on the spin in midweek, defeating a much changed (though still reasonably robust) Arsenal side in the League Cup. After a shaky start it looks Roberto De Zerbi has managed to remind his new side that they're pretty good. Sitting above both Chelsea and Liverpool in the table they can look forward to a chase for the European places when the season resumes. Villa led in their League Cup tie against Manchester United on Thursday but ended up going down 4-2, sparing Erik ten Hag the embarrassment of losing twice to them in the space of five days. Last weekend's win against United gave incoming manager Unai Emery his first Premier League win in three years (or six games). Emery makes for a fascinating appointment for Villa. While his credentials in European competitions are hard to beat, in domestic leagues his performance is pretty ordinary - for someone of his profile in the game. PSG aside, he hasn't finished a season in the top four since he was at Valencia in 2012. Maybe his awareness of that was behind his decision not to take the Newcastle job. Of course Villa fans aren't expecting top four but are they ready for every game to be played like a cup tie? GS
Bundesliga: Freiburg v Union Berlin
16.30 on Sky Sports Football
Despite their extraordinary rise, this season, no Union player has received the call from Hansi Flick inviting them to join him at the World Cup. This is of course not altogether surprising given the journeyman nature of their squad. Indeed, so far, it looks like the entire squad will be resting throughout the tournament which may work in their favour when the season restarts next year. The Berliners cannot retain top spot before the season break after having been on the wrong end of a second half 5-0 bludgeoning at the hands of Bayer Leverkusen last weekend and a hard fought 2-2 draw against Augsburg on Wednesday. But Urs Fischer's side can cement their second place in the league with a win over Freiburg who are one spot behind but level on points. The Black Forest club could have overhauled Union on Wednesday, but their six-game unbeaten run was halted by Leipzig. Nevertheless, Die Breisgauer are not where they are by fluke, as evidenced by Christian Gunter and Matthias Ginter. The two defenders are going to the Middle East with Germany. This is the first time that Freiburg have had two players selected for a German World Cup squad (Ginter was the first ever Freiburg player in 2014). This is a sign of the club's tremendous progress and a positive note to strike: that well run fan-owned clubs can still thrive despite the venality and sports-washing intoxicating the beautiful game. Celebrate this fixture. TD
Whatever you watch, have a great weekend. We'll see you again in the new year.