Weekend Boxset: Super Kev's FA Cup odyssey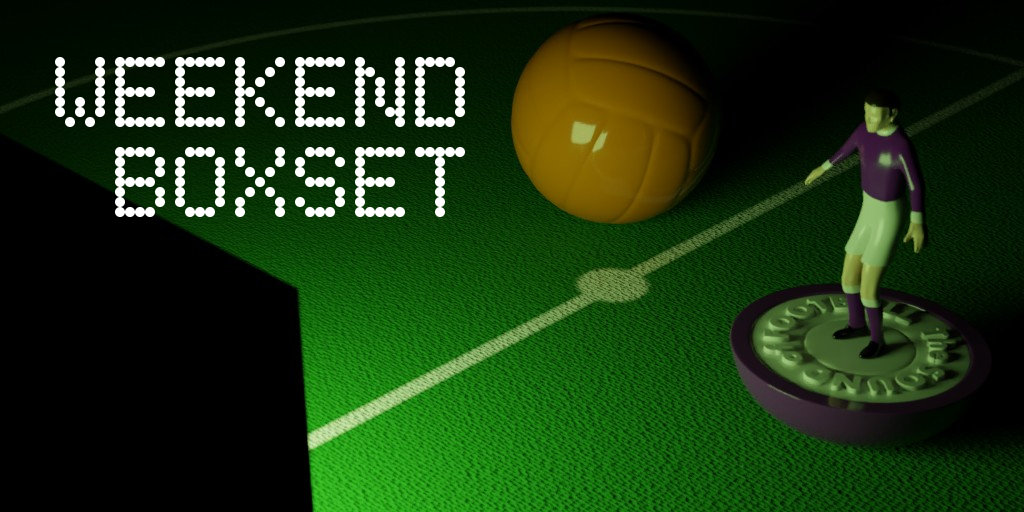 The FA Cup proper starts this weekend with a poignant tie at Hereford. There's also big games in the Premier League and the final of the MLS Cup.
Seven great matches to take you from Friday to Sunday. It's the Sound of Football Weekend Boxset.
Get the Weekend Boxset in an email every week
All times are UK (GMT)
Friday
FA Cup 1st round: Hereford v Portsmouth
19.55 on BBC Two & iPlayer
The atmosphere in Edgar Street will be thick with history. The FA Cup is unparalleled in its ability to create legends and Ronnie Radford, who died on Wednesday aged 79 is one of the all-time cup legends. A part time carpenter, Radford scored the stand-out goal for non-league Hereford United in the 1972 third round replay at home to first division Newcastle United Hereford won 2-1 in what remains one of the all-time great FA Cup giant killings. Sniffing an upset, the Match of the Day cameras were there. So too was the young commentator, John Motson. His commentary, Radford's goal and the young lads in cheap parkas who spilled onto the pitch are etched into English football lore and ache with the romance of simpler times. Marvellous, isn't it? Hereford United went on to become a Football League club but were wound up in 2014. Hereford FC of the National League North are its phoenix club. The inevitable pe-match references to Radford will now be tinged with sadness of his passing. Portsmouth are no strangers to cup history themselves. Winners in 1939, Pompey retained the trophy for seven years while the competition was interrupted by the Nazis. They won again in 2008 during the zenith of those years of financial excess under Harry Redknapp. The club's current position in League One illustrates how far they have fallen since. Now under Danny Cowley they are fifth placed and comfortable favourites to win this game which means that they are also ripe for an upset against a Hereford team playing with the spirit of Radford in their legs. TD
Saturday
FA Cup 1st round: South Shields v Forest Green Rovers
12.00 on BBC One & iPlayer
This weekend sees the kick-off of the first round proper of the world's oldest national competition. Today's fixture takes place at the home of the North East's newest professional club: South Shields. The Mariners, as they are known, play their league football in the Northern Premier along with the likes of FC United of Manchester and Stalybridge Celtic. Their progress to the first round has been impressive, scoring fourteen in the four qualifying rounds, including a 1-0 home win against National League Scunthorpe United in front of a bumper crowd. Manager (Super) Kevin Phillips, who took charge earlier in the year, certainly has his team buzzing. They sit fifth in the league, two points off the top with games in hand and they're still in the FA Cup - not bad for his first managerial gig. Having only reached this stage once before, the Sandancers face a tough challenge today against league one's Forest Green. For the visitors, this will be a welcome distraction from what has the potential to become a fleeting visit to the third-tier. Despite collecting a few wins, they sit second bottom of League One with one of the worst records in the division at either end of the pitch. With players who are used to playing at a much higher level, including a five-goal Connor Whickham (remember him?), this should be an away win. Of course, being from the North-East and idolising Super Kev, there's only one result I want to see. JB
Bundesliga: Werder Bremen v Schalke
17.30 on Sky Sports Football
When I first started taking an interest in the Bundesliga back in 2004, these two clubs were among the best teams in Germany. Now due to a combination of factors (mismanagement being a big one) they both suffered the indignity of relegation. They finished second and third respectively in 2 Bundesliga but they return to the top flight with paired down ambitions. Werder have made a better fist of things under coach Ole Werner. The 34-year-old former Holstein Kiel coach has given the squad a much-needed identity and benefitted from the good form of Niclas Füllkrug whose nine goals have helped his team to a solid eighth place coming into the weekend. Schalke on the other hand are a complete mess. They started the season with Frank Kramer as coach, who was promptly sacked after a terrible start. Shortly after the sporting director, Rouven Schroeder, was let go. Currently second from bottom the club have turned to Thomas Reis to turn things round. Reis had done a brilliant job getting neighbours, Bochum, into the Bundesliga and staying there, last season but he ran out of steam and was fired last month. If Reis can change the culture in the club from fallen giant to plucky underdog, then they have a chance of surviving. However, I suspect that whoever is left in charge at the Veltins Arena are already thinking of next season back in the 2 Bundesliga. TD
MLS Cup Final: Los Angeles v Philadelphia Union
20.00 on Sky Sports Football, Main Event, Mix & Ultra and Viaplay Xtra
This is how you do it, finish your season two weeks before the World Cup starts. It's an idea that could certainly catch on. For both sides this is new territory, neither have made it to an MLS Cup final before let alone won it (remarkably that's only happened twice since the first final in 1996). This is also the first time since 2003 the final has featured the winners of both conferences. That should give this final more of a feeling of the culmination of a full campaign rather than sides that just got a break in the post-season knockout stage. LAFC took their foot off the gas near the end of the regular season allowing Union back in to the race for the Supporters Shield. In the end it was a race LAFC held on to but only just, winning the title on the number of games won after they both finished on 67 points from 34 games. Standout player for Union is Daniel Gazdag who has scored 22 goals from midfield. England fans may remember Gazdag scoring the fourth goal in Hungary's Nations League win over Southgate's side earlier this win. Those fans will certainly remember the Euro 2020 winning captain Giorgio Chiellini who is now easing towards retirement in LAFC's defence. Product of Pep's Barcelona youth academy Ilie Sanchez is the lynchpin of LAFC's midfield while former Arsenal and Real Sociedad striker Carlos Vela has over 20 goal contributions for the season, as does his strike partner Colombian Cristian Arango. Gareth Bale might get a few minutes before he flies off to Qatar but only if they're desperate. GS
Sunday
Premier League: Chelsea v Arsenal
12.00 on BT Sport 1 & Ultimate
The agreement Arsenal struck with Barcelona to take Pierre-Emerick Aubameyang off their payroll had social media's net-spend dudes scrambling for their laughing-cry-face emoji. The story behind the souring of the relation between the club and the player is now clear to anyone who watched the All Or Nothing Arsenal documentary series on Amazon Prime. As narratives go, while the club took a financial hit, things seem to have worked out better for Arteta in the long run. For now at least, he has a side that appear to get along and most importantly know how to win games. Most analysts agree that it's only a matter of time before City overtake the Gunners at the top of the Premier League but there is also agreement that there has been a change for the better at the club. For Chelsea a lot depends on the fitness of a number of key players. Ben Chilwell is the latest in a long line of casualties, sustaining a World Cup denying hamstring pull in added time in their Champions League win against Dinamo Zagreb. The system Graham Potter deploys to counter his mounting defensive issues will be key in this match. In their last Premier League game it didn't work out at all as they were battered by Potter's old club Brighton, though of course they were extra motivated. It could be a bit of extra motivation that tips the balance in this one - will Aubameyang add another twist to the story? I couldn't say, I've never seen him play at right wing-back. GS
Premier League: Tottenham Hotspur v Liverpool
16.30 on Sky Sports Premier league, Main Event and Ultra
Today's meeting caps what has been a good week for both sides. Spurs ended up topping their group winning a knife-edge game away to Marseille and Liverpool became the only side to defeat Napoli this season to finish second. Indeed, this proved to be a welcome distraction for Klopp's men following back to back losses agaist relegation threatened Forest and Leeds. To be fair to Liverpool, injuries and suspensions haven't been kind to them, and the form of certain key players needs to be addressed. For what it's worth, I think they can do better than Thiago and Milner, and while Jones and Elliot are both outstanding talents, they're still a work in progress. Today's hosts have headaches of their own: Son Heung-Min suffered a fractured cheek-bone in midweek and joins Richarlison, Kulusevski and Romero on the injury table. Following back to back losses to Manchester United Football Club and the (dirty) Mags, Spurs came from two-down to beat Bournemouth last weekend. They also started slowly against Marseille, and with an enforced lack of pace up top, Liverpool could do well here. My money is on an away win, but a draw is looking likely. JB
Serie A: Juventus v Inter
19.45 on BT Sport 1 & Ultimate
While neither side are flying high in Serie A, the Derby D'Italia is always a worthwhile watch and can often tell you what's going on with the game in Italy as a whole. Both sides are slowly turning their season around after dismal starts but although they are seventh and sixth respectively, it's so tight at the top that either could still yet have a say in the title race. Of course Napoli have daylight in top spot but, you know… Napoli. Inter at least have managed to hold on to Champions League football in the new year: they were already assured of second place in their group before their defeat to Bayern on Tuesday. Juventus however will be trying their hand in the Europa League, their first time in that particular competition since Antonio Conte was their head coach in 2013. Rumours of him returning persist but at the time of writing Max Allegri is still in post. Maybe if he's still there when the Europa League starts again in February he'll be able to call upon Paul Pogba. This week Allegri blamed the French international's decision not to undergo surgery on his knee injury in the summer for his failure to recover in time to defend the World Cup he helped win in 2018. Inter's upturn in results has coincided with the great form of midfielder Nicolo Barella. The 25 year old has provided six goal contributions since the last international break. GS
Whatever you watch, have a great weekend.