Weekend Boxset: Inform, educate and entertain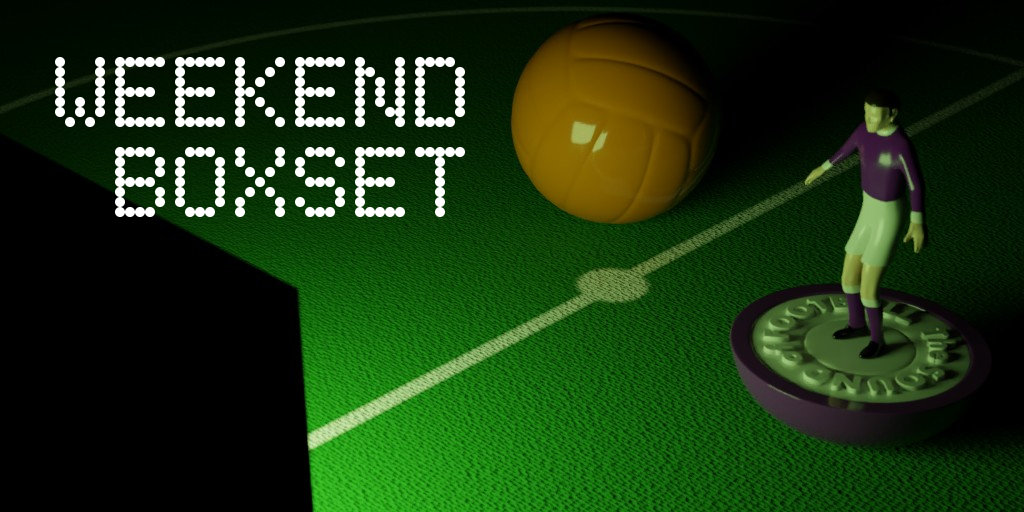 After the furure caused by the BBC management's unjust mistreatment of Gary Lineker, apologies have been rightly made and this weekend's coverage of the FA Cup quarter finals can go ahead as usual, as long as it's ok with the government propaganda machine. In keeping with the current mood, we also welcome back our own Gary -
Gary Andrews
- to preview a crunch late season A-League derby in Sydney.
Seven great matches to take you from Friday to Sunday. It's the Sound of Football Weekend Boxset.
Get the Weekend Boxset in an email every week
Share this with someone on
WhatsApp
All times are UK (GMT)
Friday
Premier League: Nottingham Forest v Newcastle United
20.00 on Sky Sports Premier League, Main Event & Ultra
The (dirty) Mags will be hoping their worst run of form this season will be well and truly behind them having seen off struggling Wolves last Sunday. In their last six, they've drawn winnable games against West Ham and Bournemouth but, to be fair, lost to Liverpool and City - then there was that League Cup final. As things stand, they're four points off basket-case Spurs with games in hand, so, with a good wind behind them, should be playing Champions' League football at St James' Park next season. That will be quite an achievement for Eddie Howe who has managed to side-step justified criticism of the N*wcastle ownership, or is the friendly face of a murderous regime, depending on your point of view. It's easy to forget that when you see the impressive flag displays and the shirtless fans, but take the time to look up NUFC Fans Against Sportswashing on the Twitter for a more balanced view. Hosts tonight are a Forest side also struggling for form. Their saving grace is their home record, which has seen Liverpool, City and Chelsea all fall short. That said, they have some tough games coming up at the City Ground so will need to make it count tonight if they're to stand a chance of staying up. No Chris Wood for this one who is both injured and ineligible to play against his parent club. The bookies have this one down as an away win, but I'd say a draw is more likely - which in the age of no replays means extra time and penalties. JB
Saturday
A-League: Sydney v Western Sydney Wanderers
8.45 on BT Sport 2
"Bang average," was how Western Sydney's Brandon Borello described Sydney's FC's win at Parramatta earlier this year, and while the attacker's words came across a little like a sore loser, it was probably an accurate description of the Sky Blues' season so far and adds some much needed tension as Wanderers head east across the city. In previous seasons this fixture lost a little of its edge thanks to Sydney's dominance and Wanderers off the field disarray but the balance of power has shifted this season as Wanderers eye the finals, and with Sydney old boy Marko Rudan in the hot seat at their hated rivals and doing his best to throw shade at his old employers at every opportunity, this promises to be spiky at the very least. Sydney have a terrible record in front of their home crowds this season, coach Steve Corica is under pressure to keep pace with the top six, and his derby winning hero Max Burgess is suspended. Borello's post match interview may just be a little more celebratory come 10pm on Saturday (local time). GA
FA Cup quarter-final: Manchester City v Burnley
17.45 on BBC One & iPlayer
A northwest derby with more than geography binding them. I'm sure they are already calling this cup tie the
Kompany Klassico
, and if they're not, then the football media game's gone, lads. Vincent Kompany won four Premier Leagues, four League Cups, and two FA Cups wearing the blue of Manchester City. Unless the City fans have become so gaslit that they are belligerent to their own legends, he should receive a rapturous welcome to the Etihad as he leads his Burnley team out. Burnley, under Kompany's management, are a well-balanced outfit that sits comfortably atop the Championship table. We can be confident that this will be a league fixture next season. But the connection does not end there, as, like City, Burnley have fallen foul of the authorities after the EFL imposed a transfer embargo because the club failed to submit its accounts on time. Whoopsie! The club insists that this is all down to them changing their auditors and that they should have all this mess straightened out in time for the summer when the window reopens. Unless you've been living under a neglected accounts ledger for the past week, you'll know that City are in decent shape. Phil Foden, Kevin de Bruyne, and, of course, Erling Haaland have been in amazing form, and assuming they are not rotated, will fancy having a crack at the Championship defense. That said, Burnley have a dangerous weapon up their sleeve in the shape of Nathan Tella. The 23-year-old forward has 17 goals this season. He scored a hat-trick at Hull on Wednesday and a brace against Wigan at the weekend. If the Southampton loanee wants to make a name for himself, then this is the time and place. TD
Serie A: Udinese v Milan
19.45 on BT Sport 2
With Napoli looking like they'll secure the title before the end of April, the entertainment in Serie A is shifting towards how many of the European Super League three will fail to qualify for next season's Champions League. The three remaining spots are being contested by the four teams from Milan and Rome. This weekend looks like one AC Milan could take the advantage, with their nearest rivals playing each other. Sunday afternoon sees the teams either side of the
Rossoneri
in the table face-off in the Rome derby
(17.00 on BT Sport 1)
. Following that is the
derby d'Italia
(19.45 on BT Sport 1 and Ultra)
with second placed Inter facing a Juventus side that is eating up that 15 point deduction and becoming favourites to snatch at least a Conference League place - and if Atalanta can't pull themselves out of their current fug, the Old Lady could even make it into the Europa League. So far up into the north-east corner of Italy, Udine is a city geograpically nearer to Ljubljana than it is to Venice. Having been a relatively low acheiving club for most of their history, Udinese enjoyed a period of success from the late nineties - regularly participating in the UEFA Cup and once making the group stages of the Champions League - but for the last decade they have failed to finish a season in the top half. This season could be their best for a while, with them currently sat in a congested midtable group just three points behind Juve. For Milan this is also a chance to get a close look at one of their summer transfer targets, 21 year old Lazar Samardzic. The Berlin born attacking midfielder joined
Le Zebrette
in the summer of 2021 from RB Leipzig and has found Italian football more to his liking. Having played at every level of youth international football for Germany, this week he opted to joined the Serbian squad for the upcoming international break. GS
Sunday
FA Cup quarter-final: Sheffield United v Blackburn Rovers
12.00 on ITV1, ITVX and STV
My Wednesday evening was well and truly ruined by today's hosts as they came back from 1-0 down to put my beloved Sunderland to the sword, running out 2-1 winners. Despite some very encouraging play from the Lads, United were too good and too strong. Particularly impressive were James McAtee and Tommy Doyle. Both are graduates of the Manchester City Academy and were busy, inventive and generally annoying all evening. McAtee brought the scores level and Doyle scored the winner, which was a mile off-side, but United were worthy winners and, when you're playing well, you tend to ride your luck. United have overcome some good sides to get to the quarters: Millwall in round three was followed by two epic matches against Wrexham's TV stars and a win over Spurs in which Iliman Ndiaye grabbed the winner - he also put two past Rovers earlier in the season in a 3-0 win at Bramall Lane. The win at the SoL saw United back to winning ways after some patchy form, but they meet a Blackburn side who were winning for fun until they bumped into a resurgent Stoke City a few weeks ago. Back to winning ways at the weekend versus Reading, their play-off charge is back on track. Having dumped out Premier League Leicester (for the moment) in the last round, I think Rovers will fancy their chances here. Interestingly, if they manage it, this will be their first FA Cup win over the Yorkshire club in 126 years - bloody hell! JB
FA Cup quarter-final: Brighton & Hove Albion v Grimsby Town
14.15 on BBC One & iPlayer
In 1998, when Grimsby secured a return to what is now the Championship by winning the play-off final at the old Wembley, Brighton were homeless and had finished second from bottom of the Football League for the second season in a row. For Grimsby, the good times were not to last and they suffered more than most from the collapse of ITV Digital in 2002 - being relegated in both seasons following the broadcaster's demise. They've bounced between League Two and the National League ever since. This is the first time they've made it past the third round in that time, but they haven't had an easy ride to this stage, having to beat sides from higher divisions in every round - three League One sides (Plymouth, Cambridge and Burton), One Championship (Luton) and one Premier League (Southampton). In contrast to Grimsby's recent history, the last tweny years for Brighton have seen them go from strength to strength, to a point where they are now enjoying their sixth season in the top flight and on the brink of their first European qualification. While the Seagulls are still in contention for a Champions League place, you just feel there are too many bodies in the way for them to get it, so there's little reason for them to prioritise competitions. Given the positive mood at Brighton, which was only temporarily dented by the departure of Graham Potter, you can't see them taking their foot off the gas for this one, so they should comfortably progress to the semi-finals. If they were to come up against City again at Wembley, you have to feel they will give them a much sterner test than they did in 2019. GS
La Liga: Barcelona v Real Madrid
20.00 on LaLigaTV and Viaplay Sports 1
This is the fourth of five Clasicos this season. The first one was way back in matchday 9, a league match in which Real won 3-1. Since then, Barca have had the upper hand. In Riyadh, they beat their eternal rivals in the Supercopa Final. They were triumphant once again with the characteristic scoreline of 1-0 in the Copa Del Rey semi-final first leg. After this game, the two meet again in the cup in early April. However, this next game is probably the most crucial of them all. The Catalans' lead at the top of the table looks handsome enough, but as the saying goes, nine points is a dangerous margin. If Real, a team with a tendency to produce big performances in big games, can reduce the gap to six, then the title race is definitely back on. A defeat to Almeria aside, Barca have been impressive with a noticeably high number of 1-0 wins, but of concern to coach Xavi is the form of Robert Lewandowski. The Polish goal machine scored 25 goals in all competitions in red and blue until the World Cup, when the machine stopped. His problem was summed up in Barca's 1-0 win at Athletic Club when, in the first half, he latched onto a through ball and messed up his second touch like a 25-year-old Championship striker who will never see the Premier League. For a player of Lewandowski's class and record, it was disturbing to watch. There are still plenty of other options: Raphinha is having a great maiden season and is worth a goal. But it all feels a bit tenuous to me. Still, there's no telling what will happen in this fixture, so you won't find me predicting a 1-0 (Benzema 62') away win. No, sir. TD
Whatever you watch, have a great weekend.