Weekend Boxset: Title racers and title chasers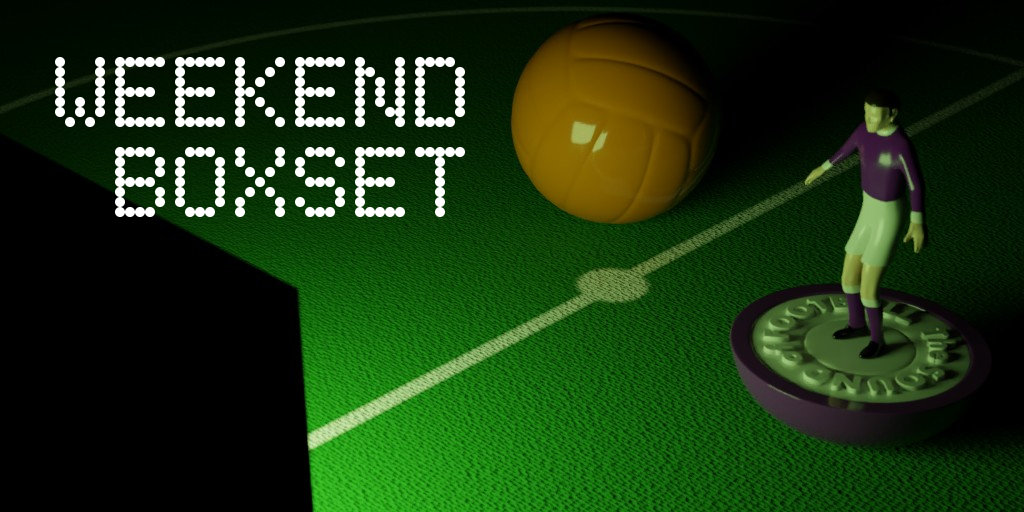 It's March, that time of the year when we all start asking: "is it too early to start talking about the run-in?"
Seven great matches to take you from Friday to Sunday. It's the Sound of Football Weekend Boxset.
Get the Weekend Boxset in an email every week
Share this with someone on
WhatsApp
All times are UK (GMT)
Friday
Serie A: Napoli v Lazio
19.45 on BT Sport 2
Much like Liverpool with their 2019/20 Premier League title win, if Napoli were going to finally get a scudetto it couldn't be a tight scrap with a bitter rival, it would have to be by a country mile. And so, here they are, a full eighteen points clear of their nearest rival and showing no signs whatsoever of easing up. Lazio head coach Maurizo Sarri's three season stint in charge of Napoli saw the side twice come tantalisingly close to snatching the title only to be foiled by Juventus. In 2015/16 Napoli led up to match day 24 before succounbing to a phenomenal run of results from the Old Lady taking 76 points from 78. In 2017/18 it was even closer, this time Napoli lead until match day 26 but again faltered at the end finishing second with 91 points. This time nothing can stop Napoli, even without their fifteen point penalty, Juventus would still be far in the distance. While the race may well be all over in Italy, we should definitely take the time to enjoy Spalletti's Napoli team while it lasts. There's also an intense battle for the Champions League spots - a position Lazio have crept up into thanks to Roma's surprise midweek defeat to, up to that point, winless Cremonese.
Jose didn't react well to that
. The Milan giants sit two points above Sarri's side, if he can snatch second, it would be their highest finish since Sven took them to the title in 2000. GS
Saturday
Premier League: Manchester City v Newcastle United
12.30 on BT Sport 1 & Ultimate
Nothing exudes the rich tradition of the beautiful game like the meeting of two clubs run by despotic, oil rich states. I do bang on about this a lot, I know, but let's not forget that sportswashing their own despicable reputations is the only reason they are here; the football may be wonderful, but the motive is anything but. The champions sit second, five points behind leaders Arsenal who are showing no let-up in their pursuit of the title. After recent hiccups against Man United and Spurs, City appear back on form again, with an unfortunate score-draw away to Forest the only exception. What is slightly scary is that the goals are coming from across the side and not just Haaland. It's easy to forget that Pep's men could still walk away with three major trophies this term and they'll certainly have their tails up today to ensure they don't lose ground to the Gunners who have a fairly straightforward home game against lowly Bournemouth. While still a respectable fifth, the (dirty) Mags have only recorded a single win since the New Year and didn't really turn up at the League Cup final. The highly influential Guimaraes, who came off that day with an ankle injury is a doubt, but Nick Pope should return between the sticks. On that note, Karius wasn't that bad, was he? I think this may be another tough day at the office for the bar-codes; any change in fortune is going to have to wait for another week. JB
Bundesliga: Stuttgart v Bayern
17.30 on Sky Sports Football
We've previously covered this fixture on the Boxset and said this was once one of the biggest games of the season, particularly during the 70s and 80s. However, it's been over a decade since Stuttgart has been decent enough to make the
Sudderby
a significant match. Their name hasn't appeared in bold in the head-to-head column with Bayern, since 2018. Before that, you have to go back to 2010. Currently fourth from the bottom, VfB relieved their coach Pelligrini Materazzo of his duties last month and have lumped for Bruno Labaddia, who is now in the veteran/Red Adair stage of his career. It's not going well for them. Last week, the Swabians suffered the ignominy of losing to Schalke. One correspondent, who has followed Stuttgart since he was a boy, accused the team of playing with fear against the bottom club. Bayern, on the other hand, faced title challengers Union Berlin and secured a truly emphatic 3-0 win at the Allianz. In my opinion, Union coach Urs Fischer made a tactical error by playing with a low block. Despite that, it was a great response by the champions, after the defeat to 'Gladbach the week before. We know that Bayern have played hot and cold, but if they are inclined, it's likely that they will give their old rivals something of which to be fearful. TD
Major League Soccer: Los Angeles v Portland Timbers
21.30 on Apple TV
In a new ten year deal, Apple TV is now the worldwide broadcaster of MLS, but that doesn't mean it comes as part of your subscription package. If you have a subscription to Apple TV, the MLS Season Pass is an additional £79 a year, if you don't have a subscription it's £99. Some games, like this one and four others across this weekend, will be shown for free. In the US, this match is also being carried by Fox but it's not clear as yet if they will be allowing broadcasters in the UK to carry any games. While this might look a bit of a gamble from MLS, part of the deal sees all season ticket holders of MLS clubs getting a free TV pass for all games, a pass they can share with five friends. LAFC didn't play in the opening weekend, so start the defense of their crown at home against the 2021 MLS Cup runners up. Of course LAFC will have to get used to life without Gareth Bale, though his contribution to their Supporters Shield success is debatable. He certainly had a big impact in the MLS Cup, scoring an injury time of extra time equaliser that led to their shoot-out win over Philadelphia. It looked for a while last month that another high-profile aging misfit was going to replace him but Pierre Emerick Aubameyang choose not to follow in Bale's footsteps and stay on the fringes at Chelsea. The transfer window for MLS doesn't close until next month so there's plenty of time for him to change his mind. GS
Sunday
FA Women's League Cup Final: Chelsea v Arsenal
15.00 on BBC One & iPlayer
While, as with the men's version, the League Cup is ranked third for domestic trophies, that doesn't mean it's escaped the huge upturn in interest in women's football. Advanced ticket sales for this final at Selhurst Park topped 20,000 in midweek, and to give some context as to how impressive that is, that's more than the combined attendance of the previous five finals. OK, one of those was behind closed doors but that's still a very impressive statisic. As for the game itself, it's hard to see any other result than Chelsea to win and regain the trophy they won in 2020 and 2021 but lost in the final to City last year. The two sides met as recently as last week in the FA Cup at Chelsea's Kingsmeadow. It was a one-sided win for the home team with Arsenal's ongoing problems up front now leading to growing frustations across the pitch. Having been unable to strengthen in attacking positions in the transfer window, Jonas Eidevall is struggling to come up with successful strategies with what's available to him, especially against well-coached opposition. Emma Hayes is also missing key players but with a much deeper well of talent to call on can manage perfectly well without the likes of Pernille Harder and Fran Kirby. GS
Premier League: Liverpool v Manchester United
15.00 on Sky Sports Premier League, Main Event & Ultra
Cast your mind back to late August when, having lost their opening two games, everyone was calling United a crisis club with their new manager christened 'Erik ten Games'. As amusing as those times were, condemning both club and coach to the dustbin so soon was ill-judged. For the chaps on your favourite podcast, it was harmless banter, but for those in the fortunate position to be ACTUALLY PAID TO WRITE ABOUT FOOTBALL, the knives were out - if it bleeds it leads. Fast forward to this weekend, and ten Hag is the best thing since Edam, clogs and liberal drug laws. With one trophy already in the cabinet, United could finish the season with four. That may well be a stretch, but three is not out of the question: only City look like a problem in what's left of the FA Cup and they're as strong as any in the Europa League. Standing in their way today are a Liverpool side who have had a piss-poor season by their own high standards. A good home record will only get you so far, but perhaps four Premier League clean sheets in a row is a sign of better days to come. United's scouts will have watched with interest the Red's calamitous defensive performance at home to Real Madrid last week, thinking ahead to what Rashford might do if he's given even a whisper of a chance. It'll be a tough battle for both sides, but United are on such a roll I can't see them not winning here. JB
La Liga: Real Betis v Real Madrid
15.00 on LaLigaTV and Viaplay Sports 1
Real Betis have now won three matches in a row, with their latest being an absolute ding-dong. They were 2-0 down to bottom of the table Elche at half-time, but the game was turned on its head thanks to a VAR decision to turn Lysander Magellan's yellow card for handball into a red. The Elche camp was so enraged that unused sub, Pape Cheikh, was sent off for dissent. With a man advantage, Borja Iglesias got Betis back in the game from the penalty spot. Juan Miranda equalized, but it looked like they would miss out on the win after Iglesias missed a second penalty on 88 minutes. However, there was still time for more shenanigans. Elche's Chilean defender Enzo Roco was judged to have handled the ball in the area deep into injury time, including one earlier for Elche that was the fourth penalty of the match. Roco was also sent off for making his feelings clear to the referee. This time, Willian Jose converted the spot-kick to complete the comeback. But there is some bad news for Betis: attacking midfielder Nabil Fekir has torn his ACL and is out for the rest of the season. The Frenchman is a huge loss to coach Manuel Pellegrini, especially given what's ahead of them. Real Madrid were disappointed to only get a 1-1 draw against Atleti last week. The Boxset will miss the Cup Classico tonight (Thursday), which may have a psychological bearing on the title race if they knock out the league leaders and win in Andalucía. TD
Whatever you watch, have a great weekend.