Weekend Boxset: Big Sam's back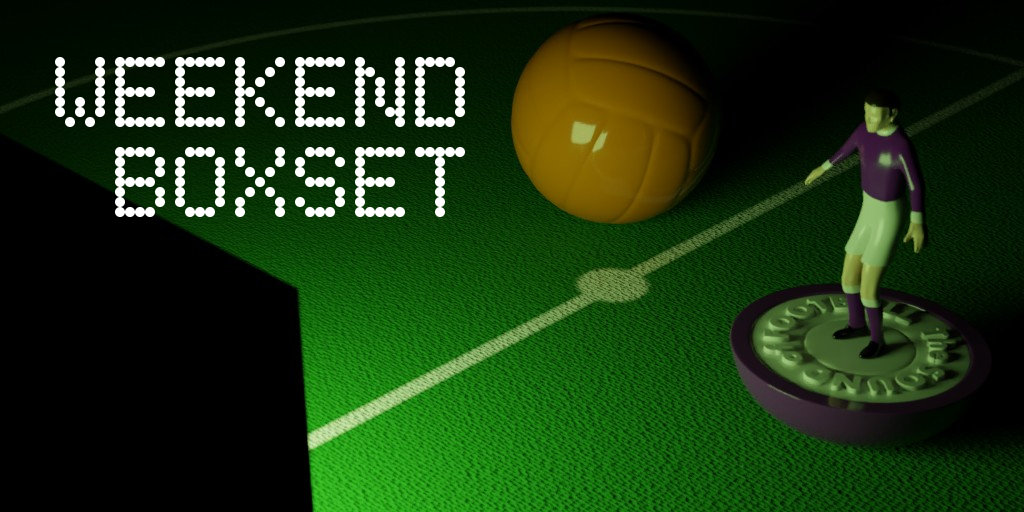 Just when you thought this season couldn't throw you any more curve-balls, Sam Allardyce returns to perform another great escape. Well there's no one better, is there.
Seven great matches to take you from Friday to Sunday. It's the Sound of Football Weekend Boxset.
Get the Weekend Boxset in an email every week
Share this with someone on
WhatsApp
All times are UK (GMT+1)
Friday
Women's Super League: Arsenal v Leicester City
19.30 on Sky Sports Football, Main Event & Ultra and Sky Showcase
When the sides met back in November, Leicester were six games in to a season opening run of nine straight defeats. Lydia Bedford, was sacked as head coach of the Foxes in the time between giving her pre-match press conference and the game kicking off. She was replaced by the new director of football Willie Kirk but improvement wasn't instant: his third game in charge was an 8-0 hammering at home to Chelsea. Since the start of the year, however, Leicester have earned all of their season's 13 points in nine games played. That may not sound that impressive but it is significantly better form than their rivals in the battle to escape relegation. As for Bedford, she is now working as an assistant coach for the Gunners. While there is still a not unrealisitc scenario that sees all of the top four finish on the same number of points, this Arsenal side is running on fumes. After their heartbreaking Champions League semi-final exit to Wolfsburg on Monday, you have to wonder if they have the fight left in them for the run-in. As well as the disappoinment of defeat, the Gunners also lost yet another player to an ACL injury. Austrian full-back Laura Wienroither was yesterday confirmed as the club's fourth ACL injury in six months. In positive news for head coach Jonas Eidevall, for this game Arsenal can welcome back the experience of March signing Jodie Taylor as well as Brazilian teenager Gio, both of whom were ineligible for the Champions League. GS
Saturday
Premier League: Manchester City v Leeds United
15.00 on Sky Sports Premier League, Main Event and Ultra
On a day all about archaic tradition, Saturday-three finally gets its marching orders, albeit temporarily, so that this fixture doesn't clash with the coronation of King Charles III. Annoyingly for KC3, Hannover's game at Karlsruher hasn't been moved and goes ahead at twelve o'clock, right about the time he gets his new diamond hat. In other landmark news, Erling Haaland became the Premier League's highest ever scorer, reaching thirty-five in midweek against West Ham. Of course, football wasn't invented in 1992, meaning Haaland's haul isn't quite as good as, say, Jimmy Greaves or Dixie Dean, to name just two. A few days ago, you'd have been forgiven for thinking that this game would be an absolute rout, especially given the piss-poor form of today's visitors - somebody, somewhere is holding Sam Allardyce's pint (of wine). Big Sam was brought in at the expense of Javi Gracia on Wednesday who oversaw a dire two months at the West Yorkshire club. Four games to go with the first one away to City saw a bullish Allardyce claim "I might be sixty-eight and old but there's nobody ahead of me in football terms. Not Pep, not Klopp, not Arteta..." That's quite a statement, but someone has to supercharge the confidence of this Leeds side, and I think Big Sam might be the man to do it. His, frankly, undeserved reputation as the purveyor of ugly football saw him described in one newspaper this week as 'the anti-Bielsa', which makes his comments about his fellow coaches even more endearing. Expect a much more organised defence from Leeds today. Their sixty-seven conceded is the worst in the division and has to be the priority for Allardyce if they are to have any hope of staying up. The new manager factor and the presence of such a big personality is not the ideal preparation for Pep's side who face Real Madrid on Tuesday. As for KC3, will he be as bullish in his new role as Big Sam? "I might be seventy-four and old but there's nobody ahead of me in kingly terms. Not Æthelstan, not Tudor, not Longshanks..." JB
Bundesliga: Werder Bremen v Bayern Munich
17.30 on Sky Sports Football
This fixture serves as another reminder of the huge changes in the Bundesliga over the last decade. This used to be a top fixture between two well-matched teams. Once Werder Bremen was a top club in Germany; regulars in the Champions League and themselves, Bundesliga title winners. Today, they are a newly promoted club grateful for their moderately safe position in twelfth. I say moderately because people still remember the circumstances of their relegation two seasons ago, in which Werder looked safe with six games left but went on a horrific losing streak that saw them relegated on the last day. No one will be playing in their flip-flops on the banks of the River Weser. In Niclas Füllkrug, the club boasts the league's top scorer and he was one of the few good news stories for Germany in the World Cup. They will need the 30-year-old's instincts to be at their sharpest as they seek to pierce the Bayern Munich defence. The Bavarians are back at the top of the table thanks to a less than convincing win against Hertha, coupled with Dortmund dropping two points at Bochum. While clearly not at their imperious best, Bayern still has enough to take the title, but if Werder can lift themselves, or if their coach, Ole Werner, puts on a tactical clinic, we may have the title race for a while longer. TD
Copa del Rey Final: Real Madrid v Osasuna
21.00 on BT Sport 1
Firstly, hats off to the Spanish Football Federation for clearing the decks this weekend and making the Copa del Rey Final the only show in town. I mean, goodness knows what it's doing to the La Liga schedule, but this is a surefire way of ensuring that all Spanish eyes will be turned on La Cartuja stadium in Sevilla. When Osasuna was featured on the Boxset earlier in the season, I talked about its uncommon fan ownership model and how the club has rebuilt itself. Now that hard work has been rewarded with a cup run and only the second final in history. Their first was in 2005, where they lost to Real Betis, 2-1 in extra time at the Calderon stadium in Madrid. The Pamplona club are clearly the underdogs, but they go into the final off the back of two league defeats to Barcelona and Real Sociedad. Also, Osasuna have not beaten their opponents in any competition since 2011. Real Madrid is, unsurprisingly, frequent winners of the cup. They have lifted the trophy on 19 occasions - and famously dropped it once too. While a Champions League date with Manchester City may be on the mind of Carlo Ancelotti, so too is the fact that with Barcelona almost certain to be crowned champions, this could be the only trophy incoming this season, which is never a good thing for any Real Madrid coach who wants to keep his job. So, the odds are stacked against Osasuna, and there are a bevy of upper mid-table La Liga clubs hoping for a Real Madrid win as it serves their narrow Conference League ambitions. Sounds like ideal conditions for an upset, don't you agree? That's the spirit! TD
Sunday
National League play-off semi-final: Notts County v Boreham Wood
12.30 on BT Sport 1
Despite racking up a total of 107 points and losing just three of their 46 matches this season Notts County need to win two more games if they are to return to the EFL. Of course on paper it should be a mere formality for them to first get past a team they finished 35 points ahead of in the table, but as we all know that's not how football works. Notts County have reached the playoffs in every season they have played in the the National League, but they've been getting worse each time. Losing in the final to Harrogate in 2020, they went out in the semi-final to Torquay in 2021, and the quarter final in 2022 to Grimsby. Boreham Wood are a steadily upwardly-mobile side who last reached the play-offs in 2020 - also going out to Harrogate but at a stage earlier. Thanks to their deal with Arsenal (whose London Colney training centre is nearby) which sees them share their home ground with Arsenal women and the men's u23s, they have probably the best playing surface outside of the Premier League. Zimbabwean striker Lee Ndlovu (as we understand, no relation to the Coventry legend Peter) scored twice in the first half against local rivals Barnet on Tuesday night to help them here.
The other semi-final is Chesterfield v Bromley which kicks off on this channel at 15.30.
GS
Scottish Premiership: Heart of Midlothian v Celtic
14.15 on Sky Sports Football
Victory for Celtic will seal their 53rd league title, just two behind Rangers. Ange Postecoglu's side are on course to beat the record points tally they set in their unbeaten season of 2016/17 under Brendan Rodgers. They've also already scored more than a hundred league goals, so there are goal-scoring records ready to tumble as well in their remaining five games. They need nine more goals to beat the post-war record, while fourteen more would give them a new all-time club record. It might be a stretch however for them to get to the seventeen they need to beat Motherwell's all-time league record of 119 from 1934. Kyogo Furuhashi, one of five Japanese players at Celtic, tops the goal-scoring table with 23 - if you'd like to read about how good he is I can recommend
this piece by our friend Chris Nee on substack
. Hearts' Lawrence Shankland isn't too far behind though in the scoring charts having picked up a hat-trick in the 6-1 win against bottom-placed Ross County in the last game before the end of season split. That win ended a run of defeats that had seen manager Robbie Neilson sacked and replaced by former Everton midfielder Steven Naismith as an interim. Naismith was previously in charge of the reverses at Hearts having finished his playing career at the club in 2021. Assuming Celtic don't slip up against Inverness in the Cup final, third place in the table would see Hearts in the Europa League next season, though to get there they will need to close a five point gap between themselves and Aberdeen, so they may have to settle for the Conference League. GS
Premier League: Newcastle United v Arsenal
16.30 on Sky Sports Premier League, Main Event & Ultra
The lazy "they've bottled it" cry enjoyed a deserved hiatus in midweek when Arsenal put a pathetic and disjointed Chelsea side to the sword. That cathartic win came off the back of three draws Arteta was expected to win, and a hammering at the hands of his former mentor, Guardiola. While encouraging, it's unlikely to be enough to bring the title back to North London for the first time since 2003/04. While it's an easy observation for the neutral, Arsenal should be incredibly proud of their achievements this term. Turning a fifth place finish into second is stellar progress by any measure and the fact that they headed the table for much of it further underlines their success. Today they travel to fortress St James' which has been a graveyard for some London sides, not least, arch-rivals Tottenham. Eddie Howe's side have scored a staggering thirteen goals in their last three games with Callum Wilson, Joelinton and Alexander Isak all in sparkling form. A win today would see the (dirty) Mags gain a real foothold on third place, an achievement which even I can't help but applaud. While there will forever be a dark cloud hanging over this particular period in their history, in purely footballing terms, Howe has pulled together an exciting and talented side without any ostentatious expenditure, which is a road they sensibly chose not to go down. Today, I think they will be too strong for the visitors whose defensive frailties could be exposed in the intimidating cauldron that is St James'. Not that I'm suggesting a repeat of the Tottenham result, but I fear today may well confirm City as Champions in all but name. JB
Whatever you watch, have a great weekend.