Weekend Boxset: To be continued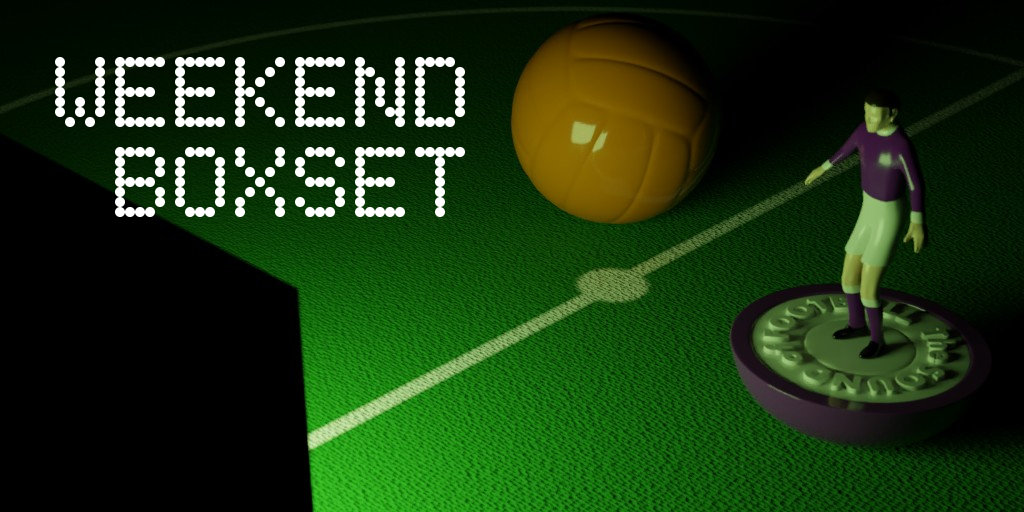 While many leagues are stretching into June this season, the action is already beginning to concentrate. This edition of the Boxset will be the last for season 2022/23 and there are some huge games in it. So huge in fact that for a few of them the story stretches on into other games across the weekend.
Seven great matches to take you from Friday to Sunday. It's the Sound of Football Weekend Boxset.
Get the Weekend Boxset in an email every week
Share this with someone on
WhatsApp
All times are UK (GMT+1)
Friday
League One play-off semi final 2nd leg: Barnsley v Bolton Wanderers (1-1)
20.00 on Sky Football, Main Event & Ultra
The winners of this tie will play Sheffield Wednesday who pulled off the biggest comeback since Lazarus last night, reversing a four-goal deficit to send Peterborough out on penalties. The first leg of this fixture was a more tame affair with Bolton grabbing the equaliser with their only shot of the game. Barnsley went into the tie with two defeats in their last three, but they came at the hands of already promoted Ipswich and play-off rivals, Peterborough - not as bad as it looks, then. Certainly, they impressed in the first leg against a Bolton side in fine form. The return of captain Mads Andersen, who missed the run-in, helped to firm up their defence and they'll be looking for something similar this evening. That said, tonight's game will be the fifth of the season between the two sides, with both claiming a win apiece, so expect it to be tight. For what it's worth, my money is on Barnsley, which definitely isn't, in any way, related to a lazy 'Bolton are on the wrong side of the Pennines' prejudice that I just can't seem to shake. Nope, this is expert and objective reasoning based on critical analysis - Barnsley three-one. JB
Saturday
A-League semi-final 2nd leg: Central Coast Mariners v Adelaide United (2-1)
10.45 on BT Sport 3
Before our man in Sydney, Gary Andrews, settles in for this summer's Women's World Cup, the A-League is coming to an exciting close.
This is a fixture that has fun and chaos written all over it (so will probably be a tepid goalless draw, after me writing this). Adelaide and the Mariners have been two very easy-on-the-eye teams this season, capable of producing scintillating displays and brimming with attacking talent. The two teams have been neck and neck in the table for most of the season, vying for second place behind petrodollar Death Star outfit Melbourne City, with Adelaide's inability to consistently keep a clean sheet keeping them out of the top two and costing them victory in the home leg last week. The Mariners should be home and dry as they look to see out the tie in Gosford, but Adelaide are at their best when going full throttle and possess the league's best player in Craig Goodwin, who is in the form of his life. It's do or die for the Reds, which should make this match anything but dull. Get your cornflakes ready, this should be a treat. GA
The winner of this will face either Melbourne City or Sydney - which is happening right now!
League Two play-off semi-final 2nd leg: Stockport County v Salford City (0-1)
12.30 on Sky Sports Football, Main Event & Ultra
A goal from Salford's Matt Smith separates these two greater Manchester based clubs who have followed similar paths in recent seasons but have different histories. I have fond memories of the Stockport County side that marched through the lower divisions in the early 90s under manager Danny Bergara. County were once described in Football Monthly magazine as one of the best teams in England playing outside the top tier. Later in the decade, under Dave Jones, the Hatters reached the second tier and a League Cup semi-final. However, financial problems caused the club to go into near terminal decline. They plunged as far at the Conference North in 2013. Since then, the only way has been up. As the
Daily Quizzing Twitter account states,
Stockport County are the only club in the top four tiers of English football to improve their league position in the last nine seasons. They returned to the EFL last season, under coach Dave Challinor, and finished fourth. Salford City are best known for their owners, who consist of a few of the Class of 92 Manchester United former players, including Nicky Butt, Ryan Giggs, Gary Neville and David Beckham. As well as Singapore businessman Peter Lim, whose project to destroy Valencia comes to an end this season. They took a modest Northern Premier League club, pumped it full of cash, garnered favourable media coverage and got them into the EFL. While doing so, they changed the club colours and radically redesigned the badge. But despite their impressive rise they have not brought their community with them. Only Harrogate has fewer fans, according to the average attendance figures for League Two, compared to Stockport that has the second highest in the division. TD
Stay on these channels for the other League Two play-off Carlisle United v Bradford City which follows this match from 15.00.
Bundesliga: Bayern Munich v RB Leipzig
17.30 on Sky Sports Football & Mix
Since Dortmund dropped points at Bochum three weeks ago, this matchday was always likely to be the Bundesliga title decider. If Leipzig can get something at the Allianz then the door swings open for Borussia, assuming they can beat a lowly but difficult Augsburg team. Bayern warmed up for this potential decider, last week against Schalke. Much was made, in the media, about Schalke's dilemma. A win would ease their relegation woes but help their blood enemies, Dortmund. But I suspect that didn't even come into it, given the Gelsenkirchen club's trouble this season. They lost 6-0. And Bayern should have no fear of their oncoming opponents. RB have never won in Munich and mustered only two draws in the short head-to-head record between these two clubs. In fact, the East German club has only beaten the record champions once and that was back in 2018. But previous encounters only tell you so much. The fact is that Marco Rose's team are above Bayern in the form table. Leipzig have won seven in the last eight matches and have yet to cement their top four position so there is plenty at stake. Of course, what would be typical is Dortmund imploding at Augsburg with Bayern romping to victory and winning one of the most exciting titles races, in years, with a week to spare. Stick that on your coupon. TD
The Bundesliga title race action continues on Sunday with Augsburg v Dortmund on Sky Sports Football, kick off 16.30.
Sunday
Women's Super League: Chelsea v Arsenal
12.30 on BBC Two & iPlayer
Immediately following England's success in the 2022 Euros, this was always going to a huge season for the WSL and it hasn't disappointed. The penultimate weekend of the season sees three clubs still within a shout of the title, the Champions League places still to be decided, and a four way battle at the foot of the table to avoid the one relegation place - not bad for a league with just 12 teams in it. Chelsea can win the title today if they win here and Manchester United fail to win their local derby against a City side who are hoping that Chelsea can beat Arsenal and keep them in the hunt for the third Champions League place. Defeat for Chelsea would allow United the chance to take the title by winning their remaining two games. Defeat for Chelsea seems unlikely though as they march imperiously towards their fourth successive title - scoring 17 goals in their last three WSL games without reply. Australian talisman Sam Kerr is in devastating form going in to her home World Cup and it was her late equaliser at the Emirates in January that means that Arsenal are unlikely to catch Chelsea even with a win here. Arsenal's injury woes got even worse in midweek with Swiss international Lia Walti having to be stretchered off in the side's 4-1 win over Everton after an "unintentionally reckless challenge". That's how Chelsea loanee Aggie Beever Jones, who was issued a red card for the tackle, described it in an emotional social media apology. There's no news on the severity of Walti's ankle injury but she too has been on social media to accept the 19 year old's apology and hopefully defuse any more of the sort of the online unpleasantness that these things can generate. GS
Either way this game goes, it will have a huge meaning to the sides in the big derby match, Manchester United v Manchester City, which is on Sky Sports Football and Premier League, and on Sky Showcase from 18.45.
FA Trophy Final: Halifax Town v Gateshead
16.15 on BT Sport 1
With the National League Promotion Final now being played at Wembley and coming just a week before this, you could say the value of the Trophy - the top knockout competition in non-league football - has been diminished. Not that that will matter to the fans of these sides who finished mid-table in the National League, neither in danger of relegation or troubling the play-offs.
Both sides are phoenix clubs, though in a reversal of the norm, both sides dropped the AFC from their original name. The original Gateshead side was voted out of the league in 1960 (replaced by Peterborough United), folded in 1973 and reformed in 1977. The original Halifax Town folded in 2008 six years after their second relegation from the league. Starting again at step four of non-league that same season, the new
Halifax Town went on to win the FA Trophy in 2016, beating Grimsby 1-0 at Wembley in the first Non-league Finals day. Head-to-head this season favours the Shaymen with Gateshead goalless from the two meetings. Gateshead's 39 year old player-manager is former Newcastle defender Mike Williamson. You might remember him as the player the then caretaker manager of the (Dirty) Mags, John Carver, accused of getting himself sent off in an end of season defeat to Leicester in 2015. GS
As mentioned, the Trophy Final is part of the Non-league Final Days double-header with the FA Vase Final Ascot United v Newport Pagnell Town, which is earlier on this channel, kicking off at 12.15.
Primeira Liga: Sporting v Benfica
20.30 on BT Sport 3
This might be the last preview of your weekend boxset this season, but don't expect anything other than an entertaining spectacle tonight - this Dérbi de Lisboa has a lot riding on it. The hosts currently sit in fourth spot a massive twenty points clear of Vitoria de Guimaraes in fifth. While Europa League qualification is already in the bag,
Os Leões
badly need a win tonight to stand a chance of catching third-place Braga and the Champions League qualifiers. It's been a bit of a mixed season for Sporting, a busy summer of transfers going both ways, meant they struggled to gel early on. However, the turn of the year saw them get into their stride and they've only suffered defeat twice since. They did struggle a little last time out when a relegation threatened Maritimo looked to be heading out of O Estádio José Alvalade with all three points when a late own goal and an injury time winner from Sebastián Coates (remember him?) saved their blushes. For the visitors, a win tonight could see them crowned champions if rivals, Porto, fail to beat Famalicao. Not that I think that's going to happen; Porto are in blistering form and will want to retain their title however unlikely that may be. It was a two-two draw in the reverse fixture with Gonçalo Ramos scoring both for Benfica - I'd expect something similar tonight. JB
Whatever you watch, have a great weekend and enjoy the summer. See you again in August when the Women's World Cup will be in full swing.