Weekend Boxset: The EFL play-offs 2023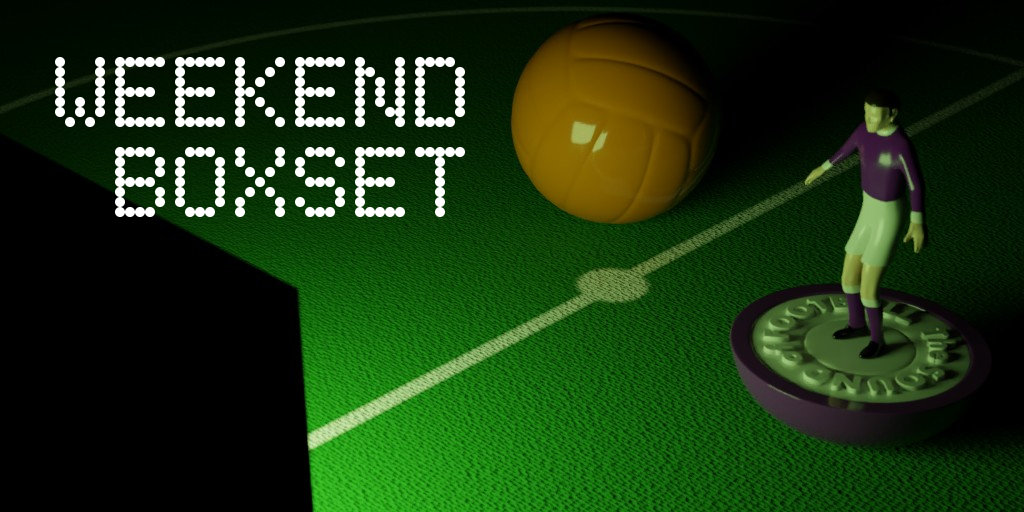 It's a rare all-English line up for this Boxset. Not only is there's just too much unmissable play-off action, there's also a record breaking Women's FA Cup Final from a sold-out Wembley.
Seven great matches to take you from Friday to Sunday. It's the Sound of Football Weekend Boxset.
Get the Weekend Boxset in an email every week
Share this with someone on
WhatsApp
All times are UK (GMT+1)
Friday
League One play-off semi-final 1st leg: Peterborough United v Sheffield Wednesday
20.00 on Sky Sports Football, Main Event & Ultra
Back in January 2011, Darren Ferguson returned to Peterborough to help them get promoted to the Championship via the play-offs. With Ferguson coming back to the club for his fourth term in charge this January, could history be repeated? Despite having pushed for automatic promotion all season, Wednesday already knew their fate before the last day of the season. Unable to catch Ipswich in second place, they still showed up to beat Derby and thus deny them a play-off place. That place was readily snatched by Peterborough as they beat Barnsley - who are in the other semi-final against Bolton. Last season at this stage, Wednesday were knocked out by Sunderland, who had finished just point behind them in the table. This time around they face a side that finished with 19 fewer points but, of course, that means nothing here. Having led the table in February, Darren Moore's side may have disappointed in the run in but they have finished strongly, winning their last four games coming into this. Peterborough, on the other hand, have a look of a side that has fallen into the play-offs by accident. Surely Wednesday have suffered enough, haven't they? GS
Saturday
Premier League: Leeds United v Newcastle United
12.30 on BT Sport 1 & Ultimate
A win for Newcastle at Elland Road will not be enough for them to qualify for the Champions League but it will take them a step closer. This makes them less than ideal opponents for a Leeds team desperate for a win and would rather be facing a team in flip-flops. Latest manager, Sam Allardyce, did not get off to the best start to his Leeds United relegation rescue mission. However, he was pleased with his new charges second half performance in their 2-1 defeat to Manchester City. Granted they could have gone 3-1 down, were it not for a penalty miss (or was it tipped onto the post by the keeper?) from hattrick seeking İlkay Gündoğan but the veteran coach was heartened by the teams resolve and felt that City were a bit nervous towards the end. Hmm, I'm not sure about that but if you say so, Sam. Still there was enough there to suggest that the home support will be raring to get behind their players when Newcastle come to play. Speaking of, last weekend's 2-0 defeat was only Newcastle's fifth league loss this season. If it weren't for all those pesky draws - only Brentford have more - we might have enjoyed a three-way title race this season. Seven of Newcastle's eleven draws have been against teams that, at some stage of the season, have been relegation strugglers, including Leeds. If Eddie Howe's team has a systemic weakness against weaker sides, then Big Sam will find it. After all, there is nobody ahead of him, in football terms… apparently. TD
National League promotion final: Notts County v Chesterfield
15.30 on BT Sport 1
The National League title race was all about Wrexham and Notts County. Well, in fairness, it was mostly about Wrexham, Notts County just brought the much-needed jeopardy to proceedings. Now it's Notts County in the position of not cocking it up against those looking to spoil their amazing season - and they came pretty close to doing just that against Boreham Wood in their semi-final. Going in 2-0 down at half time it looked like it was curtains for the Magpies but there was still just enough Hollywood magic in the National League to produce a memorable comeback. Aiden Baldwin snatched an equaliser in the sixth added minute to take it to extra time, in which Jodi Jones scored at the very end. Hopefully for head coach Luke Williams that match will have shaken his side enough to put in a more dominant effort for this one, but he's up against somene who has in the past been a specialist in getting teams up. In Paul Cook's first spell in charge of Chesterfield he took them up from League Two and into the 2015 play-offs for promotion to the Championship. They failed, but Cook went on to gain promotions for Portsmouth and Wigan and, having had an unsuccessful brief spell at Ipswich, is back with the Spireittes. They too had a fight on their hands to win their semi-final 3-2 against Bromley. They also needed extra-time and had to come from behind. This is the third season in a row that both sides have ended the season in the National League play-offs. Coincidently, it also finished 3-2 when these sides last met in the National League play-off quarter final in 2021; Notts County eventually winning having - yes, you've guessed it - been behind, twice. You couldn't make it up. GS
Championship play-off semi-final 1st leg: Sunderland v Luton Town
17.30 on Sky Sports Football, Main Event & Ultra
I'm beyond excited about this one. Sunderland, having surprised everyone with both their performances and form this season, qualified for the play-offs in spectacular fashion with an impressive victory at Preston last week. Blackburn's epic comeback at Millwall meant the Lads get the opportunity to reverse the dismal back-to-back relegations which everyone got to witness on Netflix a few years ago. Not that this isn't deserved; Tony Mobray has perfectly delivered on the owner's vision, creating a young side playing, at times, absolutely beautiful football. He leads his team into this fixture with four wins in their last six and sky-high confidence. His opposite number, Rob Edwards, has worked wonders since joining the club in November. Working with a side already just a point outside of sixth, they finished a comfortable third with outstanding wins against 'Boro and Sheffield United along the way. Sunderland won't make it easy for them today, but the Lads are better away than on home turf. A draw will be a big frustration for the expected forty-five thousand Mackems, which will add to the pressure. Edwards rested a number of his players in their draw at home to Hull, knowing that third was already secured. Fresh legs could make the difference today, and Sunderland may have to make do without both Dennis Cirkin and Lynden Gooch, forcing more defensive changes. However, Mobray has dealt with such challenges all season and still got results. It's a big one for both sides - Haaaaa'wwwaaaayyyyyyaaaaa! JB
Sunday
Championship play-off semi-final 1st leg: Coventry City v Middlesbrough
12.00 on Sky Sports Football, Main Event & Ultra
While the drama unfolded at Millwall and Preston, these two sides played out quite a sedate score-draw last Saturday. To be fair, with both goals scored by half-time, it was in neither sides' interest to wear themselves out or even injure themselves knowing that their respective play-off places were secured. A draw in their final game of the season proper saw today's hosts extend their unbeaten run to an impressive seven games, enough to grab fifth spot and a shot at promotion. Boro, on the other hand, have managed just two wins since Cov started their charge up the table as the remarkable run they went on after Michael Carrick's arrival stumbled to a plod. The bookies have Boro as favourites to go up, which is a bit of a head-scratcher given their recent form. That said, Carrick does have a lot, and I do mean a lot, of experience when it comes to knock-out football. His extensive trophy haul as a player is testament to this and his side will benefit from the insights he will no doubt bring. Success in the next three games may well see 'Boro swap places with fellow North Yorkshire club, Leeds, a fact which, it seems, hasn't stopped lazy articles talking up the prospect of an 'all North-East final' should Sunderland make the cut. JB
Women's FA Cup Final: Chelsea v Manchester United
14.30 on BBC One & iPlayer
A footballing adage, attributed to Sir Alex Ferguson and often used at this time of year, is "
don't play the occasion, play the game
". When Sir Alex left United in 2013, so too, under considerably less fanfare, did a teenage Katie Zelem. Back then, United ran a girls' football academy but had no senior team set up for them to go to. So she went to Liverpool and then Juventus before returning to United when their professional Women's team was created in 2018. Passing the FA's financial requirements, United were dropped into the Championship and won it in their first season. Now they find themselves top of the WSL and with a chance of winning their first major trophy. In their way is Emma Hayes's Chelsea, a side that have already won four Cup finals at Wembley since the final was moved there in 2015, and are also likely to overhaul United in the league to claim their fourth successive title. If all that didn't make enough of an occasion, Wembley is sold out for the first time for a women's club match. So which team will play the game rather than the historic occasion? Chelsea have certainly been there and done it all but United have plenty of big game players too, including three from when Wembley was sold out for the Euros final last summer: Mary Earps, Ella Toone and Alessia Russo. Katie Zelem just missed out on the Euros but she'll lead out United at Wembley and just maybe lift their first silverware. GS
Premier League: Arsenal v Brighton & Hove Albion
16.30 on Sky Sports Premier League, Main Event & Ultra
I think we can get away with describing Brighton's form as "patchy". Three of their last seven Premier League games were defeats. The other three have been impressive wins against Wolves, Man United (which in no way makes up for their agonising, gut-wrenching FA Cup semi-final penalty shoot-out defeat) and, er, Chelsea. OK so mostly impressive wins. The latest and most surprising loss was that 5-1 shock home reverse to Everton. What I found particularly
funny
interesting was how the stats show Brighton were clearly the better side: more shots, better passing accuracy, greater possession and better xG. In fact, apart from the Forest defeat, Falmer FC have out-xG'd their opponents in every league game going all the way back to mid-March against Crystal Palace. So, what do we glean from this? That all Brighton's defeats were actually pretty close with the Everton game being a freak result? If so, Gunners beware. Brighton are still dangerous and have plenty of skin in the season. Arsenal are probably not going to win the league. However, Mikel Arteta deserves huge credit for keeping his team engaged after that crushing defeat to Man City. Lesser teams might have chucked it in but while City are still distracted by their European adventure, there is a chance. The win against Chelsea was emphatic but returning from Saudi-upon-Tyne with the three points was hard fought and super impressive. And who knows, with City between Champions League semi-final legs and facing what is likely to be an emotional trip to Goodison Park (
which is on these channels immediately before this game
), there may be an unexpected chicane in the title race. TD
Whatever you watch, have a great weekend.