Fergie's Fence Farce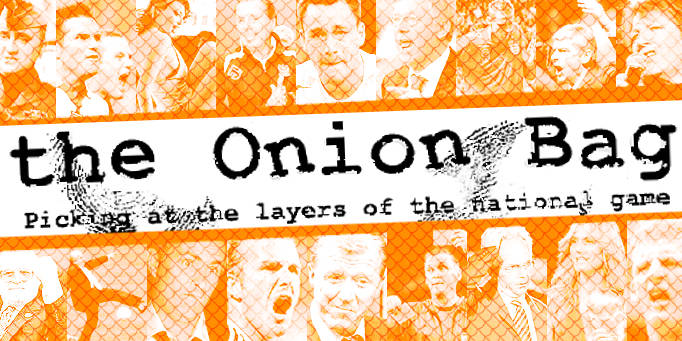 Reds Boss Denies Cobbling Cobblers
Manchester United trainer Sir Alex Ferguson hit back at accusations that he personally profitted from the contract to build the fence surrounding Sixfields Stadium built to stop Northampton Town supporters without tickets to todays FA Cup clash with the champions from getting a free view after it was alleged that the contracter who built it was related to Sir Alex.
The controversial decision to erect a fence all around Northampton Towns ground was, it is alleged, taken by Cobblers chairman David Cardoza after discussions with Sir Alex who said that his eighth cousin twice removed could do a good deal. Newspaper stories today suggest that Ferguson took a £50 commission for referring the company to the third division club.
Doing Wrong
The company contracted to build the fence, Elite Fencing, is indeed ran by a distant relative Giovanni di Ferguson but both Sir Alex were denying any wrong doing.
"Sir Alex and I were discussing arrangements for the game." said Cardoza after watchcing his team lose 3-0 to United "We were exchanging a few racing tips when I mentioned how thoroughly pissed off I was that so may people were going to be able to see the game for nothing just by standing on top of the ridge that looks over the ground."
Tirade
"Anyhoo, Alex says that he knows this fella who may be able to help and that I should wait for a call some this guy called Gio. Well, I thought nothing more of it untill a cuople of days later when the phone rings and this bloke with an half Swiss half Scottish accents says he can put up a fencearound the ground to stop those cheapskate peasents from cadgeing a free view of the game. That's it really all perfectly innocent."
Sir Alex himself admitted to The Onion Bag after Sundays match that he had set up the deal. "This jacked up c**t of a chairman phones up tae blag some tips on the gee gees, as if ah'd give that gobsh*te the fluff oot 'a ma navel. Then he start talking some sort 'o bollocks aboot the f**king w**kers who canny get tickets coz his piss arse little groond isn't big enough tae hold a horse dick in an cox he's trebled the price 'o the tickets or somethin'. So I tells him tae build some f**king wall around the the place tae stop them from lookin' in. That'll serve 'em right for being poor, the f**king c**ts."
It was at that stage in the converstion the United manager said he'd refer his cousin to Cardoza. Ferguson however, denies taking a kick back for the refferal:
"I got f**king squat oot the deal, and any c**t says I did is goin tae find themselves suffering a wee kick back of their own if you take ma meanin'."
My Lovely Horse
The allegations have caused alarm with Mancherster United plc shareholders John Magnier and JP Mcmanus, the Irish racing tycoons who are currently embroiled in a legal battle with a horse. They have demanded that Ferguson's current contract negotiations be suspended while the fencing matter be investigated.
The Onion bag tried to contact the man at the centre of this latest scandal, Giovanni di Ferguson, but when we rang he he denied being involved: "Sorry mate, I don't do fencing. I'm a football agent now."