Roadtrip Diary - SV Darmstadt 98 vs. SV Sandhausen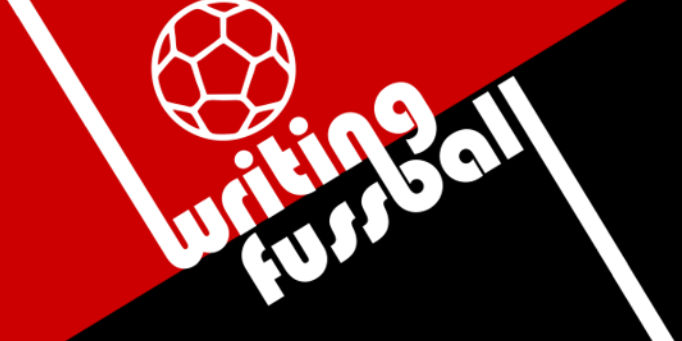 17th November 2017
Around the middle of November, the
"end of year blues"
start to creep in. The weather gets much colder, daylight time noticeably shorter and the militant stress of Christmas looms.
However, small victories go a long way. The elation upon discovering that I had a handful of remaining days off to take was greater than a Nicolai Müller goal celebration.
I began to search for an economical short-break. Needing to be back in London on Saturday for a family event, I scrawled through the Friday evening fixtures in Europe. After browsing Germany, France, Belgium, Netherlands and even Denmark, the best option for my pocket and, on paper, a decent match (and conveniently for my
Writing Fussball
portfolio)
was to visit
Die Lillen,
SV Darmstadt 98
.
A budget flight from London to Frankfurt was swiftly booked. My colleague for this trip was James, no stranger to German football, as he joined me when visiting Dortmund and Bochum back in May.
On Thursday afternoon we made our way to Stansted easily and endured an hour delay in the trusty airport Wetherspoons. We touched down in Frankfurt at 11pm and were in our Mörfelden hotel bar by midnight.
With a 6:30pm kick off, we had the whole of Friday to explore. The train line from Mörfelden to Frankfurt took us right past the Commerzbank-Arena. We jumped off and snooped around the home of
Die Adler
.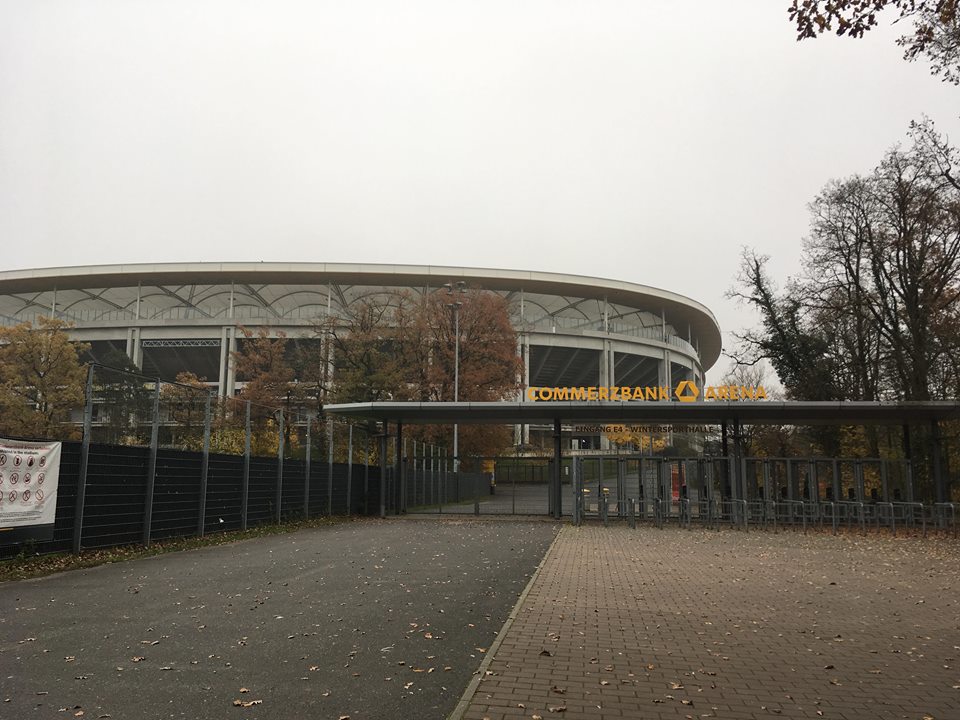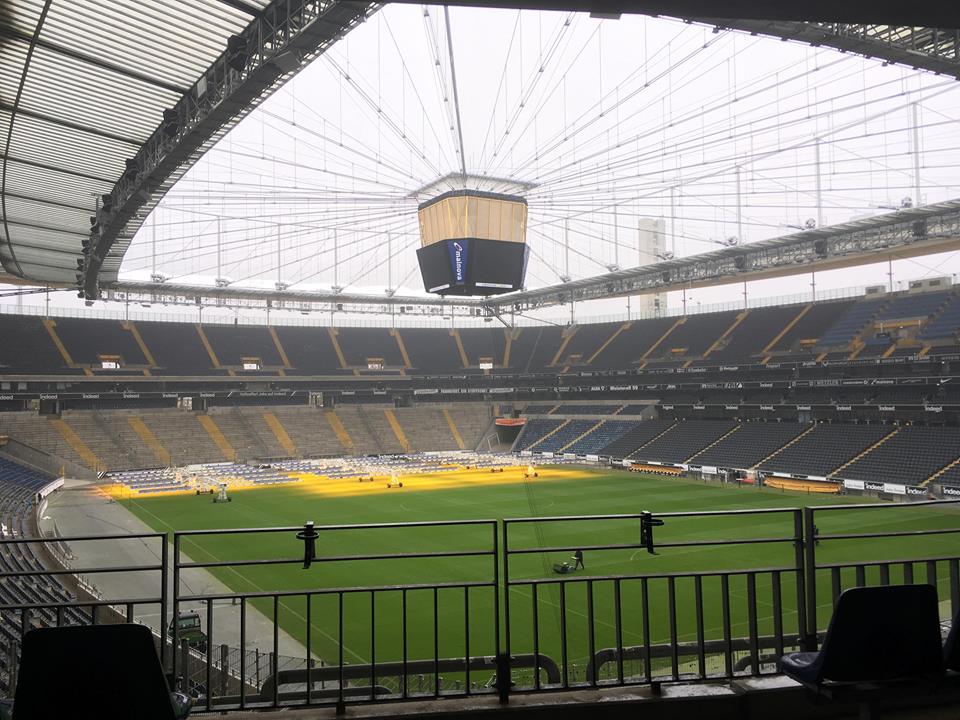 Eventually we made our way into the city centre and spent the day taking in some of Frankfurt's sites, including
The Römer
and
Die Kleinmarkthalle.
It was absolutely freezing in Hesse and a diet of würstchen and beer kept us going. We were told that the staple drink in Frankfurt was apple wine, or
Apfelwein
. We purchased two cans from an Eintracht fan shop. Mistake. It's just really shitty cider.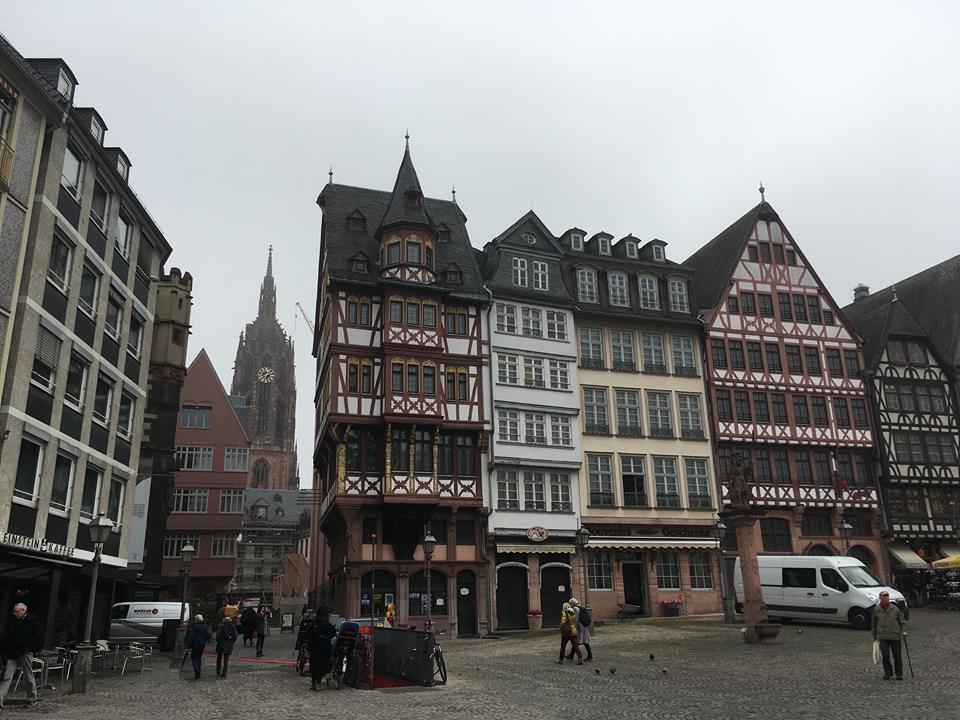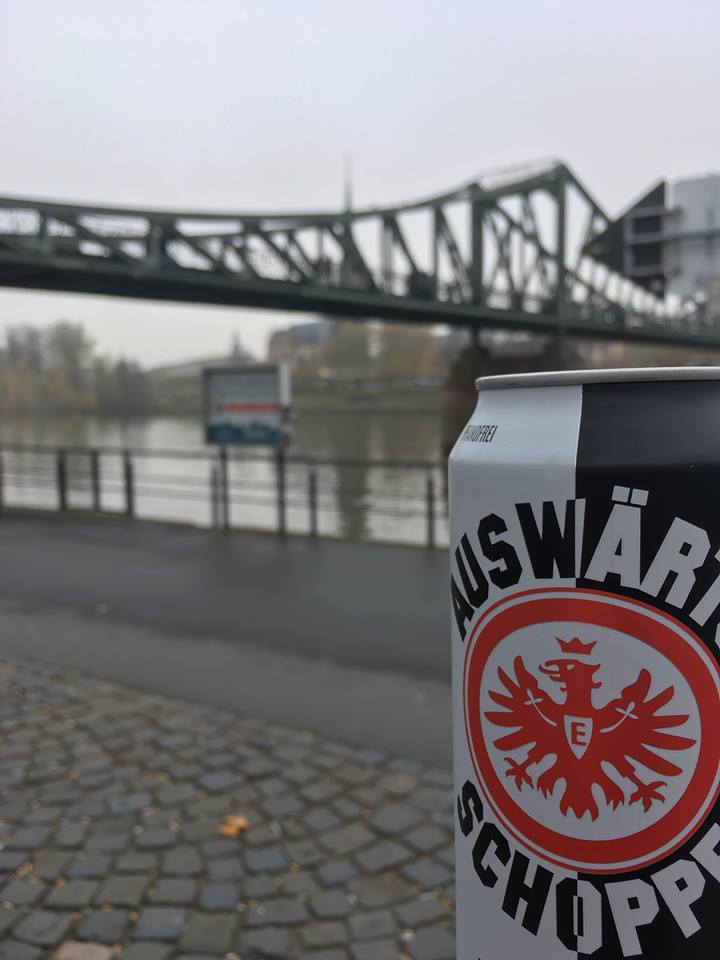 As evening approached, we made our way to Frankfurt Hauptbahnhof and boarded one of the wonderful German double-decker trains (always a novelty!) for the short trip to Darmstadt. Once in the city, it was a brief tram ride to the
Merck-Stadion am Böllenfalltor
, where the Friday night atmosphere was fuelled by abundant optimism.
This was a huge match for both sides. Being early promotion contenders, both
Die Lilien
and Sandhausen had stepped off the gas in recent weeks and were sitting in 11
th
and 7
th
respectively. Darmstadt in particular were seeing out a rotten run of form, having last won two months ago on the 17
th
September. Four draws and four loses since then had seen them drop out of and far beyond the promotion places.
In his programme notes, Darmstadt assistant manager Björn Müller stated, in my best translation:
"
The game in Braunschweig
[referencing Darmstadt's 2-2 draw last time out]
showed that we are absolutely on the right track and that we are currently missing only minor things to stand with three points after the final whistle. I am very optimistic that the pendulum will turn back to our side today…"
Heading into this game,
Die Lillen
were missing a number of key players. Top scorer Tobias Kempe sat out with a fractured toe, whist young striker Felix Platte and first choice goalkeeper Daniel Heuer Fernandes also were restricted to the sidelines.
Our seats were in the
Entega Tribüne
, or main stand. We were adjacent to the Darmstadt ultras,
Block 1898.
Although small in numbers, they made a cracking din throughout the match, impressive considering the current form of their team. Opposite us was the fantastic
Stehplätze Gegengerade
, a long, uncovered terraced section.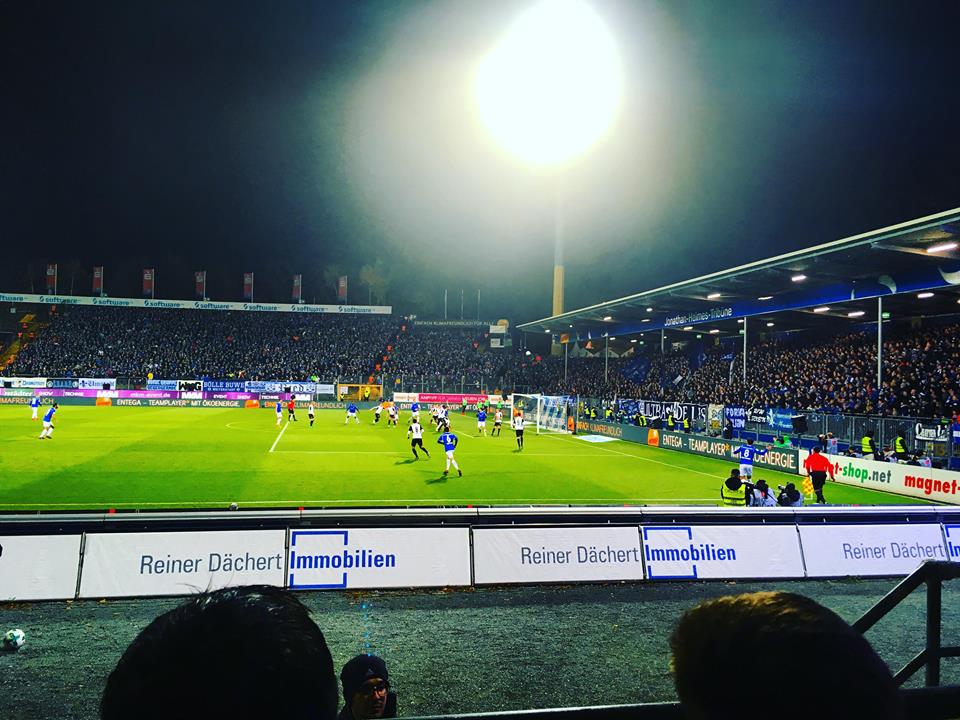 As the first half wore on, it was evident that the home side was playing with minimal confidence. The lack of creativity and great number of misplaced passes made for some really piss poor football. Sandhausen only needed to bide their time. They only had to wait until the 17
th
minute, when some shocking defending saw
Richard Sukuta-Pasu ease past three Darmstadt players and slot the ball home.
Die Lillen's
only real chance of the opening 45 came when
Julian von Haacke found captain
Aytaç Sulu on the end of a free kick, but the Turks header glanced just over the crossbar.
Desperation lingered in the air, made obvious when Torsten Frings made two seemingly unforced substitutions on the 40
th
minute. von Haacke and
Wilson Kamavuaka made way for more attacking options in Yannick Stark and Jamie Maclaren.
The story stayed the same after the break (Which for us was filled pleasantly with bratwurst and beer). The home side continued to needlessly throw away possession. Sandhausen were able to double their lead on the 71
st
minute. The referee ignored an obvious off the ball foul, and this lapse in concentration allowed the visitors to quickly break.
Maximilian Jansen pelted down the pitch and played in Sukuta-Pasu (Debatably offside), which allowed the former Germany Under-21 to complete his brace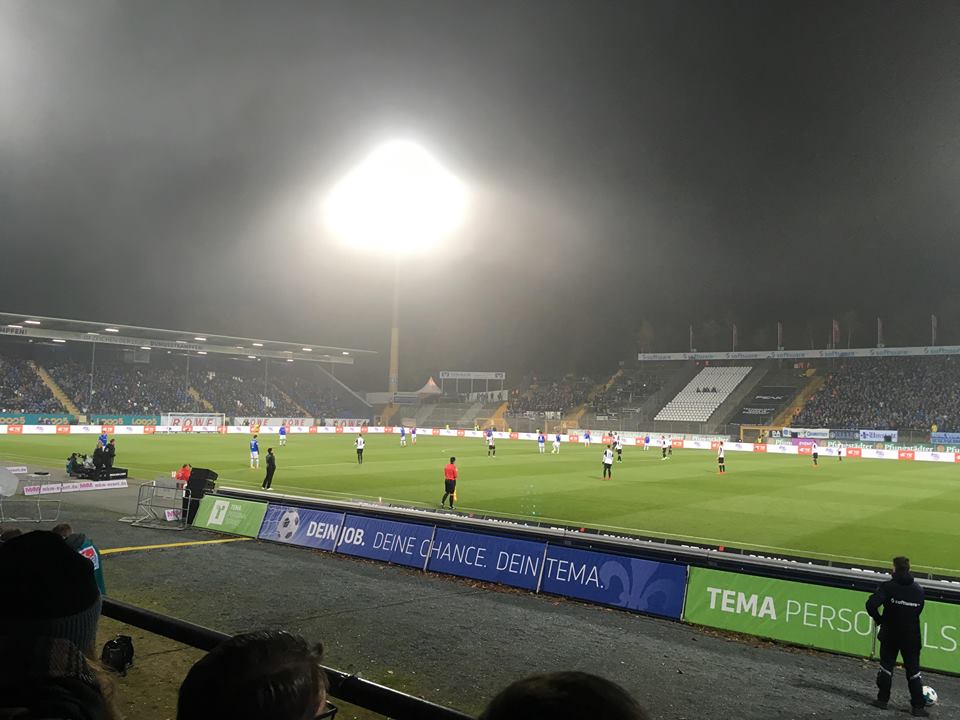 A long cross into the box, followed by a longer scramble, saw Darmstadt pull one back. Patrick Banggaard eventually batted the ball into the net on the 84
th
minute, creating a slit of hope for the home side. Alas, Sandhausen managed to see the game out and jeers erupted around the
Merck-Stadion am Böllenfalltor
when the referee blew for full time. The fans had seen their side put up little fight to avoid making it eight games without a win. Rightfully they were angry.
Discipline appears to be a big issue for
Die Lillen.
They picked up six cautions in this game, including all four of their defenders. They had a handful of positives. Former Munich and Real Madrid man
Hamit Alt?ntop
was an absolute general in central midfield. The thirty-four year old was playing simple football, playing easy passes and assisting in both defence and attack, something the rest of his teammates should look to do. I was also highly impressed by
Sandro Sirigu. The ring-winger appeared to be the only man in blue creating chances. He made a number of clinical runs and provided some excellent crosses that deserved a better reception.
We arrived back in Frankfurt just in time to catch the end of another shocking Dortmund performance, this time falling at the hands of Stuttgart. A couple of pints later and we were back in
Mörfelden. An early flight home on Saturday ended our brief time in Hesse. A cracking couple of days, what a shame about the match!
As it stands, Darmstadt are a very long way from the dizzying heights of the Bundesliga. They remain rooted at the bottom of the form tables. The team tipped for an immediate return to the top-flight look to free falling towards the crisis end of the second division. With a number of players returning from injury soon, hopefully
Die Lillen
can salvage a season of which the fans and ground are worthy.
Tom Scarborough | @tomscarb_REF