Weekend Boxset: Derbies d'Italia, Manchester, Merseyside and London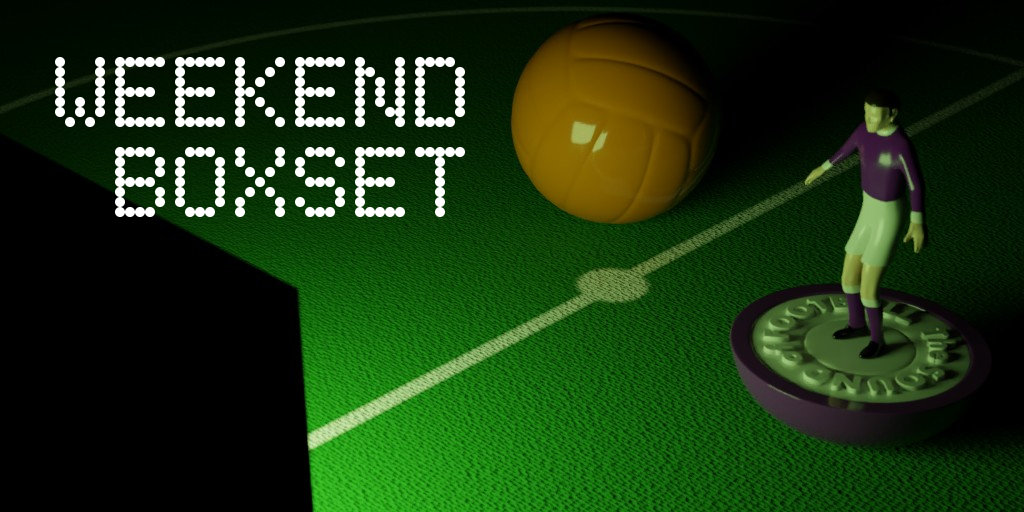 Seven and three-quarter great matches to take you from Friday to Sunday. It's the Sound of Football Weekend Boxset.
All times are GMT
Friday
Bundesliga: Stuttgart v Bayer Leverkusen
19.30 on BT Sport 2
Do you remember the podcast we recorded with Manuel Veth who predicted that Bayer Leverkusen may surprise this season? Remember scoffing? Well here's the thing: While they sit 8th in the table they share the same number of points as Augsburg and Borussia Dortmund immediately above them and are only two points off a Champions League spot. The Werkself haven't lost a Bundesliga game since 20 September. That's twelve games. Part of their success comes from the return to form of Kevin Volland who must have spent most of last season wondering why he left Hoffenheim. The lapsed German international has nine goals and is forcing his way back into Jogi Löwe's thinking. Stuttgart's coach is Hannes Wolf and he is earmarked as a future Dortmund boss. The 36 year old former BVB Under 19 coach took VfB up from 2 Bundesliga last season and if it weren't for their dreadful away form would be much higher up the table than thirteenth. They are the third best team at home in the Bundesliga this season.
Saturday
Premier League: West Ham United v Chelsea
12.30 on Sky Sports Premier League, Sky Sports Mix and Sky Sports Main Event
If you don't have a HD package then tune into Sky Sports Mix to watch the game in glorious HD.
Some of the Hammers fans I follow on Twitter were pleased with the performance of their team despite losing to Man City last week. Now they have to do it again against an only slightly less dangerous foe. Chelsea's away record may give West Ham's coach, David Moyes, grounds for optimism. The Blues drew at Anfield last week and lost at Selhurst Park of all places. Unfortunately, West Ham's home record makes for grim reading. Only two wins at the Olympic Stadium, against Swansea and Huddersfield. Chelsea played out a tough game against Atlético Madrid on Tuesday but that's not usually a precursor to a subsequent bad league performance: the Blues managed wins over Watford and Man United after games with Roma. It's a tough ask for West Ham.
Bundesliga: Borussia Mönchengladbach v Schalke
17.30 on BT Sport 3
Schalke's impressive young coach Domenico Todesco has been attracting the attention of commentators beyond Germany after the recent
Revierderby
against Borussia Dortmund in which his team fought back from being 4-0 down at half time to drawing the game 4-4 in injury time. The 31 year old seems to have finally found the formula to make the Gelsenkirchen club relevant and competitive. However, it's worth saying that despite the plaudits, the Royal Blues have only managed two points in their last two games, against BVB and FC Köln who, on current form, are the worst teams in the Bundesliga. On the same weekend that Schalke were scraping that point against Dortmund, 'Gladbach were beating Bayern Munich and are just one point behind their opponents in the table. Dieter Hecking's team tripped up against Wolfsburg last week so they can be caught off guard. They also suffered a heavy home defeat to Leverkusen quite recently so they are there for the taking. Both teams are full of goals so a 0-0 is unlikely.
Serie A: Juventus v Inter
19.45 on BT Sport 3
As with every Derby d'Italia, this promises to be an intense game of football. On this occasion however we have the added treat of it being a rip-snorting title-shaper. Under Spalletti and unburdened by European competition, Inter are top of the league and have not lost a game so far this season. They travel to their old enemy who are in the relatively unfamiliar position of third but could go top should they beat Inter and if Napoli trip up against Fiorentina. The
Old Lady
played the Naples club last week in a massively impressive 1-0 away win with a classic
ice beats fire
encounter. They will relish the chance to disrupt the momentum of their other rivals for the Scudetto. It is definitely worth staying to the end for this one and I would not recommend that you switch over in time to watch the...
MLS Cup Final: Toronto v Seattle Sounders
21.00 on Sky Sports Football
Apart from anything else, these showpiece events tend to start much later than billed so you won't miss all that much. This is a replay of last year's final at the same venue, BMO Field, Toronto's home ground. Last year Seattle won on penalties. The Canadian side beat Columbus in their conference final in order to earn their chance to take revenge but it is the fate of the Columbus Crew franchise that has cast a shadow over the MLS this season. The owners are proposing to move the team to Austin, Texas. A market they consider to be more lucrative, no doubt. This is a tragedy and speaks of the difficulty MLS has in protecting its heritage. The Crew were the first franchise to construct a purpose built soccer specific stadium in MLS. By today's standards they are a small club with little chance of growth. However, the fact that there is no room for such clubs reflects poorly on the league.
Sunday
Premier League: Liverpool v Everton
14.15 on Sky Sports Premier League and Sky Sports Main Event
Kenny Dalglish was talking about Jürgen Klopp on BBC Radio 2 after Liverpool's 7-0 thrashing of Spartak in the Champions League on Tuesday. He said "Liverpool DNA in his [Klopp's] blood... it's as if he's been cloned in Germany to just manage Liverpool Football Club". No pressure then. This is the sort of talk that only compounds the crushing disappointment when Klopp's team end up getting beat 1-0 in the derby, the following Sunday, by a Big Sam-inspired Everton. This is the sort of game that the new Toffees boss relishes. For him it is the chance to crush any dissent about his presence at the club and stick it to fancy dan foreign coaches who have blocked his path to the top jobs throughout his lengthy and winning career. At least that's the narrative. On the pitch, the Reds will attack while the Blues will frustrate and look for a set piece to win the game. If I hadn't cleaned out my betting account last week, I'd be putting a pound on a scoreless draw.
Premier League: Manchester United v Manchester City
16.30 on Sky Sports Premier League and Sky Sports Main Event
On the latest podcast we lamented the lack of trash talk by football managers and that they should take a leaf out of boxing's considerable tome on the practice. The one exception to this is Jose Mourinho. The Manchester United boss has been doing the mind games thing for years and is rightly a successor to Sir Alex Ferguson in more ways than one. Earlier this week he called out Arsene Wenger and Pep Guardiola for making false statements about injury players. He then brought the house down with claims of humility on his part. All this adds to the hype for what may well be an unspectacular Manchester derby. City were beaten in the Champions League by Shakhtar Donetsk on Wednesday and have actually struggled to beat their last three opponents in their last three Premier League games. Mindful of this and of the wiliness of his opposite number, Pep may advise caution to his players. So I'm not expecting much goal mouth action but plenty of cards as the United players try to get under the skin of their blue rivals.
La Liga: Villarreal v Barcelona
19.45 on Sky Sports Football and Sky Sports Main Event
A nice palate cleanser after all that Premier League stodge. Barca are top of the league but fallible. Last week that were held to a 2-2 draw, in entertaining fashion, by Celta Vigo. Villarreal are are sixth and having a decent season. In fact the Yellow Submarines have not lost at home with 11 men on the pitch. They lost their last game at the El Madrigal 3-2 to Sevilla after Victor Ruiz was sent off and the visitors scored the resultant penalty. Perhaps Barca will need some chicanery in order to go home with all three points.
Whatever you watch, have a great weekend