Weekend Boxset: Not the Club World Cup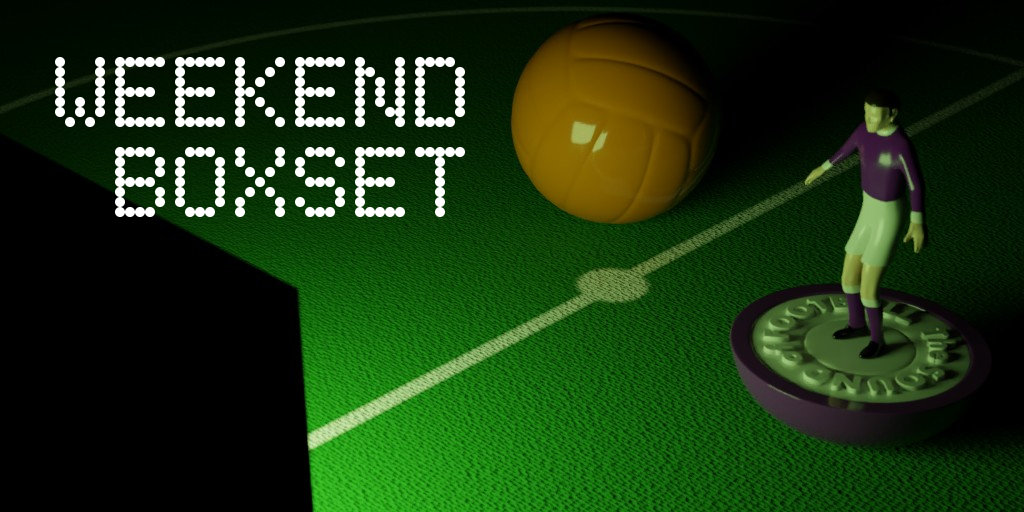 Seven great matches to take you from Friday to Sunday. It's the Sound of Football Weekend Boxset.
All times are GMT
Friday
Championship: Sheffield Wednesday v Wolverhampton Wanderers
19.45 on Sky Sports Football & Main Event
It's now five games without a win for the Owls and while there shouldn't be need for panic about falling into a relegation scrap, the leading sides in the Championship are disappearing off into the distance. Heading that pack are Wolves who can open a lead of 11 points - a veritable gulf in Championship terms - between themselves and those teams outside of the automatic promotion places before they play on Saturday. If Wednesday are looking for optimistic signs it looks like Wolves' free-scoring run might be coming to an end: they've not scored in 172 minutes. With Wednesday also having had a couple of 0-0s themselves in their last few games this might be a cagey encounter.
Saturday
Premier League: Leicester City v Crystal Palace
12.30 on Sky Sports Premier League & Main Event
What odds for Leicester to grab a Champions League spot this season? The Foxes are on an absolute tear at the moment - their midweek demolition of Claude Puel's previous club Southampton was just the latest in a run of impressive wins. With the likes of Spurs, Arsenal and Liverpool seemingly unable to maintain runs of good form, Burnley might not be the only side pushing to steal fourth. While not as impressive as Leicester's good form, Palace are on something of a run themselves. Unbeaten in six and just occasionally winning the odd game here and there, which for a side that didn't even score a goal until mid-October is huge progress. With still plenty of awful teams above them, Palace will certainly fancy their chances of ending the year outside of the drop-zone.
Premier League: Manchester City v Tottenham Hotspur
17.30 on BT Sport 1
What's that, I hear you cry, why has he not selected the Club World Cup Final between Real Madrid and Gremio? Well I might have, had a UK broadcaster picked it up. One may still yet secure the rights but with a 17.00 KO they won't be able to show the start of it anyway because of the blackout. While this match may not have the promise of confetti canons at the end it does promise to have goals - and goals that won't need to be checked by someone sitting in a production suite somewhere. Tottenham are in need of a good performance on the road having not won away from Wembley since September. I have a sneaky feeling they might have their season's best performance here, though whether even that will be enough to stop this City side is debatable.
La Liga: Atlético Madrid v Alavés
19.45 on Sky Sports Football
At the end of November, Alavés were bottom of the table, had lost 11 of their 13 matches and were about to appoint their third manager since Mauricio Pellegrino left for Southampton in the summer. The new manager is former Spain and Barcelona defender Abelardo, returning to the club where he finished his playing career. His first game in charge saw them 2-0 down with 20 minutes left, away at Girona, when Ibai turned the game around, scoring a match-wining hat-trick. They followed that with a win against the now bottom club Las Palmas. So two wins from two for Abelardo and Alavés look a little more like the side that finished top half and got to the Copa del Rey final last season. That probably won't be enough to take the points here against an Atleti side looking to open a gap between themselves and their city rivals while they are busy in Dubai, but Alavés should have enough restored confidence to at least give them a game.
Sunday
Early risers on Sunday might want to catch an interesting A-League offering on BT Sport 3. Brisbane Roar take on Melbourne Victory at the Suncorp Stadium in a double-header: The women's match kicks off at 05.30 followed by the men's game at 08.00. Whether this idea catches on probably depends on what state the ladies leave the changing rooms in.
Eredivisie: Sparta Rotterdam v Feyenoord
11.30 on Sky Sports Mix
The hangover of Feyenoord's first title in 18 years is only now just starting to lift. Indifferent domestic form and a woeful Champions League campaign have left Giovanni van Bronckhorst's side out of Europe and 14 points off the pace in the league. As with any dip in form it's not easy to pinpoint where things have gone wrong for the champions but the retirement of Dirk Kuyt just days after he scored a title-grabbing hat-track back in May is probably the most noticeable factor. This local derby proved one of a few stumbling blocks on their way to winning that title; Mathias Pogba (elder brother of Paul) scoring the only goal in a rare win for Sparta.
If this gives you an appetite for Dutch football, stay on the channel as immediately afterwards second plays third with AZ Alkmaar hosting Ajax.
Premier League: West Bromwich Albion v Manchester United
14.15 on Sky Sports Premier League & Main Event
It's the season for office Christmas parties: a time when it's all too easy to get a bit over-stimulated and make a bit of a twat of yourself in front of people you work with. The best thing to do in those situations is keep your head down and hopefully it'll all blow over without any more fuss. What you really don't want to be doing is standing in a technical area, down-wind of Alan Pardew, who will almost certainly have been keeping his milk by the radiator all week. Pardew was the first manager to beat Mourinho three times in the Premier League - though seeing as he's lost to him seven times it's hardly a hoodoo and doesn't suggest he's going to get his first win as the Baggies' manager here. Stranger things have happened though.
Serie A: Atalanta v Lazio
19.45 on BT Sport 3
One of the more intriguing ties of the weekend. The shape of the title challenge in Italy this season seems to change on a weekly basis; having been comfortably among the pace-setters Lazio now find themselves eight points shy of Inter. Lazio's strength has been their away form, having won all seven of their games away from the Stadio Olimpico (their only away defeat being against Roma). Atalanta's only home defeat this season came on the opening day (coincidentally, also against Roma) so both sides will fancy their chances. They both had excellent Europa League group campaigns with both sides finishing top of their respective groups. Lazio will now face Steaua Bucherest is the next round, while Atalanta have been rewarded with a last 32 tie against Borussia Dortmund.
Whatever you watch, have a great weekend