Weekend Boxset: Bundesliga, Premier League and La Liga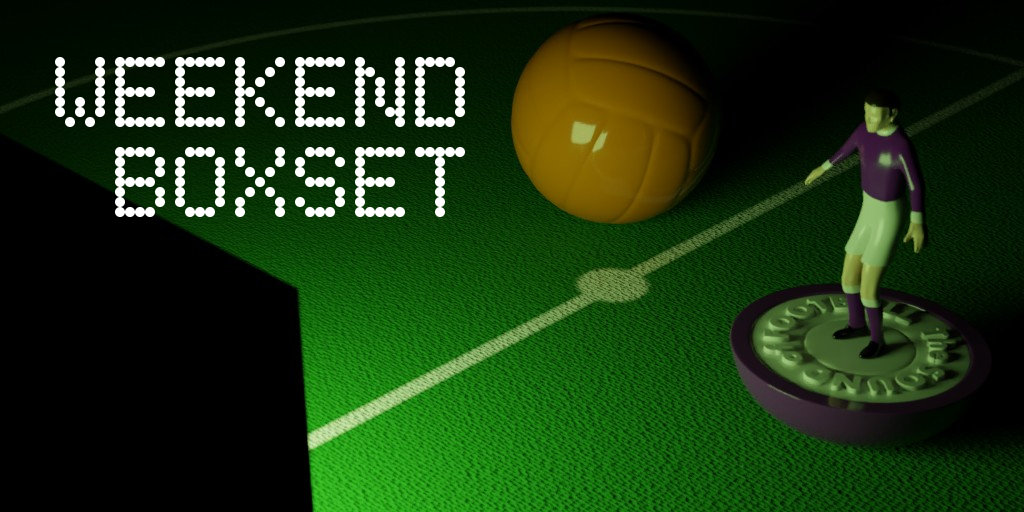 Seven great matches to take you from Friday to Sunday. It's the Sound of Football Weekend Boxset.
All times are GMT
Friday
Bundesliga: Köln v Borussia Dortmund
19:30 on BT Sport 2
These two had quite the rivalry back in the sixties when they were among the best teams in the land. Today the city of Cologne has a large number of Dortmund fans among its number. Walk through the streets before the game on Friday and you'll see friends, partners and families split between red shirts of Cologne and the yellow and black of Dortmund. This match has extra narrative as it sees the return of Dortmund coach, Peter Stöger to Cologne after being sacked, late last year with the club bottom of the league by a street. Despite the parlous position he left them in, Stöger is considered to be one of the club's best ever coaches and is due a warm welcome. This is especially in view of the renewed optimism among the Billy Goats fans.
Effzeh
are still bottom but are only three points away from HSV and four from Werder in that all important relegation play off spot. They are four games unbeaten under coach Stefan Ruthenbeck and winter signing Simon Terrode have scored 3 goals in four games. Dortmund will probably field loan striker Michy Batshuayi who replaces the Arsenal bound Pierre-Emerick Aubameyang. BVB are sixth, haven't one in January and are officially in crisis. If Köln can upset the bookies then Dortmund will be in full blown meltdown.
Saturday
Premier League: Burnley v Manchester City
12.30 on Sky Sports Premier League & Main Event
Burnley have been lucky. Their Expected Points is the
third lowest in the league
and no team has conceded more shots in the Premier League this season. Moreover only four teams have score fewer goals so far and their Expected Goals is the lowest in the league. Dress it up all you like but Sean Dyche's men need to tighten up defensively and create more chances before their luck runs out and they go plummeting down the table. Presumably that's why they've signed Aaron Lennon to try and add a bit of extra pace in their attack. Their opponents happen to have the most shots on target in the league, the most expected goals in the league and the most actual goals in the league. If Burnley get anything from this game then it'll be down to luck.
Premier League: Arsenal v Everton
17:30 on BT Sport 1
Check out the Gunners with all their frantic Deadline Day shenanigans. Aubameyang in, Giroud out, Debuchy out, Ozil's new deal, late attempt to sign Jonny Evans. All that was missing were live pictures of Arsene Wenger rolling down his car window on his way out of the training ground to talk to Sky Sports News. So busy were the north London club with the hoop-la that they totally forgot to play football on Tuesday and lost to Swansea. Imagine that. All being well, new signing Aubameyang will be in post (assuming he remembers to turn up for meetings) and ready for action against an Everton team who managed to reinforce their defence with the loan signing of Eliaquim Mangala from Manchester City. Big Sam expressed surprise about the decision of Ademola Lookman to move to RB Leipzig, thinking it was a long way to go for a young man. Some might say that that is the sort of island mentality that got us Brexit. The England Under-21 is the latest to make the move to the Fatherland after Jadon Sancho and Reece Oxford, both of whom are having a blast. The Leipzig club is a corporate monstrosity but they do give plenty of minutes to youngsters. By any measure this is a good move for any young ambitious player. And from Leipzig, it's only a short hop to the millennial paradise that is Berlin with its culture and nightlife. Party on, Dude.
La Liga: Levante v Real Madrid
19:45 on Sky Sports Football
Despite a recent upturn in results, Real coach Zinedine Zidane is still on thinnish ice. Since the Classico defeat just before Christmas, his team have dropped points against Celta Vigo and Villarreal and got knocked out of the cup by Leganes. Currently the Madrid club are in fourth place and 19 (nineteen) points behind league leaders Barcelona. This is unacceptable by Real's standards and you have to think that any coach, other than Zidane, would be paid off by now. Fortunately, for Zizou, CR-7 has recently ended his mini-scoring drought and Gareth Bale has returned from his latest injury. A heartwarming 7-1 win against Depor and a 4-1 victory at Valencia have settled the nerves somewhat.Hopefully, for them at least, their rehabilitation will continue against a Levante team that sit fourth bottom of the table.
Sunday
Premier League: Crystal Palace v Newcastle United
14.15 on Sky Sports Premier League and Sky Sports Main Event
Palace missed the boat with Ibrahim Amadou and Fred Ronnow on Deadline Day but snagged the Norwegian prospect Alexander Sørloth from FC Midtjylland. The 22 year old striker has scored 19 goals in the Danish Super league already this season. And before you go "Pffff! Yeah, but Denmark" that's precisely the kind of island mentality etc, etc. Palace's recruitment issues are small by comparison to Newcastle's. There has been some business done but it's fair to say that the fans are far from enamoured by the club's ambition. Their dismay at Mike Ashley's apparent lack of care was illustrated by this
extraordinary banner
displayed in their last game against Burnley, pleading with their own to stick by the club despite it all. Only two points separate these two teams who sit 13th and 14th respectively. That bottom half of the table is essentially one big relegation zone so while this may look like a mid table clash it's actually something of a six pointer.
Alternative viewing: If that doesn't take your fancy take a look at FC Augsburg v Eintracht Frankfurt on BT Sport ESPN at 14:30. Not only will you see two of the best teams in the Bundesliga this season but you can impress your friends by telling them you recall seeing Sebastian Haller and Philipp Max before they moved to the Premier League, a year or two from now.
Premier League: Liverpool v Tottenham Hotspur
16:30 on Sky Sports Premier League & Main Event
Ok so Man United were not at it at Wembley on Wednesday but only the most mean spirited Arsenal fan would begrudge Spurs their due in their 2-0 win against the Reds. Next up is a daunting trip to Anfield where Liverpool have yet to lose... in the league that is. Jürgen Klopp took a fair amount of stick for that FA Cup loss to West Brom. The Liverpool manager tried to push some blame on to the broadcaster covering the game by accusing them of telling the match officials to
reduce the amount of injury time
. Needless to say the fiery tempered one changed his bullshit story once he'd calmed down but it's a measure of how this job can get to you. On the pitch, we have the prospect of the two best and most in-form strikers in the Premier League in Mo Salah and Harry Kane. That alone makes this game a must watch.
La Liga: Atlético Madrid v Valencia
19:45 on Sky Sports Football
Second meets third is this classic contrast of styles. Believe it or not there has been a degree of criticism levelled at
Atléti
coach Diego Simeone's tactics. The feeling is that he hasn't really moved on from the defensive, non-possession based, rapid transition, high press approach that has got the club to where it is today. I guess the concern is that if he doesn't move on then the club may stagnate and go backwards. Also, the squad he has assembled is probably the best and certainly the most expensive. Surely it's time Madrid's second club blossomed and started to play the beautiful game like... well like Valencia under their coach Marcelino. His job has been made a lot easier because the club has been in such disarray in recent years that everyone's surprised that they're doing so well.
Los Che
have hit something of a bump in the road, losing 4-1 to Real and more unexpectedly, 2-1 to Las Palmas so I think we can call the home team the favourites but there's plenty to pick apart here on a pleasant Sunday evening. Diego Costa fans may be disappointed however, as he is probably still injured.
Whatever you watch, have a great weekend