Weekend Boxset: Caraboa Cup Final, Ryan Sessegnon and Mourinho v Conte handbags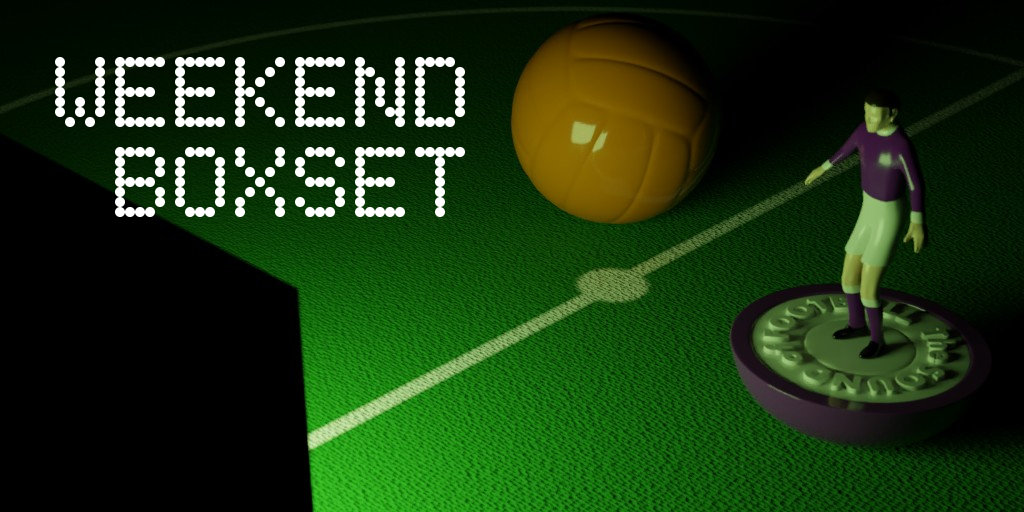 Seven great matches to take you from Friday to Sunday. It's the Sound of Football Weekend Boxset.
All times are GMT
Friday
Bundesliga: Mainz v Wolfsburg
19.30 on BT Sport 1
Only a point separates these sides, just above the automatic relegation places. While both are obviously struggling, there are signs of optimism and while Mainz currently occupy the relegation play-off spot they are six points clear of Hamburg and are doing what teams in their position should do: beating the sides around them in the table. Wolfsburg, however, have recently lost at Bremen (the side that now sits between these two) in a game that saw them pick up four yellow cards in second half injury time. Their discipline was tested again in last weekend's home defeat to the seemingly unstoppable Bayern. After Daniel Didavi headed them into an early lead, Bayern were awarded two second half penalties; Arjen Robben missed the first one but Robert Lewandowski converted the second to take the points in injury time. That defeat was Martin Schmidt's last as head coach after just five months in charge and he's been replaced with Bruno Labaddia, returning to management after being sacked by Hamburg almost a year and half ago.
Saturday
La Liga: Celta Vigo v Eibar
12.00 on Sky Sports Red Button
There's plenty of entertainment in the mid-table of La Liga right now and with 6th placed Villarreal wobbling Europa League places are up for grabs for a chasing pack that includes both these sides. I was in Spain last week and saw Betis - a side that sits between these two teams - outplay Real Madrid for a large portion of the match (although ended up losing 5-3). Neither of these sides provide the same level of knockabout fun that Betis or Sociedad do but are certainly worth checking out. Eibar are in much better shape than when these two met back in September, losing 4-0 in an awful run that saw them pick up just five points from ten games. Since then they've only lost to the top two sides and have climbed to 7th in the table. But with Vigo also winning both legs of the Copa del Rey tie between the sides, they should fancy their chances of making it four wins from four.
Championship: Fulham v Wolverhampton Wanderers
17.30 on Sky Sports Football
By whatever way you measure it, Fulham are on an absolute tear at the moment, riding on the crest of seven straight wins at home and in a run of ten unbeaten. Recent draws at Bolton and Bristol may have stalled their push to an automatic place but they are picking off their rivals in the playoff spots one by one. Part of their excellent run is thanks to the rich form of 17 year old Ryan Sessegnon having been pushed up into an attacking position after starting the season at left back. He's scored eight goals in this unbeaten run putting him on 12 for the season. Most of the leading Premier League sides have been linked with him, with Spurs emerging as a front-runner, leading to plenty of comparisons to Gareth Bale. It would be great to see him in the Premier League next season, even better as part of a promoted Fulham side. While Wolves have been more contained recently than they're earlier season form, they are some way from being "there for the taking". Should be a cracking tie between two well-matched teams.
La Liga: Barcelona v Girona
19.45 on Sky Sports Football
Could this be Adres Iniesta's last game for Barcelona? The rumours of a big contract waiting for him in China are growing and with the Chinese Super League transfer window closing next Wednesday there is still time for the 33 year old to follow Javier Mascherano who left to join Hebei China Fortune at the end of January. Most of the noise surrounding the deal suggests that Iniesta will wait until the end of the season before joining Tianjin Quanjian for a contract worth €35 million per season. If his exit is in the summer that still only leaves a handful of opportunities to see him and Messi play together - best to take advantage of any opportunity you can.
Sunday
A League: Sydney v Western Sydney Wanderers
08.00 on BT Sport 2
While still very much a new thing, the Sydney Derby is developing into a genuine rivalry. This is the 18th meeting between the sides since Wanderers were formed in 2012 and has already created some stand out matches. Last season, mid-table Wanderers were the only team to beat their city rivals, and had them on the ropes again earlier this campaign taking a surprise 2-0 lead at the Allianz Stadium, which the Sky Blues clawed back to share the points. Things were very different when the sides met for the second time, when the champions hammered Wanderers 5-0 on their own turf. Sydney FC return to A League action after a disappointing start to their Asian Champions League Group stage losing at home South Korean side Suwon but followed it with a 2-2 draw at Shanghai Shenhua. Given Sydney FC's dominance in the A League their next step must be to improve upon their best of reaching the last 16 in the continental tournament.
Premier League: Manchester United v Chelsea
14.05 on Sky Sports Premier League & Main Event
Few narratives in football are as tiresome as a manager rivalry, especially if one of those managers happens to be Jose Mourinho. But if
Football As A Soap Opera
is your thing, who am I to judge? The war of words between these two over the last two seasons has gone from damning with faint praise, to jibes about hair transplants and inevitably descended into name-calling and allusions to failing mental health. All of which is manna for the content hungry. Beyond all that we should see a decent game of football here with both sides under pressure to produce something special. If Conte is to leave his job at the end of the season you wouldn't put it past United to replace Jose with him. Which, of course, would be hilarious. Hmm, maybe I'm learning to love this soap opera after all. Crack open a beer when you hear the commentator informing you that "it's time to let the football do the talking".
Caraboa Cup Final: Arsenal v Manchester City
16.30 on Sky Sports Football & Main Event
Inflation in football is out of control. Back in the nineties when this tournament was the Coca-Cola Cup it only had only 27mg of caffeine, now it has 105mg! Arsenal last won this competition when it was the Coca-Cola back in 1993 - Steve Morrow and all that. They've since reached the final twice losing to Mourinho's Chelsea in Cardiff in 2007, and in 2011 to a relegation-bound Birmingham thanks to a mix-up between Laurent Koscielny and Wojciech Szczesny gifting Obafami Martins a last minute winner. Koscielny and Wilshire are the only survivors of the starting XI for that match, though that's not that surprising when you consider that four of Arsenal's starters and two of the subs in last April's FA Cup semi final Wembley win against City have since left the club. City have happier memories of recent League Cup finals having beaten Liverpool in 2016 and Sunderland in 2014. Despite their unexpected FA Cup exit against Wigan, City should have more than enough to beat an Arsenal side that seems to inexplicably shift between adequate and awful. But then, strange things can happen in cup finals.
Whatever you watch, have a great weekend