Weekend Boxset: New kids on the block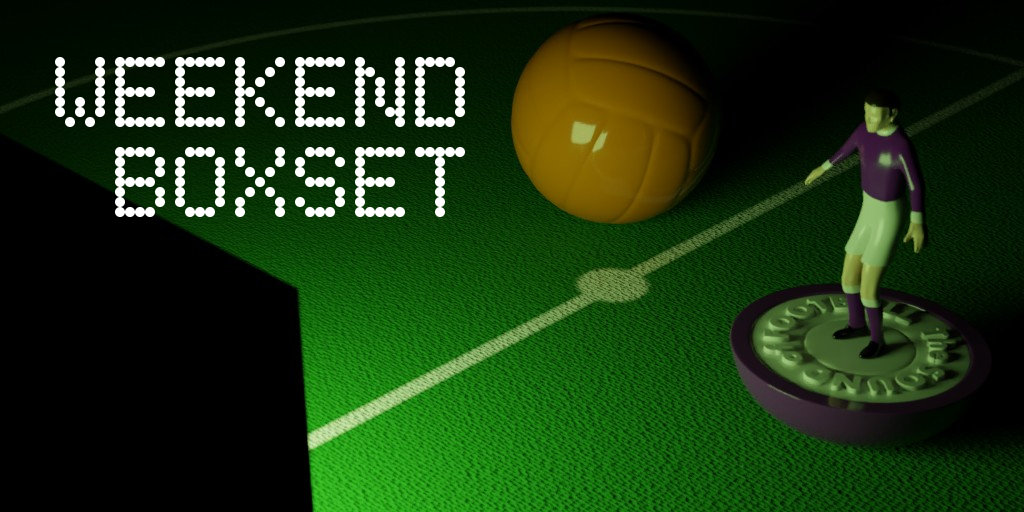 La Liga and Serie A start their new season on a new streaming platform in the UK. Arsenal visit Chelsea, United go to Brighton, and Huddersfield have the longest odds ever seen in the Premier League as they go to the Etihad.
Seven great matches to take you from Friday to Sunday. It's the Sound of Football Weekend Boxset.
All times are BST
Friday
Depending on when your weekend starts, you could begin your football viewing in the middle of the afternoon with
England
in action in the
U20 Women's World Cup
. Having overcome Brazil and Mexico in the group stage, they face a tough quarter final against the
Netherlands
from 15.00 on Eurosport 2. The winners will face whoever comes out on top of the following match,
Germany v Japan
which starts at 18.30. That semi-final, along with the hosts
France v Spain
will be played on Monday, with the final taking place on Friday.
La Liga: Girona v Real Valladolid
19.15 on Eleven Sports 1 and Eleven Sports Facebook
A tenth place finish for Girona in their first season of top flight football - including some high profile scalps along the way - sounds like the stuff dreams are made of. Sadly once you find out they are half owned by the City Football Group and the other half led by a consortium headed by Pep Guardiola's brother, Pere, it takes a little of the romance out of it. Girona's head coach Eusebio Sacristant began and ended his playing career at Real Valladolid back when they were a regular fixture in the top flight. Over the last decade or so things haven't been so great for them and they return to the top division after an absence of four seasons. For most UK viewers this will be the first opportunity to see the latest provider of football content - Eleven Sports - who acquired the rights for Spanish football in the summer from Sky. They've also got the UK rights to Serie A and the Eredivisie, leagues that occupied largely unchallenged slots in the schedule. Of course it means the punters have to lay out more cash to see the games they want but Eleven plan to show one game a week free on their Facebook channel. This weekend they have two games as they will also be showing Cristiano Ronaldo's debut for Juventus away to Chievo. The match starts at 17.00 on Saturday but coverage in the UK will start as soon as the blackout finishes at 17.15.
Saturday
Premier League: Cardiff City v Newcastle United
12.30 on Sky Sports Premier League & Main Event
Opening day defeats for both sides but Cardiff's loss at Bournemouth with have stung more than Newcastle's narrow home defeat to Spurs. Neil Warnock's side lost 2-0 on the south coast, and the margin would have been greater had Callum Wilson converted his first half penalty. It's going to be a long season for the team from South Wales and if they are to emulate all the sides that came up last season and stay up they are going to have to try and get something out of games like this one. If they can find some of the spirit that got them promoted ahead of much more fancied sides in the Championship, they have a chance. It's slim but they have a chance.
Premier League: Chelsea v Arsenal
17.30 on BT Sport 1
Both sides are in transition and have already been embarrassed by the Champions. Chelsea put their lacklustre Community Shield performance behind them with a comfortable win away at Huddersfield in their opener, where they easily dominated possession. Arsenal's opener revealed Unai Emery's intention to play from the back even more than Wenger did but only once they reverted to a more direct style did they start to ask questions of Manchester City. Sadly by that time, the game was already gone but it did show some positive signs of better days ahead for Gunners fans. Given the timing and how long either manager has been in post it would be easy for them both to play this one very cagily but if either want to win over the fans what better way than to come out all guns blazing in a top-drawer local derby.
Serie A: Lazio v Napoli
19.30 on Eleven Sports 1
Napoli ran Juventus so close last season the Old Lady promptly went out in the summer and splashed the cash on a raft of new players, including Cristiano Ronaldo. Napoli's main dip into the transfer market has been to replace Jorginho who has gone to Chelsea. Replacing the Brazilian in midfield is Fabian Ruiz from Real Betis, who they picked up for €30 million after activating his buyout clause. For Lazio, an ill-tempered final game of last season saw them lose their Champions League spot to their opponents that day Inter. Any improvement from them will have to be without Stefan de Vrij who has gone to Inter and Felipe Anderson who is now at West Ham.
Alternative viewing: Don't have Eleven Sports? BT Sport have (quite late in the day) renewed their rights to cover French football so you can watch Monaco v Lille which kicks off at 19.00 on BT Sport ESPN.
Sunday
Premier League: Manchester City v Huddersfield Town
13.30 on Sky Sports & Main Event
On paper this looks like a comfortable win for City. It will be on grass too. If you like losing your money, some bookmakers are offering a staggering 33/1 for Huddersfield to win - a record for the Premier League. Even the draw is 12/1. Against Arsenal, City not only showed that they are still a frightening force going forward, they are also willing to grind it out when the opposition starts to get their game together. In short, they looked every inch Champions. In their opener, Huddersfield were simply outclassed by Chelsea. Manchester City are better than Chelsea. A good result for the Terriers will be to keep it down to a two goal defeat - and that doesn't look very likely at all.
Premier League: Brighton & Hove Albion v Manchester United
16.00 on Sky Sports Premier League & Main Event
United lost at the Amex in the closing stages of last season, a result that meant they had lost away to all three of the sides that had been promoted that season. Already in the Champions League and unable to catch City, it's easy to think that United had one eye on the FA Cup final that day but outside of the top six Brighton were the hardest team to beat at home last season. Just as well, because their away form was the worst. That form has been taken into this season, if their opening game defeat at Watford is anything to go by. United's win also saw Jose's side pick up were they left off last season: as they did six times in that campaign, United won with an inferior xG to their opponents - 1.5 v 1.74. That's Jose for you, making a mockery of modern metrics. Try saying that in a hurry.
La Liga: Real Madrid v Getafe
21.15 on Eleven Sports 1
Real look to get over their European Supercup defeat against Atleti with a winning start in another Madrid derby. Given they've won 16 of their past 17 encounters with Getafe, the European Champions shouldn't have too many fears going into this one, even without the departed Ronaldo. Getafe are from Madrid's southern suburbs and as with a lot of teams who share a locality with a much more famous neighbour, have a small but loyal following. The feeling that people are born Getafe fans rather than become them prompted a 2011 tongue-in-cheek campaign urging supporters to donate sperm in a bid to enlarge the fan-base. The club produced a 1970s style short adult film titled
Zombies Calientes de Getafe
, which was sent to donation clinics around the city. A not very appropriate for the work place
trailer with english subtitles
is available. The full version of the film is also downloadable from the much less family-oriented corners of the internet. It's probably still too early to tell whether or not it has made a difference to the number of their supporters.
Whatever you watch, have a great weekend