Weekend Boxset: Return of the Premier League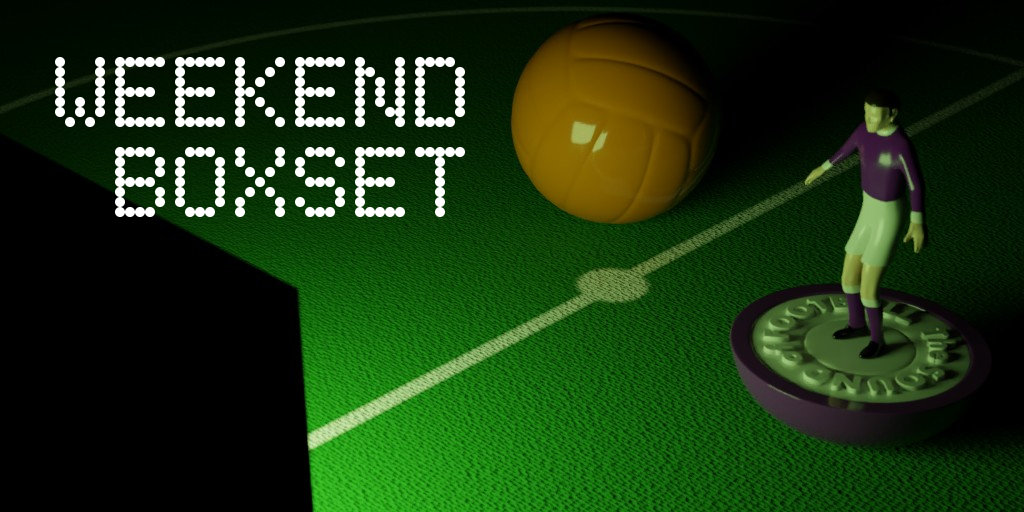 The Premier League kicks off this weekend with Pep's Champions going to a Unai Emery's Arsenal and a much-fancied Liverpool taking on a much-changed West Ham side under Manuel Pellegrini. There are also Super Cups from Spain and Germany.
Seven great matches to take you from Friday to Sunday. It's the Sound of Football Weekend Boxset.
All times are BST
Friday
Premier League: Manchester United v Leicester City
20.00 on Sky Sports Premier League Sky 1 & Sky Sports Main Event
The Premier League kicks off season 2018/19 by pitting the two managers considered by the bookmakers most likely to be the first to leave their posts. The season hasn't even started and Mourinho is already grabbing the headlines with complaints about whatever journalists want to hear complaints about. With Fred the only likely first team regular coming in during the summer, Jose's concern over the lack of meaningful transfer activity seems be justified. Leicester's moves in the transfer market have been shrewd if not exactly inspiring: Robert Huth has been replaced with Jonny Evans while Rachid Ghezzal comes in from Monaco in the hope that no one will notice he's not the same Algerian winger they had last season. The focus of this match is likely to be Harry Maguire, one of England's star performers at the World Cup this summer. United reportedly offered £75 million to sign the player who looked considerably more comfortable on the world stage than Phil Jones. For now, he remains a Leicester player, so of course he's going to score the winner here with a trademark thunderbolt header.
Saturday
Scottish Premiership: Hearts v Celtic
12.30 on Sky Sports Football
Comfortable starts for both sides in the opening weekend of the Premiership. Hearts' boss Craig Levein has had a busy summer in the transfer market bringing in 12 new players but they already seem to be settled in, with his side scoring 14 in their last three games. One of those new signings, Peter Haring scored twice in their opening league win at Hamilton. Haring was picked up by Levein from the Austrian second tier and while he was bought primarily as a central defender, has been playing in central midfield. He might need more of defensive talents in this game, with Odsonne Edouard already in great form for Celtic. The 20 year old French striker has scored four goals in four games since joining permanently from PSG in the summer. Steven Naismith sat out the end of last season for Hearts after receiving a retrospective ban when these two sides met in May, so there's likely to be some leftover shenanigans between him and Celtic skipper Scott Brown.
Championship: Derby County v Leeds United
17.30 on Sky Sports Football & Main Event
Both of these sides got their seasons off to winning starts last weekend. Leeds got all their fans' hopes up with a good 3-1 home win against Championship favourites Stoke, while Frank Lampard's first game in charge of Derby saw them snatch a late goal to beat Reading 2-1. The Rams came back from a goal down in that game, their equaliser being scored by 19 year old Mason Mount, a season long loan signing from Lampard's former club Chelsea. Mount spent last season on loan in the Netherlands with Vitesse, where he had a hand in 24 goals in 39 appearances in midfield - including a hat-trick in their Europa League play-off semi-final against ADO Den Haag. If Leeds' loan signing Jack Harrison plays, this match could be a great opportunity to check out a couple of very exciting future England prospects.
Sunday
Premier League: Liverpool v West Ham
13.30 on Sky Sports Premier League & Main Event
Unbridled pre-season optimism is one of the most glorious aspects of this time of year and it's never in short supply amongst Liverpool fans. Never in short supply despite being constantly reminded how rarely they actually win anything - one League Cup in the last 12 seasons puts them on the same level of silverware as Swansea and Birmingham City. But if anyone can break that hoodoo, it surely must be this Liverpool side who while being pretty strong last season now have Naiby Keita and Fabinho to strengthen their midfield, plus the experience and talent Xherdan Shaqiri to add even more attacking bite. They've even forked out £56 million on a new goalkeeper, though after the Champions League final that could be thought of as money well spent. West Ham's dips into the transfer market have, for some, only been bettered by Liverpool. Felipe Anderson, who they picked up from Lazio, has blistering pace, the qualities of Jack Wilshere (injuries not withstanding) are well known and Lucas Perez for £4 million is a bargain. The £7 million paid to Swansea for another former Arsenal player Lukasz Fabianski looks like a steal compared to the money paid out for Allison. Pub fact: new Hammers boss Manual Pellegrini is the first manager of the club to have ever won the League title in England.
(Supplementary pub fact: Ron Greenwood did as a player at Chelsea)
.
Premier League: Arsenal v Man City
16.00 on Sky Sports Premier League & Main Event
A new era begins at the Emirates as Unai Emery takes charge of Arsenal after the departure of Arsene Wenger. Perhaps more important for Arsenal is the news that Stan Kroenke has come to an agreement to buy Alisha Usmanov's 30% stake in the club thus ending an 11 year power struggle at the club. Since David Dein sold his stake to Usmanov in 2007 for £75 million, opinion has been divided as to who should have controlling power. That debate is now one for the historians. Last week's Community Shield Final taught us little about how well-placed Pep Guardiola's side are to be the first side to retain the Premier League title since 2009. City won comfortably against a Chelsea side that looked like they'd barely shaken hands with the new manager Maurizio Sarri. Having had a couple more months with Emery, Arsenal should be more prepared than Chelsea were last week. The key question for this game is whether or not it will be enough to stop the Champions.
DFL-Supercup: Eintracht Frankfurt v Bayern Munich
19.30 BT Sport 1
After crashing out of the World Cup and the acrimonious comments surrounding the retirement of Mezut Ozil from international football, the return of club football probably couldn't come quick enough in Germany. With almost a third of the German squad playing from the Bavarian giants their could be some fragility as they look to win a seventh consecutive Bundesliga title. Of course when Bayern need a bit of cheering up, they do what they always: go and buy the best player from their closest rivals. This season it's Leon Goretzka from last season's runner-up Schalke. With Arturo Vidal on his way to Barcelona, there looks to be a space for him in midfield. I couldn't say whether he's a step-up or a step-down from Vidal, but my colleague Terry watches a lot more German football, so I asked him:
"Goretzka for Vidal is an upgrade. Vidal's a very imposing player but has become a little too imposing. A lot of the guile that made him stand out in the past is lost. Goretzka is not as physical but will bring a bit more dynamism into the Bayern midfield. At least that's the plan."
Supercopa: Sevilla v Barcelona
21.00 Sky Sports Football
Make the most of what could be the last Spanish game on Sky Sports for while. The UK TV rights for La Liga along with those of Serie A and the Eredivisie have been hoovered up by Eleven Sports. This means that for football fans to have what they had last season they have to pay a streaming platform £5.99 a month on top of what they were paying previously. Usually played over two legs, this season's Supercopa is one game at a neutral venue. The decision to change the format was made last month and the venue subsequently decided on was the 45,000 seater Stade Ibn Batouta in Tangiers, Morocco. Given the propensity for top clubs to play big money games in other parts of the world, other leagues might be watching to see if this is an idea that could catch on. Heat will be a factor but my weather app tells me it'll be 25C in Tangiers - significantly cooler than it will be in Seville at the same time.
Whatever you watch, have a great weekend